"It seems to me Montana is a great splash of grandeur. The scale is huge but not overpowering. The land is rich with grass and color, and the mountains are the kind I would create if mountains were ever put on my agenda." (John Steinbeck)
There's a reason Montana is called "The Last Best Place." Its sprawling landscapes are dotted with some of the greatest natural and cultural treasures on earth.  Recreational opportunities abound around every corner.

Thanks to the creation of the Montana State Parks system in 1939, residents and visitors alike have been able to hike up, swim through, camp within, and just bask in the grandeur that is Montana for 81 years now. Today, there are 55 state parks, each worthy of admiration and exploration. Here is a snapshot of five of them.   
Placid Lake State Park
Location: 28 miles northeast of Missoula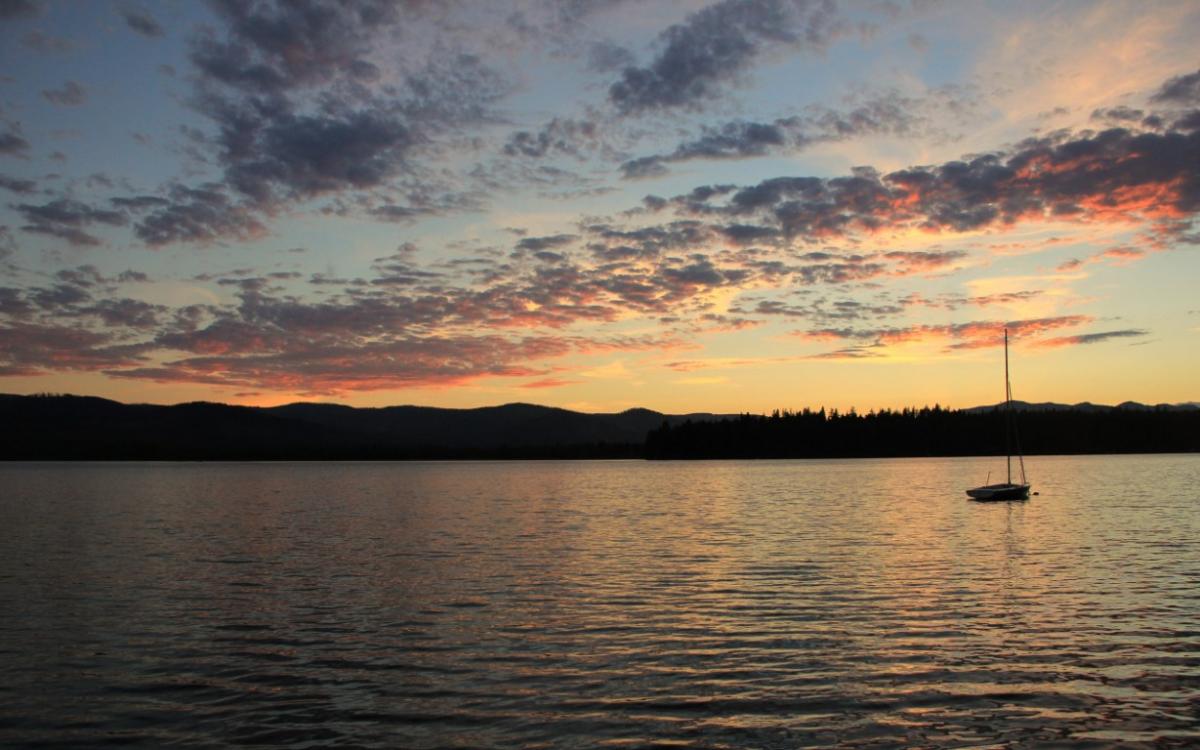 Located on a tributary of the Clearwater River, this heavily forested park is tucked back off Highway 83 on 32 acres at the eastern end of Placid Lake. Established in 1977, Placid Lake State Park is known for its smooth waters, wildlife viewing, trout fishing, and family outdoor fun. 
The popular campground books up months in advance for summer reservations and features 40 campsites, including 18 with electricity, as well as paved roads and bathroom and shower facilities. 
After the morning fog lifts, explore the lake's tranquil waters via motorized boat, kayak, or paddleboard. The lake's modest size of 1,211 acres boasts tepid waters perfect for swimming during the summer. A wide boat ramp, courtesy dock, and rental boat slips are also available. 
Don't forget your binoculars as the lake affords countless opportunities for bird watching, including red-necked grebes, great blue herons, bald eagles, and osprey. You may even be woken to the hoots and yodels of common loons in the early morning.
When evening descends, stroll down to the docks for an unforgettable view of a classic Montana sunset streaked with vibrant hues of yellow, lavender, and apricot. You may recognize the scene from one of Montana's specialty license plates featuring a painting by Missoula artist, Monte Dolark, called "Placid Lake Sunset," that depicts a kayaker on the lake at sunset. 
With more than 40,000 visitors each summer, Placid Lake is easily one of Montana's busiest and most picturesque state parks.
First Peoples Buffalo Jump State Park
Location: 10 miles south of Great Falls on I-15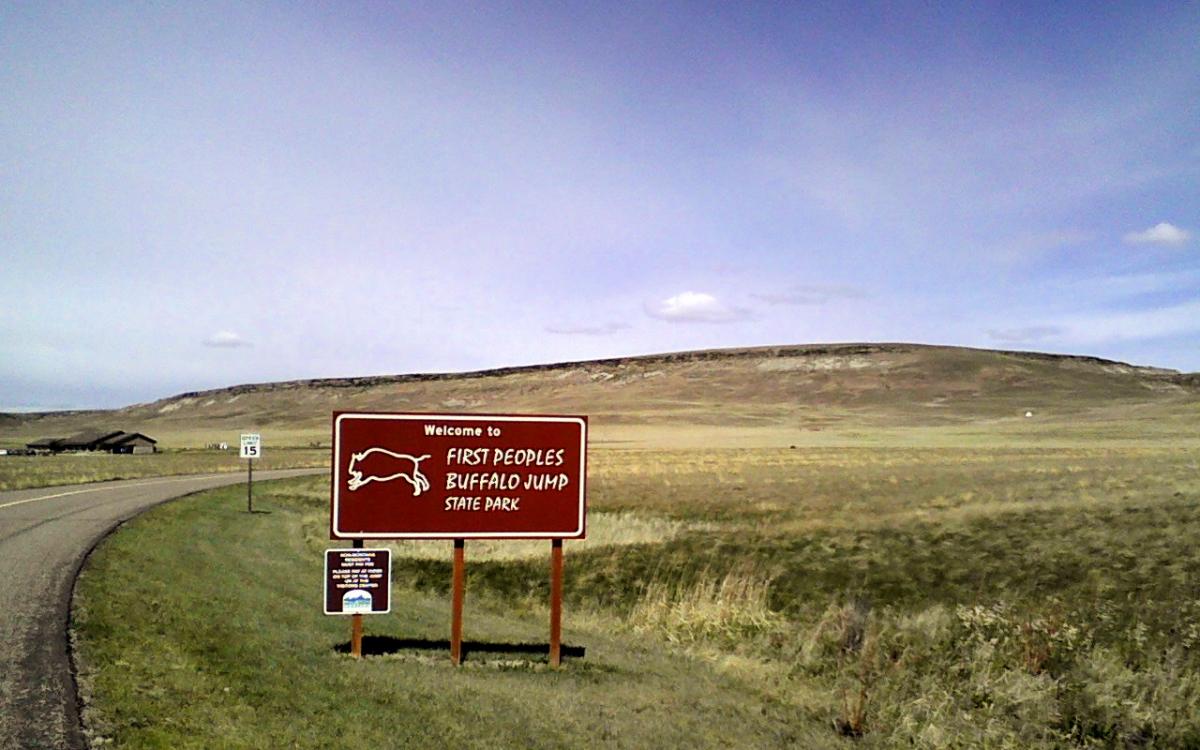 Picture this: it's sunrise and the ground trembles as a heard of bison careens towards a steep ledge. Seeing the drop off approaching, some of the animals dig their hooves into the dirt attempting to turn. But the inertia behind them carries them forward, over the edge, plunging in a frenzy of hooves, horns and fur to the ground 50 feet below.    
This scene was a regular one for hundreds of years at what is today known as First Peoples Buffalo Jump State Park. One of the largest prehistoric bison kill sites in the country and North America, this 1,600-acre park is an archaeological site that preserves a portrait of daily life for Montana's first peoples. 
What remains today is the mile-long sandstone cliff, remnants of drive lines on top, and up to 18 feet of compacted buffalo remains below the cliff. The top of the jump, accessible by trails, offers panoramic views of the Rocky Mountain Front, Missouri River Valley, and the buttes and grasslands that define the region. There is also evidence of tipi rings, pictographs, and bison processing areas in the vicinity.
In an effort to pay homage to the bison and the people who honored them, First People's Buffalo Jump was designated a state park in 1972. Formerly known as Ulm Pishkun State Park, the word "pishkun" comes from a Blackfeet Indian word that loosely translates as "deep blood kettle." 
In 1999 the park expanded with the completion of a 6,000-square-foot visitor center. The goal of the center is to tell the story of the historic site from the Native American perspective. The center offers visitors bison culture exhibits, a storytelling circle, state-of-the-art classroom, gallery, bookstore, and an outdoor amphitheater. Special education events are also held throughout the year. 
Lewis and Clark Caverns State Park
Location: 19 miles west of Three Forks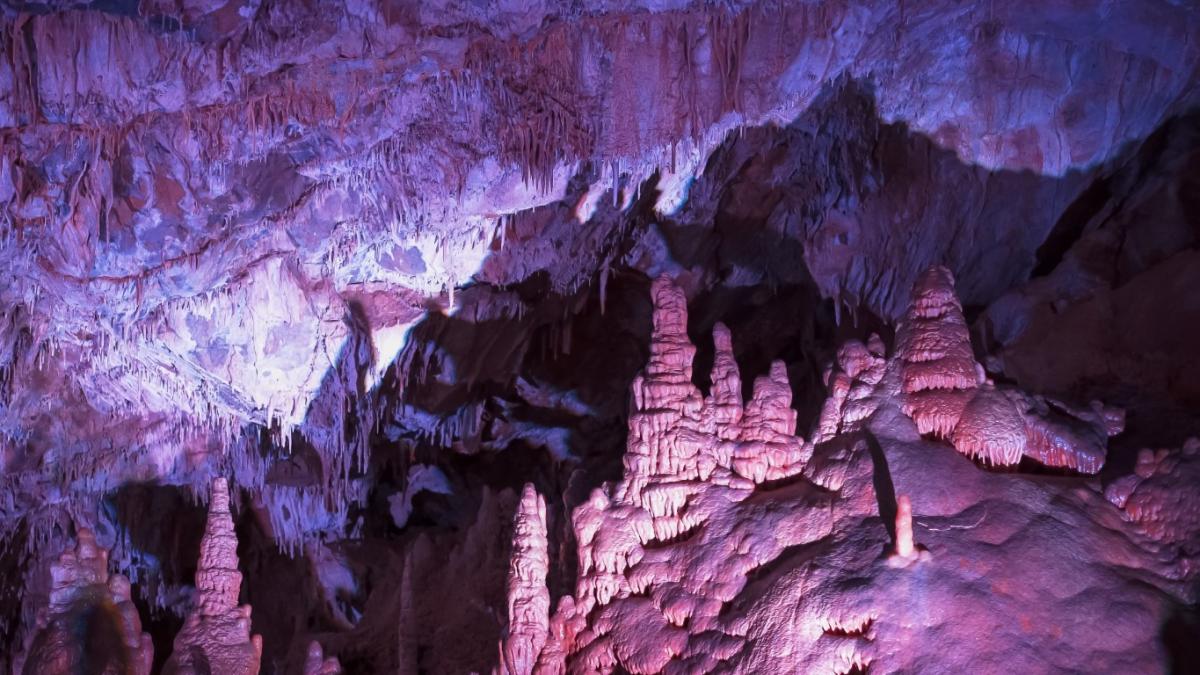 Located deep within the Tobacco Root Mountains of southwestern Montana hides one of the state's most amazing geological wonders. Created as Montana's first state park in 1935, Lewis and Clark Caverns State Park showcases one of the most highly decorated limestone caverns in the northwest. 
While Native Americans were long familiar with the caverns, the first non-Native Americans to discover the caverns were Charles Brooke and Mexican John in 1882. Years later, prospector Dan Morrison, developed the first public tours of the caverns. But it was the efforts of the Civilian Conservation Corps in the late 1930s that transformed the caverns into the viable state park it is today.  
To fully experience the wonders below, take a classic cave tour. Naturally air-conditioned, the caves are lined with stalactites, stalagmites, columns, and helictites. Formed from centuries of acidic water chemically reacting with limestone, the haunting geological formations provide astounding visuals and have earned nicknames like "Romeo and Juliet," "Snow White and the Seven Dwarfs" and cave "food" names like bacon and popcorn. Kids especially enjoy the tour's famous "Beaver Slide" and the occasional sighting of the resident bats napping the daylight hours away. 
For those with physical limitations, a modified version of the full tour is available and allows visitors to see the Paradise Room, the largest, most active and decorated portion of the cave. If your summer schedule is too packed to visit the caverns during the summer, the park offers special holiday candlelight tours during the last two weekends in December. 
Guided cave tours last about two hours but the rest of the 3,034 acre park is yours to explore. There are 10 miles of hiking trails, a 40-space campground, three camping cabins, picnic tables, flush and vault toilets, showers, group use area, drinking water, and a food/beverage and gift concession.
Makoshika State Park
Location: 1/4 mile southeast of Glendive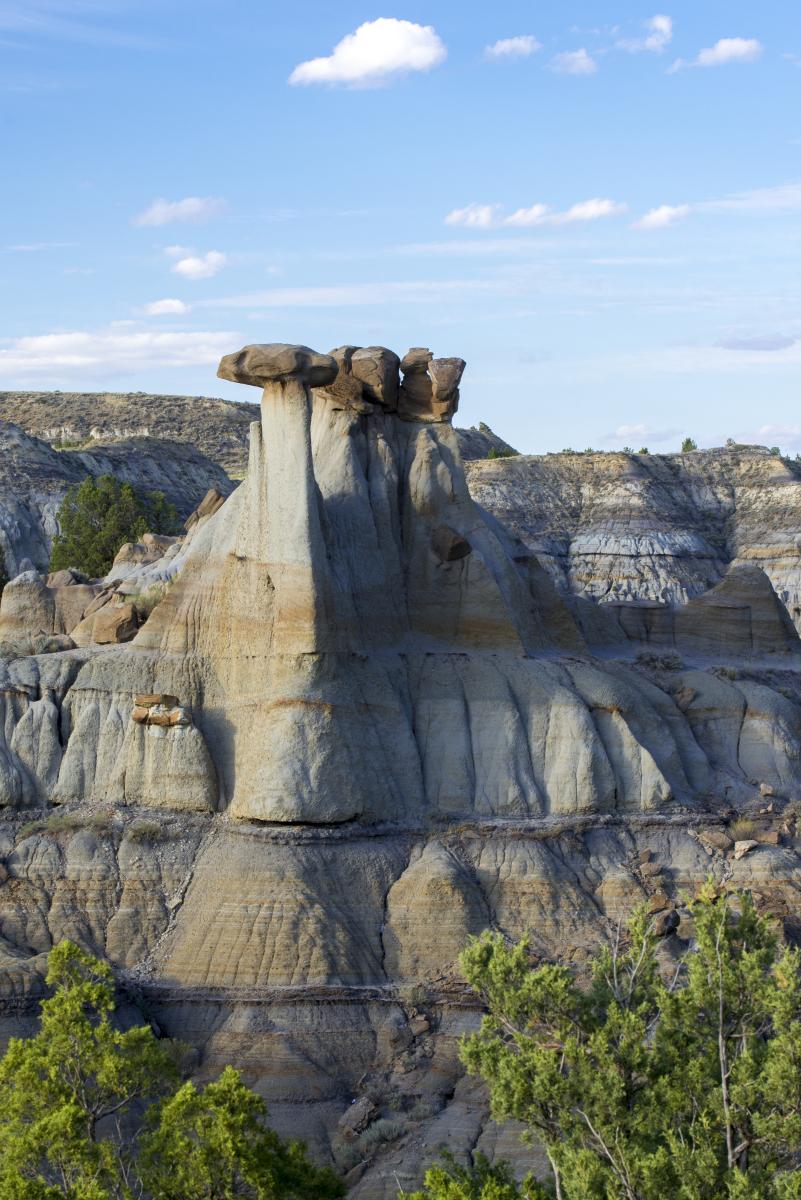 Remember one of the opening scenes in the movie Jurassic Park where Dr. Allan Grant and Ellie Sattler were busy uncovering new dinosaur skeletons at a dig site? While the scene itself was not filmed in Montana, real life dinosaur fossils are housed in one of Montana's most explore-worthy state parks. Located in the rugged badlands of eastern Montana is Makoshika State Park. 
Designated a state park in 1953, Makoshika claims the spot as Montana's largest state park at 11,538 acres. Featuring dinosaur bones, badland formations, mountain biking, and an annual celebration for local buzzards, it's not hard to see why USA Today voted the park as the #1 Montana tourist attraction in 2017.
Makoshika takes its name from a variant spelling of a Lakota phrase meaning "bad land" or "bad spirits." The clay and sand soils in the area hold everything from dinosaur bones to ancient plant fossils. A total of 10 different dinosaur species have been discovered in the park, including Tyrannosaurus Rex and Triceratops. An expedition led by Jack Horner, former curator of paleontology at the Museum of the Rockies and consultant on the Jurassic Park films also made a rare finding of a nearly complete skeleton of Thescelosaur. 
Visitor amenities include a visitor's center, reservable campsites, nature trails, group use shelter, outdoor amphitheater, archery range, and disc golf course. The visitor's center features kid-friendly exhibits, including displays of fossils of invertebrates of early sea life and a Triceratops skull.
Another well-known resident of the area is the turkey vulture, which the park celebrates annually with Buzzard Day. The event marks the vultures' migration to the area with events including a 10K and 5K run. 
Take a walk where dinosaurs once roamed at Makoshika State Park this summer.
Bannack State Park
Location: About 25 miles southwest of Dillon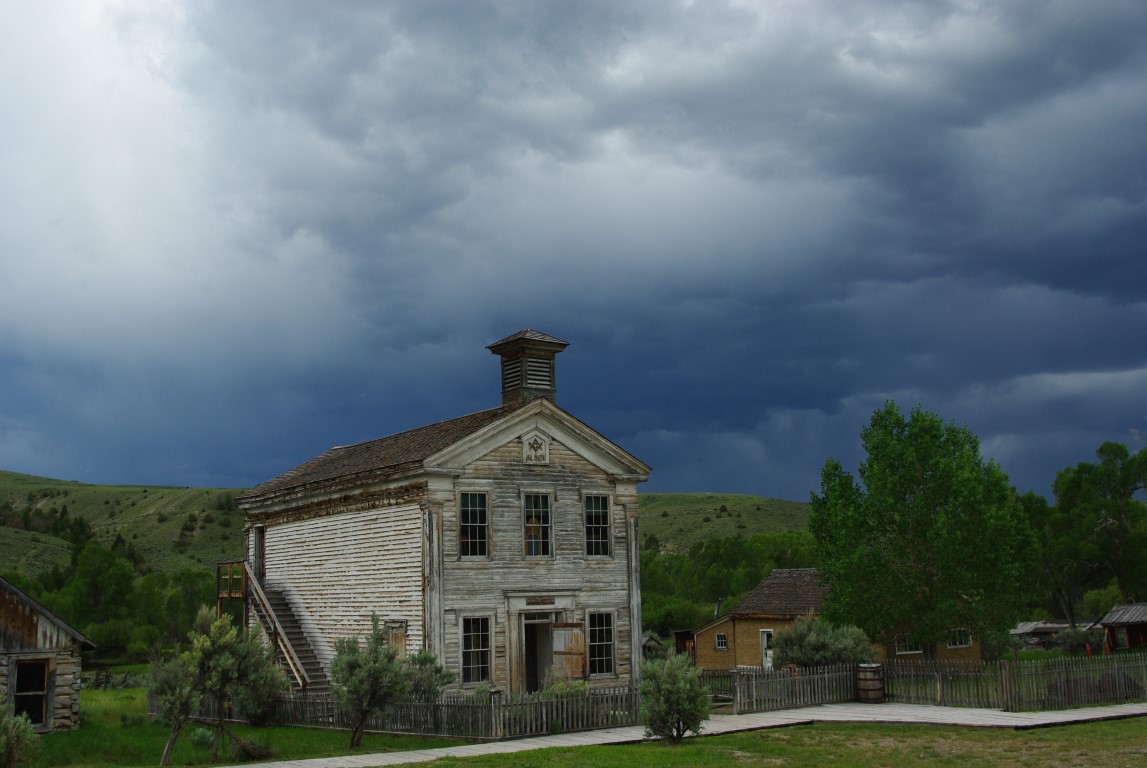 From gun-slinging cowboys, dastardly outlaws, swinging saloon doors, and tumbleweed-filled dirt streets, America's Wild West has long inspired curiosity. Today, the legend and lore of the Wild West lives on in Montana. Take a walk in a cowboy's boots and experience an authentic western ghost town at Bannack State Park. 
Designated a state park in 1954, Bannack stands resilient as one of the best preserved ghost towns in Montana. Bannack doesn't just offer a glimpse into the past, but also supplies the history, feeling, and picturesque setting that the Wild West hailed back in its glory days. 
Bannack was the site of Montana's first major gold discovery in 1862. While this gold strike caused Bannack's population to swell to over 3,000 by 1863, the eventual dwindling of gold reserves led to a mass exodus of people.  
Today, you can stroll the deserted streets and take in the over 60 brick, log, and frame structures still standing. Unlike Nevada City and Virginia City, who present more restored versions of Montana's ghost towns, Bannack is unique in that is has been carefully preserved and protected in its original state. 
Bannack Days is held annually the third weekend in July and features historic displays, re-enactors, horse-drawn wagon rides, music, and delicious treats.  Tours are conducted from a visitor center from Memorial Day through Labor Day. There is also a 28-site campground, rental tipi, and group picnic site in the 1,529-acre park. 
From gold town to ghost town, Bannack remains an emblem of Montana's wild and wooly frontier beginnings.