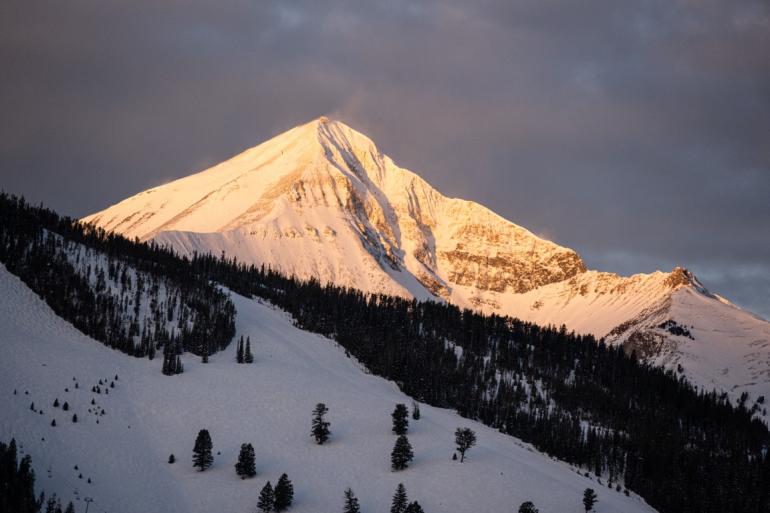 During the early 1900's the world's interest in skiing was on a dramatic rise during a time when leather boots were bound to wooden planks used to descend snowy mountain slopes–word of this skiing phenomenon would soon spread to Montana where locals viewed their very own spectacular mountains and dreamed of skiing them. At the beginning of the 1930's resort skiing was rapidly gaining popularity and Montana joined the excitement in 1936 with the opening of Montana's first ski resort, Kings Hill which was later renamed Showdown Mountain, found only an hour outside of Great Falls. Today Montana is home to over 15 ski resorts. From Turner Mountain in Libby to Big Sky Resort near Bozeman, Montana's diversity of ski resorts is as vast as its big sky!
Montana is home to some of the most beautiful and pristine mountain ranges in the Rockies and with beautiful mountains comes spectacular skiing. Montana is known to have some of the best and most exciting skiing in the world with Whitefish Mountain regularly rating in the top 5 ski resorts in North America. Big Sky Resort, Whitefish Mountain Resort, and Bridger Bowl represent what skiing is all about in MT, with enough room on the hill for beginners eager to get into the sport to larger and more extreme big mountain skiing found within the boundaries of these incredible resorts as well—highlighted below is what makes these resorts so great.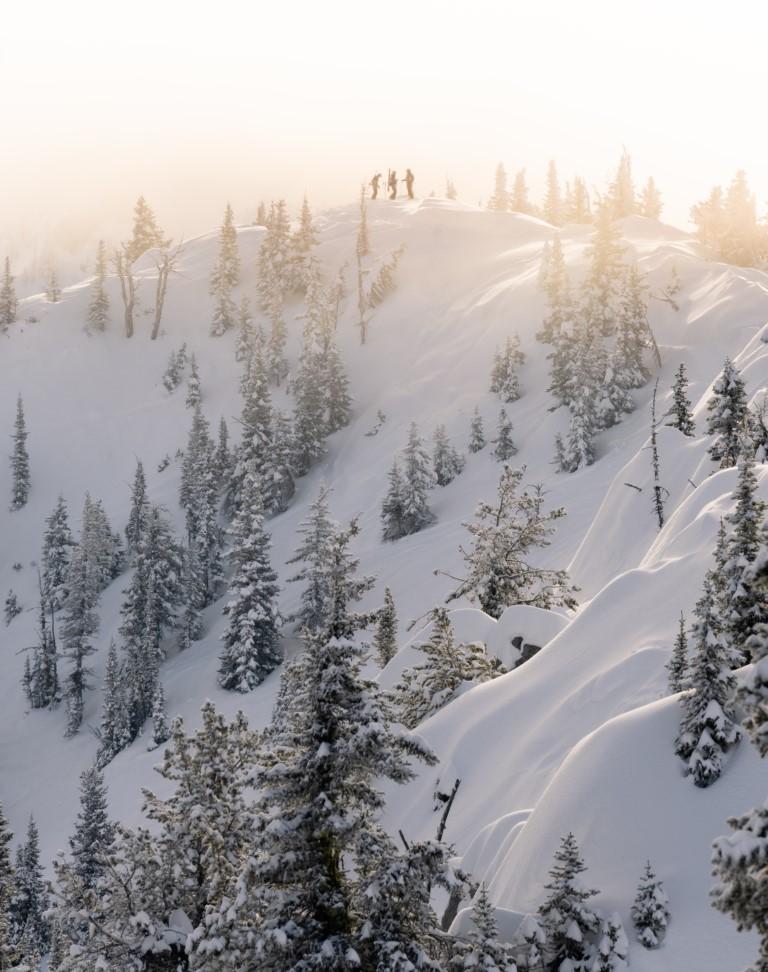 Big Sky Resort 
Founded in the 1970's, Chet Huntley and Big Sky Incorporated proposed a government plan for a ski hill to begin construction near Lone Peak Mountain some 40 miles SW of Bozeman. After government approval of the plan, construction began immediately and in the winter of 1973 the first year of chairlift skiing began at the new Big Sky Mountain. Today, Big Sky boasts some of the largest skiing in America, with 39 lifts (one of which is the fastests in the US), over 5,800 acres of skiable terrain, a town center and a newly opened 5-star hotel, Big Sky is now a hub for every type and ability of skier.

The days of slow lifts and minimal amenities aren't soon forgotten by Big Sky locals who during the early days of the resort had to hike multiple hours from the top of the lifts to the summit of Lone Peak. Today an additional ticket gives you access to a tram ride that brings you to the summit of Lone Peak (11,167') and some of the longest, steepest skiing at the resort. Big Sky truly can claim to have it all, with seemingly unlimited miles of fresh corduroy groomers, limitless powder fields, exceptional tree skiing, terrain parks and steep chutes for those extreme skiers the terrain at Big Sky is so vast you truly can't ski the same run twice!
Locals and visitors alike rave about those beautiful sunny days while atop Lone Peak, where the Grand Teton is even visible some 100+ miles to the South in Wyoming, then skiing incredibly soft powder nearly six miles back to the base of Big Sky, a truly incredible experience! Big Sky opens November 25th and stays open until the 20th of April. With such a long season there's plenty of time to plan your visit to America's biggest skiing at Big Sky Resort this winter.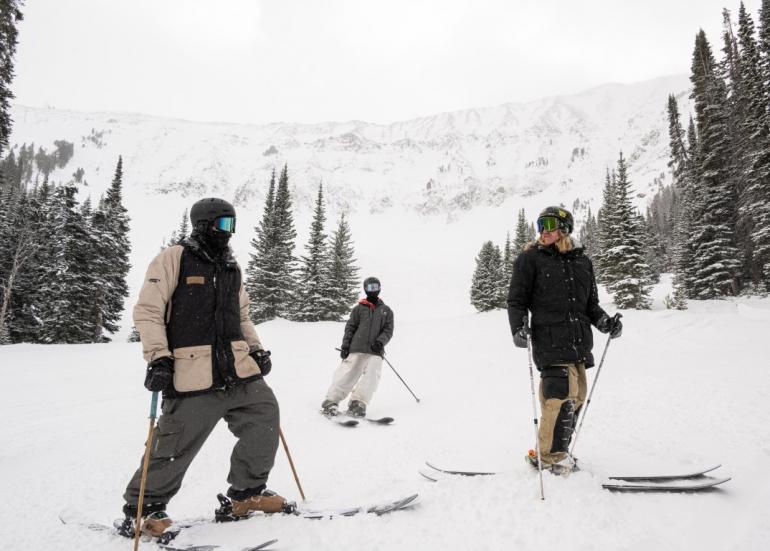 Bridger Bowl 
It doesn't take long for one to catch the ski bug while in Bozeman and the energy can be felt all along main street during those long winter months when snow begins to fall, electrifying the Bozeman community and waking them from their winter slumbers. The "Blue Light Blinking" signal is one of the best things a Bozeman skier can wake up to, as the blinking light indicates that fresh, cold smoke powder is falling on the Eastern side of the Bridger Mountain Range housing the infamous Bridger Bowl Ski hill.
Bridger is a whole lot more than a ski resort, it is the true heart and soul of the Bozeman community. Being a true community hill you won't find any fancy hotels or restaurants but what you will find is some of the most incredible and intense skiing in the lower 48. With hiker accessed terrain opening in 1973 guarding the top ⅓ of Bridger Bowl and housing some of the states steepest skiing, the 'ridge' as locals refer to it as provides a proving ground for young and hungry college skiers wanting to experience the amazing blower powder and steep lines that brought them to Montana State University in Bozeman.
The full Bridger Bowl experience is found huffing and puffing your way up the boot pack above the Bridger chair to gain the ridgetop and see with your own eyes the incredible views of Bozeman's 5 major mountain ranges, all viewable from the top of the ridge. If extreme skiing isn't your cup of tea, well Bridger is also a family friendly resort on the lower half of the mountain, where ski classes and beginners can prepare themselves for bigger and steeper skiing on the upper slopes. Bridger Bowl drives the Bozeman community and is the only Non-Profit Cooperative ski resort found in Montana! This means that every dollar profited gets put right back into the resort, and the Bozeman community couldn't be more proud of it!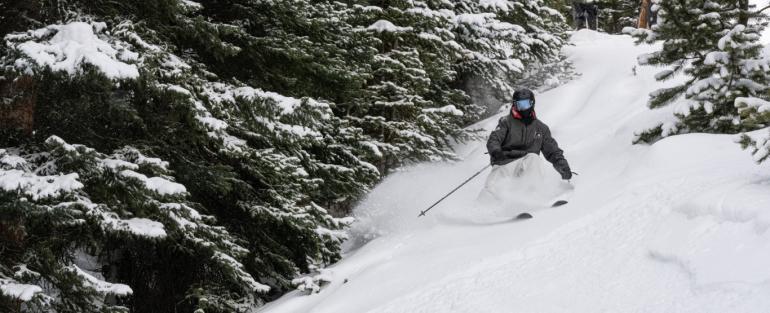 Whitefish Mountain Resort 
Located at the Northern end of the Flathead valley, Whitefish Mountain stands clear and proud as one of the best ski resorts not only in Montana, but the United States as SKI magazine regularly ranks 'The Fish' in the top 5 resorts to ski in the U.S. When skiers wearing leather boots and wooden skis hiked up these slopes in the 1930's, the ski hill was known as Hellroaring Mountain and the price of a ticket was determined by how far you were willing to walk up the hill! Locals were thrilled when the mountain's first lift, a wooden T-bar, could carry them atop the hill providing access and the ability to ski much more terrain for only a $2 lift ticket. Today with moderately priced tickets and some of the shortest wait times for lifts, Whitefish Mountain is a true gem tucked away in Northwest Montana.
Things have changed quite a bit since those early days, with name changes to Whitefish Mountain Resort from The Big Mountain, to installation of new high-speed chairs and several new chairs all together (A new Hellroaring area chair is currently being installed and will be finished for winter 2022!).
The cherry on top while riding off the summit isn't the incredibly deep and amazing snow, but the views into Glacier National Park, captivating one while riding over 3 miles of soft groomers down Inspiration which is constantly voted one of the best ski runs in the United States. Whitefish Mountain Resort boasts the whole Montana experience, from incredible skiing to multiple choices for post-ski aprés, this Mountain will have you coming back for more.
Montana's ski resorts truly can claim to have a hill for every skier, from the biggest skiing in America to the Mom and Pop hills where waiting in line is unheard of. Montana's beautiful landscape is truly best enjoyed with snow! The state's best kept secret during the winter months is how much it snows and cold smoke powder is what Montana is known for. Yearly snowfall totals at Big Sky Resort are 400 inches, Bridger Bowl at 350 inches and Whitefish Mountain Resort at 300 inches allow for plenty of snow wherever the adventurous crowds decide to go. The incredible scenery of our backyard mountains paired with these plentiful yearly dumps of the best snow around makes for the best skiing one could wish for! Getting out to experience what Montana skiing has to offer is easier than ever, with most resorts offering affordable tickets and short lines, the treasure state is a treasure trove of spectacular resorts found across Montana's beautiful Big Sky.