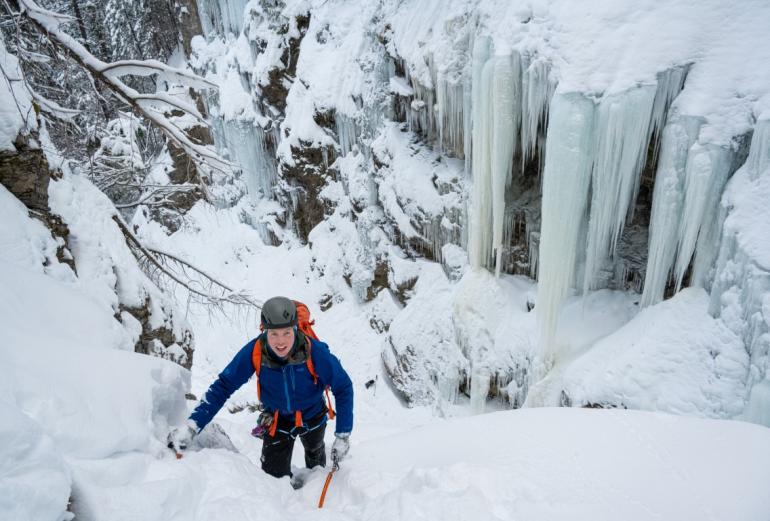 Everyone around the West knows that wintertime in Montana means one of two things, you either stay inside and wait for the frigid temps to rise in spring or take advantage of the winter landscape Montana has to offer.
This landscape, though frosted over and thoroughly covered in snow, is a winter wonderland for those eager recreationalists who can't seem to take no for an answer. To fully understand the amazing experiences Montana has to offer during the winter one must be willing to layer up and brave the cold for those all-time ski turns and ice pitches. Let's take a quick look at what makes these activities worth enduring the winter temps. 
Ice climbing, the art of ascending frozen waterfalls is a quite dangerous and mabye a little comical activity. The medieval-like tools necessary to climb can be compared to going into battle rather than climbing. Though the spectacle may seem strange it is an incredibly beautiful and delicate dance necessary to climb these frozen waterfalls. Montana is home to some of the most incredible ice climbing destinations in the US. For instance, the treasure state is home to Hyalite Canyon, one of the most concentrated destinations for ice climbing in the states. With over 200+ ice routes Hyalite is a mecca for ice climbers across the world.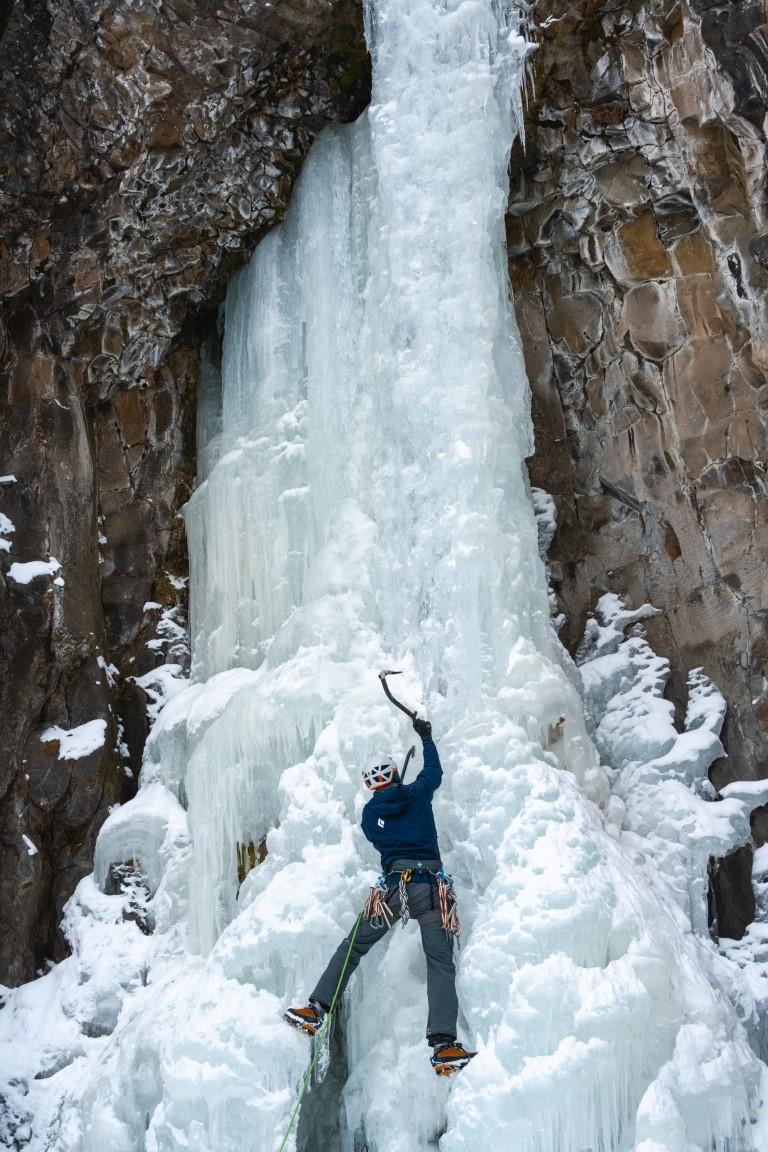 Once skeptical about the sport I now find myself eager to follow my friends on these adventures to seek out frozen waterfalls. During the beginning of January, we were able to find some great moderate flows that had frozen enough to climb, including The Elevator Shaft and The Fat One - both great climbs that overlooked the beautiful Hyalite Canyon. Brock Rugg, the strongest and most experienced climber in the group, led the pitch enabling us to safely follow behind him with the safety of the rope now anchored above. After moving to 'The Fat One' as it is commonly referred to and taking adequate reps up the route a storm began to brew along the eastern horizon, signaling that our day would be coming to an end. Pulling our ropes and packing up our bags we clambered back down to the warmth of a running vehicle and rolled our way back into Bozeman, just in time for dinner. The experience of climbing with close friends in Montana's beautiful wilderness is one of life's many blessings. My friends and I can't get enough of these amazing winter adventures.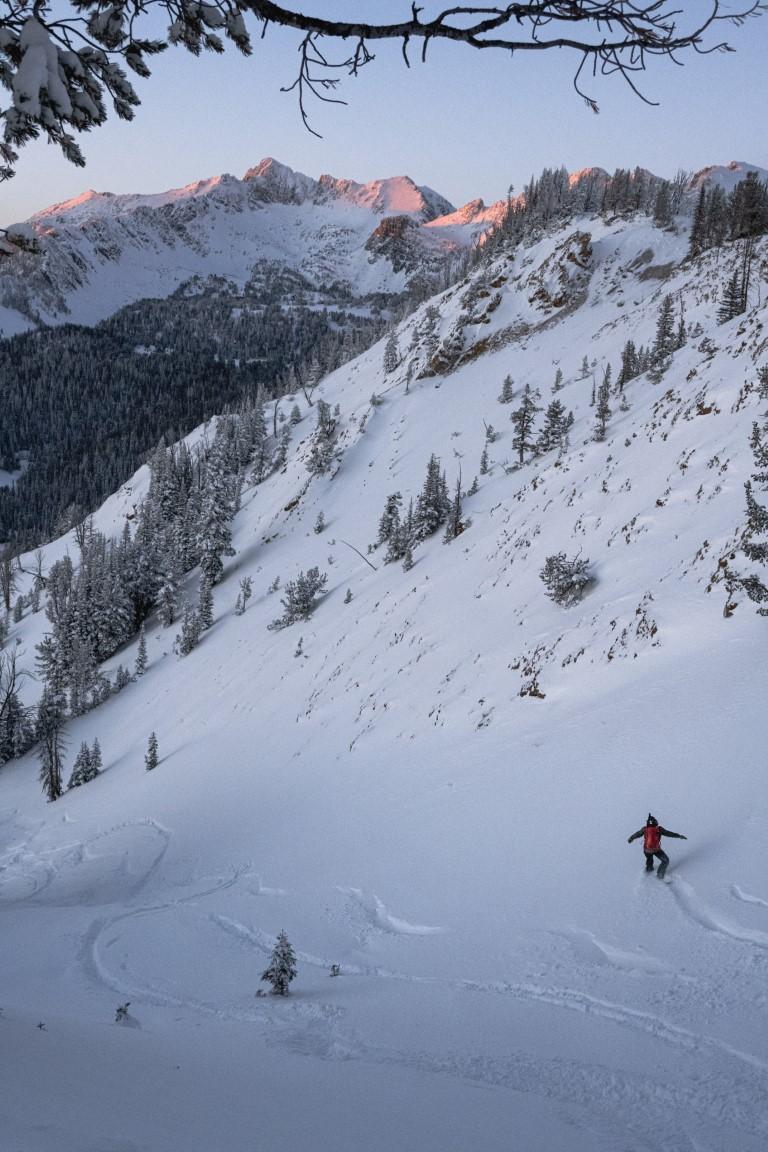 Skiing is one of life's great joys as being able to surf the earth's weightless powder down steep mountain slopes is life-changing. If you are lucky enough to have experienced the ever freeing feeling of skiing deep powder in Montana, then you know what it's like to embrace winter's opportunities. With some of the lightest and most abundant snow in the US, it's no wonder why so many locals catch the ski bug soon after moving to one of Montana's many ski communities. Gutsy college kids ski the Ridge at Bridger Bowl, while die-hard powder seekers search Whitefish Mountain for its stashes and the Missoula crowd has Snowbowl, Lookout, and Lost Trail all to choose from, skiing lives and breathes in Montana. As it should! Hit this link to view Distinctly Montana's 2021 Winter magazine featuring an article on Montana's ski resorts. Studies show that skiing is one of the best (and healthiest) ways to stay active, and sane, during the winter months as long as you don't, you know, collide with anything on your way down.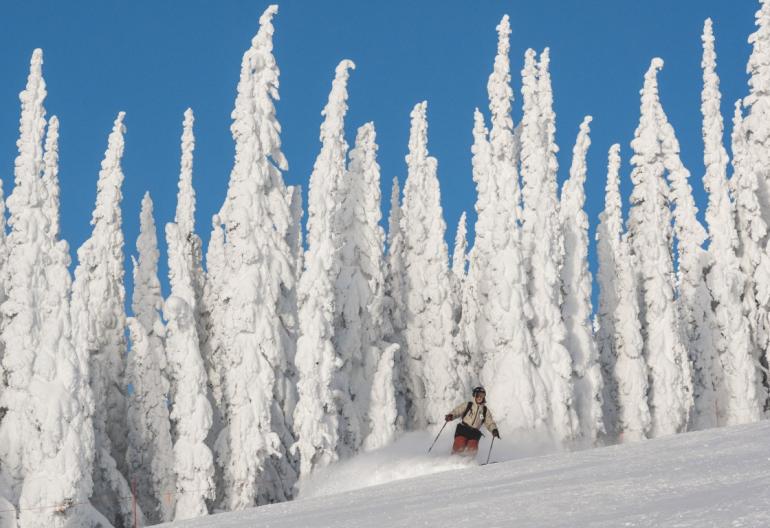 Backcountry skiing has been on a consistent rise since the pandemic, resulting in more and more riders discovering the incredible freedom of earning your turns and skinning up slopes to reap the benefit of untouched powder. The only catch is it's going to hurt, just a little, as walking uphill is never easy but always worthwhile! The freedom of adventuring wherever you may please to find enticing lines tucked away deep in Montana's mountain ranges is one of the best adventures one can have during winter in Montana. A Bozeman local favorite, Beehive basin boasts incredible scenery that catches the eye of any backcountry enthusiast. The hike is less than 3 miles to access a variety of skiing terrain options from mellow trees to steep chutes proving this area really has it all. If one is lucky enough to catch a sunset while in this magnificent backcountry zone, then they have seen some of Montana's most captivating landscape and a short distance from the trailhead at that. 
Referred to as Snow Ghosts by the locals around Whitefish, trees that are encrusted with a hardened rime covering create a dramatic scenery, and even more incredible skiing around Big Mountain. While visiting family I was lucky enough to enjoy these daunting creatures as cold snow had fallen throughout the week, with more on the way. The ghosts, along with the multiple feet of snow made Whitefish Mountain a perfect winter getaway this holiday season. Sub-zero temps froze chairlifts and employees who were gritty enough to work through the storm, opening the mountain for my brother and I to enjoy. With great conditions for night-skiing at the resort we couldn't help but pinch ourselves and enjoy the incredibly soft snow that blanketed the lit section of Whitefish mountain reserved for dusk. Freezing faces, toes, and fingers wouldn't dissuade us as we enjoyed every little bit of Montana's biggest storm in recent memory. 
Through recreating in Montana's beautiful backcountry, one can attempt to save themselves from insanity when winter months seem to drag on and on. Skiing and ice climbing are just two of the many options to get out and enjoy winter this year. Cross country skiing, ice fishing, snowshoeing, ice skating, and sledding are just a few of the ways one can take full advantage of all that Montana has to offer during winter. Recreating in Montana's wild places is a gift and should be treated with the utmost respect. It can be easy to forget that the beautiful landscape around you reacts to how it is treated, so the better we treat the earth, the better it will treat us. Always remember to dispose of trash at trailhead garbage cans, limit your impact and resource usage, and continually respect nature in order to care for your planet while out recreating this winter. While you're out enjoying nature this winter, don't forget to take a deep breath and enjoy what winter has to offer.