Raised in Montana, Amber Jean is a gal with gumption who follows her passion as an artist, adventurer, and storyteller. WOOD Magazine declared her one of "America's Woodworking Greats." Her life and western art are featured in the "Wood Sculpting" DIY TV series and on the "Pure Oxygen" show; her art is published in several books and resides in permanent collections here and abroad. Ice climbing, mountaineering, white-water kayaking, and mountain biking lure her away from the long hours happily spent in her studio at the end of the road near the top of a mountain in Paradise Valley, Montana.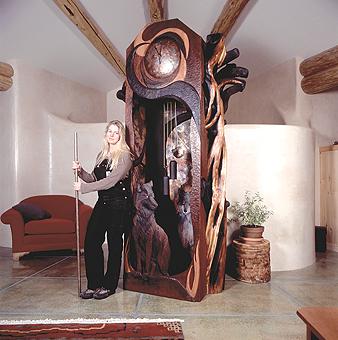 So what are you working on now — and why?
Overwhelming desire to freely explore my own unique vision coupled with the belief I have something to say propelled me to clear the calendar of commissions. I am focused fully now on several sculptural series.  A curator in Texas is working with museums to put together a traveling solo exhibit of the new reliquary sculpture series titled, "I Never Promised You a Rose Garden."  The first sculpture in the series is at the Museum of the Rockies on display through January 2013 along with one of my earlier works.  Two more sculptures in the new series are in the works — each an engaging challenging adventure, poetic, and soulful.   Another carved wood series is on my dance card and will take its turn soon — small scale, intricate, and intimate — can hardly wait to begin.  
New bronze editions are being launched as well.  The bronzes provide various price points for collectors and simply allow more people to have an "Amber Jean" piece in their lives.  Cast from woodcarvings, the previous bronze editions are nearly sold out.  A life-size bronze bison bench cast from carved black walnut will soon be a permanent addition to the Bozeman Yellowstone International Airport at Gallatin Field.  The bison's presence at the airport will increase exposure to the bronze part of my western art.  
Inspired by animals and cast from clay, it certainly will be interesting to see where the new bronzes take me.  Clay is infinitely more forgiving than wood — a playful way to express and explore.   The energy tapped into and released while playing with clay is a healthy contrast to the surgery-like intense focus required to carve wood.  So I am playing in clay and working in wood.
What is the  "Jake Bank?"
The first clay-to-bronze sculpture, the "Jake Bank," was originally commissioned for a specific fundraiser.  The sweet little Lab spurred my own desire to give back by helping nonprofits raise funds. A special chapter for this fundraising fella will be launched on my Web site.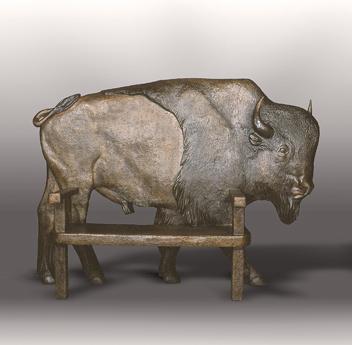 You have so many artistic paths…painting, sculpture, woodworking, even "storytelling!"  Do you have a favorite?
When engaged with an audience in storytelling I do not wish I were sculpting.  When I am in the studio working on a sculpture I am not thinking about an audience.  My "favorite artistic path" is the one I am on.  The paths often converge.
Is there an art form you have not yet tried that you plan on exploring?
I have always been smitten by glass.  Twinkling like a witch's brew or fairy dust, glass is intoxicatingly beautiful.
I have cut, drilled, and ground glass but I have never blown or formed glass.
I am pretty certain my "crush" on glass will grow into a full-blown love affair.
Which art form comes easiest to you, and which do you really have to work at?
The idea of painting on a two-dimensional surface or writing on a blank page is perhaps the most intimidating because so often my feelings seem simply too BIG to confine to paint strokes or words.  Storytelling is the most innate but I still work at it.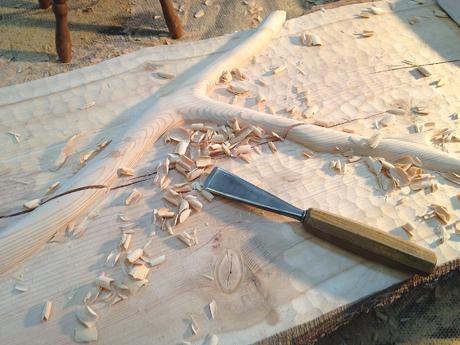 You say you are "fueled by adventure both inside and outside the studio."  How do your outdoor adventures, from ice climbing to shipwrecks, find expression in your art?
The same combination of curiosity, tenacity, and gumption give me the fortitude to push boundaries, scare myself, take chances, laser my focus, enhance adaptability and develop intuition in both my studio work and adventures.
Is it true that you once sculpted in chocolate?
Yes! I have dipped into "Willy Wonka Land" more than once while completing large-scale sculptures for Nestlé out of chocolate (yum).
As a magazine, we would like to know more about your storytelling.  How do you see this as an art form?
I create a vivid unforgettable scene, paint with words, and weave emotion like stitches to connect the audience and myself. I am candid about my feelings of fear and joy, darkness and light, conflict and comfort, success and failure.  I strive to plant a seed of inspiration, open a heart or help confirm our humanity — such is art.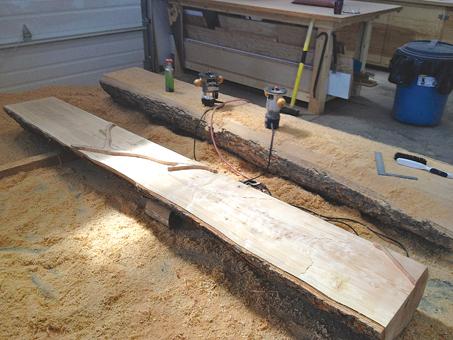 You recently visited Chicago for an international sculpture conference.  What did you learn?
The International Sculpture Conference in Chicago was a scrumptious art feast for this hungry secluded Montanan. I piled my plate with new friendships, various resources, and spicy inspiration.
You live in a remote cabin in Paradise Valley, yet you seem to enjoy connecting with people.  How does the choice of seclusion for a place to live fit in with your lifestyle and art?
Solitude is necessary in my creative process, but art itself seeks connection.  I desire both the energy of humanity and monk-like seclusion.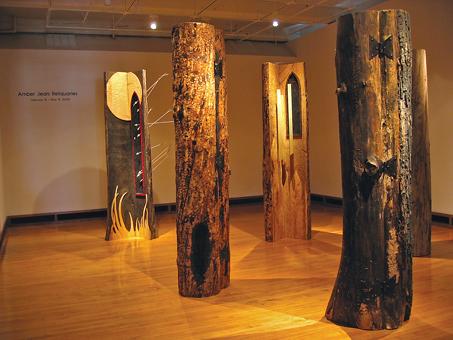 Who are the artists who most inspire you?
A few of the living ones: Beth Cavener Stichter, Fransciso Clemente, Martin Puryear, Ursula von Rydingsvard, Susan Taylor Glasco, Sanford Biggers, Theaster Gates, Rocky Hawkins and Gabriel Kulka. Some of the classics: Marc Chagall, Kathy Kolwitz, Henry Moore, Earnst Barlach, Louise Nevelson, Gustav Klimt, Georgia O'Keeffe, Giacometti, and Frida Kahlo.
Is there an art form you have tried which did not work for you?
I can't sing. If I could sing I would love to have a deep powerful belt-it-out and lick-your-bones type of voice.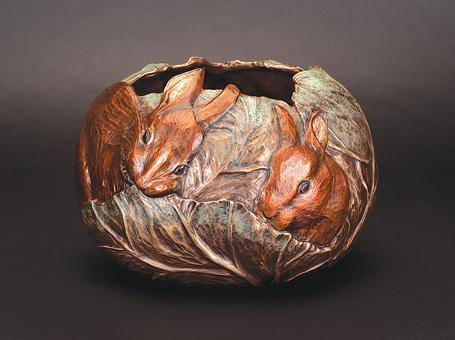 If you could describe yourself in five words, what would they be?
Audacious passionate being — always creating. 
To follow Amber Jean, visit www.amberjean.com and read her blog,  www.amberjean.com/blog.
~ Interview by Bill Muhlenfeld