Carol Hagan's colors, kaleidoscopic and intense, pulse with pigment-drenched shadows. This effect is what she's known for. But three years ago she turned from acrylics to oils; her intentions from second-hand subjects to first hand empirical knowledge, not only changed the immediacy of the work, but the heart of her work as well. 
Already quite successful, Carol Hagan's work had been included in the annual CM Russell Auction; she'd been invited to show in numerous Western Art shows, including the Buffalo Bill Art Show and Sale in Cody, Wyoming. But a few years back Carol Hagan's work turned a corner. Through the mentorship of a now deceased painter, Hagan accessed her true voice and scraped up the courage to listen to it. It's easy to see the difference, the line in the sand, so to speak. Her more recent work, while still grounded in familiar concrete images, reach beyond material, to the emotional thin wire connecting abstract feelings with tangible figures – paintings within paintings.
Carol Hagan is now stepping fully into her art and it is an honor to watch.
"About the time I took my first formal painting class from Joe Abbrescia I built a separate studio so I could have a workspace that was well ventilated, away from the house, and I could paint with oils," she says. "And wow, what an eye-opening experience that was because the colors you can get with oils are unmatched. With my love of color it was like being a kid in a candy shop. That's when my work really changed."
But it was more than a switch in mediums.  Hagan also began to explore her subjects deeper. She taps into her creativity by connecting with the subject. One way she's found of doing that is to work with her own photographs. 
"I work from photographs for reference material, and I take all my own photographs now just because if you're working from someone else's image, what connection do you really have to it?" she says, her voice soft with a natural storytelling quality to it.  "I absolutely find it imperative to go out and take photographs. I found that unless I was on location or working from the images I saw firsthand, I was missing something.  I needed to be there, to experience what sparked me to paint it.  It really helped me to make that connection in the painting. And I feel my paintings have become stronger because of it."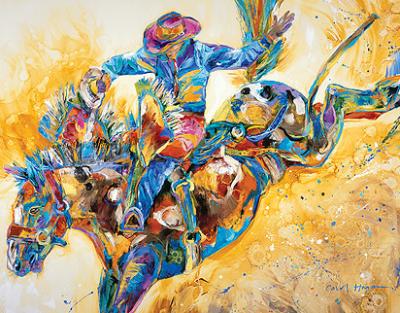 Hagan prowls local horse pastures around her native Billings, Montana, area and she makes pilgrimages to Yellowstone National Park and the to Grizzly Discovery Center in West Yellowstone, where she can get up close to the bears. Using the photographs as a focal point she goes straight the eyes, a window into the essence of who and what the animal is conveying to her. 
"If the eyes don't work the painting is not going to work," she says.  Behind her hangs a portrait of grizzly.  Purples, greens, yellows and oranges riot along the ridges of fur.  But she's right. It's the eyes.  The eyes are the lodestar, the point of reference for the rest of the painting. "It's all about what's in the eyes. As far as the color it's more about what I feel should go there. It's not a good explanation but I don't how to say it any better."
Certainly, a moment spent in the company of a Carol Hagan painting attests to the percussive outburst of colors, tying into an array of emotional reactions.
"Yesterday I was painting a coyote and I was struggling with it," Hagan explains by way of an anecdote.  "The main color of it, I just wasn't getting it right, and then I realized it absolutely had to be cool colors. The ones I was using weren't working. So I went to turquoises and greens because I was trying to remember what I felt when I was photographing it. It was night, evening-ish, and I was capturing that. But a lot of people have asked how I get to those colors. It's all about the feel, how I want to remember the moment, or portray that particular animal."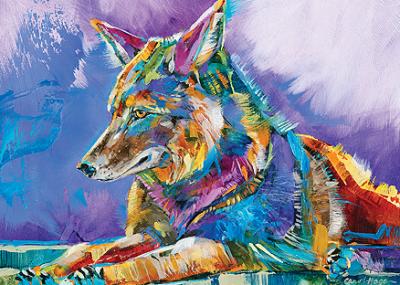 Hagan's story, like a lot of artists, inspires. From grade school through college people told her not to pursue her art. She listened. And she wasn't happy. Not until she made choices that were clearly and thoroughly her own could she ever come to realize her true self, her creative self. Her colorful self.
"My first memory of my love of art and color was a children's book my mother used to read to me about a bunny," she says, sitting in Visions West Gallery where her paintings call to passersby from the window. "It a very old book; I think what drew me more to it than the sweetness of the story were the colors in the book. I know it was my favorite because I was enthralled with the color. I was just captivated by it. I wasn't old enough to realize that it may have opened doors."
But her brother was the artist – mostly pen and ink – realistic sketches Hagan could not dare to match. 
"So at a very early age I had the thought in my mind that if I couldn't draw as well as my brother I couldn't be an artist." She smiles now at the thought. "So I never thought of myself as someone who could become an artist. There's another memory I have from first grade. I remember coloring my pictures of animals in very bright colors. I remember being scolded by the teacher because animals are not that color. And that stuck with me. I thought maybe I shouldn't do that. And I so stopped. All through school I continued to be drawn to very abstract and brilliantly colored artwork, but I didn't do any art in school."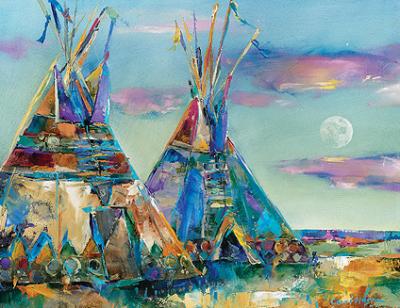 Instead she directed her energies into sports. She became a long-distance track runner, competing in cross-country, at both the high school and college levels.
"I was very serious about it," she says, looking back. She doesn't run anymore because of knee problems, but she stays active. "My dad was my coach. I loved it. I think it really brought us closer together. He was an athlete – a boxer – so he helped me to understand what kind of discipline it takes to be an athlete and to excel not only in athletics but in everything. I realize, as I get older, how valuable that lesson is. Because I feel like I'm very disciplined in my art."
Hagan paints everyday; she's very disciplined about structuring her work time.
"It's hard to balance that – you can't call up the creative side on demand," she says. "Every day, before I go into paint, I'll stretch and relax, think about all the pressing issues that need to be addressed. I'll write it all down and put it mentally aside, saying that all this will be addressed after I paint. That method has helped me so that when I walk in the studio, mentally, I leave everything at the door. I visualize suitcases and I put everything in the suitcases and then I shut the door leaving the suitcases outside. It helps. It does help."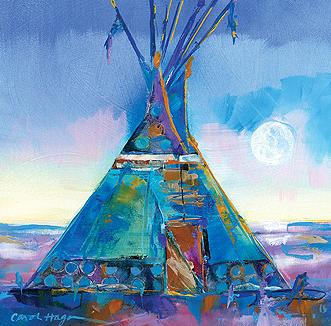 Abbrescia warned her to leave her daily minutiae out of the studio, to concentrate only on the work.
"Joe [Abbrescia] hit the nail on the head when he said that to focus as a painter you need to leave everybody and everything else at the door because if they're in your thoughts when you're painting they're going to end up on your canvas.  All your house payments, you've got to get dog food, you name it – it shows up there and your focus then is not on your painting.  It's got be the one and only center of your painting; if you can manage that, keep everything else at bay, you'll find you're a better painter." 
Even when she went to college, she still didn't realize her artistic nature. She majored in accounting.
She laughs, "I know, it's kind of odd, that I studied accounting in college. Took two years of it and felt like a fish out of water. I was getting Ds – the very first Ds of my life – so I dropped out of school and I got married."
When her son was born, Hagan worked two jobs – as a bookkeeper and a waitress – but she wanted to stay home with her son and wondered how she could still contribute to the household and help make ends meet.
"On a whim, and it truly was a whim, I started a line of children's clothing," she says. "I drew some simple, cute designs while I was doodling, took them to a sportswear company in Billings and said I wanted to put them on toddler shirts and sell them."
And she did. 
"I packed them up and took them to Big Sky, then all around Montana and down to Colorado. I went to the Denver market, got a showroom. It felt like for the first time in my life that I had listened to what was inside of me and I was on the right track. Why would I be doing something like accounting? I hate numbers."
Then the business became too successful and ended up taking her away from home too often, so she sold it, sold the rights to the designs and went to work as a freelance graphic artist. 
"Quickly I realized that the fast-paced life of a freelance graphic artist was very wearing and I wanted to find something that was just for me and not for a client," Hagan says. "I spoke with my brother when I first started to consider art as a career. He was surprised because he didn't know I had a passion for art. Obviously I didn't know it either."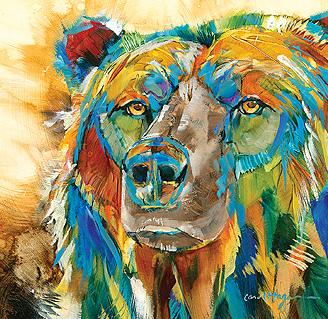 The first time she sold one of her own paintings she felt exhilarated. 
"It was like selling a piece of myself," she recalls. "I think I sometimes attach too much to things. It was at a local garden and home interior store in Billings. And they were supporting local artists and offered me a show. That was my very first show of paintings and two out of eight sold.  Wow. That event was very supportive of my decision to take that leap of faith."
But she didn't hit the galleries and fine art museums right off the bat. Hagan's journey into the art world took a different path. After the tee-shirts, Hagan began a line of greeting cards and affordable prints. 
"There is a different mindset being a fine art artist versus that of a graphic artist," she muses.  "The more I realize my dream of being a fine artist and to be recognized and accepted into some of these museum shows alongside people that are my idols, such as Kevin Red Star... I have to pinch myself. That is the direction I want to go in. Coming from the graphics/business side of it, there was that sense of how do I make a living at this? It's been an interesting journey." 
Hagan says she will continue to do the high-end Giclee prints, in very limited editions. 
"My husband is a fine art printer and the only reason we do it that way is to have absolute control over the quality," she says. "The marriage of our business with fine art is a great one. We both love what we do. My husband is my business partner; I can't imagine it any other way." 
However, it seems clear Carol Hagan's sojourn is still unfolding. 
"I see my work getting more colorful," she says. "I see it evolving all the time. I look back on my work from two months ago and it looks dated. And I like that. I like knowing I'm expanding my horizons, still exploring." 
~ Michele Corriel lives and writes in the Gallatin Valley, where she freelances for regional and national publications.