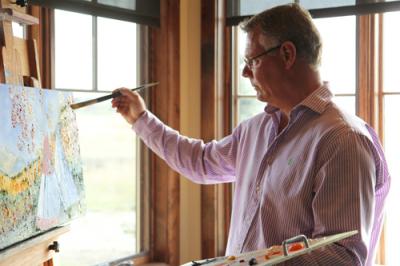 Charlie Dingman, a self-taught artist, paints brilliant scenes in oil and watercolor.  Inspired by a grandmother's art which adorned his home, he felt peace and contentment when he viewed her work.  He wishes to have that effect on his viewers.  See more at www.Charliedingmanfineart.com.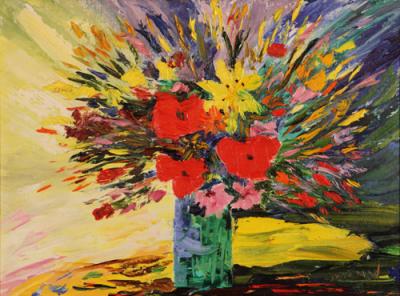 Let's start off by asking about your grandmother's influence on your art.  I understand that you never actually knew her?
My grandmother passed away when my mother was 14.  We were fortunate to have her artwork in our home.  So as a child I would just look at those watercolor paintings. The way she used light was truly amazing.  I have some of her work now and I'm still amazed at her work — the composition, use of light, color, and shadows.  So I know that I was and am still influenced by her art.  I wish I could have met her and have her teach me.  She could capture a real emotion, a mood, with the way she developed the painting. 
You describe yourself as a "self-taught" artist, which sounds like a musician who cannot "read" music. In what ways does being "self-taught" influence your approach to your work? 
Each time I do a painting is a learning experience for me. I try to improve each piece so that I feel like I am developing as an artist and growing and learning.  It isn't so much about technique as it is creating feeling and an image that creates interest for the person viewing my artwork. I was greatly influenced by Bob Barlow.  Bob is a friend and a great help to me.  He invited me into his studio many times to study him painting.  I was a dentist and had just had a career-ending accident with my hand.  Bob invited me out to watch him paint and asked me if I had an interest in painting.I had started doing some watercolor paintings and sculptures in clay to try to rehab my hand.  Dentistry was always an art form for me.  So art was just an extension of my dentistry. I started painting at Bob's urging and he encouraged me, telling me that I definitely had the talent and just had to paint.  I developed my own technique, use of colors, and I try to create paintings that people will enjoy and would want in their home. 
Oil or water?  How do you make the choice involved in using one medium over the other when imagining a work?  
I love to do both, so it is just a matter of what feels right to me at the time.  Sometime, I feel like I can create the image I want with watercolor, sometimes it has to be oil. They are really different techniques so it is more about what I feel like doing at the time and what I am trying to accomplish. 
There seems to be a certain elusive quality about your work.  It leaves the viewer wondering what is just beyond the canvas. Is that intentional?  
Not really, I try to create art that will bring the viewer into the painting and give them a feeling of joy.  I like to use color and light to create my work and as I continue to paint
I want to obviously improve. I enjoy hearing people see one of my paintings and say, "Wow."  Landscape painting is using natural light, and the image that is being created may leave the viewer wondering where that is and what I might have been feeling when I created it. There are so many beautiful places in our country where a painting is waiting to be created.  I see beauty just about anywhere I go so that is what inspires me.  I hope people can go on a little vacation when they see one of my paintings and that they enjoy what I do.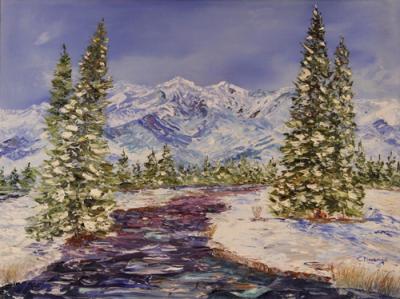 Who are the modern artists you admire most?
Bob Barlow, Clyde Aspevig, MC Poulsen, Robert Moore, Oleg Stavrowsky, Tom Gilleon, Michelle Cattin, Dave Hall, to name a few.  That list can go on and on depending on what your definition of modern means.  These artists inspire me and I hope one day to grow to be as good as them.
What is the creative process like for you?  Can you describe it?
I see paintings anywhere I am.  I take photographs of landscapes, and I go back and try to create a painting from those images. Observation is key for me.  I also create images in my head that I think would be a challenge to paint and see if I can capture those images in my art.  When I get motivated and carve out time from other obligations, I love being in the studio.  I start my work with Stephen Covey's "Begin with the end in mind."  I have a pretty good idea what the finished piece should be like and get after it.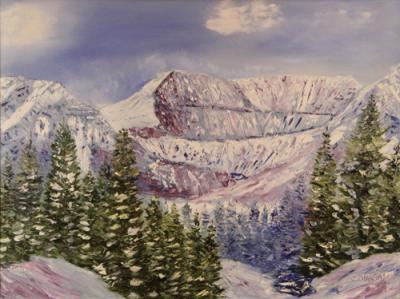 Tell us what it is like when you are involved in a work.  Do you paint for long periods on end, or set the canvas aside for awhile and revisit? 
I do paint for long periods, but sometimes I have to set it aside and revisit.  When I get started though I want to keep going and work it out until it is finished.  Obviously, sometimes the painting isn't working out, and I have to stop, regroup and get the feeling that I want out of the piece.  I love the process of creating, and I do get wrapped up in it. 
Where do you see your art taking you for subject matter in the near future? 
I want to continue to grow as an artist, obviously developing in some technique but more in creating pieces that capture the spirit of that moment.  I would love to get into portrait painting.
My wife and I have been blessed with seven grandchildren in the last five years.  I would love to create paintings with my grandkids in them.  They are adorable children and bring us great joy.  We will see where that goes.  I still love landscape art and that will probably be the greatest focus.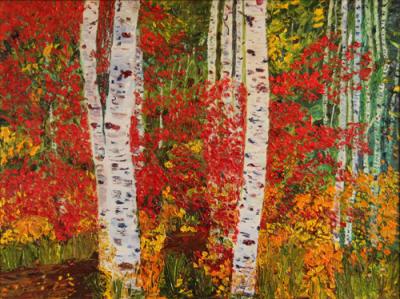 What are your interests besides your painting? 
My other interests in my life are family. I have been married to the best woman in the world for 37 years and we have three wonderful children.
I love golf as a recreational outlet, although I don't see myself painting golf images. Art is a very good way for me to relax and create.  I love to work with people and I have always been interested in giving back to people and being of service to my clients.  I want people to feel appreciated and to know that I gave them the best I have, always. 
OK, describe Charlie Dingman in just five words. 
Empathic, altruistic, creative, family, and fun.
~