Loren Kovich, a top-flight painter in Helena, works in both watercolors and acrylics, excelling in both mediums. A graduate of Montana State University and a professional artist for 30 years, he has won numerous awards, such as:
President's Award, 29th Annual Watercolor Exhibit – 2011
The Realism in Nature Award, Adirondack National Exhibition of American Watercolors – 2006
Montana Watercolor Society 
Founders Award – 2004
Helena Framers Award, Montana Watercolor Society National Exhibition – 1996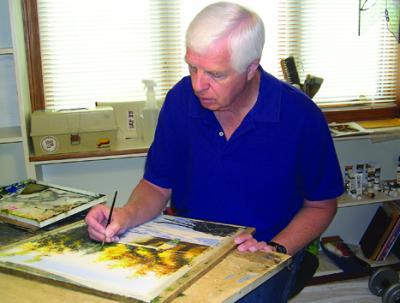 Artists Magazine Award – 1991
People's Choice Award, Vancouver Annual Wildlife Art Show (CA) – 1990
1st Place, St. George Art Festival (Utah) – 1989
Best of Show, Richest Hill on Earth (Butte) – 1985
His work has also been featured in five books on painting.
Distinctly Montana Interview:
Acrylic and watercolor is like mixing "oil and water."  I know they both contain water, but what causes you to choose these two very different mediums for artistic expression? 
While attending MSU years ago I majored in art and of course tried every medium. But fell in love with watercolors. The fluidity and transparency of the medium struck a chord with me and that's all I used for years. Then about 10 years ago I noticed how tight I was getting with my watercolors and decided to experiment with acrylic paints. It was a pretty drastic change because aside from the detailed realistic fish I was letting the thinned down acrylic paint pretty much do its own thing — going with the flow so to speak. It was a liberating experience.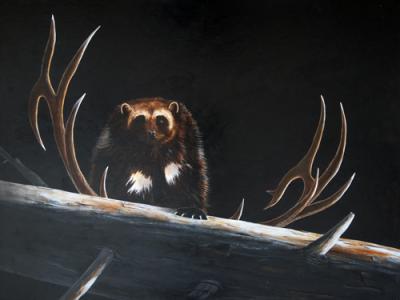 Tell me about the creative process working in each medium.  Does your choice of medium inspire you in different ways? 
With watercolor I pretty much plan everything out ahead of starting to paint. There are some "rules" or guidelines one can follow to make the process a little easier. Watercolor is a difficult medium. But with my semi-abstract acrylic work I became more of a free spirit, allowing what is happening on the canvas to tell me where to go next. Also I have found out some interesting things about acrylics, especially the textures I get by thinning it out so much. It is fun letting the paint do the work.
I find it unusual that your work veers from realism to abstraction.  Are these art forms equally appealing to your creative urge? 
With watercolors I am trying to capture the effect of light on our Montana landscape.  Pretty much that is what painting realistically is all about. With my semi-abstract acrylics I am more concerned with color, movement, shapes, and texture.  I find both methods appealing but painting semi-abstracts is more creative because I am basically starting from scratch.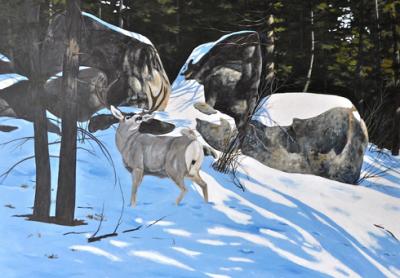 What are you working on now, and where do you see your work taking you over the next year?
Right now I am working on a series of Montana big game animals, in acrylic, very realistic, with very dramatic lighting — early morning or sunset light with really dark backgrounds. After I am done with this series I am going to do some semi-abstract pieces to loosen up again but then experiment with metal leaf to give them even more "pop".
From who or what do you get the greatest inspiration for your work?
All of the ideas or inspirations for my paintings come from the Montana landscape or its animals. How can you live here and not be fascinated with what we have? I fly-fish a lot so that's where the inspiration comes from for my semi-abstract work. And I am especially intrigued with water, our rivers, creeks, and streams.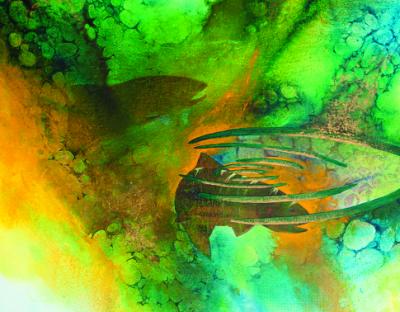 When you are not working, what do you most like to do to enjoy life?
When I am not painting I am usually fishing, bird hunting, golfing, or visiting the grandkids. Sometimes just out shooting photos that I think would make a good setting for a painting.
What is your favorite watercolor painting and your favorite acrylic work by another artist and why?
Two artists who I have admired an awful lot are Winslow Homer for his watercolor landscapes and Morten Solberg for his loose abstract acrylics.
So, if you "could do it all over again," how would your life as an artist be different?
If I could do it all over again I would probably do the same thing — except that I would teach more watercolor workshops. The few workshops that I do teach are pretty fun and satisfying. Especially when I can turn someone on to painting.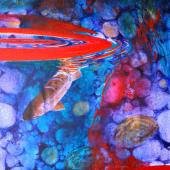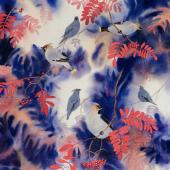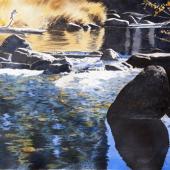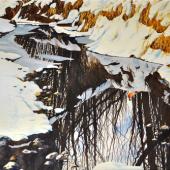 And now, describe your art in just 5 words. 
Interpretations of the Montana landscape.
Learn more at www.lorenkovich.com 
or contact him at [email protected] 406-495-9203.
~ Interview by Bill Muhlenfeld