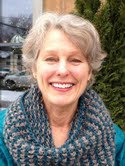 Kathleen Clary Miller has written 300+ columns and stories for periodicals both local and national, and has authored three books (www.amazon.com/author/millerkathleenclary). She lives in the woods of the Ninemile Valley, thirty miles west of Missoula.
********
A friendly brown bear strolls through the woods just off our back patio once or twice a week, I'd say.  In the soft light of a summer evening, she emerges, sometimes with one or both of "her twins," as my neighbor refers to her offspring. 
We've done everything right to instill fear of human habitat.  Despite the irresistible temptation to encourage her visits so we can watch typical bear behavior from the comfort of our picture window, we issue Cody, our German shepherd, the command to chase her into the woods.  He stops on a dime when we order it, after we see her disappear in a mad rush.  I dig down deep and muster great discipline to dissuade her since there is nothing more adorable to me than a big fluffy bear acting like a human.  It must hearken to my stuffed-animal childhood.
The only sign of her refusal to entirely call it a day and try her luck elsewhere is evidenced by her few attempted break-ins—and failures to succeed—on our "bear resistant" trash container. 
"Bear resistant" would be an understatement.  Trust me, this container turned out to be the best investment we ever made.  I could film a commercial for this baby where trucks run over it, robots hurl it over a bridge, and King Kong himself drops it from atop the Empire State Building.  Covered with claw marks and scratched and dinged it still stands (some mornings we find it lying on its side) never farther from its designated spot by the garage than the patch of gravel that abuts said spot.  Gravel is obviously a rough road to travel when you're a bear either wheeling or rolling a week's worth of kitchen bags filled with trash secured in a very, very heavy bin.
Against all odds, the small pincher latches remain closed, anchored to the receptacle by steel cables.  The tires are intact.  The metal rim around the lid may be a wee bit bent out of shape, but that lends it the character of a courageous battle-scarred survivor.  
This morning I opened the back door to walk out to the garage and immediately noticed a certain lack of something.  The bare spot on the breezeway.  The bear.  The trusty trash container was missing from the view—missing in action, as a matter of fact, as I scanned the woods in search of what I determined may have finally lost the battle. 
I snapped a picture and sent it to my daughters, instructing them to imagine they are back in the dentist's office reading "Highlights" magazine, the page where you have to discern the hidden pictures.  Find Waldo's trashcan.  It took me as long as it is taking you, to spot it.
Hint:  It's green.