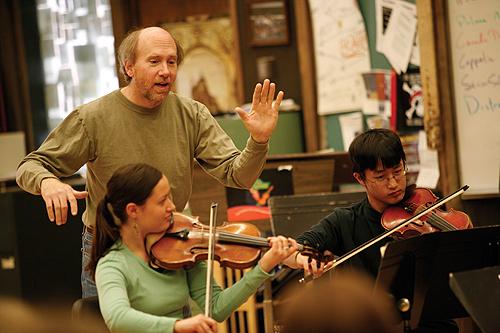 For close to two decades, summer in Montana has meant extraordinary classical music by members of the Muir Quartet and acclaimed guests. The annual Montana Chamber Music Festival returns with six performances. The Bozeman and Red Lodge concerts feature students who have been mentored by professional musicians, including Muir Quartet cellist Michael Reynolds.
"Simply put, if children learn a musical instrument, they get smarter, more creative, and more disciplined," states Reynolds, Artistic Director of the Classics for Kids Foundation (CFKF). He should know: he grew up under the influence of music from his late father, Creech Reynolds, a former head of Montana State University's music department, violin professor, and namesake for the campus recital hall.
In 1989 Michael and his father formed the Montana Chamber Music Festival to bring mountain audiences the sounds of world-class strings and piano. In 1998 Bozeman businessman and cellist Roger Kirk founded the nonprofit CFKF along with Michael Reynolds, John Kirk, and Tyll Hertsens. Through grants and donations the program now serves over twenty diverse communities from Santa Barbara to Philadelphia. In recent years the foundation began presenting the music festival to help support CFKF throughout the year.
The CFKF was created in response to the decline of music education programs for young people in America. Numerous studies listed on CFKF's Web site show that students who study music perform better across the board in reading, math, problem-solving, and self-concept. In fact, the College Entrance Examination Board found that students with at least four years of arts study scored 59 points higher on the verbal and 44 points higher on the math portions of the SAT.
The premise of CFKF is simple: students are more likely to stick with an instrument if it is a pleasure to play. Poor quality instruments are difficult to play and keep in tune, do not sound good, and break easily. Student's self-respect and self-esteem goes up when trusted with a high-quality instrument. Of course, in this era of declining budgets, fine string instruments are beyond the reach or priority of many schools.
Applications for nonprofits to purchase instruments for schools and for mentoring are on the Web site. Reynolds reaches students through intense, day-long workshops two or three times a year. He exhibits the foundation's mission to "inspire and empower young people to shape their own positive futures through playing music."
Collaborative efforts are also underway with local musicians Tom Robison and Hallie Ruggheimer for a fiddle workshop with guest violinist, Will Fedkenheur, a Canadian fiddle champion. The workshop will be held with the Boys and Girls Club.
For more information about the foundation, call 406.587.8183 and visit www.classicsforkids.org.