Your collection of art work is massive…and important. Can you give our readers a brief description of the collection?
My father, Lester Bridaham, was a museum director and an artist. He started collecting art in Europe in 1920 and continued buying art until 1990. My mother was an art historian and noted writer. Together, they enjoyed collecting works of artists that they knew, teachers at the Art Institute of Chicago School, and others throughout their lives. There are about 1,000 pieces in the Collection.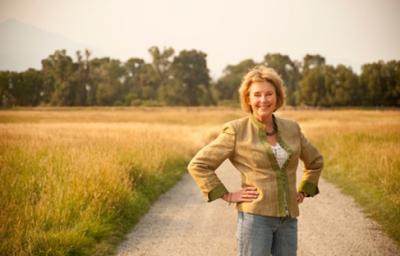 The most prominent artist in your collection seems to be your father, Lester Bridaham. How would you describe his talent and the breadth of his work?
He trained at the Art Students League in New York City from 1928-1930, studying with Kimon Nicolaides and becoming his teaching assistant. His work was influenced by teachers at the school, Charles Burchfield and George Grosz, and inspired by a humorous and joyful regard for life. There were five major periods of his life when he was primarily painting: Morocco and France, New England in the 1930's, Florida, when he was stationed in the Navy during the Second World War, and the West, 1960's until 1990. His last work, My Secrets of the Grand Canyon, was astounding — a series of 50 watercolors of the Grand Canyon that he did in a six-month period when he was 88 and 89.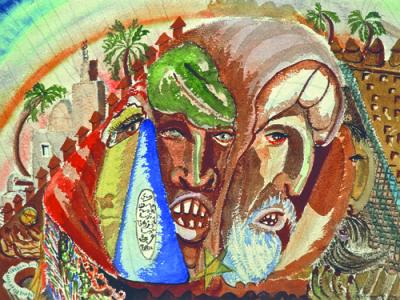 Lester started out his life with advanced degrees in chemical engineering, but then turned to a life of art. Do you see any influence of this scientific background in his work?
I think my father was too creative and too spiritual and influenced by the wonder and joy in life to be a chemical engineer. When he was at Cornell University, in 1918 at his fraternity house, Chi Psi, he saw the gargoyles on the house and that started him thinking about art. Later he wrote a book: Gargoyles, Chimeres & the Grotesque in French Gothic Sculpture. He was very interested in Alchemy, perhaps the antithesis of science, and created wonderful etchings and watercolors of the Alchemists' Shop. His large watercolor on the subject hangs in the Bozeman Public Library on loan from a private collector.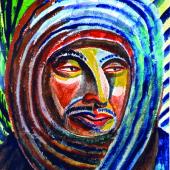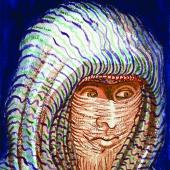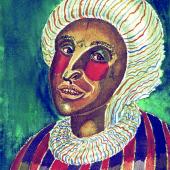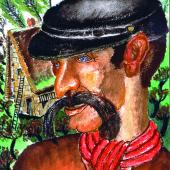 His time in France and then Morocco in the 1930's produced a large body of work. Why do you think he was especially prolific in these countries?
He received an American Field Service Fellowship to paint in Morocco and Normandy, France, in 1931 and 1932. In Morocco, he would walk around the markets in the morning and then, using only his memory, come back in the afternoon to his hotel room to paint watercolors of the people that he had seen that morning.
Lester seemed to enjoy painting in the both the naturalistic style of Thomas Hart Benton, but also dabbled in fantastic imagery reminiscent of Hieronymus Bosch. Can you explain these divergent paths in his work?
He was very creative and loved to see designs and faces in nature. We can see that in his paintings from New England, such as Chew Four Freedom's Twist and Hungry is the Winter's Night. Both are powerful statements, and somewhat macabre. Also, in the Grand Canyon series the faces keep appearing.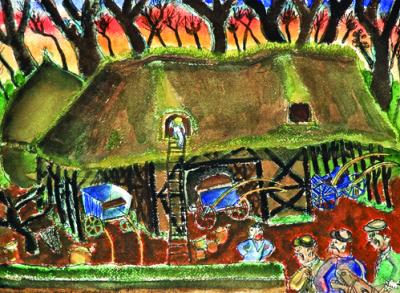 Other than your personal collection, where can one find your father's work?
Lester Bridaham's works are in the permanent collections of several museums around the world:
Victoria and Albert Museum, London, England; The Museum of the City of New York, NY; Western History Department, Denver Public Library, Colorado; the Springfield Art Museum, Springfield, Missouri; Colorado Springs Fine Arts Center, Colorado.
He has exhibited at: Opportunity Gallery, NY, NY, 1928; GRD Gallery, NY, NY, 1932; Wadsworth Atheneum Museum, Hartford , CT. , 1935; The Art Institute of Chicago, 1946; the Denver Art Museum, 1970; the University Club, Chicago, Illinois, 1995; Beale Park Art Center, Bozeman, Montana, 1997; Ecce Gallery, Bozeman, Montana 2013.
Lester Bridaham lived his last days in Bozeman while in his 90s. How did he spend them?
He moved here after my mother died in 1989 and had an apartment at Hillcrest, near the hospital. He and I inventoried and photographed all of the collection, and I took notes on every painting and his recollections of the artist and how the work was done.
We started The Bridaham Collection art gallery and opened a gallery in the US Bank Building for a time starting in 1990. Lester was thrilled and said that he had always hoped something like this would happen.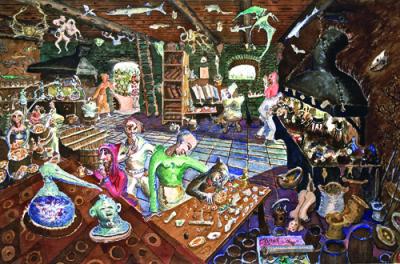 Tell us about some of the other artists you prize in your collection — your favorite artists and their works.
Vance Kirkland was head of the University of Denver Art Department from the 1930's until 1970.
He was a versatile artist who had shows all over the world. I have three of his paintings; each is different and interesting.
Julio De Diego was a great friend of my father's. Julio, a larger than life character, was married to Gypsy Rose Lee, and was a graphic designer and artist from Spain. I have some of his early etchings from Spain and paintings from the 1940's.
My father discovered Martin Saldana, a naive artist from Mexico, who started painting in Denver, Colorado, late in life when he was invited by mistake to a children's art class at the Denver Art Museum.
My father started buying his paintings in the 1960's, eventually owning nearly all of Saldana's works. Saldana's joyful and colorful remembrances of growing up on a ranch in Mexico are just delightful. Some of the pieces my father sold are now displayed in the permanent collections of museums around the world.
Thank you, Vivian. We enjoyed getting to know the Bridaham Collection!
Paintings by Lester Bridaham
Note:
Nearly all of the pieces in the
 collection are currently for sale.
Vivian Bridaham, Managing Broker, Bozeman
Big Sky Sotheby's International Realty
Bozeman, Montana
406-586-4408 office 406-580-7516 cell