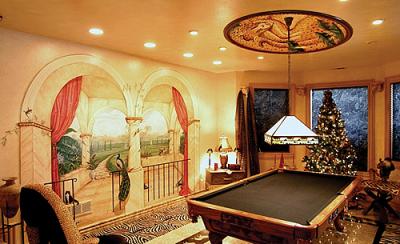 Giving a false impression is not always a bad thing. In fact, in the world of decorating, people are paying lots of money for false impressions.
Faux finishing (faux is a French word meaning false)—an artistic technique that imitates such elements as marble, stone, granite, brick, metal, linen, ivory and bone—is hotter than ever in home interiors. It can instantly transform the character and feel of a room in either a subtle or bold way.
Often perceived as simply using a sponge, rolled-up rag, or crumpled newspaper with a paint and glaze, faux finishing is now a sophisticated craft that can enhance the ambiance of a room by creating dimension and texture with the skilled application of products, such as paint, glaze, clay, plaster, and even crushed marble. Faux finishing could be called the art of deception because of its ability to make a surface look like something that it is not.
Because the tinted glazes render layers and hues translucent rather than opaque, faux finishers are able to create the illusion of depth in a two-dimensional medium and give walls a luminous glow.
Some faux finishes, such as marble and wood graining, are only successful if they are not recognized as being faux—the ultimate goal of most decorative artists.
With the expanding complexity of faux finishing, the craft now falls under the umbrella of decorative painting, which encompasses a broad range of centuries-old painting techniques including muraling, trompe l'oeil, stenciling, graining, leafing and gilding, plaster and stucco techniques, and patination.
Trompe l'oeil (a French term for "deceiving the eye") is an art form that's been practiced for over 3,000 years as a way to create the illusion of three-dimensional objects on a two-dimensional surface. It has also been described as a heightened form of illusionism.
The Trompe l'oeil Society of Artists Web page lists three characteristics of trompe l'oeil. First, the objects rendered must be full-size and look believable from a foot away from the picture surface. Second, the objects painted tend to be relatively flat so that the human eyes cannot detect any lack of real depth to them. Many artists will overlap flat objects—such as envelopes or currency—to create the illusion of depth and space. Others will use dramatic lighting so that the shadows painted underneath the objects will create the depth deception. Third, the artist will use a variety of painting techniques to create realistic-looking textures in the painting. Broken glass, scarred wood, satin ribbons, rusted metal, crinkled paper, smeared chalkboards, and frayed string are just of a few of the textures a professional trompe l'oeil artist needs to be able to paint to fool the eye of the viewer.
According to Saskia Ewen Fox, a Bozeman decorative artist who owns Whole Art, LLC, with her husband Michael, the three dimensional aspect of trompe l'oeil is often used on walls to give the illusion that that a door or window exists. [there are some photos that depict this]
Cookie Hanson, a decorative artist and owner of Tour de Faux in Missoula, said that she can transform any surface into a work of art using faux finishes. One of her favorite examples is a client who wanted columns made from Brazilian cherry wood in his house but discovered how expensive the exotic wood was and nixed the idea. Hanson told him to put in PVC columns and she would make them look like they were made of Brazilian cherry wood. She did her magic and insists that you can't tell it is just a decorative, wood-look finish.
"There's not a surface I can't do," Hanson said, describing a cement floor that she recently finished to look like a rug.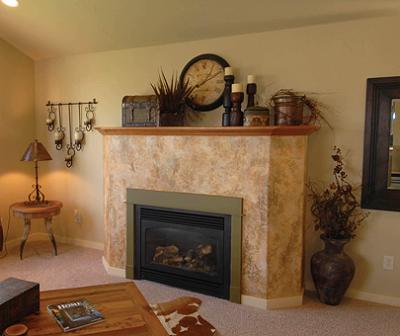 There are many tools and products available in home improvement stores for homeowners who want to try their hand at faux painting; however, professionally trained decorative artists and painters take it to another level. Many of them have completed countless hours of training and hold certifications in various techniques, usually taught by European artists.
The craft of decorative painting was first used among the European aristocracy as far back as the 17th Century. From it emerged two styles of decorative painting—French and Italian. The Italian style is generally used to leave the illusion of a certain material, such as marble, stone or wood. The French style is more precise, with the emphasis on reproducing the exact physical characteristics of a material.
While Renaissance and fresco finishes are among the most popular of faux finishes, Hanson said she gets many requests in Montana for rustic finishes, such as studded leather or images of nature, like the embedded paw print of a grizzly bear.
Ewen Fox said she also gets a lot of requests for rustic finishes. She recently completed work on a bathroom in which she created the impression that the walls were made of wood planks. She finished it off with distressed copper rivets that were inserted to look like distressed nails in the "wood" paneling.
She also refinished a fireplace-surround to give the appearance of cracked paint that is peeling. Finishes that look like leather and suede are also popular, she said.
Since Donna Hefty of Missoula started her decorative painting business, A Hefty Design, 12 years ago, she has seen customer preferences go from modest and discreet finishes to "really dramatic" walls with bold colors, such as an orange base with red overlay.
"Venetian plaster has become very big," Hefty said. The plaster is made from ground marble and applied with a trowel. It polishes like glass and takes on the appearance of marble.
The number of layers in a finish is a factor in achieving depth, Ewen Fox explained. While some simpler techniques are one layer, ones that require five or six layers have "incredible depth," she said. Layers might include the use of paint, foil, glazes, and waxes.
Hanson, who lists one of her specialties as transforming ordinary ceilings into works of art, finished a seven-layer tray ceiling with metallic waxes that was featured on the HGTV show. She currently is using mostly "green" products—all natural clay and pigment. Her extensive selection of texture finishes also contain natural elements, such as real dried leaves that are embedded in the plaster one piece at a time.
Scott Gorski of Classic Painting in Hamilton began his business decades ago as an interior and exterior painter. Ten years ago, tired of painting "production" houses but still in love with the craft of painting, he began learning faux finishing techniques. He specializes in "non-contrived" faux finishes—ones that are realistic instead of decorative.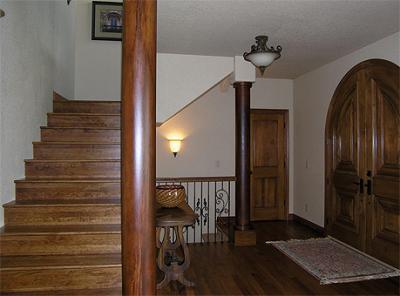 "I don't cover an entire board with crackle," he explained. "I create what would naturally happen in the course of time." He recently finished a new wood floor by using an aging compound and painting technique to make it look old. He did the same on the exterior of a house addition with new wood siding that needed to match the old wood siding.
Although the word "faux" ultimately means to imitate, Gorski said he creates things that are realistic, referring to them as "timeless" and "era-esque" finishes.
Do-it-yourself faux finishing is relatively inexpensive because it typically requires just a few application tools, paint, and glaze. Compared with the price of an actual Venetian plaster wall finish, for instance, you can achieve the look of Venetian plaster with paint for a fraction of the cost.
When a professional decorative artist is hired to do a job, the price varies, depending on time, products, and the size of the area. In many cases, faux painting can be seen as a "luxury product" but can be more affordable than people might think, said Ewen Fox. A simple glaze finish, using two to three colors, might cost $4-$5 a square foot, while more sophisticated finishes will cost $13-$15 a square foot.
Hanson estimated the cost of glazing a 10-by-10-foot wall at $300. She recently did 16 finishes in one house, covering about 12,000 square feet, which cost the owner $50,000.
Hefty usually charges by the hour, running anywhere from $45 to $70.
Although walls are the usual canvas for faux finishes—making them look like reptile skin, lace, wood, plaster, suede, leather, and metal—the techniques can be used to transform the finish on floors, furniture, cabinets, lighting fixtures, picture frames, and accessories, such as urns and vases.
"As an artist, the creativity you can feel from this is huge," Ewen Fox said.
Photos of faux finishes by Hefty can be viewed at: www.aheftydesign.com
Hanson's work can be seen at www.tourdefaux.com.
Saskia Ewen and Michael Fox's website is www.whole-art.com
~ Carol Ferrie has been living the Montana dream for 22 years. She is a freelance writer and works full-time for the Property and Environment Research Center in Bozeman.