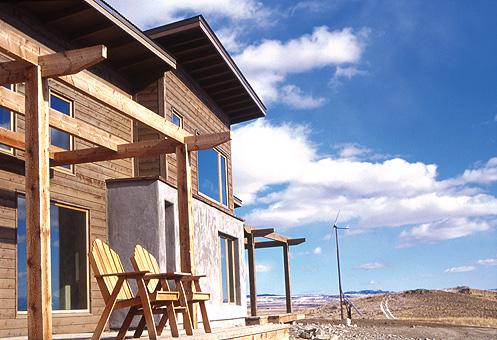 A new breed of architects, homebuilders and homeowners is appearing on the Montana landscape. Spurred by the desire to merge comfort with efficiency and elegance with function, these new pioneers are creating homes that serve the lifestyles of the owners and treat the land and its resources as equal partners. 
Such "partnership" homes, also known as green or high performance homes, are the wave of the present for savvy homeowners, architects and builders.  With upfront planning, and using proven techniques that assure comfort and performance in accordance with the homesite and climate, any new or remodeled home can reward its owners with more comfort, lower utility and maintenance bills, and a healthier indoor environment than what is found in the majority of homes being built today. The resale value is also much greater on a high performance home. 
Livingston architect Lori Ryker of Ryker/Nave Design is passionate about working with homeowners to build homes that operate affordably "off the grid." Off the grid means the home generates its own power, rather than getting its energy through public utilities. To have a cost effective system in Montana, the home must maximize both passive solar heating and cooling, as well as natural daylighting. The home, appliances and mechanical systems must also be properly sized. "People have to think of the upfront costs of energy efficiency as an investment rather than an expense," Ryker said.
Ryker recommends an off the grid solution when the cost of bringing public utilities to a homesite is cost prohibitive. And now with skyrocketing energy costs, home generated power systems are much more attractive than ever before.
In the Fargo and Maestas home in the Shields Valley, Ryker/Nave designed a home that maximizes the attributes of the site and minimizes operating and maintenance costs. It accounts for the tremendous temperature extremes a home on the exposed high plains of Montana must endure - long, hot sun filled days and winters of wind driven cold. 
Home mass is critical to maintaining even temperatures in the home year around. This is a strawbale in-fill home that sits on a concrete slab. The slab is a heat sink that passively collects solar energy through south facing windows in the winter. During extreme cold, the owners can fire up a propane boiler to heat the radiant heat floor system integrated into the slab. The massive walls, well insulated roof, window overhangs and slab help keep the home cool in the summer. 
The home's solar photovoltaic system and a wind turbine have a combined energy generation capacity of over 4,600 watts. A 5,000 watt Kohler generator provides back up power. These systems are integrated into a battery bank that can store enough energy to power the home for two to three days. Such battery banks, however, are expensive.
For this reason, Ryker stresses that she supports the grid-intertied powered system when at all possible. Grid-intertied systems mean when some energy is provided by a public utility while some energy is created on site by a renewable system. "The grid becomes your battery bank," Ryker explains. "Without it, you need to replace your batteries about every eight or nine years."
Ryker said that homeowners should realize that a home's operating and maintenance costs can easily surpass the initial building cost. "Appliances, lights and mechanical systems with at least an Energy Star rating should be installed." This is especially critical with an off the grid home as reducing its electrical load can reduce the size of the power generating systems a homeowner installs. Energy Star is a voluntary program administered by the Environmental Protection Agency and the U.S. Department of Energy to incorporate significant energy savings through energy efficiency standards.
For many homeowners, indoor air quality is as important, if not more important, than energy efficiency. "One of the biggest things you can do to improve the indoor air quality of your home is reduce the amount of carbon you emit into the outside air. A reasonably sized energy efficient home that uses sustainably harvested and locally produced materials collectively reduce a home's environmental impact...and simply make living more enjoyable."
Thor Arnold is a Bozeman architect who designs new homes with precisely those two qualities in mind…to make sustainability fun and practical in ways that serve the character and lifestyle of the homeowners. Arnold and his wife, Jane, completed their grid inter-tied home in the spring of 2002. 
For Thor, the term "new home" is relative. He has a well-deserved reputation for reusing old building materials and giving them new life. His own home is no exception. Built on an urban infill lot in north Bozeman, it artistically integrates salvaged materials with high performance design and components. For a first-time visitor to the front porch, refurbished barn wood, massive load supporting timbers and a beautiful Victorian door suggest what lies in store inside. 
One of the first features that draws visitors inward into the home is the Tulikivi wood burning stove. It suggests a principle common to high performance homebuilding: mass. Made of dense but soft soapstone, it is designed to burn and heat with super efficiency. "It only burns at full throttle, so it releases almost no particulates," Thor explained. "All we burn is scrap wood. You load it, light it, and let it burn. One small load heats the soapstone, which stays warm for hours. With this particular model, we can keep our photos on top of the stove even when we use it." The stove weights over 4,000 pounds and is supported by a brick and steel foundation in the basement.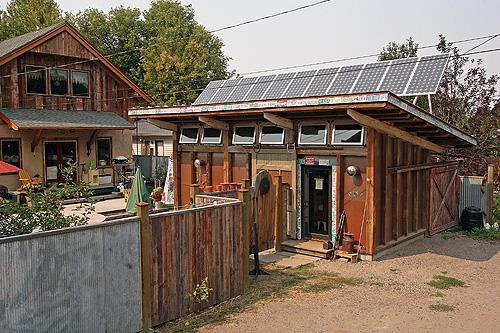 "We never build crawl spaces," Thor added. "We either build homes slab-on-grade or with a full basement." Radon and mold problems are prevented by preparing the homesite with eight inches of gravel. A vapor barrier and insulation are put down before pouring concrete. "The gravel beneath the slab has enough air space to direct radon to perforated vent pipes. These connect to solid pipes that are vented out through the roof system." This way, no one in the home is exposed to any of the toxic gas. 
Daylighting is a key feature. Virtually no artificial lighting is needed inside during the day. The sun also passively heats the home. The exterior walls are made predominantly of insulated Durisol blocks which are filled with reinforced concrete. This provides much of the mass necessary to keep the house cool in the summer and warm in the winter. "These blocks are expensive, but save a lot on labor," Thor said. "They are insect-proof, mold-resistant, easy to work with, and can be covered with stucco, plaster or siding. Builders love them!"  
A radiant floor heating system on both the first and second floors helps assure the home is comfortably warm. "We also install a Venmar heat recovery ventilator in every house we build," Thor said as he explained his system. The Venmar pumps stale indoor air through a capillary-like core as it draws in fresh air from the outside. The incoming air is preheated by the outgoing air. The result is a draft-free home with even heat throughout and assures healthy, indoor air.
Walking out the backdoor, Thor pointed out his solar panels mounted to the roof of his studio. His system is tied to the electrical grid. "It is important to design your house to accept solar panels, whether you install them now or later. Keep the roof lines simple and orient them for optimal solar collection." 
Thor encourages homeowners to use Energy Star certified builders. "The best architects and builders constantly discuss the merits of techniques and technologies, and work to do things better," he said.  Terry Davenport of Natural Housebuilders is a Missoula-area builder who encourages homeowners to learn all they can about building healthy and energy efficient homes before they build or remodel. "Then when it comes to working with your builder," he says, "stick to your choices." 
"Your house should at least meet the Energy Star standard under Builder's Option 2 (BOP 2). This standard requires a more air-tight and a better insulated house than what is called for under Builder's Option 1." This minimum standard should be put in the contract with your builder.
The Line House near Missoula is a home Davenport recently remodeled. The home is tied to the grid, but operates efficiently primarily due to thick insulation and an air tight building envelope. The foundation was built using insulated concrete forms. Foam insulation and a vapor barrier are beneath the slab. Structural Insulated Panels (SIPs) are used for the walls. Davenport overlaid the six and a half inch thick SIPS panels with extra foam to make the walls eight inches thick. 
The roof uses ten-inch thick SIPs. Energy efficient windows reduce heat loss common through glazing. The home is topped with an attractive green metal roof that will last for decades and is recyclable. And in this potential "high snow zone", Terry added snow stops to reduce snow build-up around the home's perimeter.
The condensation and mold problems that can occur in an airtight home are eliminated with proper ventilation. Davenport says, "You either want a tipi or an airtight, well- insulated home with a ventilation control system." The Line House uses a Venmar heat recovery ventilator. It helps assure draft-free comfort and healthy indoor air, while recovering over 90% of the heat from the indoor air being vented to the outside.
The Line House makes extensive use of fire-killed timber that was harvested and milled near Missoula. It was used as both exterior siding and interior paneling. Davenport stresses the importance of using locally produced materials when possible. "Right now, the Missoula area has an abundance of fire killed timber." Some timber harvesters bring selected quantities from the mountains to the mills, leaving enough behind to prevent soil erosion. This helps the forest regenerate.
The high insulation values of the foundation, walls and roof, and proper air circulation, enable the home to have an even temperature throughout. There is no extreme build up of heat in the upper levels. Consequently, there is no need for air conditioning during the summer, something that is being seen more often in many Montana homes. Terry agrees that the upfront costs of building a high performance home sometimes make owners forego efficiency for air conditioning, but he says the added comfort and lower operating expenses always make that upfront investment worthwhile. 
A homeowner doesn't need to wait to build or buy a high performance home to impact resource use. NorthWestern Energy's electricity customers have the option to support development of renewable energy through the company's E+ GREEN power product. There is also a growing number of suppliers throughout the state who offer sustainably produced products and products that will not pollute your indoor air. These include paint, furniture, floor coverings and cleaning products. Deciduous trees planted on the south side of a house provide shade in summer and allow winter sun to shine through. 
"Sometimes people simply need to participate in operating their home. This can be as simple as closing the curtains and windows during the day to keep the summer sun and heat out," Davenport said.
~ Steve Guettermann is a Bozeman writer who has worked with builders around the country to promote high performance homes.