When I was nineteen I had a temporary job as secretary to the writer Ernest Hemingway. It required living and traveling with his family, including being present at meals. I grew up in Ireland, attending boarding school, and spending holidays at our small country hotel where all unauthorized personnel were banned from the kitchen by our feared chef, Jimmy Wyse. Mary Hemingway, known as Miss Mary, was incredulous and bemused that I had no cooking experience when I met her. She took it upon herself to become my culinary instructor and taught me the rudiments of cooking, first on Sunday afternoons at La Finca Vigia, cook's day off, and later in her New York City penthouse apartment, and at their Ketchum home, overlooking the Big Wood River in Idaho. Now after being settled in Bozeman for 39 years, I still have the worn copy of The Joy of Cooking she gave me then. 
Eating was as important an activity in the Hemingway household as any other pursuit of the day. No matter whether it was a simple lunch or an elaborate dinner at home, eating out at a fancy or humble restaurant, lunch while deep-sea fishing on board the Pilar in the Gulf Stream, or a tail-gate picnic while studying the landscape Cezanne had painted in Provence, every meal was an experience to be relished, an occasion for exchanging ideas, a refreshing interlude in a busy day. I learned that the simplest food when fresh and supplemented with a spice or herb, could evoke unexpected pleasure. Mary liked to create an element of surprise. She also liked to be prepared. Entertaining was a great pleasure and since work was completed early in the day, the Hemingways were open to feeding impromptu guests if they promised to be good company. Mary always kept a dish on hand in her freezer to be able to meet such emergencies. One of these dishes was Bacalao, a salted codfish stew from the Basque country in Spain which includes the town of Pamplona, where Hemingway first visited in 1923 and which he put on the map with his first best-selling novel, The Sun Also Rises. 
After Ernest died in July 1961, Mary invited me to return to Cuba to help her pack up her belongings and dispatch them to the U.S. These included a valuable painting collection and her husband's papers and unpublished manuscripts. She said goodbye to the house where she had lived for 17 years and returned to the recently purchased Ketchum home where Ernest had taken his life. Dreading the sadness and solitude she contemplated those coming autumn months, Mary invited me to go to Idaho with her, enticing me with the prospects of hunting and skiing, and the other delights of the western life. I stayed with her for five months and during that time I learned the rudiments of cooking, especially how to prepare game. 
We arrived in Hailey by train from Chicago on August 31st just in time for the opening of dove season the next day. Mary and I shot with a pair of 20-gauge Winchester Model 21 shotguns that Ernest had bought for Mary's predecessor, Martha Gellhorn. September and October saw many meals of game birds: doves, Huns (Hungarian partridge), grouse, and later ducks and pheasants. I was by Mary's side in the kitchen helping along and learning as I went. The air was saturated with the smells of fall: sage and thyme, oregano and marjoram. As she worked she hummed or sang snatches of popular songs to the rhythm of the chopping and shaking and sifting. Sniffing and tasting were important guides to our progress. 
As November approached Mary said, "This year we'll marinate and roast a venison for Thanksgiving dinner. We'll invite Pappy and Tilly Arnold and Clara Spiegel." I had never heard of Thanksgiving and I had never eaten venison. "Pappy" Lloyd Arnold was the official photographer for Sun Valley, hired by Averill Harriman at the opening of the resort in 1939. His wife Tilly, or Miss Till, was one of Ernest's favorite people. Clara Spiegel's husband Fred and Ernest had been buddies since 1918 when both were young ambulance drivers on the first World War front in Schio, Italy. 
In spite of Ernest's absence, Thanksgiving dinner in Ketchum 1961 was a triumph of festive food and conviviality. Clara brought a mushroom mousse for starters, and Tilly had baked a pumpkin pie served with fresh cream to finish. Mary provided the venison roast flanked by sweet potatoes, carrots, and parsnips, with bowls of wild rice, fresh cranberry orange sauce, and pan gravy with sour cream. It was a meal to remember. 
Marinated Roast Venison as served at Thanksgiving Dinner 1961 at the Hemingway Ketchum house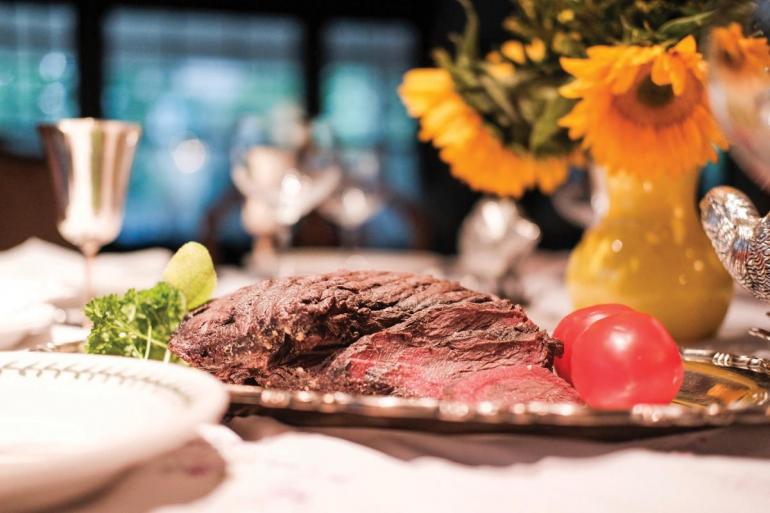 RECIPE (SERVINGS = 8)

10-day marinade 1 bottle good red wine

3 sage leaves 1 t sugar

Rosemary 1 TB peppercorns

Thyme 3 cloves

Nutmeg 6 bay leaves

1 TB curry powder

 
THE ROAST

Venison roast, 5 lbs. 6 slices thick bacon
1 clove garlic                        Butter

 

This spicy roast venison requires planning ahead. Boil together the wine herbs, sugar and spices. Pour the marinade over the venison and turn it twice every day for ten days, making sure the meat is well soaked in the liquid. 

Remove the meat and wipe it dry after ten days.

Preheat the oven to 550 degrees. 

Rub the meat with garlic and butter. 

Place the bacon on top of the meat and put it in a roasting pan and place it uncovered in a rack in the oven.

Reduce heat to 350 degrees and cook for an hour and a half or 20 minutes to the pound.

While it is cooking, baste the roast every 15 minutes with the marinade. 

The roast can be served with a pan gravy or, if you are adventurous, you can make a Cumberland Sauce. 

Wild rice, cranberry sauce and red currant jelly are excellent accompaniments. 

 

NOTE: The marinade can be used for any cuts of venison and will help tenderize the meat.
---
Miss Mary's Bacalao, codfish stew from the Spanish Basque country
Traditionally, this is made from salted codfish and is still served on Christmas eve in northern Spain and many Hispanic countries. For this stew, I bought fresh cod at Rosauers and added sea salt when cooking. The result was a delicious, delicately flavored light stew, which could be served alone as a luncheon soup, or with rice and a green vegetable for dinner.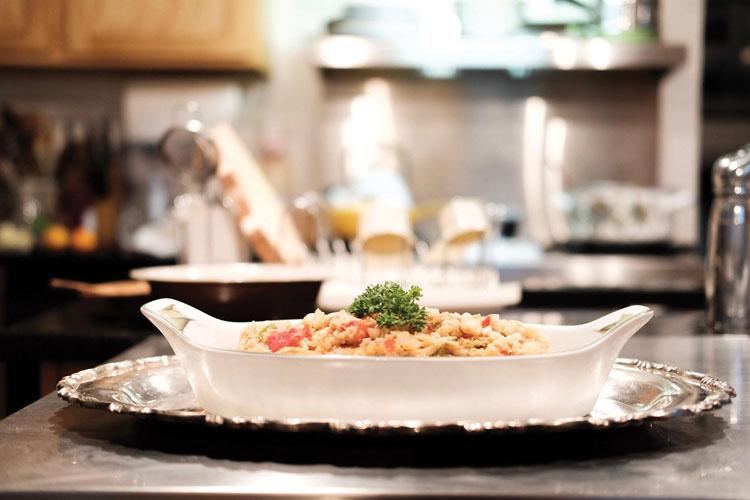 RECIPE (SERVINGS = 6)
2 lbs. desalted cod 1 medium potato, minced

1 large onion, minced 1 red pepper

4 medium cloves garlic, minced 1 green pepper

3 TB olive oil 1 large ripe tomato

2 bay leaves Parsley

Sea Salt to taste (if using fresh fish) Lemon wedges

 
METHOD
If you are using salted codfish, soak fish for twenty-four hours changing the water every few hours to desalt. No extra salt will be needed. 

Place the fish in a pan with water to cover. Remove as soon as it boils; strain, reserving water. Let fish cool, debone, and cut into serving pieces. Slowly fry onion and garlic in olive oil until translucent. Add peppers and tomato to onion mix for five minutes. Spread the minced potato in the bottom of a Dutch oven. Add the onion and pepper mixture. Place the cod on top and add enough of the reserved water to cover. Add the bay leaves. Simmer on the stove for approximately 45 minutes, stirring occasionally, adding water as necessary to preserve moisture. 

Transfer to casserole serving dish and garnish with parsley and wedges of lemon.

 

NOTE: This dish is even better if made the day before and reheated.