Getting hitched in Montana is anything but routine. Rarely do couples settle for a traditional wedding atmosphere indoors. Instead, they choose sublime meadows for a chapel where mountains serve as the backdrop.  After the sun sets, their guests dance the night away under a cathedral of stars.   Choosing a place for your wedding is perhaps the most important element in planning a wedding.  And lucky for you, Montana has some outstanding choices. 
"Having the right venue for a wedding is key," says Katalin Green, a wedding planner and event consultant in Bozeman.  "It completes the vision of the wedding." Some couples create their venue from scratch. Green says she loves it when couples have driven by what they think is the perfect place to get married, and it's privately owned.  Many times the couples just ask the rancher if they can lease the place for 72 hours, even if they've never met before.  A lot of ranchers are more than willing.  Most times they just ask to be invited to the wedding.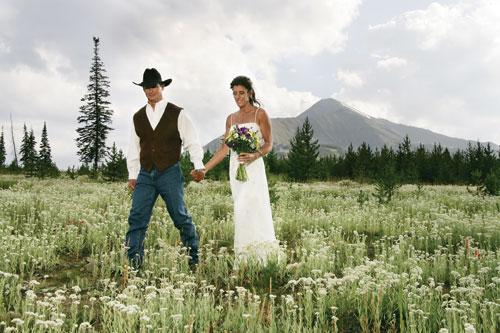 While some couples create a venue from the ground up, many choose a pre-existing venue.  Deciding where you want to get married should be one of the first steps after the engagement ring is slipped on.  Most places in Montana get reserved a year or two in advance, especially for weekends during the height of wedding season in August. Factors that should help you decide on the location include your budget and the number of guests you plan to invite.  For almost all of the venues listed here, the rates will depend on time of year, number of guests, and in-house services needed. 
If you're planning a rather large wedding and logistics aren't your thing, you should think about hiring a wedding planner.  The planner will work with the venue and help arrange everything from food and napkins to transportation and entertainment.  A local planner will also be familiar with some of Montana's unique and sometimes annoying characteristics such as the finicky weather.
Questions to consider in the wedding planning process include:  Does your venue offer rooms or cabins?  How far will your guests have to travel before and after celebrating?  Does the venue provide transportation?  Can they provide the food and drink?  Do they have a staff on hand?  One question will inevitably lead to two more questions, but first things first.  Pick a memorable location that will leave you, your spouse, and your guests with an imprint of how a Montana wedding should be.  
Hot Springs Heaven or Some like it hot...
Underneath all of those majestic peaks and valleys, Montana's insides are boiling like an old dog with bad gas.  Thanks to volcanic activity near the earth's surface, hot springs can be found all over western Montana.  While some hot springs are well-kept secrets, others have been developed and make a great place to host a wedding.
Chico Hot Springs Resort, 60 miles from Bozeman and 30 miles north of Yellowstone, is a classy and well-equipped place to get married.  Chico is able to accommodate up to 180 guests and thanks to its proximity to Yellowstone, many guests will make your wedding part of their summer vacation.  Chico was built over a century ago, and its historic flare is tough to beat.  Because Chico is a popular summer destination for visitors to the area, it's advisable to think a couple of years in advance if you want all of your guests to get a room there.
If you're thinking about eloping or having only a handful of guests, Potosi Hot Springs in Pony is your best bet.  Couples have the option of renting the entire resort, which can accommodate up to 50 guests for the ceremony and reception, while 24 can stay overnight.  Potosi's staff can take care of everything thanks to an in-house wedding coordinator.  Because of its relatively small size, wedding parties at Potosi can expect the staff to greet them by their first names the moment they step through the door, says Christine Kern who owns the hot springs along with her husband.  "It's intimate size leads to an intimate experience," she says.
In the Big Hole Valley, 60 miles southwest of Butte and 100 miles south of Missoula, Jackson Hot Springs offers a good soak and a good time for big parties.  Because Jackson gets couples and guests away from it all, they offer unlimited recreational opportunities.  "If you can do it in Montana, you can do it out our backdoor," says part-owner Jason Goeltz. Jackson can house 50-100 guests, and they offer every catering possibility you can think of.   "The sky's the limit," says Goeltz.
Nuptials with a view...
Few places in the country can compare to Montana's jaw-dropping scenery.  From the Beartooth Mountains to Glacier National Park, Montana is a place where it's tough to take a bad photo.  Imagine those mountains as the backdrop in the photos of your wedding.  Sure, you could settle for getting married in a church and having the reception at a hotel, but since you're in God's country here, why not get married out in it.
On the banks of Holland Lake in the Swan Valley sits the historic Holland Lake Lodge.  Literally on the fringes of the Bob Marshall Wilderness, the Lodge offers every conceivable service for your wedding with views of the Mission Mountains to the west and the Swan Range to the east.  Your guests can cruise Holland Lake in a canoe, go for a short hike to Holland Falls, or simply relax with a drink on the shores of the lake.  Guests can stay at the Lodge, in cabins, or pitch a tent in the nearby campground. 
With the Bridger Mountains as the background, the Springhill Pavilion (located on a working cattle ranch) is an obvious choice for a Bozeman-area wedding.  Sally and Chum Howe have run the Pavilion for 23 years and say that even though they've hosted more than 1,100 weddings, every wedding has something a little different because they don't limit their guests to certain caterers or music.  Robert Redford helped to make the Pavilion nationally known as he danced there in the film "The Horse Whisperer," and with a little luck and plenty of advanced notice, you and your sweetie can dance there as well. 
Next door to Big Sky sits the relatively young Moonlight Basin.  With an extravagant lodge and The Timbers Restaurant, Moonlight has been treating their guests to the lap of luxury since 2001. With an in-house event coordinator, they offer personalized wedding services to accommodate up to 175 guests.  Although they don't normally do winter weddings, you might be able to squeeze one in during the slower times during January and April.
The Rock Creek Resort, located only 60 miles south of Billings in Red Lodge, offers facilities for 25-300 guests and enough extracurricular activities to fill an entire summer.  The Beartooth Highway climbs out of Red Lodge and takes guests to Yellowstone, or for those who wish to golf, there's a course in town.  Hiking and backpacking, as well as spring backcountry skiing, abound at this destination-style resort.  
Nestled at the base of the Swan Range just outside of Bigfork, the O'Duchain Country Inn can handle the most intimate or elaborate wedding event.  Their pavilion can host up to 250 guests while the lodge can sleep 21 for close family.   The Inn is a bed and breakfast and they ask that wedding parties reserve the Inn for at least two nights.  If you don't know the in-laws very well, this is your chance.  The Swan River is less than one block away so if the in-laws get too much, tying on a blue dun and casting into the Swan will be one way to regain your composure.  
An in-town affair...
While Montana offers many resorts and lodges relatively close to its major towns, the state also has some unique places within minutes of the city.  If you're planning your own wedding, it makes the logistics a little easier and sometimes the views can be just as breathtaking as being in open country.
The historic Billings Depot has always been a whistle-stop for U.S. Presidents and it could be for your wedding.  Voted in the Billings Gazette's Reader's Choice Awards as the number one banquet and reception hall, the Depot adds a dash of history to any wedding.  Located in the historic section of downtown Billings, the Depot can host up to 150 guests in the passenger station and up to 300 in the baggage room. With its on-site kitchen, whoever caters your wedding has everything they need to make it just right.
Just outside of Kalispell is the Master Suite Bed and Breakfast with "million dollar views."  Overlooking the Flathead Valley, the hilltop inn offers a great staging area for a wedding.  It offers space for an outdoor ceremony for up to 100 guests and up to 50 indoors. It will be up to you or your planner to figure out food and refreshments, as they only provide the setting.  After all your guests leave, you and your spouse can finally spend time together in a romantic bedroom complete with a sleigh bed.
The Woodlands, located only minutes from Bozeman up Cottonwood Canyon, promises a genuine Montana experience close to town.  Chuck Campbell, who runs The Woodlands with his wife Elsa, says that because they are surrounded by national forest and undeveloped private land, "You feel like you have a private little sanctuary all your own."  The Woodlands is perfect for groups of around 200, and Chuck and Elsa invite couples to go as big or as little as they please when it comes to catering.
A white wedding...
Believe it or not, winters in Montana are primetime for weddings.  Some folks go the hot springs route for obvious reasons when it's cold.  Others opt for a winter wedding slopeside. Most resorts offer activities aside from skiing for grandma and your cousins from Florida.
If the sky's the limit in terms of budget, Big Sky Resort has what you need.  Big Sky can accommodate a gathering of 25-750 for a reception and there is a chapel nearby should you choose not to get married on the slopes.  They also offer in-house catering and plenty of high-class lodging for you and your guests.  Don't forget to mention the spa and cross-country skiing at Lone Mountain Ranch in the invitation.
For a wedding with a view, Big Mountain in Whitefish offers couples their Glacier View Room at the summit of Big Mountain.  With views that extend in to Glacier National Park and the Canadian Rockies, this venue will leave your guests breathless. They do offer receptions at the Glacier View Room during the winter ski season, but it is advisable that all in your party be skiers if you're going to be at the top because everyone has to get down on their own.  The other option is to wait for the summer time when the crowds aren't around, but the views are still just as brilliant.
Exceptional Wedding Places in Montana...
www.chicohotsprings.com
www.jacksonhotsprings.com
www.postosiresort.com
www.hollandlakelodge.com
www.springhillpavilion.com
www.rockcreekresort.com
www.mastersuitebedandbreakfast.com
www.mountaininn.com
www.big-mountain.com
www.moonlightbasin.com  
www.bigskyresort.com  
www.montanawoodlands.com
www.billingsdepot.orgBillings
~ PJ DelHomme recently completed his master's of science at the University of Montana.  He contributes to regional and national publications.