The invigorating scent of dampened pines triggered by a brief-but-furious summer storm swept down off of Mount Helena and swirled through the Queen City's historic district as I took a late afternoon stroll through Last Chance Gulch last year.
Lively children carrying cones filled with melting scoops of ice cream squealed as they raced one another down the walking mall, flying past outdoor eateries filled with people sharing drinks and meals and laughs.
I stopped briefly to investigate a set of oversized, Alice-in-Wonderland-style chess pieces situated on the sidewalk outside a storefront before becoming distracted once again by the architectural details and bold colors of the historic buildings lining the narrow streets that were once nothing more than a winding path between mining claims.
The mouthwatering scent of smoked brisket wafted by on a breeze, then was quickly replaced with the rich smells of pastries and pasta and fresh coffee.
It was one of those rare, covetable afternoons without a need for intent – without a hectic urgency to be heading anywhere in particular at all. And that is how I unwittingly wound up wandering into the studio of renowned sculptor Lyle Schwabauer.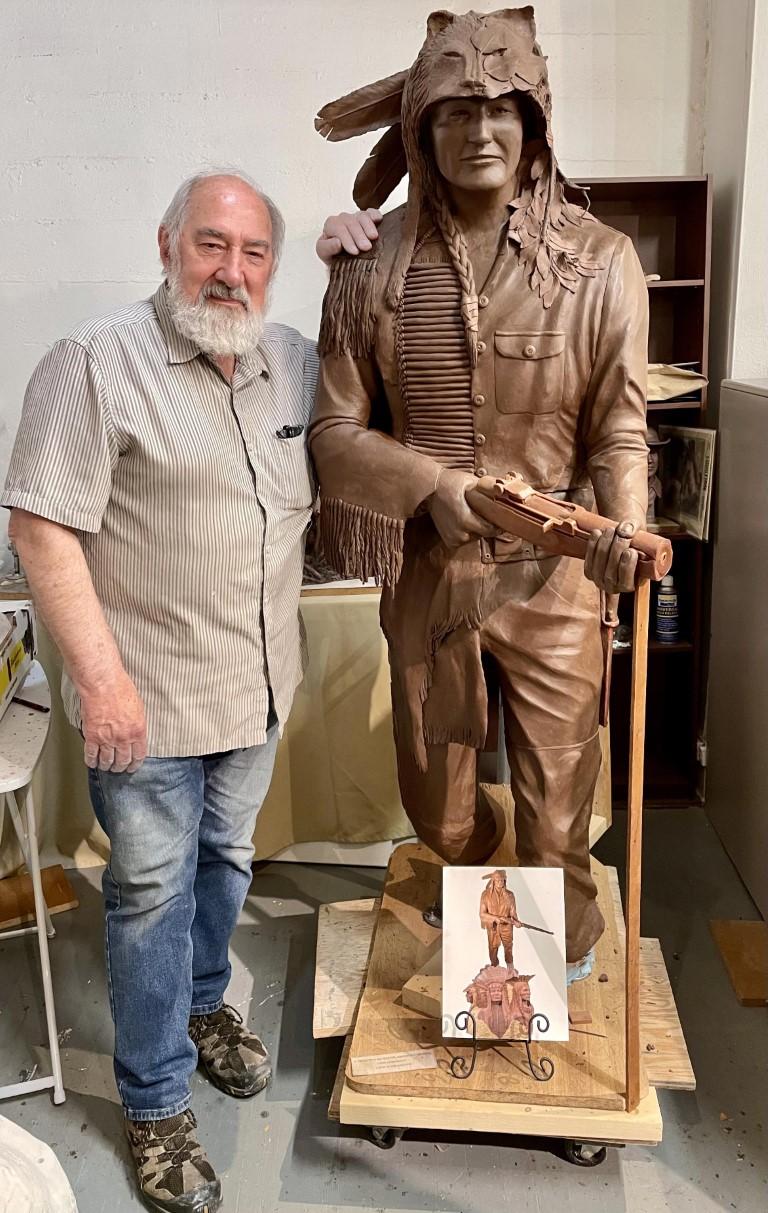 The Making of an Artist
Lyle is one of many exquisite Montana artists whose pieces are featured at the Mountain Sage Gallery on Last Chance Gulch. The shop carries a variety of original paintings, as well as jewelry, photography, fused and molded glass, drawings, pottery, stained glass, rock mosaics, and – of course – bronze sculptures.
When I first met Lyle, he was hard at work in his studio at the back of the gallery. I initially thought my misstep into his creative space made me a frustrating distraction and I attempted to duck back out, but Lyle immediately welcomed me.
"You can come on in!" he said in a booming but jovial tone. "I don't bite!"
Lyle, who hails from the far-eastern Montana plains area of Sidney, originally seemed destined for a life as a woodworker.
"I was making a living as a carpenter in 1982 and I just didn't feel fulfilled and I kept thinking, 'What's wrong with me?'" he recalled. "It just didn't seem for me."
He knew he had some level of artistic ability, but he had never received formal training and wasn't sure life as an artist was a gamble he was willing to take.
But everything changed when he went to hear a visiting speaker at his church one day.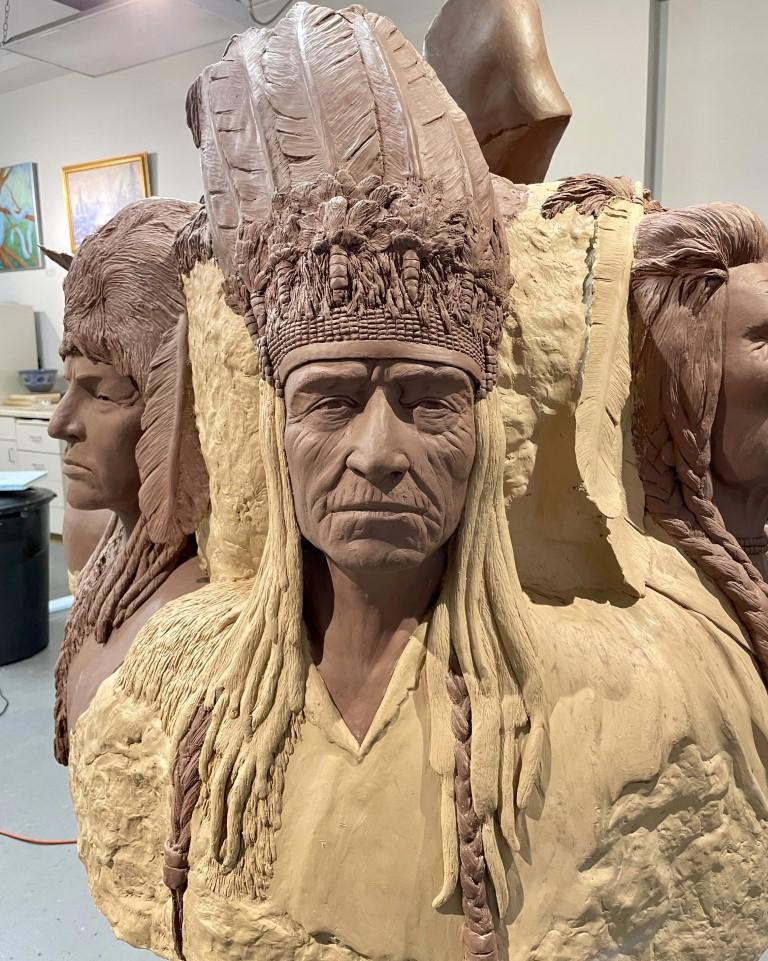 "All of a sudden, he just stops and kind of scans the audience, and then he points at me," Lyle said. "And he just goes, 'God just wants you to know he wants you to use the creative ability he's put in your hands.' And then he just went right back to what he was speaking on."
"I thought, 'Man, maybe I'd better pay attention,'" he laughed. "So, that's basically what got me started. If I've been given this gift, then I've got to use it."
Lyle started out with woodcarving before he created his first bronze – a bull elk with two cows – in 1985.
"It just kind of progressed from there," he said, carefully sculpting the intricate braids of a Native American woman as he simultaneously told his story.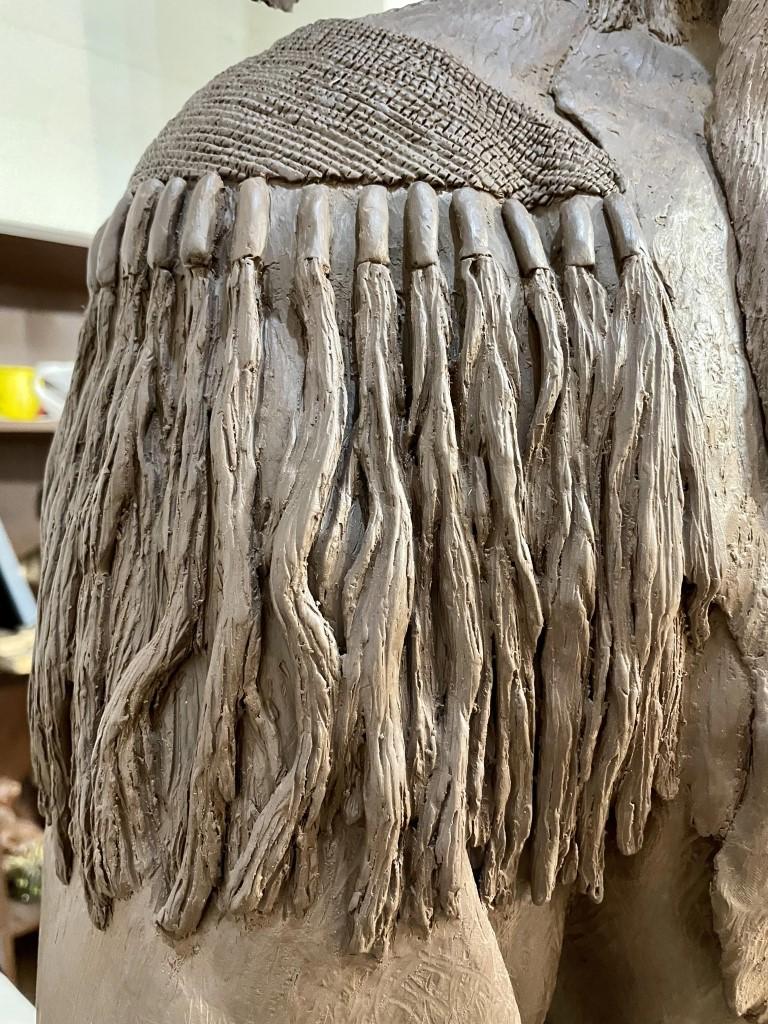 A Tribute to the Native American Soldier
As one would expect, Lyle's studio is filled with sculptures he's expertly teased from mounds of reddish-brown clay over the years. A wooly buffalo sat in a box on the table, frolicking deer and other wildlife rested on nearby shelves, life-sized figures of law enforcement officers stood tall several feet away, and the Native American woman stared off with an air of quiet contemplation as Lyle continued to bring her to life.
But perhaps most intriguing of all was the six-foot-tall sculpture of a Native American man in a military uniform standing stoically in the corner. As I looked more closely, I realized that half of this regal figure was actually wearing the clothing of a traditional Native American warrior. The other half was dressed in a military uniform from World War II.
"That's Dave Menz, the oldest World War II veteran from the Fort Peck Reservation," Lyle said. "We spent quite a bit of time together… We'd go up in the hills and I'd just let him talk and he'd share different things with me… He was in his nineties when he passed away last fall."
Dave, an Oglala Sioux, was a member of the Standing Rock Tribe in North Dakota.
He was torn from his home at the age of six and put into a boarding school in Poplar with two of his sisters, one of whom subsequently died of pneumonia.
Dave fled the militaristic boarding school at the age of 12 and fended for himself until he joined the military when he was just 16 years old.
He went on to serve in World War II, Korea, and Vietnam.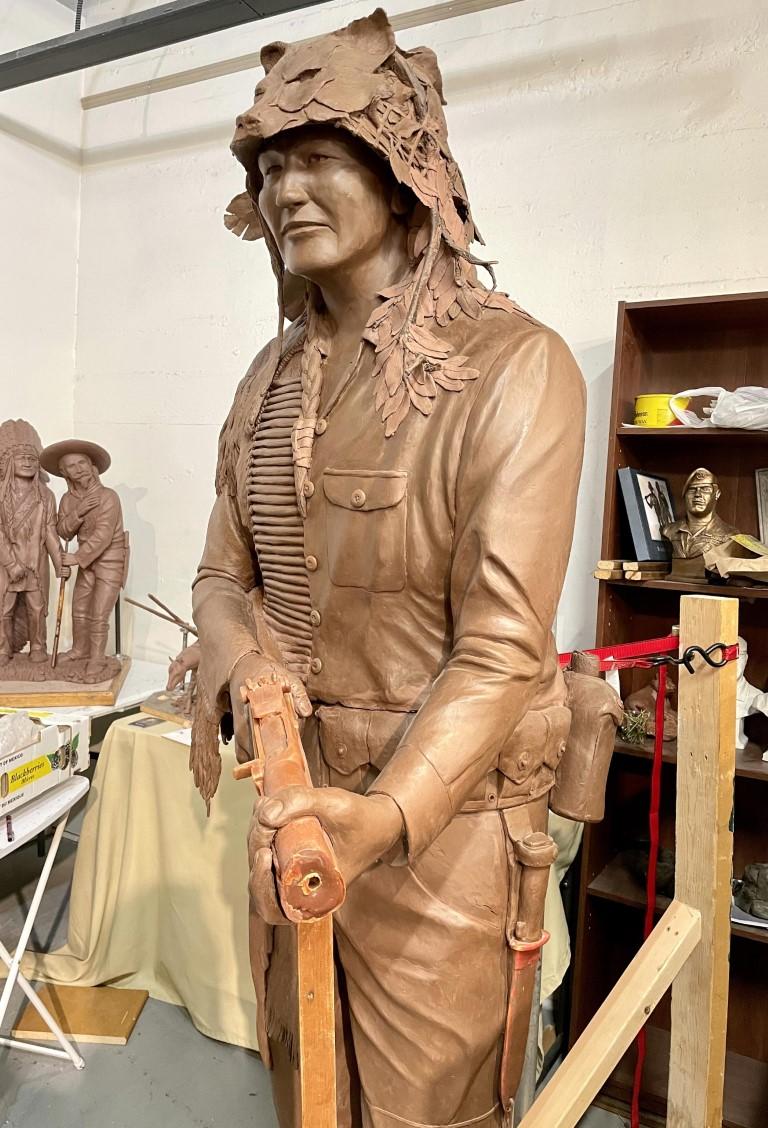 Their friendship and Lyle's desire to honor Montana's Native American military veterans became the catalysts for "A Tribute to the Native American Soldier," a towering, nine-foot-tall piece consisting of the warrior-soldier modeled after Dave standing on top of a base featuring the busts of seven Native American men.
Each man is dressed in intricately detailed, historically accurate clothing representing each of Montana's seven Native American Reservations.
Lyle said he had to seek out and rely on the guidance of his American Indian friends to ensure he depicted each bust with as much culturally accurate precision as possible.
"I had some Northern Cheyenne friends and they said, 'Will you do the Dog Soldier, because that is the highest society of warriors among the Northern Cheyenne," he explained. "So, I did the Dog Soldier."
Lyle patterned the warrior's face after a Northern Cheyenne man he knew.
"He was about six-foot-two and was a very intimidating-looking person," he laughed. "I did it out of memory – not actually seeing him, but just of my memory of him."
The sculptor chose Cree leader Chief Little Bear to represent the Rocky Boy Reservation.
"He's got such an intense expression on his face," Lyle noted. "I was even able to meet his relatives from northern Canada and they gave me a Cree name that means 'Big Brother.'"
Approximately half of the seven busts were based off of men Lyle knew. He relied on historic photographs for the rest.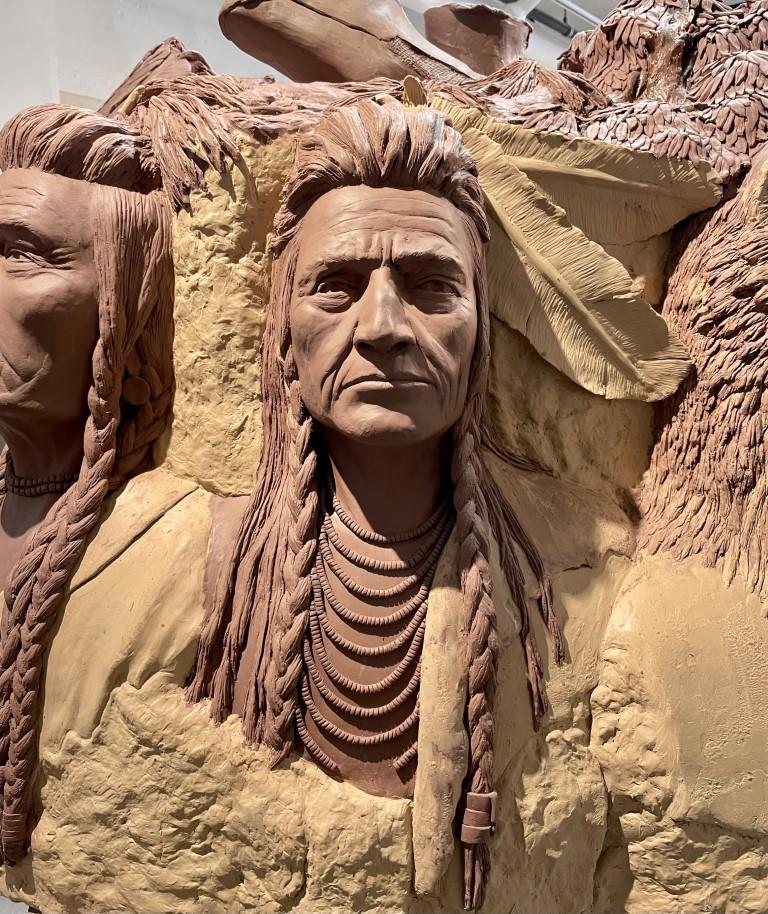 Creating accurate representations of the warriors' traditional clothing was also paramount.
"Certain tribes have certain characteristics and there has also been a lot of cross-culture, so it was a challenge to get everything as authentic as possible," Lyle said. "Like the straight-up headdress? Only the Piegans or Blackfeet wore that particular headdress."
When it came to sculpting the life-size soldier that would become the crowning element of the sculpture, Lyle fittingly turned to Dave for guidance.
"When I first started it, I had Dave come to critique the piece and at the time, I had just straight-cut leather fringes," Lyle recalled. "He's walking around the piece and he's not saying anything and I could see it wasn't meeting his expectations."
The sculptor pushed his friend for feedback, but Dave continued to wordlessly study his likeness with a discerning eye until he pinpointed its greatest flaw.
"It looks too white-man," he said, according to Lyle. "And I said, 'Okay! Now we're getting somewhere!'"
Dave explained that his people "never made a straight cut" because doing so would waste leather.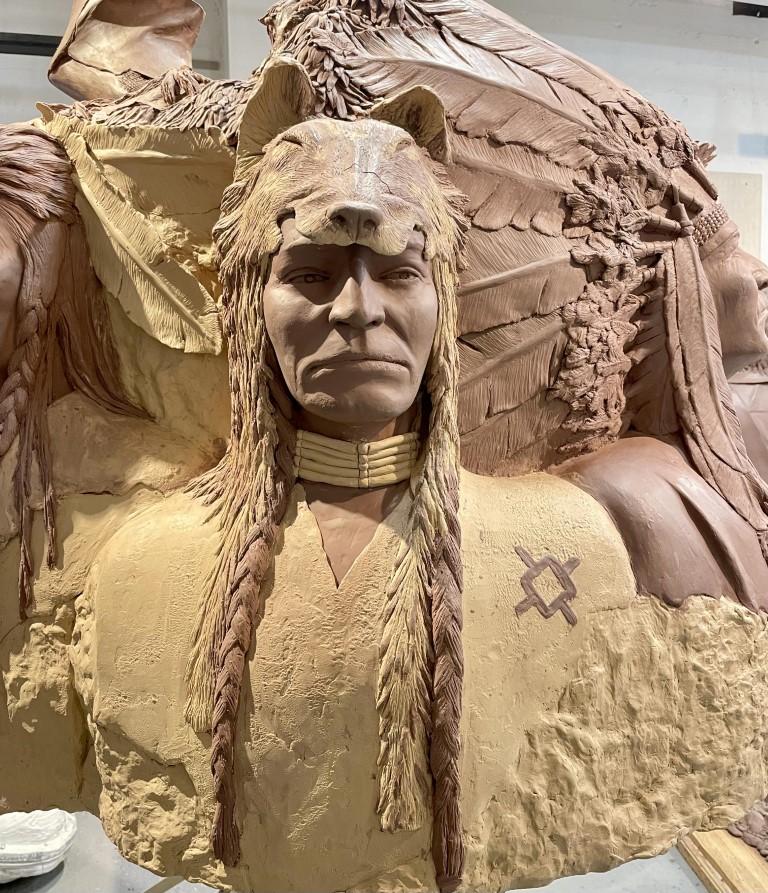 "You followed the line of the hides," he said, according to Lyle.
The sculptor incorporated that knowledge into the life-size piece.
"If you look at those pieces, there's no straight cuts on there. The legs come down from the hide," he said before motioning to a gap in the animal hide on the soldier's outer thigh. "Here, the leathers don't quite come together, so you've got bare skin underneath and that was quite common."
Lyle adorned the shoulder portion of the traditional half of the sculpture with horse hair and included scalps on the warrior's lower arm. Detailed quill work, majestic feathers, a textured fox-hide hat, and a traditional Sioux eagle-bone breastplate also make up the traditional portion of the sculpture.
The American soldier segment of the piece features a standard World War II uniform, including a steel helmet that transitions into the fox head using camouflage and leaves.
The sculpture eventually passed the "Dave test."
"He really liked it," Lyle said with a wistful smile.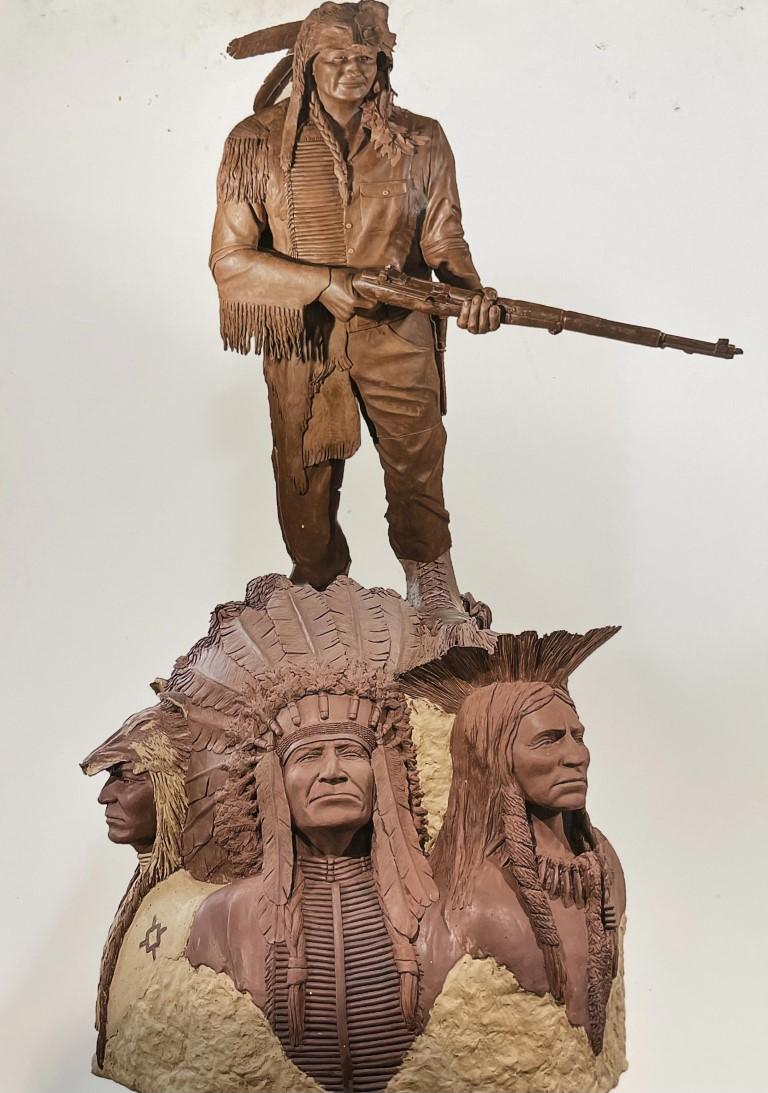 "A Tribute to the Native American Soldier" is all but ready to go to the foundry to be cast into bronze. Lyle said he has no idea where it will end up.
"I just felt inspired to do it so it had to be done, and where that all goes – I'm not sure," he said. "You don't see much about Native American soldiers, and I just want people to be aware of how much the Native Americans have contributed to our nation."
According to the nonprofit United Service Organizations (USO), Native Americans serve in the U.S. Armed Forces at five times the national average. Ninety percent of the 42,000 American Indians who served in the Vietnam War were volunteers.
Approximately 350,000 Native Americans lived in the U.S. during World War II. "Nearly 45,000 of them enlisted in the military, making them the demographic with the highest voluntary enlistment throughout the entire war," the USO said.
As many as 70 percent of the men in certain Tribal Nations enlisted in the armed forces during those trying years.
Today, Native Americans continue to serve in the military at a higher rate than any other demographic in our nation, according to the USO.
No Man Left Behind
"A Tribute to the Native American Soldier" isn't the only sculpture Lyle has created in honor of an underrecognized group of military veterans.
Several years back, fellow Sidney High School alums Nolan and Margaret Mikelson spearheaded a project to establish a memorial recognizing the service and sacrifice of their classmates who served during the Vietnam War.
"I wanted to do it so that other generations would know what they have done for us," Margaret said. "They were so welcoming and honoring of soldiers after Iraq and Kuwait, but our soldiers did not get that and I felt it was necessary for them to be recognized and remembered. This was something we could at least do for the members of our community."
Lyle was ultimately enlisted to create a bronze statue for the tribute, but the content and composition of the piece was left up to him. His inspiration ultimately came from the words of the soldiers themselves.
"I started reading letters from soldiers from Vietnam," he said, his voice losing its steady confidence as the emotion unleashed by the memory of those pages briefly broke through. "And what just kept coming to me was 'no man left behind…no man left behind.'"
The completed sculpture features three U.S. soldiers, two of whom are assisting a wounded comrade.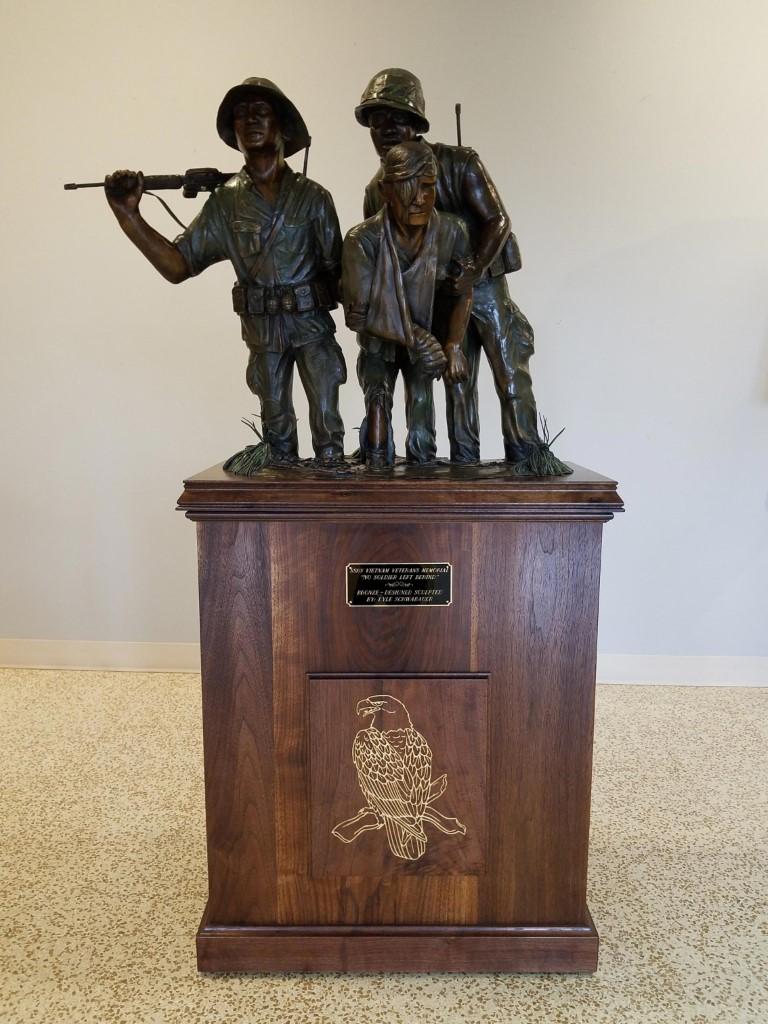 "They're in the rice paddies of the delta, so they're in the water up to their calves," Lyle noted.
The injured hero's arm is bandaged and resting in a makeshift sling. His uniform is tattered and torn, and a strip of cloth wrapped around his head conceals an obvious injury to his right eye. He's barely able to stand and likely wouldn't survive the treacherous conditions without the aid of his brothers-in-arms.
The 2.5-foot piece, which now rests on an exquisite wooden stand handcrafted by Nolan, packs a powerful emotional punch of heartbreak, inspiration, and deep patriotism all at once.
Lyle said one of the greatest compliments he's ever received came from a woman stopped by and spent a long time looking at "No Man Left Behind."
"She got really emotional," Lyle solemnly recalled. "And then she told me her first assignment as a nurse was on the delta in Vietnam. She said, 'You've really captured this. You really got it.'"
The sculpture will remain on display at Stockman Bank in Sidney for 25 years and will then become a permanent exhibition at the Richland County Courthouse.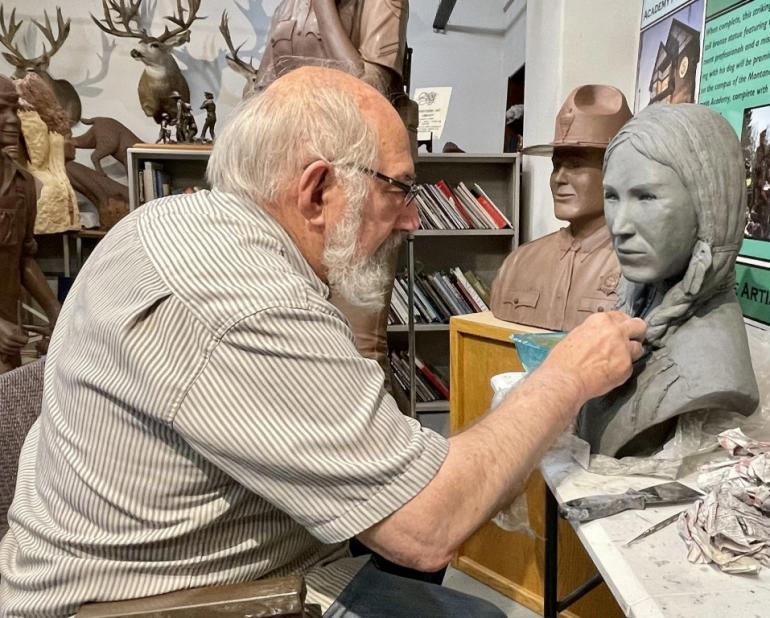 Honoring Our Veterans
The sun was beginning to dip down behind the mountains as the door to Mountain Sage Gallery swung closed behind me that summer evening.
I stepped out onto the gulch with a renewed sense of humility and deep appreciation for the men and women who have devoted every fiber of their beings to protecting our nation and our freedoms – even when that meant laying down their own lives or returning home with catastrophic injuries both seen and unseen.
Many of us don't stop to honor those sacrifices often enough. Although we can never repay our veterans for all they have given us, we can certainly do more to help support them. It is the least they deserve.