After being a drywall contractor for many years, Greg took his passion for western art to the next level. He began selling his work in 2005 and became a fulltime artist in 2007, showing his work in some of the West's finest galleries. In addition to scholarships from the Scottsdale Artists School, he has received an Award of Excellence from the Oil Painters of America three occasions. He has been listed as an "Artist to Watch" in Southwest Art Magazine, and featured in Western Art Collector.  Greg lives in Bozeman with his wife and two children.
Greg's art can be accessed at  www.scheibelfineart.com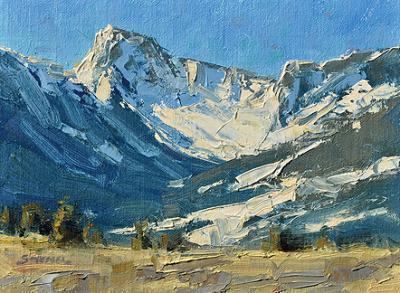 DM: Greg, we knew you back in the days when you were a drywall contractor, but had no idea you were working behind-the-scenes on your art.  How long did it take you move from drywall to canvas?
GS:  I've always had the desire to create things, which I've done in a variety of ways over the years, and have loved to draw since I was a kid. When I started painting landscapes on location about 11 years ago, I knew I had found the right outlet for my creative energy. Even though those early paintings were pretty rough, I realized a door had been opened and I kept pushing myself. I took several workshops over the next few years and began to see with more of an artist's eye, and painted at every opportunity. With a family to provide for, running a drywall business and painting, I had a pretty full plate.
DM: This must have felt like a risky move at the time.  What made you finally make the decision to work full-time on your art?
GS: After two or three years of working with galleries and art shows, I felt it was time to choose between the drywall business and art. Having the support of my wife, Tracy, made the decision to move toward art much easier. Many old friends, and new friends in the art world were also very supportive. That was in 2007. In retrospect I guess it was a risky move, but it just felt like the right direction for me to go. Sometimes you have to trust your intuition and imagination, and in this case. I think I made the right call.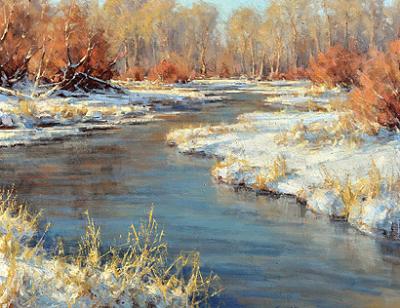 DM: Most of your work is of landscapes and the natural beauty of our Montana surroundings.  What, besides the obvious, makes this subject matter so attractive to you?
GS: I'm trying to express myself with each painting and that seems to work best with landscapes. I've always been drawn to nature, and with all the time that I've spent outdoors I feel I can mold a scene to suit my own artistic vision and still have it read as an honest interpretation of nature.
DM: Your recent work includes more Montana critters.  Will you be exploring this area more in your art?
GS: I enjoy doing figure and portrait sketches, and will occasionally paint wildlife, although I don't really consider myself a wildlife painter. As I grow as an artist and figure out how to put my own artistic touch on these subjects, you may see more of them in the future.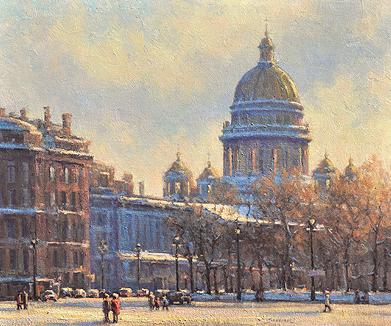 DM: Your art travels are taking you this Fall to Wyoming and Arizona, and you have recently been in other events from California to Maryland.  Do you have a sense that appreciation of your work has grown beyond Montana?
GS: Montana is my home, and this region will continue to be the inspiration for the majority of my work, but art has opened a lot of doors for me. With the opportunity to travel more I hope I can paint anywhere and appeal to a large audience. The more Tracy and I travel, visiting new cities and countries, the more we realize the importance of the arts in society. The beauty of art seems to transcend the boundaries of geography and politics.
DM: What are you working on right now and how did you choose the subject?
GS: Ideas for new paintings can be found most anywhere, but a recent example is First Light, which was inspired by a backpacking trip into the Taylor-Hilgard wilderness section of the Madison Range.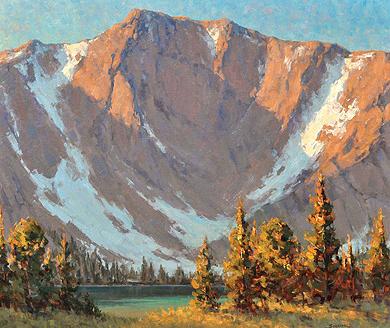 DM: How has your painting technique and style changed over the last ten years?
GS: My technique continues to evolve; I may be getting more creative in how I compose a scene. I don't have a formula for painting, it's more of an intuitive process for me, and so as I continue to learn and am influenced by life's experiences, I'm sure the paintings will reflect that.
DM: What are you thinking about for your next work?
GS: I'm continually getting ideas for new paintings, and I'm also trying to spend more time improving my drawing ability. I've never had training in classical drawing, but feel it's an important foundation for good art. I would like to see more opportunities for that type of art education here in Montana.
DM: Who are your personal icons in the art world and why?
GS: There are plenty of artists, past and present, whose work I admire and have been influenced by. To those that have helped me out along the way, thanks. Ditto the collectors whose appreciation for art makes it possible for those like myself to continue to do what we do. 
I've gradually acquired a pretty good library of western art books which I refer to quite often, but there is nothing like seeing a great painting in person. I've recently visited museums in California, New York, and Russia, and had the opportunity to see paintings by a few of the Masters from the past whose work I find very inspirational, including Edgar Payne, John Singer Sargent, Ilya Repin and Isaac Levitan.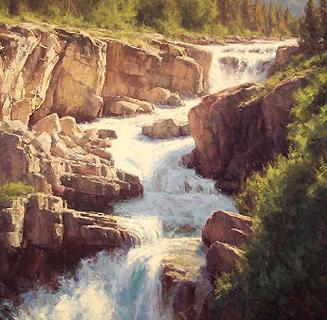 DM: Which of your pieces holds your favorite memory for painting?
GS: Picking a favorite is a tough one. Bridger Mountains Study is an example of a small on-site sketch. I have done hundreds of these and they become a record of the emotional response I had to a particular place, and the starting point for larger ideas.  
DM: How do you spend time away from your work?
GS: Art is not your typical 9 to 5 job; it's more of a way of life. I have plenty of other interests and don't hesitate to pursue them, but in the process I'm observing the world in a new way. I take more time to really look at things. Fishing our local rivers is always time well spent, and I do quite a bit of hiking. The Crazy Mountains and Spanish Peaks are a couple favorite spots for that. I play just enough golf to have an excuse for the grey hair. I like to cook, so a fun evening would include friends over for dinner, maybe rack of lamb and a good cabernet, and later we might grab the guitars.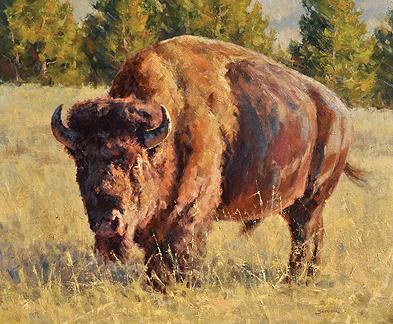 DM: OK, Greg,…So what do you miss about drywall?
GS: The drywall business was a good job for many years. I got to know a lot of good people throughout southwest Montana, and it enabled me to raise a family in a place I wanted to live, and I was good at it. But I never had a real passion for it.  
Art is a whole new ballgame. It can be very frustrating at times, but never dull. It's a continual learning process and sometimes it feels like the more I learn, the more I realize how little I know. That can be a bit humbling, but my life is definitely more interesting now.