Sam Anton Terakedis has come a long way from selling $.25 drawings at recess and bronzes out of the trunk of his car in Denver to being the primary artist displayed at the Moose Horn Gallery in Livingston, MT, and a world-renowned award-winning bronze sculptor of North American wildlife.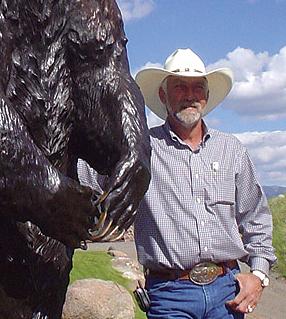 When I interviewed Sam, his voice was deep and humble.  Being an art lover and novice artist myself, I asked what naturally occurred first.  I wanted to know how he was first inspired as an artist and what that first "aha!" moment was.  He sat back in his chair and a faraway gleam came to his eye as he told me about a childhood memory.  He was about four years-old when his mother's brother, a hunter, brought home a white tail deer.  It was November, and "the snow was coming down like silver dollars."  He said he "went over" that animal – its dew claws, hooves, felt its hair, everything.  From the instant he laid his young curious eyes on it, he was fascinated with the creature and wanted to take in its every feature.  This was the beginning of Sam's infatuation with wildlife.
When he was in kindergarten he was introduced to clay for the first time in art class.  Teachers were astounded at his uncanny ability to turn clay into realistic birds – "ducks were a favorite" – and for Christmas that year, he received clay.  He excelled at art throughout elementary school and sold drawings for dimes and quarters at recess.  And in high school, even though he obviously had the best senior art project, he flunked the class because he had no patience for the teacher's curriculum.  He said he would rather help the other kids in the class than work on the two week long projects himself.  He was even suspended for two weeks for throwing everything that was in the art classroom outside the high school in a heap in response to receiving an F on an art project.
After high school, Sam became a carpenter, started building homes and carving wood.  His interest in selling his work was initially a hobby more than anything, and he began showing his carvings and paintings at craft fairs and art shows.
Since his love for Montana and its wildlife is so obvious from his work and the way his face lights up even at the mention of the state, I was surprised to discover that Sam was originally a native of Ohio.  He was born in Dennison, Ohio, "a speck," but started coming out to Montana in his early 20s.  "This is where I wanted to live my whole life.  When I moved here, it was like coming home.  The feeling you get when you slip into a warm bath."
He's been to all of the nation's states except Hawaii and to all the provinces of Canada, but he says there's no place like Montana for him – none.  His subjects are everywhere, and he can find species of animals within 20 minutes of leaving his front door in Paradise Valley.  This proximity to various species of wildlife allows Sam to work from the animal, to study the subject of his artform in the flesh, even going so far as to grab the hair of a nearby doe on a few occasions. 
I guess you could say that Sam is a modern-day Michelangelo, since the way he studies his subjects and is devoted to his artistic passion is so similar to the "greatest artist that ever lived" who carved anatomically correct statues of human bodies from marble centuries ago.  Sam credits Michelangelo as an inspiration and could quote from the book The Agony and the Ecstasy, the story of the artist's life.  "How he looked at the human body is how I study the animal body."  Perhaps it isn't merely coincidence that Sam's birthday falls ten days after Michelangelo's.
Sam tries "to put as much life, movement, and a story into each piece" and criticizes other bronze sculptors for not understanding the animal's nonverbal language, which is obvious to him when he first looks at a piece.
For Sam, the most quality is the anatomy of the animal, such as the head and tail position, hair texture, and overall movement.  Take for example his award-winning bronze, "The Sanctuary," a representation of his favorite animal, the white tail deer.  The intriguing aspect of the white tail deer is "They're elusive and smart."  As part of the piece, there's an aged fencepost that says "no trespassing" which is slanted to accentuate the movement; the wind is blowing, the deer's ears are back sensing danger, and his tail is up to signal to other deer.  "It all says something."  This particular bronze was chosen for the Phippen Museum Award (Prescott, Arizona) in 2004 and The Calgary Stampede Best of Show Award in 2005.  Sam has also won awards for other pieces, such as Best New Artist at the Calgary Stampede in 2001; Artist of the Year by the National Wild Turkey Federation in 2004; and Best of Show at the Natureworks Art Show and Sale in Tulsa, Oklahoma in March 2005.
Not too shabby for an artist whose first show was in Denver in 1991, out of the trunk of his car – "[my wife, Kathy, and I] had more hides and furs than we had bronzes."  He sold $5000 worth of bronzes that first weekend and quickly realized that he might just be able to make a decent living doing what he loved to do most.  "It certainly beat poundin' nails.  I started working like crazy after that."      
How does Sam feel about the fact that most of his bronzes are now sold out before they make it to the foundry and that his business is doing amazingly well?  He humbly replies, "I ain't in it for the money.  As long as I can eat and create, that's all I care about." "[The business] just blew up.  300 people are working as a result of it.  That's what I like – seeing people workin'."
Sam also credits Kathy, his wife, as being the brains behind the operation and says he could never be where he is without her.  "She's my best friend, my best hunting buddy. She handles the money aspect, and I shake the hands.  We make a good team; we're like peanut butter and jelly."
Sam's fine creations can be found at numerous galleries across the Northwest, such as the Aspen Grove Fine Arts Gallery in Aspen, CO; Masters Gallery in Vail, CO; Elk Horn Art Galleries in Winter Park, CO; Gallery One at Fillmore in Denver, CO; Devin Galleries in Coeur d'Alene, ID; and Moose Horn Gallery in Livingston, MT.  
To see more of Sam's work, log onto www.terakedis.com  or www.moosehorngallery.com, or contact the Moose Horn Gallery at 5 Moose Horn Lane in Livingston (406-333-4468) for more information.  
~ Mary A. Biehl is a native Montanan writer and editor, living life and loving it under Bozeman's beautiful big sky.