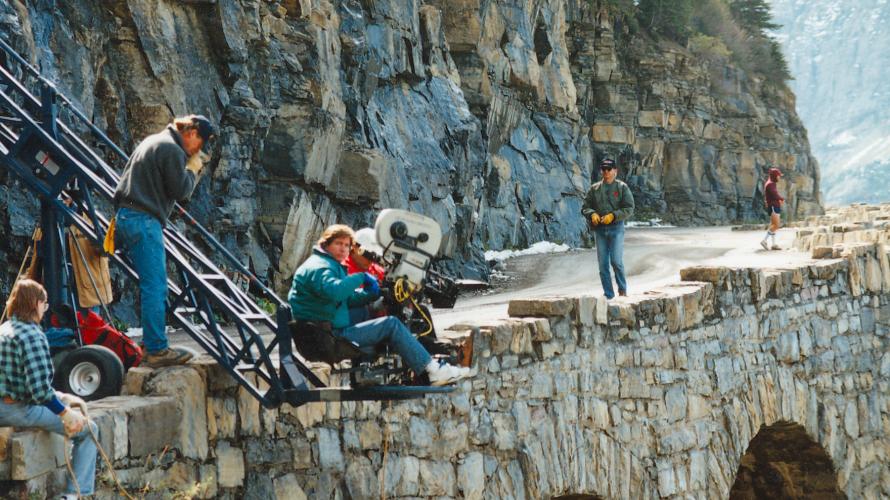 Montana and the Oscars
   ~Brian D'Ambrosio
Montana's majesty offers detailed delights and eye-dazzling assets that are a filmmaker's paradise. For that reason, the motion picture industry has often hitched its journey to Big Sky Country. As filmmaker Arthur Penn (Little Big Man, The Missouri Breaks) noted, "It just doesn't get any better. Montana is the real thing." Penn first fell in love with the state while vacationingand scouting locations in the late 1960s – and he returned twice to film, though with drastically
mixed results.
Montana's relationship with film has been sublime, serious and at times even outright silly. While the state has provided scenery for as many Hollywood successes (The Revenant, Forrest Gump) as it has notoriously maligned flops (Heaven's Gate, The Missouri Breaks), Montana productions in spite of everything boast a high rate of Oscar glory.
Malek in Buster's Mal Heart.
When first-time nominee Rami Malek took home the Academy Award for Best Actor at the 2019 Oscars for his portrayal of Freddie Mercury in Bohemian Rhapsody, the Oscar win was unsurprising after he won the same award at the Golden Globe Awards, Screen Actor Guild Awards, and British Academy Film Awards. Malek has been riding a streak of high acclaim in a number of projects, including the 2017 psychological thriller Buster's Mal Heart, filmed in Kalispell. In Buster's Mal Heart, Malek portrayed Jonah, a bilingual concierge desk clerk at an emotionally
wearisome hotel job in Montana. His professional life, in his words, has erringly failed to gain suitable "traction." Elements of him are dormant, waiting for resurrection. Some nights his utmost challenge is struggling to not to fall asleep, flat-faced, at the front desk. With a tired, grasping look about him (acutely intuited by Malek), Jonah draws a deep, anxiety-ridden breath and decides that there is yet another new world to conquer. Where the newly married father once saw his life as a riot of possibilities, his latest realizations are startlingly off-putting.
Buster's Mal Heart is a well-crafted, even darkly comic, smaller budget production blurring the ines between prophet and lunatic, a tense, firm interpretation of actors seized in almost science-fiction moments, the settings, set period and properties carefully keyed to the thrilling mood. The outdoors of Montana buttress and even stabilize the film, from the opening shots under the moonlight of muzzle and rifle shots to the aerial, exterior and interior views of lakes, cabins, andhomes, concluding with the epilogue standoff in the soaked, snowy cave. In spite of that, it's the FairBridge Inn & Suites, formerly the Outlaw Inn, in Kalispell which provided filmmakers with a radical energy that creates a mood eerily reminiscent of "The Shining" (1980). (Coincidentally, the eastern side of the Going-to-the-Sun Road, in Glacier National Park, sets the opening scene
from "The Shining" as the Torrance family drives to the haunted hotel.)
Ruth Carter

Ruth Carter, who took home an Oscar for costume design for her work on Black Panther, worked on all nine episodes of the first season of Yellowstone (now in its second season of production). The narrative of "Yellowstone" is set in Montana, and the show is filmed partially in Darby in and around the Chief Joseph Ranch, nestled in the foothills of the Bitterroot mountain range along Montana's boundary with Idaho. "Yellowstone" follows the Dutton family, who control the largest contiguous ranch in the U.S. Kevin Costner (who earned Best Director Oscar in 1991 with Dances with Wolves), who's also an executive producer of the series, plays the fifth- generation ranching patriarch John Dutton. Yellowstone is directed by Taylor Sheridan, Sicario (2015) and Hell or High Water (2016) writer who turned director with Wind River (2017), an acclaimed crime thriller set on a Native American reservation.
Oscar Awards from Little Big Man to The Revenant

Director Arthur Penn brought on-location realism to Montana to film Little Big Man, intending, in his words, "to de-Hollywoodize the western." Little Big Man (1970) was nominated for Best Actor in a Supporting Role: Chief Dan George. Thunderbolt and Lightfoot (1974) received an Oscar nomination for Best Actor in a Supporting Role, Jeff Bridges. Bridges met his wife at Chico Hot Spring in the mid-1970s during filming of Ranch Deluxe and has been a resident for approximately 45 years. Runaway Train (1985) was nominated for Best Actor in a Leading Role, Jon Voight, and Best Actor in a Supporting Role, Eric Roberts, as well as Best Film Editing. Voight and Roberts earned nominations for their stunning performances in this story about two convicts who escape into the icy Northwest wilderness aboard an out-of-control freight train. On the Hardy Bridge, which crossed the Missouri River about 50 miles north of Helena, Prohibition-era whiskey runners would clash with lawmen as part of Paramount Production's The Untouchables. Out of Brian De Palma's 29 films, The Untouchables (1987) is the only one to win an Oscar— for Sean Connery's supporting performance. De Palma reflected on the film in 2016 to Entertainment Weekly, "Beautifully photographed, beautifully scored, fantastic locations. Every once in a while it all comes together." The Untouchables was also nominated for Best Art Direction-Set Decoration, Best Costume Design, and Best Music, Original Score. Based on the novel by famed fantasist Richard Matheson, What Dreams May Come (1998) is a grand journey which explores the idea that the dead in fact grieve for the living, much in the general idea of Italian poet Dante's thoughts on the afterlife. It's simple to visualize the stunning vistas of Glacier National Park doubling as heaven, but it's more difficult to envision the park's Lower Two Medicine Lake serving as a stand-in for the River Styx, the vessel into hell. The production of What Dreams May Come came during a peak moment of Robin Williams' film career. Two of his most successful movies, Jumanji and The Birdcage, had opened in theatersover the two preceding years, and filming had recently wrapped up on Good Will Hunting, a movie for which Williams would win a Best Supporting Actor Oscar in 1998.
Film critics Gene Siskel described What Dreams May Come as "one of the great visual achievements in film history." The film won an Oscar for Best Visual Effects and was nominated for Best Art Direction-Set Decoration. When Williams was asked in October 1999 by National Geographic Traveler to name his favorite personal spaces, he named Hayman Island off Australia and Glacier National Park. "Another place that's soul-inspiring is Montana's Glacier National Park," Williams said. "I've never seen anything like it." Cowboys, farmers, and teenagers answered a casting call for parts in director Robert Redford's 1992 movie about fly-fishing and family A River Runs Through It, based on writer Norman Maclean's ruminative recollection of his Montana youth. A River Runs Through It won Best Music, Original Score and Best Writing, Screenplay Based on Material Previously Produced or Published; it was also nominated for Best Cinematography. Two scenes for Forrest Gump were shot at Glacier National Park. In both, Jim Hanks doubled for his actor brother Tom. One scene was included in the film, but the other, which was set on the stone bridge at the St. Mary Entrance, didn't end up in the movie. Forrest Gump (1994) won Best Picture, Best Actor in a Leading Role, Tom Hanks, and Best Director, Robert Zemeckis; it also won three other Oscars and was nominated for seven others, including Best Cinematography, Best Makeup, and Best Music, Original Score. Nebraska (2013) was nominated for several accolades, including Best Motion Picture of the Year, Best Performance by an Actor in a Leading Role, Bruce Dern, Best Achievement in Cinematography, and Best Achievement in Directing, Alexander Payne. The film's opening scenes were filmed in and around Billings, at Thanksgiving time in 2012.
Montana Set the Stage for The Revenant
As evidence to Montana's enduring presence and influence on screen, 2016 saw The Revenant secure a number of major film awards. In The Revenant, Leonardo DiCaprio's character, trapper Hugh Glass, endures a harsh winter in the pursuit of vengeance and redemption, and the glacial scene shot at Kootenai Falls braces the stage for the drama that unfolds. Indeed, The Revenant won a slew of Oscar awards including: Best Performance by an Actor in a Leading Role: Leonardo DiCaprio, Best Achievement in Directing, Alejandro G. Iñárritu, and Best Achievement in Cinematography. It was nominated for a host of others, including Best Motion Picture of the Year, Best Performance by an Actor in a Supporting Role, Best Achievement in Film Editing, and Best Achievement in Costume Design. Other correlations include Kalispell-born Michelle Williams' four Oscar nominations and in 2015, J.K. Simmons became the first University of Montana alumnus to win an Academy Award for acting. The 1978 music graduate won Best Supporting Actor for his role as a sadistically-
inclined music teacher in Whiplash.