Pam Little, CMI, FAMI is a Certified Medical Illustrator and a Fellow of the Association of Medical Illustrators, with a BA in Visual Communications from Florida State University.  She received her MA in Biomedical Communications from the University of Texas Southwestern Graduate School.  

Her landscapes and wildlife art are inspired by her surroundings at home in the Bitterroot Valley of Montana and her travels in the West. 

Email [email protected] or visit her website!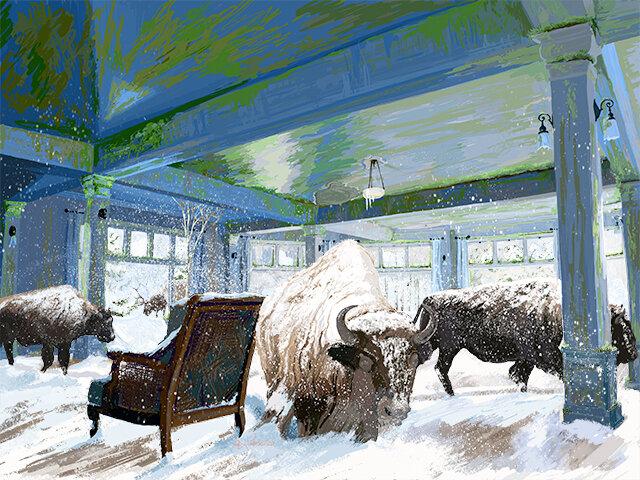 Your paintings are at once mesmerizing and captivating. Can you tell us about how your process and style have evolved?   
In 2003 when we began going on horse packing trips into the Bob Marshall Wilderness, and later on, our wildlife watching excursions in Yellowstone, I would bring a journal and sketch and photograph to memorialize the trips. From my sketches and photos, I started creating digital paintings and pieces in traditional media, mainly pencil and watercolor. For the digital paintings, from the default brushes included in Photoshop, Painter, and most recently Procreate, I have customized in each a primary brush that has the thick, thin, and taper of pen and ink, to use with opaque colors. Photoshop is my go-to for sizing and composition from my photos, laying in background colors and very basic shapes, and final file formatting, while Painter and Procreate are where I paint. In between those, I do watercolors from direct observation or will overlay watercolor on a pencil drawing. All the photographs I use are ones I've taken.
 
Montana plays a starring role in many of your paintings. Can you tell us about how Montana has influenced and inspired your work? 
We live on Downing mountain in the Bitterroots, just down from the "H" outside Hamilton. Some of the first digital paintings I made were of the views from our downstairs office window in different seasons and light. Our house faces east, so there are not too many sunrises or colors on the Sapphires that don't provide inspiration for a watercolor. We were fortunate for several years to go on annual trips into "The Bob" with Karen and Jack Hooker, and on our first trip, Jack "officiated" at our wedding on top of Scapegoat. (In Montana, all that's required are witnesses to sign the paperwork you file with your county.) Although our last trip was in 2012, I still have many sketches and photographs I continue to use for subject matter for my paintings. 
 
Please walk us through your creative process, from inspiration to approaching the blank canvas to completion. 
I most often start from my photographs, whether going traditional or digital, sometimes using several to create a composition, especially those including wildlife. I like to keep the eye moving around a piece, and my compositions usually revolve in a clockwise direction. Because the light in a scene is very important to me, I pay quite a bit of attention to that, making sure all the elements are in agreement. If the light on the landscape is different from my wildlife reference, I need to make them "match." The digital process allows for layering of all your elements: background, references, and actual painting. A separate, floating reference window is much like using a paper reference to glance at, rather than going back and forth between layers. Colors come from the photographs or are mixed to get the result I want. I also like to use complementary colors, primarily in shadows and dark areas. Starting with the background and large shapes, blocking in wildlife, if included, I gradually add details until arriving at the tightness or looseness I'm looking for.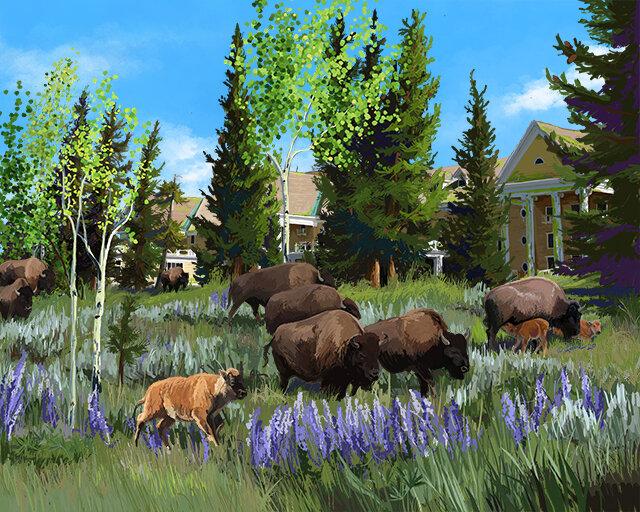 You create using both digital and traditional media. What is your favorite medium, and why? 
Right now I am primarily using Procreate on an iPad Pro with Apple Pencil and have been enjoying that. It does not have the bells and whistles that Painter or Photoshop have, but it is very easy to paint with. I haven't done much traditional media lately, but I'm quite sure I'll be picking up one of my watercolor blocks again soon. Your fingers sometimes just enjoy that feel. 
Your paintings often feature a world where humans have vanished from the Earth, with the structures we once inhabited reclaimed by nature. Tell us about that.  
Funnily enough, I started the "After Humans" series in the fall of 2019, before 2020 dropped the hammer on us. I had photos of Lake Hotel in Yellowstone and The Stanley Hotel outside Rocky Mountain National Park where I wanted to add wildlife, which made me think, what would the buildings look like after humans left, and the landscape and animals took them back? It's been a fun challenge to "deconstruct" the hotels' interiors and exteriors and imagine where the buffalo, birds, etc. would roam.
 
Your work often features Yellowstone National Park, a place special to millions around the world. Can you tell us a little bit about your relationship with the park and how it has informed and influenced your work? 
We made our first trip in the early 2000s, but it only took that once to get hooked on wildlife watching in the park. Adding to our usual winter and spring trips was last year's fall colors trip, and we plan to get back in 2021. I've taken art classes with the Yellowstone Institute at the Buffalo Ranch, a unique and wonderful experience. Same as with The Bob trips, I journal, sketch and photograph - it's never hard to find inspiration.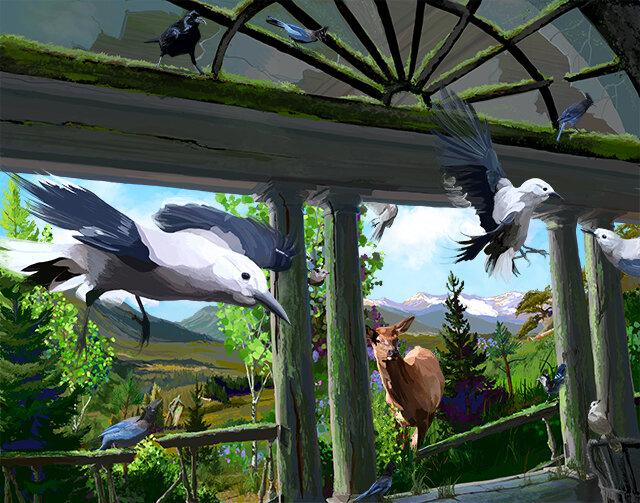 You've enjoyed a long and successful career in Biomedical Illustration before turning full-time to your art. How does your career influence your work today? 
Biomedical illustration requires images that can educate and convey important information. Frequently that information is in written form, so you need to "recreate the scene" whether it's microbiology or surgery. This requires a composition that highlights critical elements that convey key educational concepts and excludes extraneous details. In a surgical illustration (regardless of medium you use), the basic artistic fundamentals of form, how light falls on that form, and your composition must be used to assemble essential focal points of the procedure. I use that training all the time. If my photo of an animal has a different light source on it than the surroundings I want to put it in, I have to think about that and make changes to one or the other, as necessary. Also, using color to make elements come forward or recede and draw the eye around a composition.
 
 
What are you working on now, and where do you see yourself going with your art over the next few years? 
It goes without saying that 2020 has been a challenge, but art shows have still gone on, whether live or virtual. Recent pieces in the "After Humans" series have involved winter, and I will likely continue with more of those. A trip to Yellowstone is in order, but we're not sure when that will happen.

One important part of my career going forward is working toward decreasing the apprehension of digital painting and artwork. While I see increased acceptance in more areas, there is still strong opposition that I think is based on false assumptions. Like my medical illustration colleagues, I would say fine artists now using digital techniques are also well versed in all design concepts and are likely quite adept at traditional media. A fancy sable brush or computer application needs a human; they can't do anything without a person's talent.