The entrance to a home, whether in the front or back, makes a statement as distinct as the residents within. Doorscapes, which include the entryway, foyer, porch, and patio, can be rustic or modern, simple or grand, lively or sedate...even just plain "fun." They can be viewed from the outside-in, or the inside-out, giving the homeowner a good amount of latitude in design.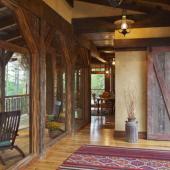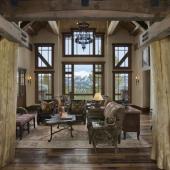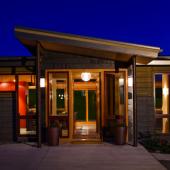 According to Richard Garwood, owner of Montana Sash and Door and Mountain High Woodworks in Bozeman, "The main entrance is the host's first opportunity to make guests feel welcome and to set the stage for the character of their home. The entry doors play an integral part in creating this ambiance and can either blend in or stand out, complementing the design and aesthetics of the home."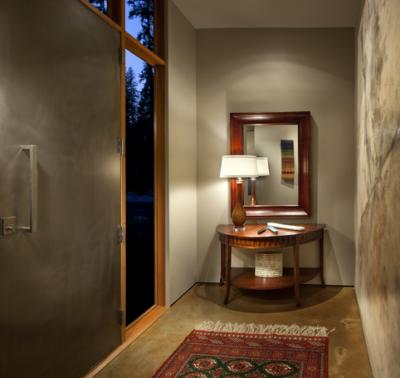 Several examples from Garwood's portfolios include majestic, dramatic entryways featuring massive stonework surrounding custom doors designed and built by both companies. The combination of stone, heavy wood, and glasswork can set a mood of royalty, stability, even of antiquity regardless of newness of construction.
If rustic is more your speed, you could garner ideas from a foyer interior designed by Design Associates of Bozeman where barn-esque wood was used to frame walls of windows, a barn door hangs on a rail, and organic décor abounds. Because of the abundance of windows, the feeling is open and welcoming—inviting guests to come in…or go out…with equal attraction.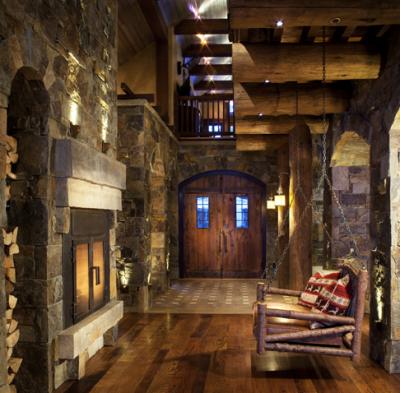 The homeowner's personality can truly shine through a doorscape, whether by architectural design or by seasonal decorating (or both). Location of the home and family lifestyle also contribute to the configuration of an entryway. For example, a home for which Hunter and Company in Whitefish was the interior designer can only be accessed in the winter by skiing to it. Thus, they included a skiable approach to an entrance which takes you into the family ski lockers, the exercise room, and the media room. Log railing outside this entrance provides a convenient resting place for skis to shed their snow before being brought inside.
Not every entryway needs to be flamboyant, of course. Whether a soft arch over a walkway laid with flagstone, a simple portico extension giving regal announcement of guests, or a well-padded chair unobtrusively sitting off to one side of the foyer to provide respite and ambiance (as demonstrated by Toad & Willow in Billings); these all express welcome and give representation of character and personality.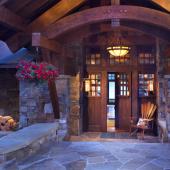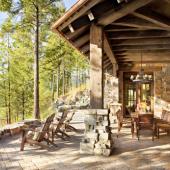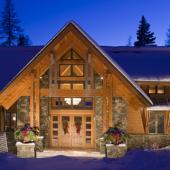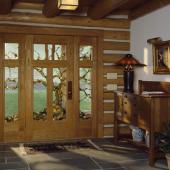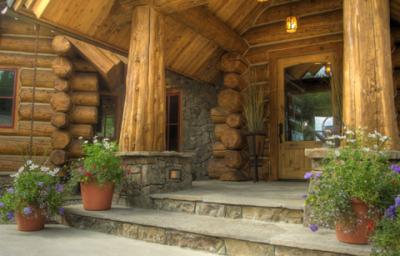 Why not put your hanging porch swing inside the foyer rather than outside on the porch? Or perhaps the first thing you or your guests see upon entering is a favorite painting or framed photo. Those lovely begonias you place on your steps in the summer could give way to balsam boughs and red ribbons as the seasons change. Doorscapes can be dramatic and electrifying or subtle and calming. Their design is informed by and represents the homeowner's personality and individual tastes, and it helps to take into consideration the view from the inside-out as well as from the outside-in. Doorscapes are physical and emotional portals into one's home life, and in a variety of ways, they say, "welcome to our home."