Few people are lucky enough to make a living doing what they love. Bern and Lexi Sundell love to fly fish. She loves flowers. They both love to paint and design jewelry. Combine their passions, and the RiverStone Gallery emerges.
Beckoning passersby on Main Street in Ennis, the front window of the RiverStone Gallery showcases the products of the Sundells' artistic talents. Displaying their most "powerful" paintings in the front window is what generates most of the Sundells' customers, Lexi said. Fooled by the lifelike appearance of colorful trout and blooming flowers, people walking by the storefront often do a double-take to realize that the framed images are just paintings.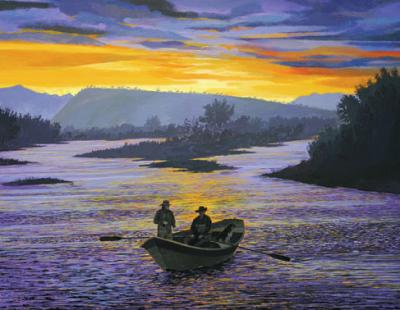 Opening the RiverStone Gallery eight years ago seemed like destiny for the Sundells, whose mutual interest in art and nature brought them together nearly 17 years ago through a personal ad. Some might call it a life gone full circle. Born in Ennis, the son of a forest ranger, Bern was practically born with a fly rod in his hand. When he was nine, his family moved to White Sulphur Springs, where he fished the Smith River every chance he had. 
"Many years ago in the rock-and-roll 50s, my alarm went off at four a.m. while I was dreaming of heaven bound rainbows, secret flies, and the scent of river willows. It was the opening day of fishing season," Bern writes in an entry on his Web blog, www.browntroutdelight.com. He also recollects a fishing buddy named Audrey. "Audrey was 75 and had a great passion for fishing. I was 10 and had the same passion. We made great fishing pals," he wrote in the reader-favorite "Fishing with Audrey" essay on his blog. 
After leaving Montana, Bern returned frequently to fish. Eventually, in the early 1990s, the lure of the trout-laden rivers got the best of him, and he asked Lexi in September of that year if she would consider moving back to where his heart was held captive. By December, they were living in Ennis, designing jewelry in their home, and Bern was working as a fishing guide during the summer. The first year that the RiverStone Gallery was open, the Sundells exhibited their work at 22 jewelry shows across the country. The past few years they have changed the focus of their efforts from jewelry to paintings. Most of their jewelry now is commissioned work.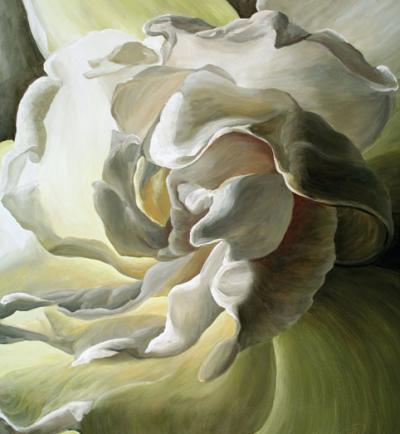 Sitting at his canvas wearing a fly-fishing shirt in the middle of the RiverStone Gallery, Bern has been a professional painter for 30 years. Experience has contributed to the perfection and detail that have become his trademark. The acrylic and oil renditions of brown, rainbow and brook trout—each with unique markings, coloring and proportions—are evidence that Bern has studied his catches closely. To truly capture these details, as his work does, requires research—also known as floating and casting a fly on the Madison River with Lexi and their "boat dog," Plato. Lexi built an on-board "research" station that resembles an aquarium and allows them to photograph the fish that they catch.
Bern prides himself on the accurate depiction of his subjects, no matter what they are—water, flies, fishermen, and even seashells that he collected while bone fishing in the Bahamas. One commissioned portrait of a fly-fisherman in different fishing poses was the result of four or five trips to the river to study how the fisherman moved and cast his fly rod. 
In Bern's painting, The Fly, the Fish, and the Fisherman, the three-dimensional fly looked so real that customers tried to pick it off, Lexi said. 
"He paints flies like he ties them," she said—starting with the hook, then the tail, and working his way to the head. "It's just like tying a fly but with paint," Bern explained.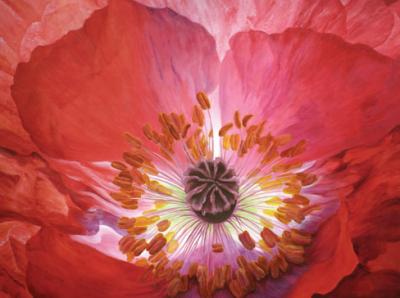 One of the most impressive examples of intricately detailed work is a wedding ring set that Bern and Lexi designed for friends who own a fishing lodge in Ennis. Lexi spent many years designing Native American jewelry.
On their gallery Web site, www.riverstonegallery.com, they recount "The Fly Fisherman's Dream Wedding" and also posted pictures from the event.
The engaged couple's requirements for their custom rings were simple: each ring had to have a large diamond, inlay, a sapphire, a fishing scene, and both white and yellow gold. Her ring had to be made as two rings so the diamond could be worn or not depending on the circumstances. 
For the fishing scene on the bride's ring, the Sundells' idea was to have the groom rowing his future wife's drift boat with her fishing. On the groom's ring, they would have the bride rowing his boat with him fishing. Each scene had to fit in approximately one-quarter inch.
The solution to the apparent design dilemma was the same solution the Sundells apply to many such problems: go fishing. In this case they went fishing with the future bride and groom.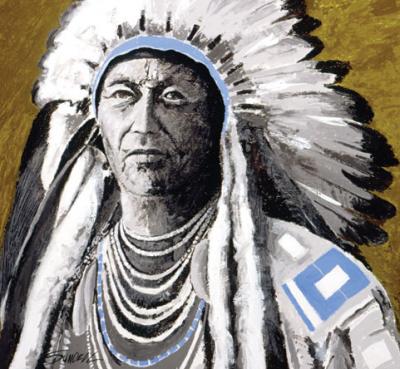 On the gallery Web site, where a page is devoted to an antecdote about the wedding, planning and preparations, Lexi gives this narrative about designing the rings: "This was a considerably difficult carving. I did manage to get the boats identifiable by their paint lines. [The groom] and [bride] are identifiable primarily by stance and by their hats. I even put sunglasses on them. [Her] fly line curls around the ring going underneath and coming up on the other side where I carved a tiny trout. Since [his] ring was larger, we had him catching a double with two little trout on the side of his. The sapphire went on the lower part of her ring as a surprise stone." 
On the day of the wedding, the Sundells were still putting finishing touches on the rings an hour before the ceremony, which took place on the banks of the Madison River.
Though the wedding band project was a joint undertaking, the Sundells have different styles in their design and painting. Bern describes Lexi's jewelry designs as "curvy" and his as "geometric." 
They have worked on only one painting together that needed completed in a short time frame for a show. To more easily blend their individually unique styles, they "hopscotched" back and forth, painting patches across the 6-foot-wide canvas.
A collection of Bern's fly-fishing artwork is published in his limited edition fine-art book, Bern Sundell: Artist/Fly Fisherman.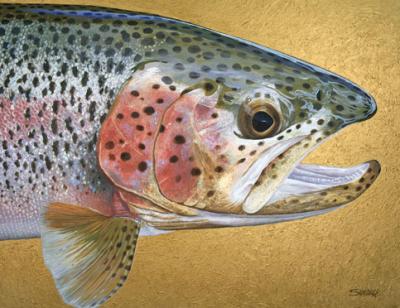 While Bern's art is an outlet for his passion for fishing, Lexi's paintings are a reflection of her zeal for flowers. (See www.lexisundell.com). She renders simple flowers into lifelike, dramatic images floating in the light of dawn. From the colorful, bold petals of a fiery red and purple poppy to the subtle softness of a fuzzy dandelion, her acrylic renditions bring to life the array of flowers that she grows in an 800-square-foot greenhouse and a garden that encompasses two lots.
As with Bern's fish portrayals, Lexi's contemporary flower paintings look so authentic that some could be mistaken for photographs. She recently published a limited edition fine-art book, Flowers of the Dawn, which showcases 40 of her floral paintings as well as her poetry. Note cards with her paintings and photographs of her flowers are also available at the gallery. 
After immersing herself in completing the paintings for her book, Lexi took a break from floral subjects and did some farm-themed paintings of horse bells, ropes and a rooster. 
Satisfying his occasional desire to "get away from fish for awhile," Bern began doing contemporary Indian warrior paintings. Having spent some of his childhood in Ashland, Montana, surrounded by the Crow Indian tribe, he took in many strong visual impressions that resonate in the "Warrior" series. His "Road Warrior" series features these Indian warrior images with modern highway pavement and lines—examples of his self-proclaimed "inventive and playful" approach to visual imagery.
As an added service, an extensive selection of frames and mats is available at the gallery. Framing is an important part of finishing a painting, Bern noted. With artists like the Sundells helping to choose just the right mat and frame combination, a finished piece is bound to catch eyes.
If someone says "beautiful frame" when they look at a painting, then "you blew it" as far as choosing the right frame, Bern said.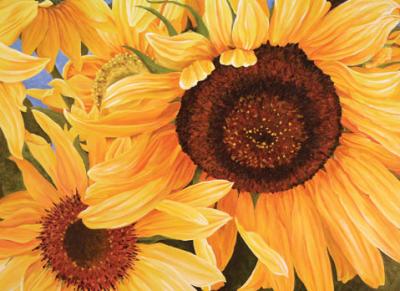 Customer service is a key focus at the RiverStone Gallery. Since many of their customers are from out of state, to help them decide whether a painting will fit or look good in their home, Lexi said they suggest that the customer email photos of the wall where they want to hang the painting. Lexi then uses a photo editing software to place a picture of the painting on the wall to give a visual image of what it will look like in the home. 
Adding variety to the art inside of their gallery, the Sundells have designed custom sculptured steel gates that are displayed outside, next to the gallery. Lexi and Bern (who has a master's degree in sculpture) teamed with metal fabricator Steve Wham to create gates that are pieces of art in themselves. The Sundells create the full-size templates using plywood, and Wham fabricates the design in steel, which is then powder coated. 
The most recent release in the custom gates, "Buffalo Sunrise," a four-foot garden gate, has unique three-dimensional horns for the handles. Posts conceal the hinges and the precision design and smooth ease of the inner bronze bearings allow the gates to open and close "like silk," Bern says.
From steel gates and bronze sculptures to paintings and jewelry, the RiverStone Gallery in quaint downtown Ennis is more than just a business to Bern and Lexi Sundell. It is the fulfillment of lifelong passions. 
~ Carol Ferrie has been living the Montana dream for 22 years.  She is a freelance writer and works full-time for the Property and Environment Research Center in Bozeman.