Sherry Gallagher's work has won over 90 awards. Inspired by the landscapes and people of her native Montana, her multi-faceted art is collected around the world. Although she is well known for her commission portraits, figurative and historical works, her subject matter knows no boundaries.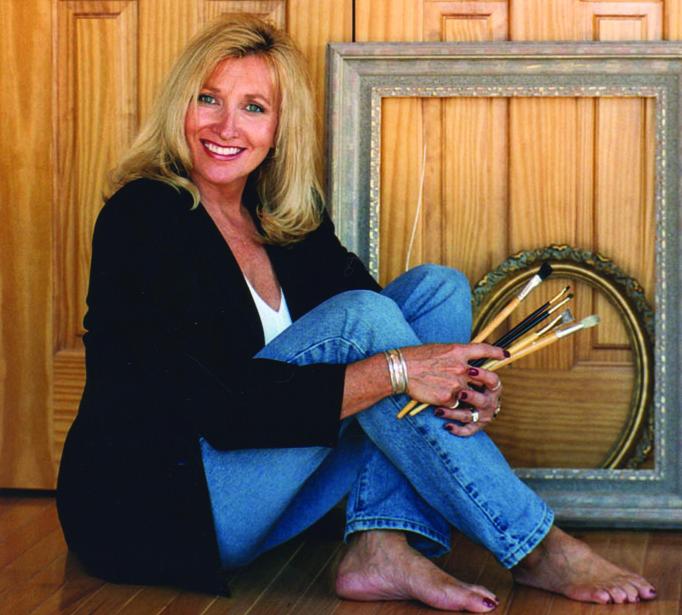 Your work is a fascinating potpourri of media and canvas.  Portraiture, art screens, landscapes, oils, pastels, rice paper and so forth. Why do you express your art in so many different ways?
I began painting in oil and pastel, my subjects mostly landscape and still life. Through experimentation I began painting portraits. Once people discovered that I could paint portraits, the orders started coming in and I found myself in the commission portrait business. It was as if this genre found me. My career as a portrait artist has been very good to me, and I have never looked back.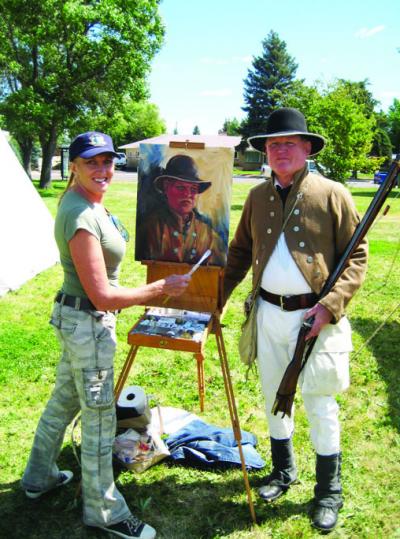 On the way, I became fascinated with handmade and decorative papers. I developed a technique where I collage these papers on different surfaces and express my vision with mixed media, usually watercolor, acrylic, metallic, and varnish with a variety of subjects. The freedom of creating these works is important to challenge myself and grow as an artist.
That being said, I have always painted "Series" of paintings in a chosen style, medium, and theme in order to develop a mastery, and a large enough body of work in that genre to make a statement.
Summing up, I figure life is short and I want to live large. What better way than to create without boundaries?
When did you first realize that you had a passion for art, and how has that changed in expressing that passion over the years?
As a child I was "horse crazy" and sketched horses, horses, and more horses. I didn't realize I could survive financially with a career in fine art even though it was a passion of mine.
Then when a young adult, I ran into my 4th grade teacher, Mrs. Russell. She asked me if I had pursued a career in art. When I told her I had not, she expressed her disappointment and told me she had saved all my drawings and shown them to her classes over the years. This was a defining moment for me. I began an oil painting class. A year later, I entered the C. M. Russell Art Auction, had a painting accepted, and that propelled me into the western art world, where I soon was exhibiting, showing, and quick-drawing at approximately 12 to 14 art shows and auctions a year. My passion for art has remained strong over the last 37 years because I believe that once it's "in your blood," it will always be there. 

I've come full circle with subject matter. I started with sketching horses, but when my portraiture took off, it seemed like I never had time to paint horses unless it was a commissioned equestrian portrait. My mother used to say, "I can't believe you don't paint horses because that was all you drew as a child." I assured her and others that I would get back to my roots by portraying ranch life.  That's where I'm at now, ranch- inspired series, and mustang series.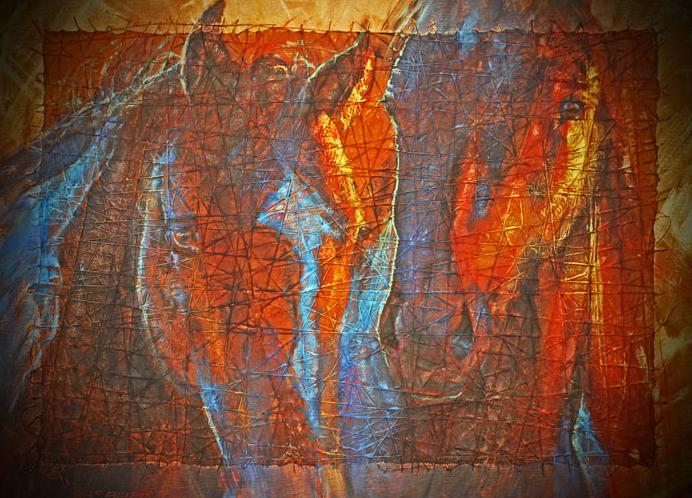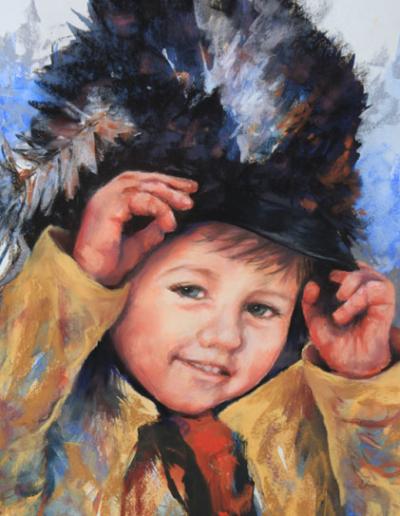 Portraiture art seems quite overlooked today.  What is it that your subjects are seeking when they request that service?
By commissioning a portrait of themselves, or someone they know, they are ordering a unique piece of original art that is very personalized. Their portrait will become a family legacy and heirloom. A portrait is about family, their lifestyle, or their business.
A bond is formed between the artist and the subject, allowing their dignity, character, and integrity to show through. I'm proud to be a portrait artist, and
embrace its heritage as a profession. 
How has living in Montana inspired your art?
Growing up on the Rocky Mountain Front on a cattle ranch near Augusta,
I have a sincere love and respect of the land, the animals, and the spirited people that live here.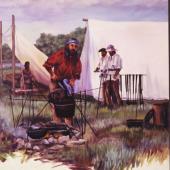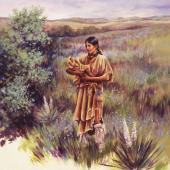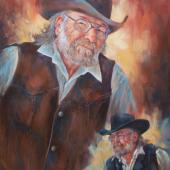 Montana has so much history and inspiration that it would take me many lifetimes to "get it all down." My Native American, Mountain Men, and Explorers Series have all been duly inspired by the First People, the Frontiersmen, and spirited people of Montana, and its diverse landscape. The Missouri River outside my studio window has been a great source of inspiration for my "Mighty Missouri River" series. 
Tell us about a typical work day for Sherry Gallagher.
In a perfect world, my work day would go like this: 
A.M. Have coffee, gaze at the Missouri River, the wildlife, and seasons.  It's always beautiful on "The River." No music yet, just the sound of nature. Breathe it all in. I get centered and plan my day. Connect with my assistant, business, and  marketing activities, and sometimes meet with clients.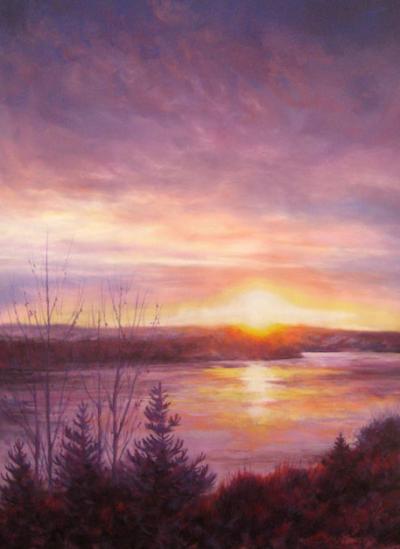 P.M. Creative Time 1:00 -5:00 or later, painting in my studio to carefully selected music, chosen according to the subject I am working on. Scheduled studio sittings with portrait clients. Or I may paint outside, plein air, on location.  
Evening. More creative time if possible.  Frame. Read. Research. Dream. Brainstorm ideas. Social networking.
Welcome interruptions are phone calls from my clients, family, caring for pets and flowers, helping my partner with the wild Mustangs, moving cattle on horseback, and branding, all part of the creative process.
I'm also the Art Director for Wrangler Fine Art Gallery in Great Falls, and weave this responsibility into my schedule. 
We don't often run across art screen panels in Montana.  What is this art form and how are these works typically displayed?
The art screens you are referring to are displayed as floor screens either against a wall, or corner, as a room divider, or as a backdrop behind a lower furniture piece. The art screens are painted in oil and each art screen panel has its own subject, but fits into the theme and visually carries to the next panel. These can be custom-ordered in any subject.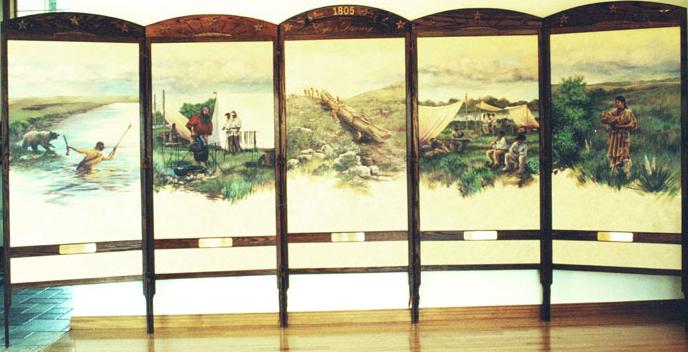 What are you working on now, and what art can we expect to see from you in 2017?
Right now I'm working on several commission portraits, three commissioned ranching scenes, two commissioned Native American scenes, and some artwork to submit to The Russell Auction. 
Paintings I'll create in 2017 will be more of my "Mustang Series" on collaged papers, "Larger than Life Series" on collaged papers;  "Mighty Missouri River Series" in pastel, and more "Ranch Inspired Series." 
I'll be working with the intention to discover yet another chapter of creativity, colors, value or perspective.

UPCOMING EVENTS
COLORS OF FALL ART SHOW
Heritage Inn
Great Falls, Montana
October 28 & 29, 2016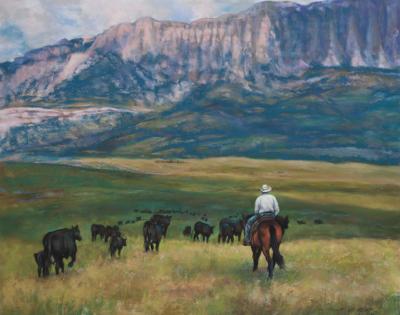 SAFARI CLUB INTERNATIONAL
Mandalay Bay Convention Center
Las Vegas, Nevada
February 1 - 4, 2017
OUT WEST ART SHOW
Heritage Inn
Great Falls, Montana
March 15  - 18, 2017