Robert, what are you working on now and in what direction is your art taking you?
At the present time, I am working on medium-sized aspen paintings, flowers, and a Simmental bull, the inspiration coming from a recent trip to a bull ranch near where I once worked.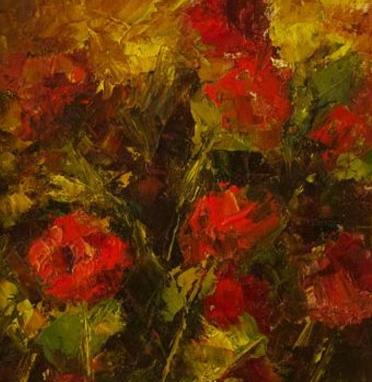 You seem to enjoy a wide variety of topics in your art, most with a Montana "flavor," and all with an appreciation of the natural world.  Why does this inspiration work for you?
I grew up in western Colorado and my family spent time in the mountains. I was privileged to have an uncle who was a freelance photographer and exposed me to the Colorado and Utah mountains/landscape. His explanations of design at his slide shows were enlightening, even as a child. After coming to Montana in 1975, I began spending a lot of time in Big Sky and the Beartooth Range. The mix of great color in the landscape, the mixture of grasses, trees, and interesting slopes appeal to me. 
When viewing your landscapes and wildlife works, one is struck by both a sense of stillness and a sort of "majesty" about the topic. Is that intentional on your part?
Yes, very. I walk in the mountains and these "places" just appear. I suppose the stillness comes from the visual sense that helps me to find quietness in the timber and alpine areas. I credit Robert Moore and his workshops in teaching simplification and to truly "see." The simplification allows for only adding enough detail to suggest what the "mind's eye" knows is there. I want to record the image in paint as an interpretation of the subject.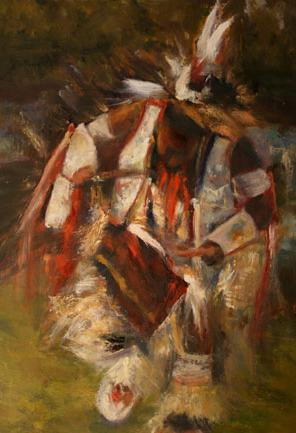 Using the dynamic design principles of composition, I am immediately drawn to certain intersections and diagonals that create interest. ln experimental psychology we studied the physics of visual perception. The human eye organizes space such that the placement of the primary focus in the composition is pleasing and familiar. I make the subject as bold as I can with subordinate shapes and colors. 
Driving back from an auction in Red Lodge a few years ago, I saw a beautiful horse, a Paint, that I went back to photograph. That image became the painting "Red Lodge Grazer," which was the featured piece in the St. Johns Foundation Show and Sale later that year (2011). The strength of his pose, the strong diagonals, the light/dark, and warm/cool features were just too much to pass up. Placing his head in the lower quadrant worked. The late afternoon sun created great shadows and light.
Your artwork is "painterly" at its essence.  What does "painterly" mean to you, and how do you employ that style in your work?
My work is painterly. That means brushstrokes and knife work with more paint and texture. Impressionism typically falls within the painterly style. The brush strokes and knife effects are utilized to produce a looser presentation. Using large brushes and establishing the shapes properly forces me to remain simplistic and only as detailed as necessary. Often the under painting is thin and thick paint applied over with a dry brush, but another facet of painterly style is painting wet on wet, allowing for mixing colors on the canvas creating another value at the juxtaposition.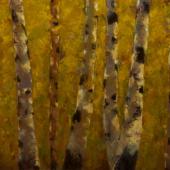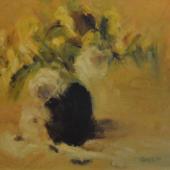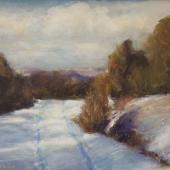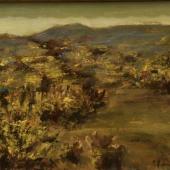 Does the joy in your work lie in the act of creating the piece, or in its completion?
Both creation and completion. Almost always I experience a sense of risk when beginning. Most subjects are complex such as the Native dancers and some florals. One of our artists, my friend Neil Patterson speaks of having a relationship with the painting and reacting to various notes as it progresses. I do that routinely, finding that a certain color or placement is needed after beginning. Of course, when finishing a painting that I like, it is very rewarding to display the piece.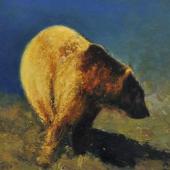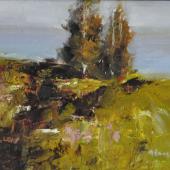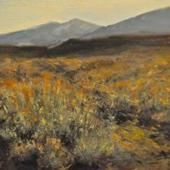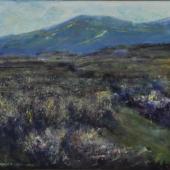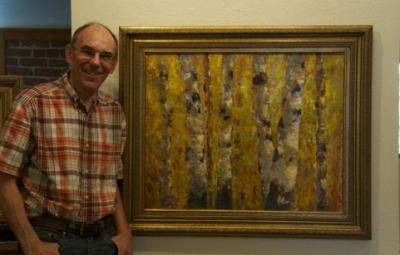 Will we be seeing more of your figurative art, particularly works with Native American subjects?
I do plan to do more Native American paintings. I am doing another dancer. Again, the strength of the movement, the features and poses are critical to achieving the dynamic symmetry I am looking for in a painting.
When not painting, what activities or interests do you find most enjoyable and fulfilling?
When not in the studio, I enjoy cycling, playing guitar, and spending time with my grown children as well as my two gifted beautiful granddaughters. Two of my friends and I did a cycling trip in 2010 from St. Paul to Rockport, Maine.
I am planning a book of paintings of this trip.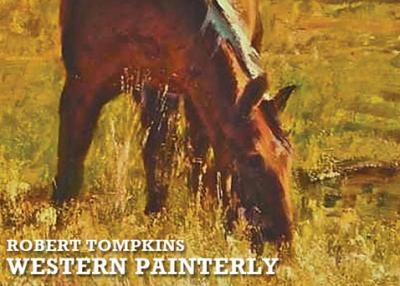 Finally, what does your work reveal about Robert Tompkins outside the medium?  What would you like our readers to know about your personal attributes and the life experiences influencing your work?
My interest in art began early, as an immersion in beauty from the mountain landscape as well as the connection with my uncle and his sharing of flowers from his rock garden and his slide shows. I also had a musical education that I believe relates to art in that it is mathematically based on unity and harmony. A well-designed painting involves harmony just as in music chord structure. I drew in school, going through an airplane phase, then designs, later life drawing. In college I took a design course when possible. I went on to the doctoral level in clinical psychology, specializing in neuroscience and medical psychology. I began painting seriously about 25 years ago. My brother. a photographer, mentions that my art comes from "deep inside.'' When someone reacts to a painting emotionally, it doesn't get much better.
AWARDS
First Place, Greater Yellowstone National Juried Exhibition, 2001
Numerous honorable mentions
Numerous one-man shows for various galleries/foundations
EXHIBITIONS
Yellowstone Art Museum Annual Art Auction, 2000-present
Blue Buffalo Cody Art Show at the Historic Irma Hotel
One-man show: Depot Gallery,  Red Lodge, May 2014
Quick Draw Artist for various museum auctions
  and foundations.
Featured Artist: St. John's Foundation  Art Show and Sale, 2011
Featured Artist at Gallery Interiors, 2013, Billings
Western Masters Artists Show and Sale
GALLERIES
Tompkins Fine Art, Billings
Gallery Interiors, Billings
Depot Gallery, Red Lodge
Copper Sun Gallery, Kalispell
Frame Hut and Gallery, Billings
Twin Rivers Gallery, Big Timber
ORGANIZATIONS AND ACTIVITIES
Oil Painters of America
Montana Professional Artists Association
Blue Buffalo Artists
Western Masters Artists, Great Falls
Juror of numerous shows, most recently for Custer County Art Museum, Miles City Instructor of oil painting
CONTACT INFO
Robert Tompkins is the Owner/Operator of
Tompkins Fine Art,
Billings,  (406) 860-3859
[email protected]