Ask yourself: what does Montana sound like? 
The bugle of an elk, or the burble of a stream over rocks? Maybe it's the hiss of tires on a wet road at night, the lonely cry of a freight train at night, or the silence after a snow.
Or could it be that the Montana sound is something a little more rhythmic, something you could tap your foot to?
If so, it's a sound you can hear most weekends and a lot of weeknights too, at bars and concert venues all over Montana, because among the Treasure state's treasures are some of its remarkably talented and dedicated bands. And you know they're dedicated? Because you'd have to be to brave a Montana winter to play a gig. 
We asked some of Montana's working bands, from a variety of genres, what they think is the Montana sound that exemplifies the state, whether a song about Montana, written by Montanans, or that just reminds you of Montana.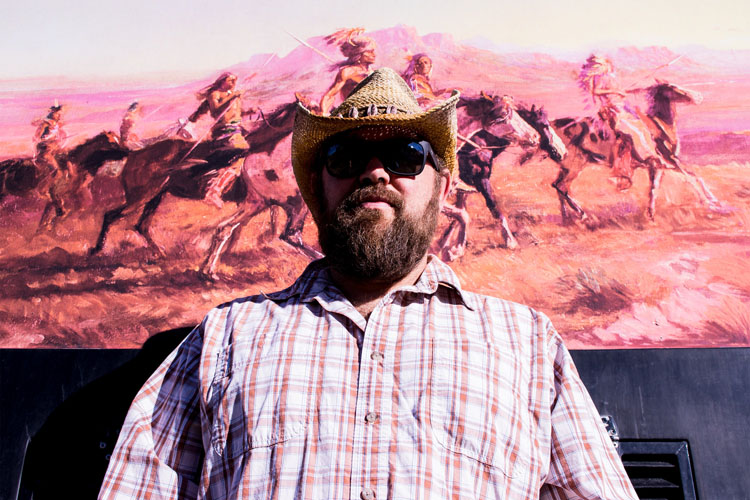 Milton Menasco and the Big Fiasco (Bozeman, MT)
Milton Menasco – Vocals, Guitar

Daniel Boteler – Bass Guitar

Dustin Van Ry –Drumsen
Milton Menasco and the Big Fiasco are a rollicking, boot-stomping reggae/country/rock act from Gallatin County, which has toured the nation but always loves coming back to play for home crowds. They're adept to mixing influences in their signature way, like in the reggae-flavored cover of Johnny Cash's "Burning Ring of Fire".
When Menasco moved to Montana 20 years ago, he says he was surprised at the range of acts that traveled through the state, including international acts working in genres that aren't traditionally associated with Montana: 
 "One of the things that really made an impression on me were the great reggae acts like The Wailers, Steel Pulse and Black Urhu that would play here. Whenever I play Bob Marley's "Roots Rock Reggae" live, I always feel that Montana vibe." 
And playing reggae, or reggae/country/rock, is a Montana tradition that Milton Menasco and the Big Fiasco continue to this day, entertaining large crowds with stomping music. And not just covers, either. Many of his own songs are inspired by Montana, which he says "has a profound effect on my song writing and songs."
Most particularly, he says, "'Living the Dream' is about getting away from the city and finding your passion in the wild", and his song "In the Belly", which he describes as "about how through the mountains, skiing, etc, we get depth of soul." In fact, he says, many of his songs are "directly about my experiences and love for this incredible place.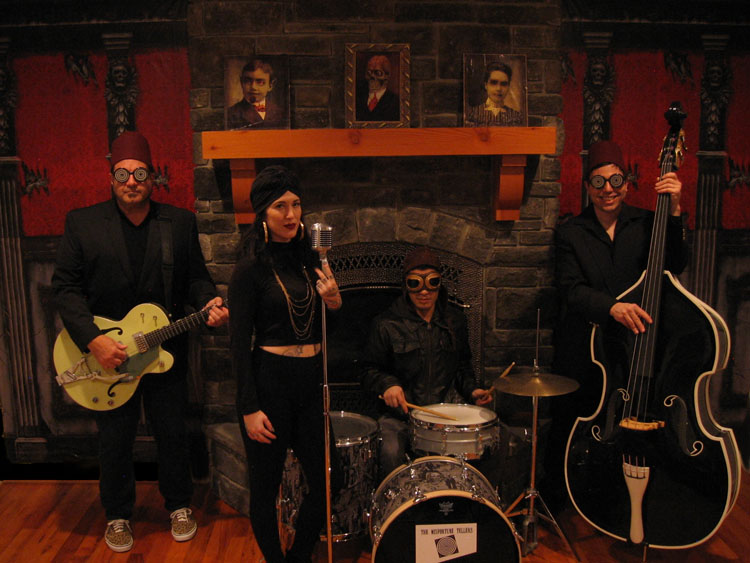 The Misfortune Tellers (Missoula, MT)
Chelsi Soleil - Vocals

Paul Nelson – Guitar

Malcolm Morgan – Drums

Jordan Demander – Upright Bass
The Misfortune Tellers are a self-described "Psychobilly Circus," with a sense of style that's somewhere between a 1950s horror comic and classic lounge. They sound sultry and slinky, and, their "natural habitat", as they put it, are "car shows, theaters, and nightclubs."
When asked what they thought the Montana sound is, The Misfortune Tellers, who had been "away from modern conveniences for a couple days," replied that "oddly enough, to us, the Montana sound is the wind whistling through the window gasket as you pass through the Livingston area."
And here's their nominee for a Montana song that speaks to them: "Wilco's "Sky Blue Sky." More than one Montana town comes to mind every time. A melancholy tale of broken things and a 'sky blue sky' to hang some hope on."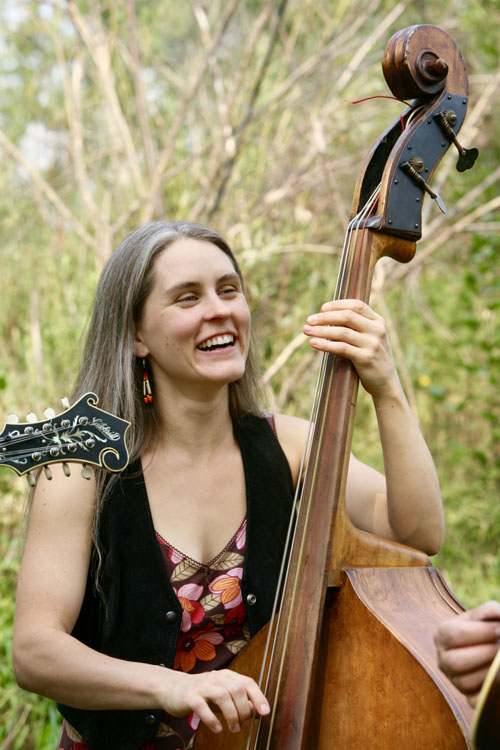 Britt Arnesen, (Missoula, MT) 
Vocals, Guitar, Standing Bass 
Britt Arnesen's newest album is the Montana-inspired "Dream in Blue," which she recorded on an antique Martin guitar from 1891. She loves its sound, in part, because it exemplifies what is, to her, the Montana sound: "old woody magic" that can only come from acoustic instruments. It's a sound that makes her wax poetic: "in the soundtrack of my mind, I'm waltzing with a handsome cowboy to a great live band like Montana Rose".
Having made Missoula her adopted home, it has also become her muse. And she associates the state with "strong women and vibrant live music". As for her favorite Montana song, she can't pick just one: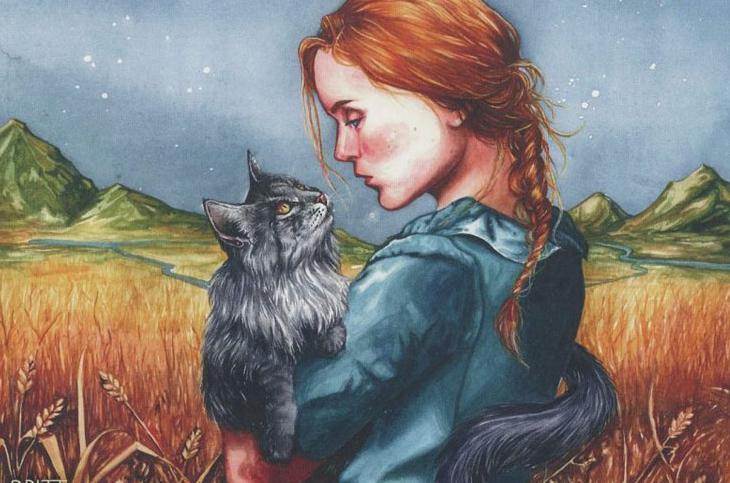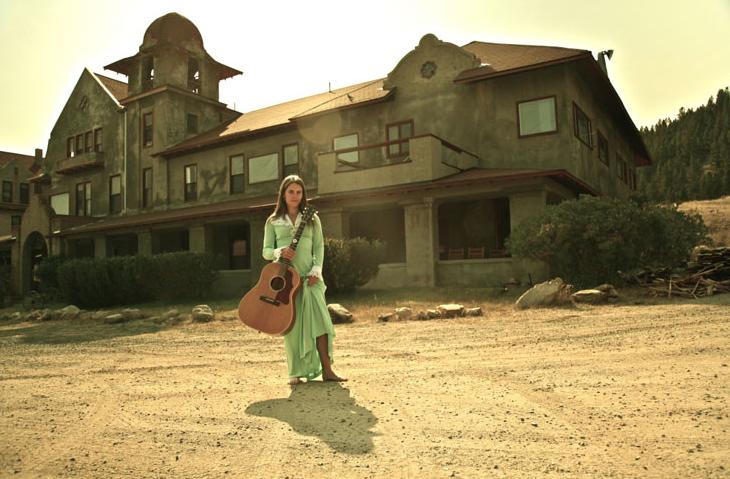 "It's hard to pick a single song, but some of my favorites are 'Don't Ask the Wind' by Richie Reinholdt, "Up the Divide" by Martha Scanlan, and the instrumental "Summer of Regret" by Chad Fadely."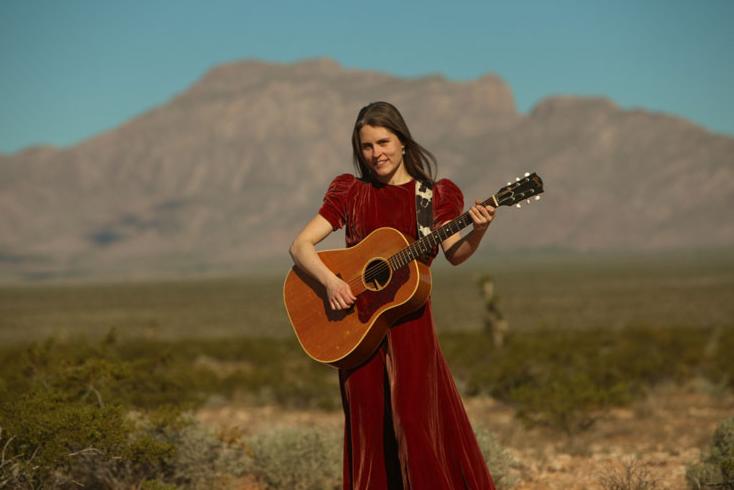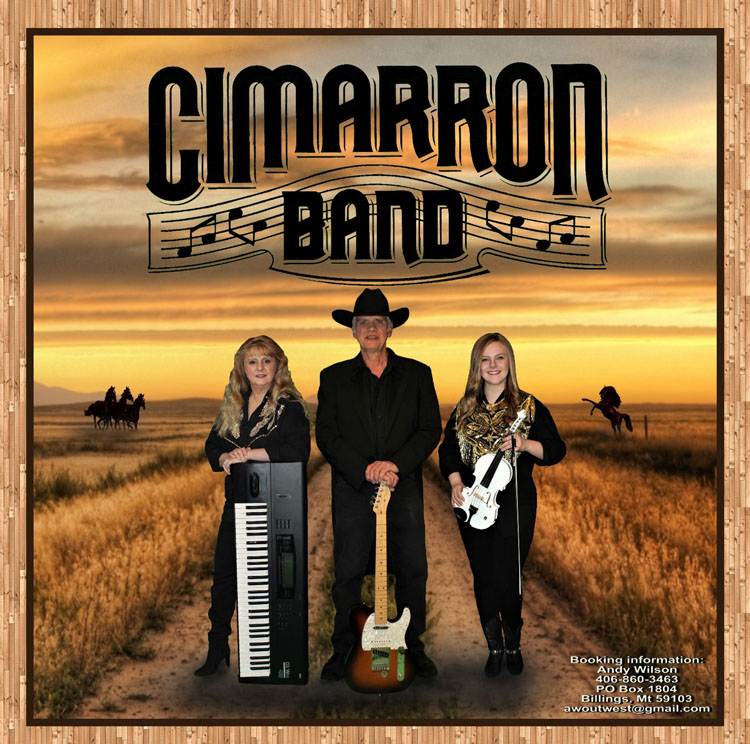 The Cimmaron Band, (Billings, MT) 
Andy Wilson – Lead Vocals,

Guitar Laura Wilson – Vocals,

Keyboard Nicole Wilson – Vocals, Piano, Fiddle
www.facebook.com/thecimarronband
The Cimmaron Band wasn't always a family affair, but it has been for 24 years, at least. Andy Wilson started the band in 1980, but it really took off once he met his wife, Laura, who Andy points out is "known as the fastest yodeler in the Northwest United States." She's played keyboard—and yodeled for the band since 1984, and they've toured, "seeing the country from the casinos of Nevada, the Opryland Hotel in Tennessee, and a short stint in Hawaii." Now their daughter Nicole plays with the band, and her sister Stephanie sometimes joins.
Andy's favorite Montana song is "Blue Montana Skies" written by his friend, T J Casey, a songwriter residing in Livingston: "In the song he sings of different features other states in the country have, but I always comes back to the 'Blue Montana Skies.' It has since become one of my favorite songs about Montana and I get a great reaction from the audience when I perform it."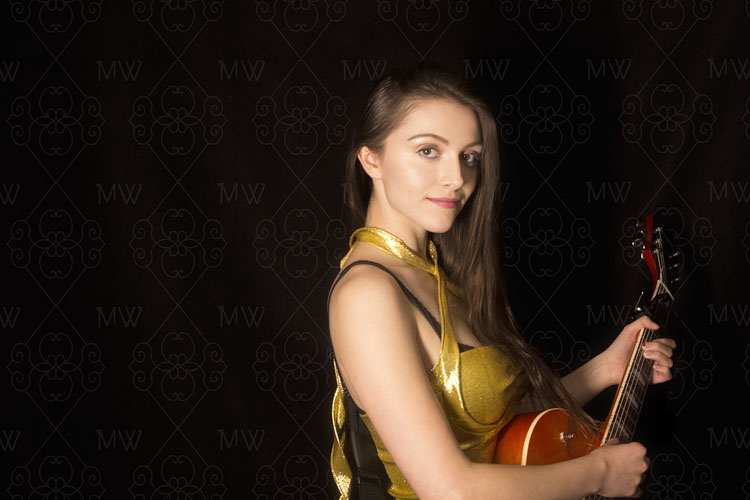 Maiah Wynne
The multi-talented Maiah Wynne is a singer/songwriter who plays guitar, cello, keyboard, ukulele, and dulcimer, a plucked string-instrument played on the lap. No less an authority than Ukulele Magazine wrote that her "lyrics, music and artistry show talent beyond her years."
She is also in the movie business, acting in the recent indie horror flick Feral and working in the sound department for the acclaimed western The Ballad of Lefty Brown, shot in Montana and starring Bill Pullman and Peter Fonda, in addition to writing the music for the ending credits. 
The "Montana sound," she thinks, is "any genre of music: Bluegrass, pop, folk, rock, anything as long as it is an honest and personal reflection of the world… songs rooted in human connection, beauty, and personal stories."
Which makes sense, since Wynne's picks for the songs that make her think of Montana are both inspired by memories: "The first one is 'Rivers and Roads' by The Head and the Heart. I sang this song with friends and strangers at shows in Missoula when I was 16 years old. It will always bring back memories of long roads, rivers, and good people.
The second that came to mind was 'Bloom' by the Paper Kites. One summer, my friends and I made giant bubbles on a mountain side while listening to the song." She went on to remember seeing a forest fire on a distant mountain that summer afternoon, which "made the sky turn a purple-red haze I had never seen before. It was beautiful and ominous, and it summed up Montana in a really beautiful way: mesmerizing, with a hint of danger."
I couldn't put it better myself.
According to Eric Funk, composer, pianist, conductor, professor, curator of 11th & Grant, all around mensch:
"When people travel from Germany to Poland to the Czech Republic to Hungary, they hear clearly different music. Countries are about the size of states, Montana the size of Germany. As we start to become something perhaps best described as "The United Countries of America," as each state achieves a unique identity and culture, it's no surprise that many of us hear a "Montana sound." Phil Aaberg and I agree on this and find it in our music. It's clearly different from the surrounding states, which each have THEIR own distinctive sound."
Listen to a song by Britt Arenesen....
VIDEO DESCRIPTION: This song written by Britt Arnesen. The Acousticals are three of Western Montana's premier bluegrass musicians, performing all original compositions. Richie Reinholdt (guitar & vocals), Chad Fadely (mandolin), and Britt Arnesen (bass & vocals) showcase their fine pickin' and timeless songwriting. Audio recorded by Rick Kuschel at the Recording Center in Missoula on March 8, 2016. Video by Ben Jacobson of Roothead Studios. Produced by Britt Arnesen.