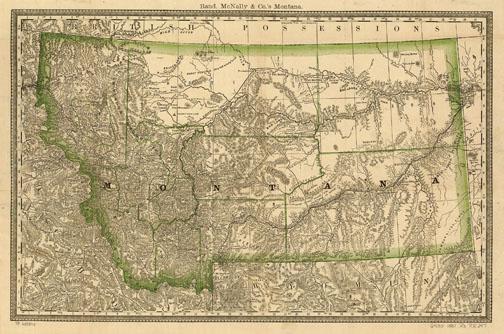 Xplorer Maps, a Missoula, MT business, produces beautiful, unique, hand-drawn, fine art maps of the world's most awe-inspiring landscapes, such as Glacier and Yellowstone National Parks. Our intention is to make "art, community, and conservation a sustainable business model," says Greg Robitaille, brother and partner of Chris Robitaille.
Xplorer Maps emerged as two Canadian-born brothers searched for ways to re-connect family separated for almost 20 years by 9,000 miles. Brothers Chris (the globe-trotting, internationally acclaimed oil painter and illustrator) and Greg (the teacher, historian, and entrepreneurial spirit), have long shared a strong affinity for history, conservation, wildlife, and the places they call home, Montana being one of them. Blending their skill sets and expertise with their shared passion and philanthropic spirit, Chris and Greg created an exciting new brand while rekindling a family bond. Yet, it's likely that the Xplorer Maps business model is the more compelling story.
Like any business, profit becomes the necessary reality, but conservation and philanthropy are the heart of Xplorer Maps. On every project, Xplorer Maps forms a collaborative partnership with like-minded conservation and historical organizations in the mapped region. Working together, a truly one-of-a-kind masterpiece is created. Based on geographic accuracy, historical detail, cultural relevance, and interpretive value, the National Park Service and/or the participating groups will then grant official approval for retail distribution.
By donating both the original artwork (which is then auctioned for fundraising) as well as a percentage of print sales in perpetuity, Xplorer Maps is able to honor not only the history and beauty of these amazing landscapes but also the people and organizations dedicated to preserving them.
Most maps are available as standard prints for $25.00, while a few are limited edition, fine art, giclee prints available for $300, all at www.xplorermaps.com. Check the Web site to learn more about the Xplorer Maps story and ongoing conservation and philanthropic efforts.
The maps are done in antique, old-world style and masterfully depict the flora, fauna, geology, history and culture of each featured region with exquisite illustrations. Timeless in their appeal, Xplorer Maps aims to educate, interpret, and inspire by providing a unique and lifelong connection to special places for both residents and visitors. Xplorer Maps uses exclusively 100% post-consumer material and chemical-free, soy-based inks. All products are FSC, Green Seal and Rainforest Alliance certified. Xplorer Maps is a proudly registered Made in Montana business.
--