Ed. Note:
We spoke to Zach Babat about this feature last August, as he was preparing for his bush pilot season in Alaska. A few weeks later he was killed in an unusual, mid-air crash in remote Russian Mission, Alaska. As his obituary stated "he made the world a better place through his sense of humor, joy of living, his passion for life and through his artwork."  Zach was 44. 
Our interview is with his wife, Kerry.
First, tell us a bit about Zach and his passion for art. What was his driving motivation for producing his work?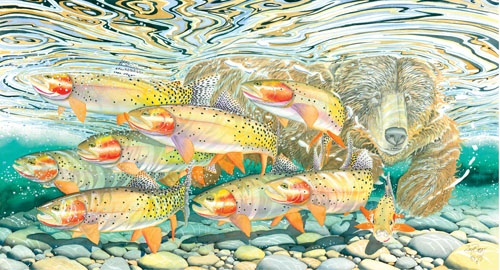 Zach was drawn to the outdoors from early childhood. His first job out of high school was as a  fishing guide in the upper Madison River. After a couple summers of guiding in Montana, he decided to head for Alaska where he continued guiding. Flying called and Zach got his pilot's license in 1994. One of his true loves was to fly a Piper Super Cub around Alaska from the Brooks Range to the Alaskan Peninsula. 
The time he spent outdoors with animals drove him to paint and gave him a unique perspective into their behaviors that most people never get to see. Even though nature can be cruel, it can have a softer funnier side. Zach told many stories about animals behaving in almost childlike ways. In each of his paintings, he tells a story that he witnessed. 
Who were the greatest influences in his life with regard to his art?
The animals themselves. One of Zach's favorite things was to watch wild animals interact with each other. The animals captivated and inspired Zach. He painted the scenes he witnessed from memory, not pictures. He really differed from most artists in this way; he didn't try to copy a style or imitate another artist.He literally created his own style and told the stories he witnessed. He always wanted to paint the animals' personalities not just the horns, fur, or claws. When Rainbows Attack recreates a scene from one of Zach's first days in Alaska over 25 years ago. To quote Zach, "Where I grew up, trout were little fish that ate bugs; in Alaska I found these same fish to be giant voracious carnivores. Here is a scene where a pod of rainbows chase a school of salmon smolt onto a gravel bar, while defending their lunch against invading birds (Arctic terns) looking for an easy meal. Truly wild life, enjoy."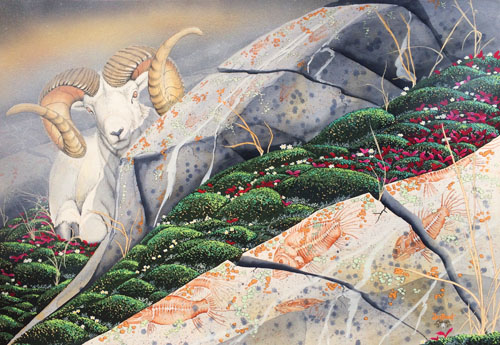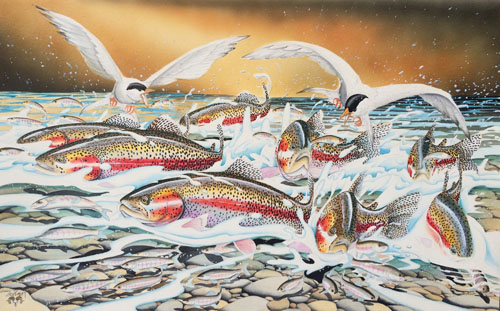 What was a typical workday like for Zach?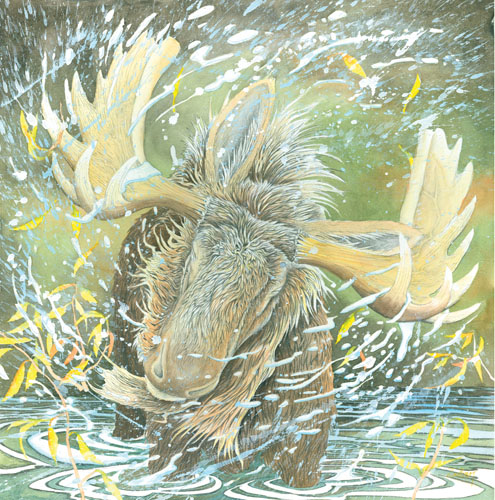 Well, this depended on whether he was flying or painting and the time of year! In winter and spring Zach spent most of his time in the studio and painted 10-12 hours a day six days a week. He would have two or three started at the same time, as he would say, "to keep things interesting." He would take breaks during the day to go play with the dogs and cook. 
His life as a bush pilot seems very different from his life as an artist...using both left-and-right brain. How do you explain this unusual mix of careers?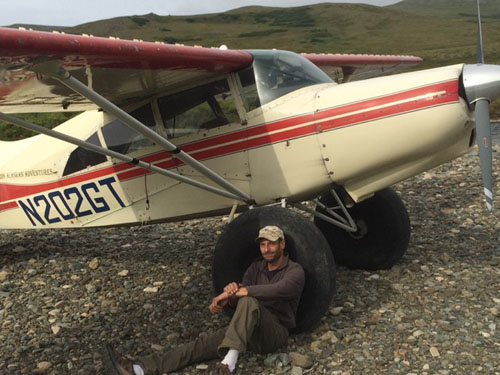 Many aspects of Zach were unique and his talents really were endless. Zach was so fortunate in life that he found not only one, but two things he was extremely passionate about, flying and painting. Both passions fed the other and wouldn't have existed on the same level without each other. He needed the flying to witness the wonders of nature and for the adventure. The painting gave him a sense of peace. He truly loved the wild animals and wanted to share their stories. Going to Alaska to fly would reenergize him for the studio. He would come back with a whole new set of visions to create. By about July, he would need to get back outdoors and away from the studio. But he would miss flying when he was painting and painting when he was flying. The two balanced him out.
What were a few of his favorite paintings and why were they his favorites?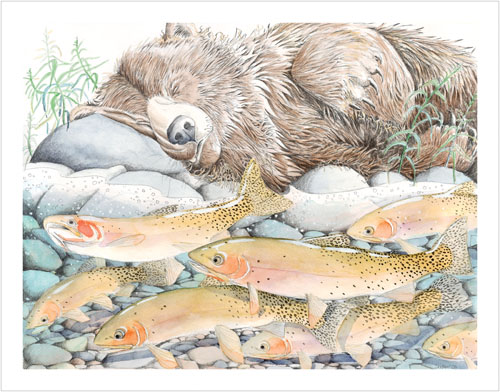 This is a tough question because each one represents a moment and experience in Zach's life, but Ghosts of the Arctic shows Zach's favorite place and animal. He spent many days chasing these ghosts around the Brooks Range. Every time he looked at this painting, it reminded him of his favorite place. Grizzly Dreams because the model for the bear was our dog Fishhook. She was lying in the studio with a scrunched face which reminded Zach of sleeping bears with bellies so full of fish they couldn't move.
Do you (Kerry) have a vision for the preservation of Zach's memory through his art?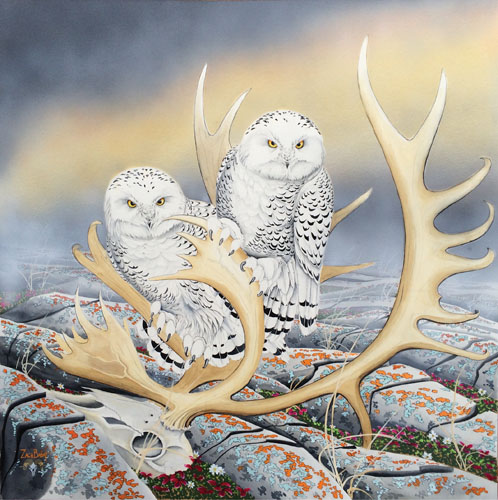 Zach's art is a gift and the stories the paintings tell will continue to be shared with the world. Numbered prints are available for all of Zach's work and select originals will be offered for sale. I will continue to promote and sell his art. Zach's piece Snowy Sisters will be auctioned off at the CM Russell Art Auction in March. Zach was working on a children's book about the adventures of Randy the River Otter and I will publish the book in addition to other books using Zach's original art. Eventually I would love to get Zach's paintings in museums because his style and storytelling need to be preserved for generations to come. We are also working on setting up an art scholarship in Zach's name. 
What would Zach be working on if he was with us today?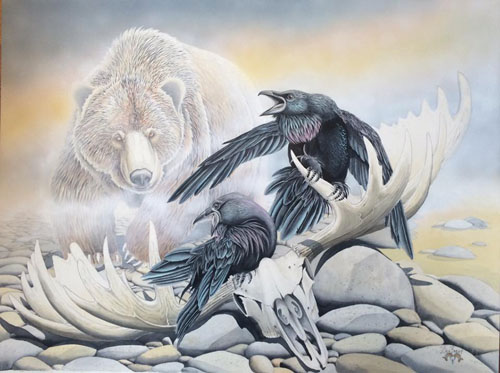 Zach would be in his studio painting and listening to a TED talk. He was working on an animals- of-the-Arctic series. He wanted to chronicle all the animal's stories and their interactions with one another. The Arctic is not a place many people get to see and experience. Zach wanted to share his experiences through his paintings.
For those of us who didn't know Zach, what can we learn about him by viewing his art?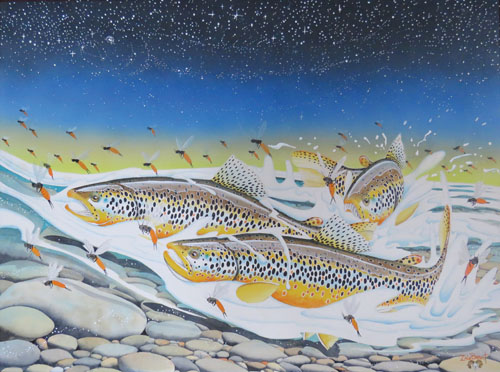 Zach was no ordinary artist or person. His artworks shows his sense of humor, love for the animals, and passion for life. He was a person with truly a unique view which comes through in his paintings.
DG HOUSE COMMENT
During my 22 year career as a full time professional painter, I can look to a handful of fellow wildlife artists who are working at the highest level. Zach Babat was on the top of the list. When I told people they needed to see his work I'd always say because he's the real deal. However, I know they didn't need to hear it from me. All you had to do is look at the work. Out in nature, there are various stories going on all around you all the time. Zach knew how to capture these moments in one piece and marry them together into one big story. He was the master of this because of the years he was immersed in the wild lands of the West. He was my colleague, my art compadre and a talent rarely seen.