Dining patrons at the Blue Canyon are in for a definite treat: light and lively atmosphere, refined comfort, an exceptionally high standard of food and wine, all in a rustic outdoorsy setting. Layered with familiar and new flavors, the restaurant's dishes add a distinct degree of sophistication to the chic culinary atmosphere in Missoula and Kalispell. 
Catering to the relaxed enjoyment of its guests, the Blue Canyon restaurant employs a bevy of knowledgeable and friendly chefs, managers, and wait staff, individually committed to exceptional service, prudent attention to detail, and to the cooking, selecting, and serving of excellent food. 
The 5,000-square-foot Blue Canyon Kitchen & Tavern in Missoula is separated into four rooms, each evoking a buoyant mood and appealing to the debonair preferences of a gamut of guests.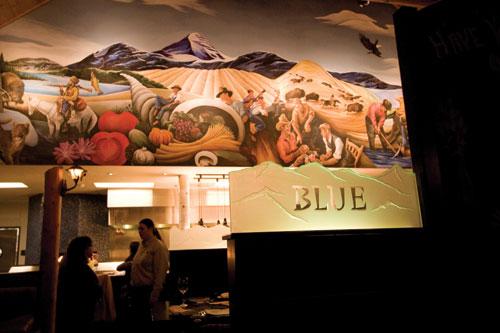 Based on the design of the successful Blue Canyon Kitchen & Tavern in Twinsburg, Ohio, the restaurant's interior captures the best of Montana décor: impressive trusses, cathedral ceilings, and handcrafted log rafter systems. The tavern's taproom provides an enjoyable locale for a quick snack, a cocktail, or a full dinner. An open cooking line offers salivating spectators frontline counter seating. 
The Blue Canyon experience epitomizes the passion of owner/chef, Brandt Evans, an alumnus of the Culinary Institute of America and former executive chef of the celebrated Kostas restaurant in Cleveland, Ohio. 
Whether meat or vegetable, appetizer or entrée, main meal or dessert, Blue Canyon's garnished offerings are tightly bound to Missoula's preferred culinary tastes. Meals are stylish, thoughtful, and reflect a strong degree of care and zest. 
Tonight's dinner special: a scrumptious tender rib eye with smoked blue cheese maple butter, served with a delicious complement of  Yukon gold whipped potatoes and garlic-fried green beans.  One of the menu's mainstays, pretzel-crusted trout served with whole-grain mustard caper butter with a warm red potato, and spinach and pesto salad, equally tantalizes the taste buds.   
Indeed, it won't take fine dining connoisseurs more than a few bites to comprehend that the standard and quality of the food served at the Blue Canyon is superior. From the polenta-crusted calamari with Thai chili appetizer, to the cedar plank Pacific salmon entrée, to the Chocolate Pyramid banana cream and key lime pie blend desert, the menu is stacked with selections beckoning attention.  
In fact, one gets the sense that everything at the Blue Canyon is done with consistency, ease, and comfort. The wait staff at the Blue Canyon restaurant act more like extended family than a handful of folks perfunctorily pandering for a paycheck; its executive chef, Laurence Coffman, is engaging, astute, and, perhaps most importantly, sublimely skillful with a skillet.   
"I'm proud to prepare all the daily features," says Coffman. "There are some dishes here that we'll never take off the menu, such as the sea scallops with the smoked tomato corn butter and the pretzel-crusted trout, because they've become very popular signature dishes."
While the menu surely stimulates the sensations with its diversity and appetizing arrangement of foods, wines, and accoutrements, it's the restaurant's interior that's most impressive. It manages to capture the keen sense of the Montana-style experience in a manner that isn't flashy or gaudy or pretentious. The restaurant blends the handsome look of your uncle's cherished countryside hunting cabin with the cozy, snuggled-down feel of an off-the-beaten-path warming hut found along one of your favorite cross-country skiing trails. 
At the Blue Canyon dining guests can enjoy a private table-dining experience known as the "chef's table," featuring four and five course food and wine pairings, seven nights a week. 
The chef's table, replete with high-back leather chair seats, tastefully set 12-foot mahogany tables, and crystal wine glasses, white china, and soft linen napkins, can be reserved for parties of between four and twelve on any occasion. The dishes exemplified at this chef's table are modest and appealing. 
Chef Coffman meets individually with those reserving the chef's table, and he takes the time beforehand to determine personal tastes and appetites so he can best please patrons' palates, and to learn of any restrictive conditions diners may have. (Indeed, the restaurant will also prepare a five-course meal with wine for $65 and even a larger seven-course event for $75.) 
Chef Coffman is originally from Cleveland, where, in 1996, he started working as a cook at the age of 16.  Two years later, he met Brandt Evans and began working for him at the Kostas Restaurant as a dishwasher, moving his way up to pantry cook, then to salad maker, and later to manning the grill. 
Eventually, Coffman earned a promotion as the restaurant's executive sous-chef, a position he held for more than three years before accepting Evans' offer to assist in the operation of a second Blue Canyon restaurant starting up in Missoula. 
Chef Coffman enjoys utilizing the access he has to a voluminous database of hundreds of original recipes created by Evans. He also credits Evans with imparting the strong set of values, which have helped him adapt and succeed in the swift-footed tempo of the restaurant lifestyle. 
"Brandt Evans has taught me everything I know about fine dining," says Coffman. "And he's taught me everything to know about his palate, and wine and food pairings. He taught me that no matter how buried you get, to just take it one plate at a time." 
Blue Canyon's beverage manager, Chris DeSoto, pairs wine with food for chef's table guests. Blue Canyon owns its own wine label, producing a smooth chardonnay, a sweet Fratelli Rosso red, a zingy cabernet sauvignon red, and a mellow Riesling white, harvested in the Napa Valley. In fact, Evans handpicks winemakers who exhibit each Blue Canyon classification with gusto.  
Indeed, Brandt Evan's protégé is keeping the bar of expectations for both him and the restaurant he's cooking at raised high. Right now, he's even contributing his opinions on how to make the food, the service, and the ambiance at the newest addition to the Blue Canyon family—a Kalispell restaurant offering rustic elegance for approximately 220 guests—as good as, if not better than, its predecessors. 
"Rule number one: don't order food for next week, just order for tomorrow. Number two: If something comes in sub par, return it instead of putting it on a person's plate." 
Chef Coffman is fully aware that each meal he serves gives him the opportunity to convey his love of food, and can be used as a method of gauging his own culinary self-improvement. Every single dish that leaves the kitchen under his inspection tastefully represents his training, his culinary heritage, and his identity as a chef.   
"You have to take it one plate at a time. A good chef is one who serves a dish at the end of the night that's just as good as the meals he sends out at the beginning."
The Blue Canyon Kitchen & Tavern in Missoula is located at 3720 North Reserve Street.  Tel: 405-541-2583.
In Kalispell find it at 1840 Hwy 93 South.  Tel: 406-758-2583.