After Custer's Last Stand, artist Edgar Samuel Paxson began to indulge his obsession with the battle. It would last much of his life, and would result in the defining work of his artistic career.
Paxson — a descendant of early settlers in colonial Pennsylvania — was born on April 25, 1852, in East Hamburg, New York, about 13 miles from the city of Buffalo. His father was a Civil War veteran and a carriage-maker, according to the 1918 Cyclopedia of American Biography.
Young Paxson attended classes in a log schoolhouse and later worked in his father's carriage shop. During this time, he became an ardent drawer and painter. His talent developed, though he received very little, if any, formal artistic training.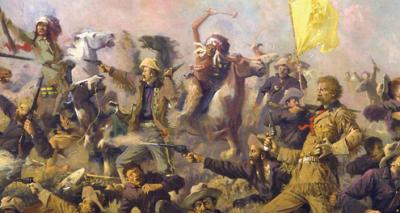 Paxson married one Laura Johnson, with whom he had a son, Loren Custer Paxson. With a wife and young child at home in northern New York, he did what any impulsive artist longing for adventure would do — head straight to Montana Territory.
After a year of living by himself, he sent for his family to join him. The Paxsons lived in Deer Lodge for two years, until moving to Butte, where they would reside for about two decades. Paxson obtained work illustrating books and painting theatrical sets. His work was of such quality that he was in increasing demand by theater managers across the area.
Of course, there was another item on Paxson's mind: that incident at Little Bighorn, which he wanted to portray in his own artistic way. So, while the battle was still fresh in everyone's memory, he began interviewing as many participants as he possibly could. Reportedly, he contacted some 96 officers on the side of the U.S. Army. He also interviewed the Cheyenne chief Two Moons, the Sioux chief Gall, and Curly, a Crow scout who worked on behalf of Custer.
Additionally, Paxson embarked on a series of personal visits to the battlefield in which he examined the topography from every possible viewpoint. He even toured the location with veterans of the battle who showed him exactly what happened and where.
Speaking of his Little Bighorn quest, Paxson said: "I never lost view of my object, and for 20 years gathered data, sifted, and resifted it, conversed with participants on either side, visited the scene and became as familiar with the ground and the circumstances as with my own home."
The preparation period spanned some two decades, and the actual process of painting took four years. For his models, Paxson brought in "real Sioux Indians in their war paint and cavalrymen in their uniforms," according to Brian W. Dippie, who wrote an essay, "What Valor Is," for the book New Perspectives on the Battle of Little Bighorn.
In the middle of painting his masterwork, Paxson, who served for 10 years as a member of the Montana National Guard, was interrupted by the Spanish-American War, which dispatched him to the Philippines, where he obtained the rank of first lieutenant, before falling ill and being "invalided home."
Fortunately for the artist, he wasn't 'invalided' enough to prevent him from continuing with his Little Bighorn project. The piece, rendered in oil on canvas, was completed in the last month of 1899. It measures just under six feet in height and almost nine feet in length.
Custer's widow, Elizabeth Bacon Custer, reportedly broke into tears upon her encounter with Paxson's creation. That said, she was known to display strong reactions to any Little Bighorn depiction — understandably, one might add.
Immediately popular, the painting was sent to cities on the East Coast as part of an touring exhibition, at which each viewer was charged 25 cents to behold a visual that was as close as it came to having been at the battle.
There are over 200 meticulously-crafted combatants in Custer's Last Stand. With a painting so densely packed, one possible critique is that there is simply too much on the canvas, that the viewer is oversaturated by a subject matter that descends into chaos. In fairness to Paxson, though, chaotic is how the battle was.
First exhibited under the title, Custer's Last Battle on the Little Big Horn, Paxson copyrighted his painting as Custer's Last Fight. Later on, however, he seems to have preferred Custer's Last Stand, which is the title now typically used.
Paxson, who moved to Missoula in 1905, where he would live for the rest of his life, went on to serve as Vice President of the National Society of Artists. More specifically to Montana, he rendered six murals for the State Capitol building and eight murals for the Missoula County Courthouse.
Despite his northern New York roots, Paxson came to view himself essentially as a native son of Montana. He was regarded by others as a Montanan success story, an intrepid pioneer who ventured to the frontier and attained excellence by dint of his own talents and disciplined hard work.  
Montana's quasi-native son continued to paint until his death on November 9, 1919.
Despite his other works, he is most remembered for his rendition of Little Bighorn. Many other artists, even in recent decades, have made their attempts to portray the battle. And while some of these paintings have their merits, none have elicited anywhere near the favorable reaction of Paxson's piece.
Custer's Last Stand now can be found at the Buffalo Bill Center of the West, located in Cody, Wyoming. Paxson's other works can be found in the University of Montana's Museum of Fine Arts in Missoula, the Art Museum of Missoula, and the Montana Historical Society in Helena.
In the past few decades, Paxson's works have commanded increasingly higher prices.  His Nez Perce Chief sold in 2008 for $126,500, according to EdgarSamuelPaxson.com. Also commanding a six-figure sum was his painting, Custer's Last Buffalo Hunt.
Not for sale is Paxson's masterpiece, which many would value beyond price. It's curious that the Battle of Little Bighorn ranks as one of America's legendary military showdowns, while other battles, involving much higher casualties, have faded into comparative obscurity. There must be something especially compelling about this battle, something Paxson saw and captured for us all to see.