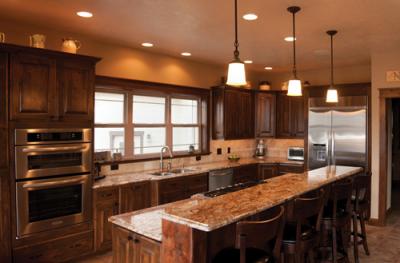 It's the lifeblood of a house, the arterial space that supplies sustenance to its inhabitants and ambience to entertain. So with all the pressure placed upon it, a kitchen should comprise the workings of a well-oiled machine. But ensuring functionality is easier said than done, especially in older homes where dated design, dismal lighting, and aging appliances create overwhelming obstacles. And practicality is only the first factor during a kitchen's renovation. Eventually come the details that bring a space to life: the color, the texture, and the style. Luckily, in Montana designers make remodeling projects a breeze, even on a shoestring.
While outsiders see Montana as a vast landscape stocked with endless high-peaked mountains, locals know that the terrain is as diverse as it comes. With rivers winding through the farmland, prairies, buttes, and badlands, inspiration lingers in every corner of the state. But Bozeman-based Interior Designer Diane Leuschen (of DM Leuschen Design) is also inspired by global trends, which she says have taken hold even in the rugged west. "Tiles, fabrics, and colors are all Russian, Moroccan, Indian, and so on," she says. "The global community has opened up a whole world of design." When asked how she integrates such motifs into the more rustic tastes typical of Montanans, Leuschen says it's simple: "A lot of rugs and textiles have Old World patterns that we now recognize globally," so they already have that antiquated look and can serve as accent pieces in eat-in kitchens.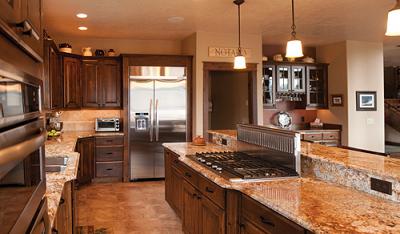 A mismatched mix of chair fabrics or a collection of distressed wooden chairs, painted in assorted colors, can also spruce up an uninviting space. Leuschen's most coveted mode of introducing color: through the backsplash, where she often uses New York City subway tile. A line exists between adding too much and too little, though, she says: "You have a pallet that you keep neutral, and then you add accent colors to make the kitchen lively but with something you can change out. You don't want to date your kitchen." For those more impermanent items, Lisa Rickenbaugh, owner of home accessories store Heyday, in Bozeman, recommends adding "color to the counter space with a grouping of richly-tinted ceramic pieces," which can be filled with fruit or used for decorative purposes as a complement to a backsplash. 
In addition to the trend of going global, Montanans have fallen in line with the eco-friendly movement and seek to leave a smaller footprint. But small spaces don't have to leave homeowners feeling cramped and cluttered. Certain design elements can create visual illusions that trick the eye, making a space seem larger than it is. Running cabinets to the ceiling, using a monochromatic palette of colors, and opening the kitchen to an adjoining room for additional storage are all renovations that have a positively deceptive effect. And after all is said and done, a smaller footprint means homeowners can indulge in higher-end materials.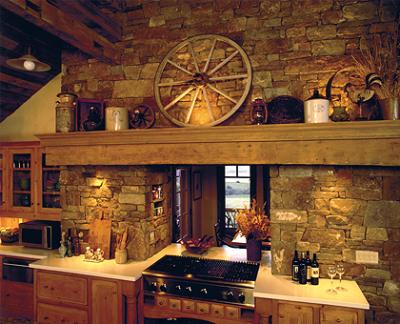 For Shannon Lundgren of Bridger Kitchens, those high-end materials should be prioritized according to a homeowner's needs. The most typical place to start is with a replacement range and hood—aspects of a kitchen that get everyday use and increase its resale value. Lundgren says that with the economic downturn, today's homeowners are looking to make smart investments that improve their immediate environment. And with people eschewing restaurants to avoid frivolous costs, it makes sense to invest in kitchen products that offer a return, while producing the same high quality food as commercial-grade appliances. Commercial-grade ranges, for instance, which are adapted for the home and house six or more burners, offer "more power, more consistent cooking in the oven, and a professional quality," says Lundgren. Made in various enameled colors, ranges can also marry the practical and the pretty, giving homeowners an attractive focal point that they use every day.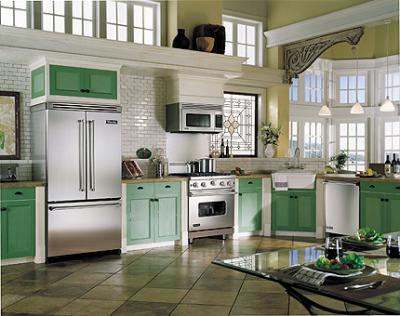 Beyond the basics, more innovative products are also flooding the market—from steam ovens that offer healthier cooking options—to built-in coffee systems that offer grinding, brewing, and frothing capabilities—to computerized wall ovens that store recipes. "Once you've cooked a prime rib and it cooks perfectly," explains Lundgren, "you save that in your Favorites file, and next time you're cooking a prime rib, the oven remembers how to cook it. If you've consistently cooked a few dishes and really fine-tune them, you don't have to watch your timer as much the next time. You just set it to cook the same way." 
Perhaps the most overlooked aspect of a renovation, says Leuschen, is the lighting. It's "one of the most important design elements that people think of later in the process and should really be thought of first," she says. That's where Doug Brekke, of Black Box Design in Bozeman, comes in. A designer and installer of lighting systems made by LiteTouch, Brekke specializes in controlled lighting, a computerized system that stores and reproduces presets to keep the lighting in a room at its optimum level. "The traditional way to control lights is with in-wall box dimmers where you vary the brightness of the light by raising and lowering it," says Brekke. "But kitchens generally have different lighting loads," used for general, task, accent, and decorative lighting purposes, "so there are four, five, six, or seven loads, which means that there are that many dimmers." Lighting control systems replace all that hassle with a single button, allowing the homeowner to "record and reproduce" optimum lighting levels at any time.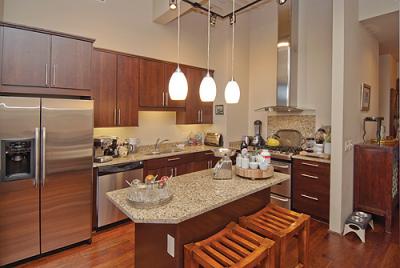 The most common overhaul when it comes to renovating kitchen lighting, says Brekke, is the incandescent bulb. "Back when Grandma was cooking, she was stuck with one incandescent bulb that made up the overhead light in the kitchen," he says. And that resulted in a poorly-lit space. The new holy grail: dimmable fluorescents and LEDs that produce more natural lighting and are energy efficient. Once the general ambience is accounted for, task lighting can be added to illuminate specific areas of the kitchen. Todd Allmond, of J. Todd Allmond Builders in Kalispell, says most kitchens he renovates lack under-cabinet lighting, which makes the work space "dark and uninviting." His solution: Xenon under-cabinet lights," which "produce a bright white light that closely mimics natural sunlight." Then he installs pendant lights over an island or bar top that complement the kitchen's style. "One could use rusted metal to get the old western look or colored glass to achieve a more modern look," says Allmond.
While modernizing a kitchen might necessitate a combination of new lighting, new appliances, and new design elements, many older homes have a history rich with character, which shouldn't be ignored. Structural issues need to be dealt with first and foremost: the insulation, the condition of the windows, and the state of the plumbing and electrical systems. Then the portable dishwasher can go, and the all-white interior can finally meet some color. The end result will be a well functioning, aesthetically pleasing space that earns its rightful title as the hub of the home.