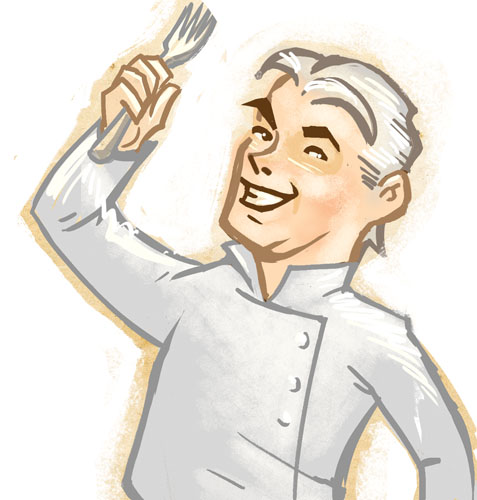 Ever since I became a Montanan and came to know quite a few elk hunters, I've asked (and asked and asked) for just one thing (because I'm not a hunter): Please get me a rack of elk. That's all I've ever wanted. It's also something I've never received.
So I did the next best thing. I found a place on the Internet (www.buyvenison.com) where I could
buy farm-raised elk and after I recovered from the near heart attack upon seeing the price of elk ribs,
I ordered the equivalent of a chuck roast. Make no mistake — farm-raised elk tastes very, very different from elk in the wild, and one certain step should take place before cooking an elk pot roast.
To get the gamey taste out of the meat and to get a full appreciation of the sweetness of elk meat,
it should be soaked in a liquid that will neutralize most of that off-putting taste. I've found the best
solution to be whole milk. The lactic acid seems to do the trick — gently and without affecting
the collagens and other connective tissue in the meat. 
Keep in mind that elk, like all venison, is quite lean so you may need to add cooking time to
achieve the ideal degree of tenderness.
RECIPE
3 to 5 pounds elk chuck roast
6 oz cup tawny port
1 medium onion
6 oz cup dry red wine
3 garlic cloves
2 cups beef or chicken broth
1/2 pound parsnips
2 Tbsp Worcestershire sauce
3/4 pound carrots
1 Tbsp packed brown sugar
1/2 pound turnips
3 bay leaves
6 ounces mushrooms
1 tsp dried thyme, crumbled
3-inch piece of fresh ginger
1 tsp dried oregano, crumbled
28 ounce can of whole
     tomatoes
3 Tbsp cornstarch
2 Tbsp. olive oil
2 Tbsp water
METHOD
Soak the elk roast in whole milk.  Make sure the entire roast is covered overnight, or at least eight hours.
Chop onion and mince garlic. Peel carrots and parsnips and diagonally cut into thick slices. Peel turnips and cut into thick wedges. Cut mushrooms into half-inch slices. Peel ginger and mince enough to measure a quarter cup. Drain tomatoes and chop.
Remove elk roast from milk and pat dry with paper towels and season with salt and pepper. In a 5-quart heavy and deep-sided pot, heat oil over moderately high heat until hot but not smoking; brown roast on all sides. Transfer to a plate and pour off all but 1 Tbsp fat from pot.
Add onion and cook, stirring until golden, Add garlic and cook another minute. Add port and red wine and simmer, scraping up any browned bits from the bottom. Stir in broth, Worcestershire, brown sugar, ginger, tomatoes, bay leaves, thyme and oregano and bring to a boil. Add roast, carrots, parsnips, turnips, and mushrooms and lower heat to a simmer.
Cover the pot and cook at least 3 hours over medium low heat, turning the roast once. While the roast is resting, mix the cornstarch and water and add to the liquid in the pot to thicken the sauce.  Remove the bay leaves.
To test for doneness, insert a meat thermometer and if it reads 160°,
it's done and ready to come out of the pot and to rest, covered with foil.
Cut roast crosswise into half-inch thick slices on a deep platter. Spoon vegetables and sauce over the meat.
*Find other recipes from Chef Jim Gray at  http://www.distinctlymontana.com/