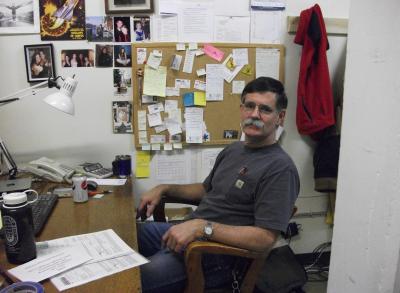 Residing serenely in a corner of the Paugh Regional History Hall of the Museum of the Rockies in Bozeman is an ordnance rifle. One of the most common pieces of artillery used in the American Civil War, the machine-grooved, cast-iron, three-inch gun was punishingly accurate and famously reliable. This particular gun, number 29, was installed along with another at Fort Ellis, a post that was critical in the early exploration of Yellowstone National Park. Almost a half-century later, students from Montana State University (then the Agricultural College of the State of Montana) broke into the remains of Fort Ellis and made off with one of them. Number 29 stayed in Bozeman, and after a distinguished career being fired at football games, the gun ended up here. The other is in a Pennsylvania museum.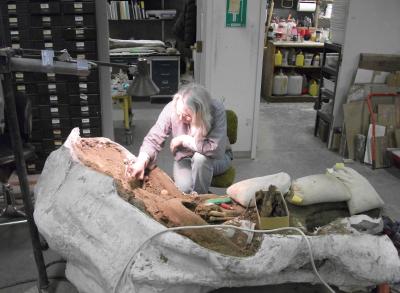 I am told all this by Kevin Hansen, who despite what is clearly a wealth of knowledge is quick to point out that he's "only the janitor." Hansen, friendly, engaging, a consummate history-buff, takes obvious pleasure in speaking to guests of the museum and sharing what he has learned with them.
According to the Museum's last in-depth inventory of their collections in 2007, some 256 items are registered as "History Collections: Weapons", which includes guns, ammunition, and armaments. The Civil War era artillery piece featured in the Paugh Hall is definitely one of the larger examples. But whatever the size, all the items in that category must be numbered and kept track of, and doing so is the job of Pat Roath, Museum Registrar.
As self-described "Chief Librarian," her job requires a fastidious nature and is very satisfying. Once the Curator of Collections for Virginia City, she arrived with a connection to Western history. And while her heart is with 19th century women's clothing, her tenure at the Museum has taught her a great deal. "I couldn't have told you 10 years ago what a dinosaur brain case looks like," she says, smiling. Now she can.
Another aspect of Roath's job is the accession and de-accession of items into or out of the museum's collection. Artifacts are accessioned into collections frequently, whether through donation, acquisition, or discovery in the field. Deaccession is rarer. When items are removed from the collection, they are done so under the method set down in the museum's policy and procedure manual. It is heady, complex work, the kind that wouldn't suit me, but Roath must be doing something right; everyone I speak to at the Museum of the Rockies mentions how great she is at her job.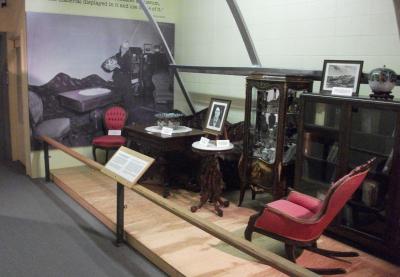 Among them: Dave Kinsey and Jeff Holloway, who are in charge of designing, building, and setting up exhibits. Dave's the logistics guy. His office is small and warm, enlivened by cozy clutter. Today there's a picture of a Concord Felwyn sewing machine from 1888 on his desk, a piece that the museum is considering for the Living History Farm, a long-time project to recreate as accurately as possible a real late 19th century Western house. Staffed by historically minded volunteers who weave, make preserves, and operate a blacksmith's shop, the Living History Farm is special to Dave, who has managed it for 15 years. Dave's coworker Jeff is a carpenter, tasked with creating all the fixtures for the exhibits. When the museum mounted its Yellowstone exhibit, Jeff had to custom-build displays to accommodate the collection and the space. Dave and Jeff also have to set up traveling exhibits. At the time of this writing crates full of dinosaur fossils, casts, and display materials are bound for the Mifune Dinosaur Museum in Yakumoto Prefecture, Japan. Dave and Jeff have the enviable job of traveling with it to ensure that it is taken down successfully, while paleontologist and dinosaur maven Carrie Ancell will make sure that casts or other items damaged in transit are fixed before going on display.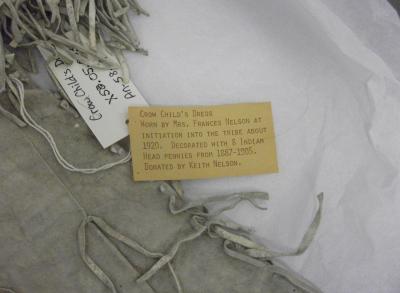 From September 21st to January 26th, the special exhibit was "Welcome to Yellowstone!", an expansive story of the park encompassing over a hundred years and interpreted through thousands of artifacts. Much of the exhibit was made up of a major recent accession, dubbed the Hamilton-Povah collection, an unprecedented wealth of materials relating to Yellowstone Park. It was collected over lifetimes by the families of the folks who ran the Hamilton stores, the major concessioners in Yellowstone for years. The Hamilton-Povah family, not wishing to see these treasures separated or sold, donated them to the Museum of the Rockies several years ago. The collection ranges from ephemera like postcards and pens to larger fare, like a Park bus or a 1940 Lincoln Zephyr.
As Fox says with more than apparent excitement, "We had to take it and come to terms with the future of the collection".
Part of coming to terms with the collection means making it available for viewing and research; the recent Yellowstone exhibit did so although only 1/160th of the massive donation went on display. The problem of storage that such a large acquisition presents can be imagined. In addition to an offsite storage facility with plans to expand, many items at the Museum end up in the History and Textile room, a secure, temperature, and humidity-controlled area that I begged to be let in to see.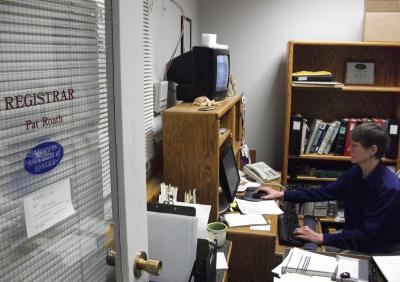 Fox was obliging, showing me some of the room's secrets. There are sealed cabinets full of guns and swords, drawers full of Native-American beaded war shirts, shelves covered by cameras big and small, beautiful saddles by some of Montana's best early livery men. Near the back are many pieces of nearly-forgotten field work done by professors of long ago, in far-off countries. Carefully moderated cases prevent off-gassing in chemically unstable artifacts, and mere curtains protect the hardier pieces. One of the most beautiful was an ornate 19th century dress made for a very slight woman, and another is an original "snow bug", a precursor to the snowmobile designed by MSU students.
Seeing these items outside of an exhibit reminds me that they were real objects used by human hands, and not so long ago. And that the palpable love for history at the Museum of the Rockies, from the well-informed janitor to the guys preparing the exhibits, from the woman keeping very good track of the artifacts, to the curator who tells the narrative of our history through artifacts that helped to make it happen, the Museum of the Rockies has an eye towards preserving history for the future. "It's not about our needs now, or tomorrow," Fox says, "but 100, 150 years from now".
What I wouldn't give to go to come back in a century and a half and learn the further history of the Museum of the Rockies, and of course that three-inch rifle.