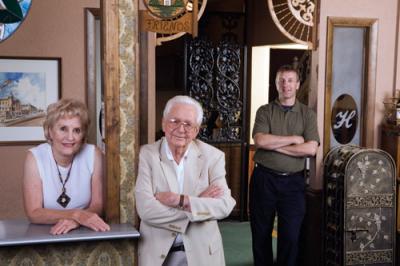 A visit to George Henry's restaurant in Billings serves up not only a delicious meal, but a healthy helping of local history for diners who are interested in their surroundings. Historic front pages of early Billings Gazettes, deeds dating back to the 1800s, pictures of people and places from that same era, and antiques are part of the decor in the lobby and every dining area of the popular eatery. 
Located on the edge of downtown Billings on the corner of North 30th Street and Fourth Avenue, the distinctive building that houses the restaurant still looks from the outside like a family home—which is exactly what it used to be.
In 1882, a cabinet maker from Nova Scotia named Robert Crowe built the original structure to house his family. As the family grew—eventually to nine children—so did the house, first with an addition to the ground floor, and then with a second floor.
Crowe not only built his own home, but served as general contractor for several other Billings buildings which have also stood the test of time, such as McKinley Elementary School, Lincoln Junior High School (which now houses School District Two offices in addition to classrooms on the first floor), the First Methodist Church, and the Carlin Hotel.
After her parents' deaths, Hazel Crowe inherited the home and began operating a tea room and taking in boarders—men only, and usually students at the Billings Business College. Miss Crowe had very strict rules for her renters, one of which was No Women Visitors. One young man who tested that rule later said ruefully that it was the "worst mistake" he ever made, because she made him pack up and leave—and not only was the rent low, but it included meals, and Hazel, he said, "was a good cook."
That tradition of "good cooking" in the original Crowe house continues today in the capable and caring hands of Mary Ann and Andy Andrews, their son Bob, and a dedicated staff, many of whom have been working at George Henry's long enough that Mary Ann says they consider it "a lifetime job."  "We have a good crew, both in the kitchen and on the wait staff," she adds.
The Andrews family came by their restauranteuring skills quite naturally. Both Andy and Mary Ann grew up helping out in their families' restaurants, Mary Ann in New Jersey, and Andy in Duluth, Minnesota. In fact, George Henry's is named for their fathers. 
"We swore we'd never be in the restaurant business again when we married," Mary Ann says, but fate stepped in when Mary Ann, then working as a realtor, began showing the Crowe home when it came on the market in 1979. "Some of the people I showed it to were concerned because of its age. It was pretty rundown at the time, and the outside showed signs of deterioration," she recalls. 
Mary Ann called in one of her sons, a builder, and asked him to look the place over. He told her it was "built like a fortress," on a solid foundation of sandstone quarried from the rimrocks north of the city and constructed by a trained—and talented—woodworker .
 She'd always loved the Crowe home, so Mary Ann went home after receiving the good news on the viability of the place and told Andy, "I sold the Crowe house." 
"Who bought it?" he asked.
"We did."
That probably did not come as too much of a shock, as Andy had mentioned that the location "would make a cute corner for a restaurant," Mary Ann says.
Building a New Family History
Readying the house for its new life as a first class restaurant became—and continues to be—a family affair. Sons Ken and Mark remodeled the building, saving as many of the original fixtures as possible, including using the windows from the barn (which was razed to provide a parking area) in the upstairs dining rooms. Since their opening, they have added additional dining areas both inside and out. Summer diners can now opt for a table on the patio, which was constructed in 2004 to "enhance the corner" on the North 30th side of the building.
Andy served as head chef when the restaurant first opened, and Mary Ann made—and still makes—all the desserts and baked goods served at George Henry's. She also is the  "public face" of the popular dining spot, having served as the restaurant's hostess for the 28 years the Andrews family has operated George Henry's. And the younger generation pitched in, too. The parents trained their daughter, Darcie, and son Bob in all aspects of the family business. 
Bob says he started working in the restaurant when he was in junior high school, washing dishes at first, and then working "on the line."  "I still learn something new every day from the talented people in the kitchen," he says. Now the head chef, he's ready to take over the business when his parents retire later this year.
In fact, Bob has already put his personal stamp on the restaurant's decor. The train room—which used to be the front room of the Crowe family home—takes its name from the old model train that runs on a track built a foot or so below the ceiling. Bob built the track and  also the wooden copper-topped tables that grace the room.
Bob says he doesn't foresee many changes under his leadership. "Certainly nothing drastic," he says. "We'll still be serving the same clientele."
And, in fact, Mary Ann isn't exactly retiring, just "spending less time here," she says. She'll continue to do the baking and the desserts, including her own version of Strawberry Shortcake which features a slice of her white layer cake topped with a generous helping of strawberries, and, of course, whipped cream.  "I have my system for getting all the baking done," she says. "It's so simple that it doesn't take that much time."
Of the restaurant business, she says, "If you don't like it, you'll never be able to stick with it. The work is far too hard, but it's very gratifying if you like people." She obviously does, musing with a smile, "The friends we've made here..." 
 "The most important thing in this business is consistency," she adds, "and if family is involved, you have the people you want to maintain that consistency."
Dining at George Henry's
One of the reasons George Henry's is such a popular spot for lunch (11 a.m. to 2 p.m., Monday through Friday) or dinner (Monday through Saturday, 5:30 to 9 p.m.) is the high quality of the food served. This is a "from scratch restaurant," Mary Ann says. "Everything is brought in fresh daily and made on the premises. Nothing is pre-done. We don't buy any frozen, packaged items." Even the desserts are assembled when ordered, so the flaky crust of the Banana Cream Tart isn't soggy from sitting around for hours with the filling in it and the banana slices are firm and fresh.
The finest of ingredients prepared with loving care by skilled cooks makes every meal at George Henry's a special treat.  "Our dedicated staff makes all the soups and sauces for each day's lunch and dinner offerings," Andy says. The luncheon menu always includes the quiche of the day, "a house specialty," which is served with either soup or salad, and a large selection of salads, including my favorite, the Taco Salad, and the popular Asian Chicken Salad. In addition, for those watching their waistlines, there is a nice selection of low-calories choices.
The lunch menu also features a number of sandwiches served with French fries—it is possible to choose a substitution for the fries, but because they're so good you might want to put your diet on hold just this once.  My favorite sandwich selection is the Chicken Supreme, a grilled teriyaki breast of chicken topped with Swiss cheese, sautéed mushrooms, onion, and mayonnaise on a toasted bun, although I'm also partial to the Fish and Chips platter which is excellent: nicely seasoned deep-fried battered cod (never greasy), fries, coleslaw, and tartar sauce. (I often take at least two pieces of fish home, which leaves me room for dessert.) Several tasty burgers are also available.
George Henry's also offers a nice selection of beer and wine to accompany your meal.
In the evening, George Henry's dresses up for company. The lights are a little lower, and candles shine from the center of the tables, which are covered with burgundy cloths. The evening menu offers a wide variety of choices, ranging from prime rib and a number of steaks, which Chef Bob cuts himself, to shrimp, fish, and pasta choices. I frequently visit George Henry's for dinner with some of their "regulars," and have heard them extol the merits of the Captain's Platter (shrimp, scallops, and filet of cod) and the Walleye Pike meal. 
I recently took my daughter and her friend there for dinner, and he enjoyed the Prime Rib dinner, while she had the Salmon. Both declared their meals delicious, but if you are allergic to seafood, be forewarned that the only soup available as your meal starter on a Friday is Clam Chowder ( delicately seasoned and delicious).
I opted for one of the evening's specials, a Flat Iron steak finished with a black pepper sauce, which was absolutely wonderful, tender and flavorful. As long as it is on the dinner menu, I won't consider any other choice, even though I know that whatever I'm served at George Henry's will be a top quality, expertly prepared, beautifully presented meal, enjoyed in a lovely, friendly, and inviting setting.
~ Sue Hart is the recipient of a Governor's Award in the Humanities and  a Governor's Award for AIDS Education.  She's also received a Montana Historical Society's Award for contributions to Montana History and a PEN Syndicated Fiction Award for a short story, "Star Pattern."  She has four grown children and is married to five-time Spur winning novelist Richard S. Wheeler.