Going To The Sun Road vs Beartooth Highway: Which is more scenic?
By
Doug Stevens
|
August 17, 2020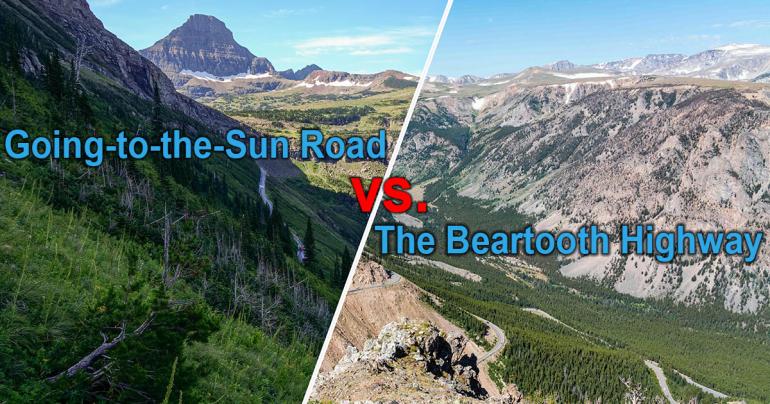 Montana is a mountainous state (at least the western half) and many of our roads cross over mountain passes. For example, all roads into Montana from Idaho to the west go over a pass - Lookout Pass (I-90), Lolo Pass (Hwy 12), Lost Trail Pass (Hwy 93), etc.  However, there are 2 Montana passes, in particular, that rise above all others for their scenic beauty – Going To The Sun Road (GTTS) in Glacier National Park, and The Beartooth Highway (BTH), which crosses the Beartooth Plateau between Montana and Wyoming.  Which is the more scenic pass?  Well, I live pretty close to Glacier NP, so I have an inherent bias, but I am trying to be objective here.
Both of these passes were completed in the 1930s, and both are "seasonal", i.e., they do not open until snow plowing is completed in early summer.  Both sets of mountains generate their own weather so be prepared for possible snow squalls on any given day.  Those similarities aside, these two stretches of roads are very different.  It is the proverbial "apples and oranges" comparison.  Though both are very scenic drives, the look and "feel" of each is truly unique.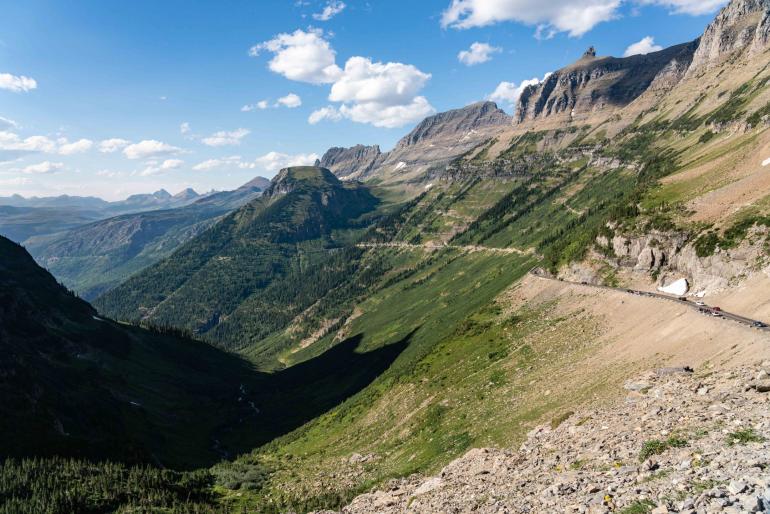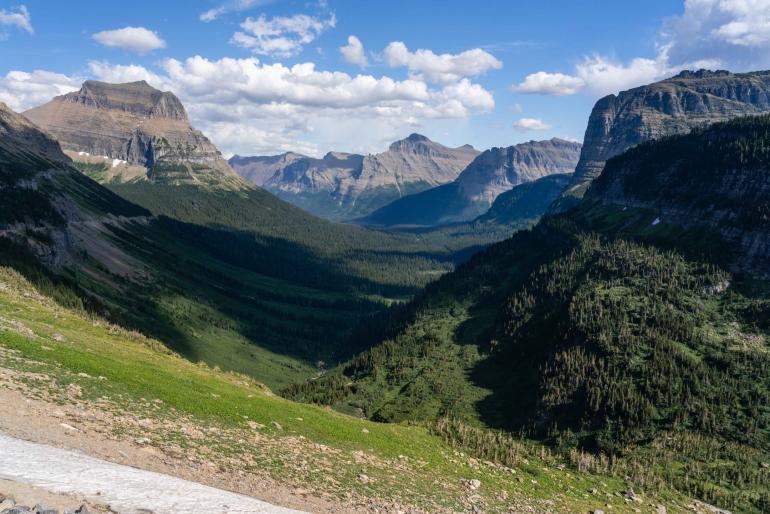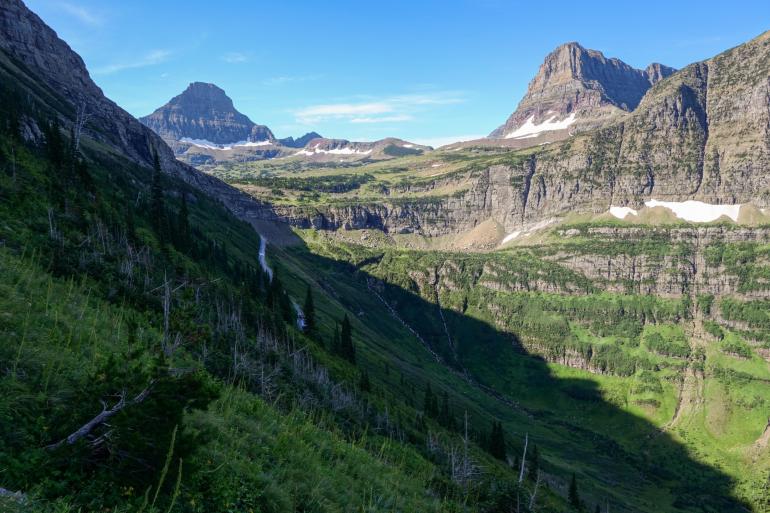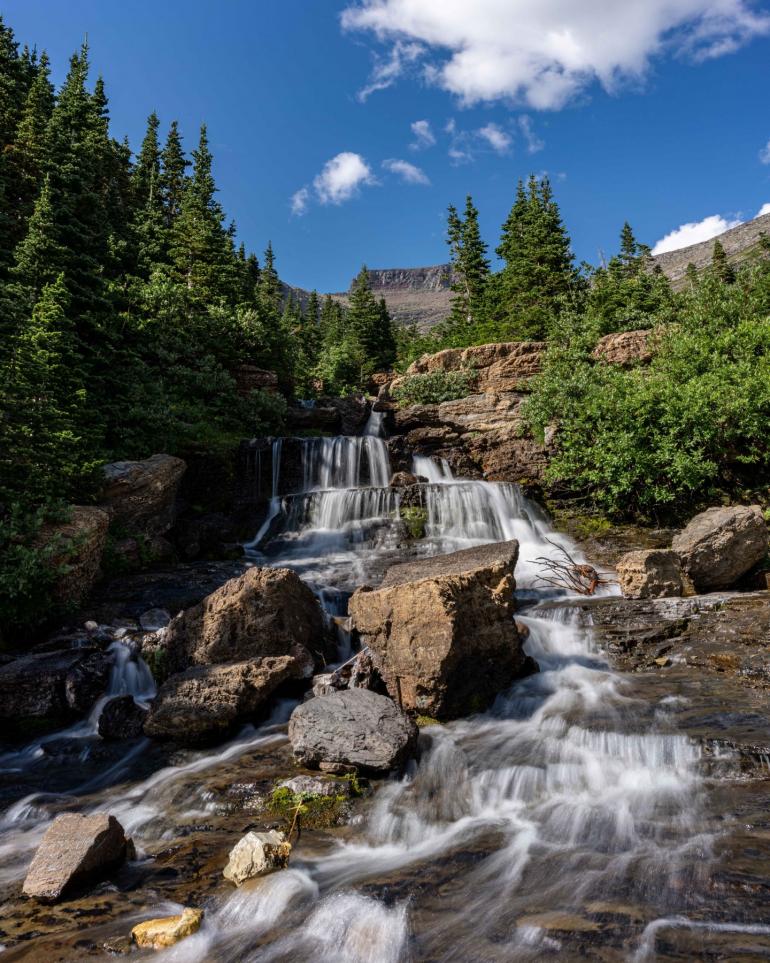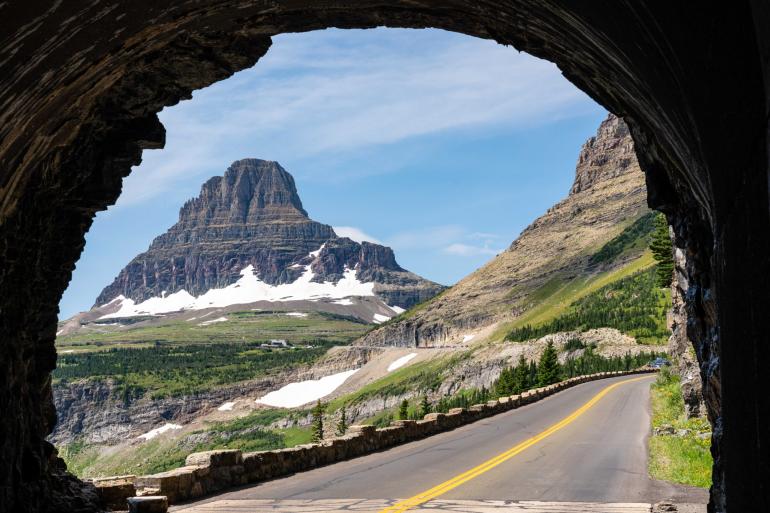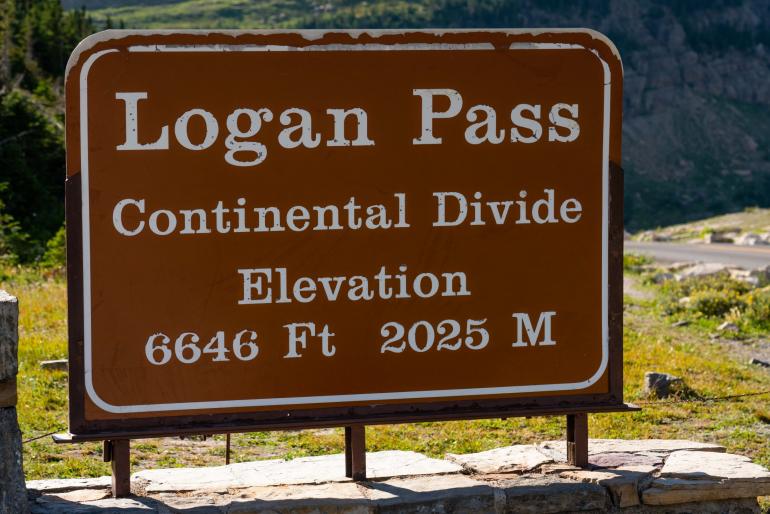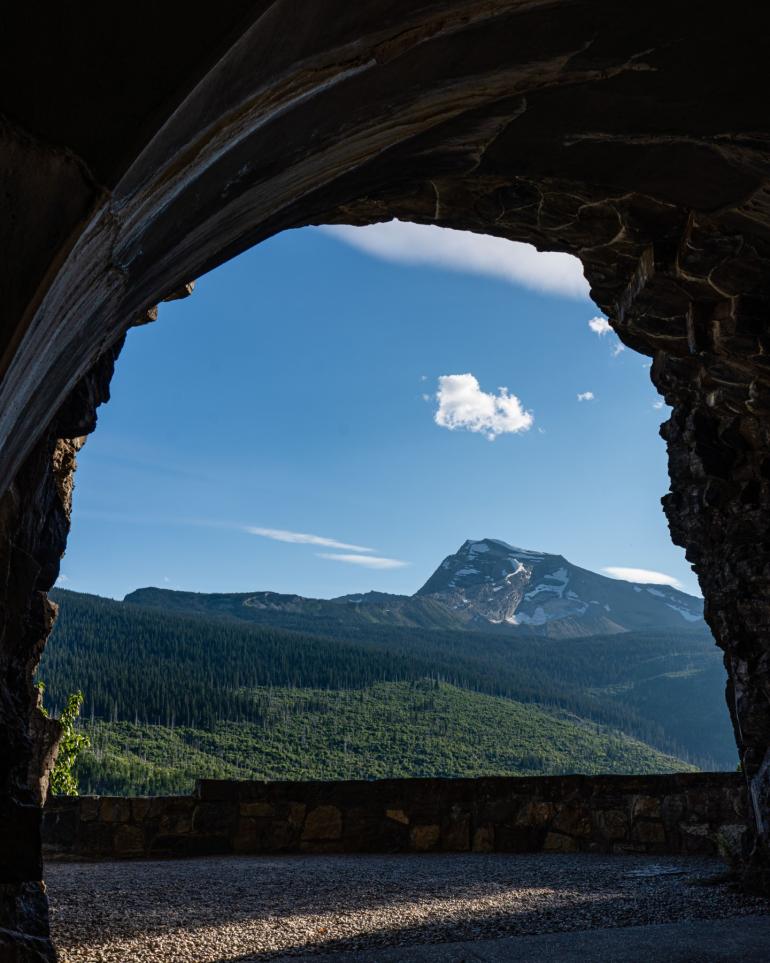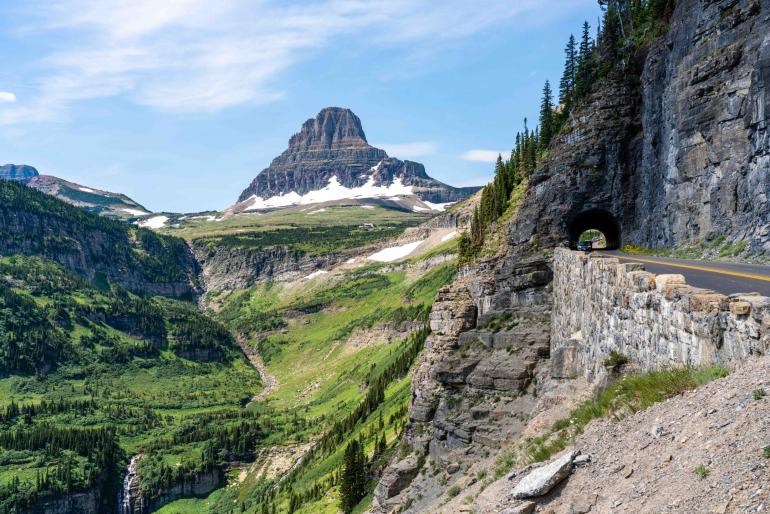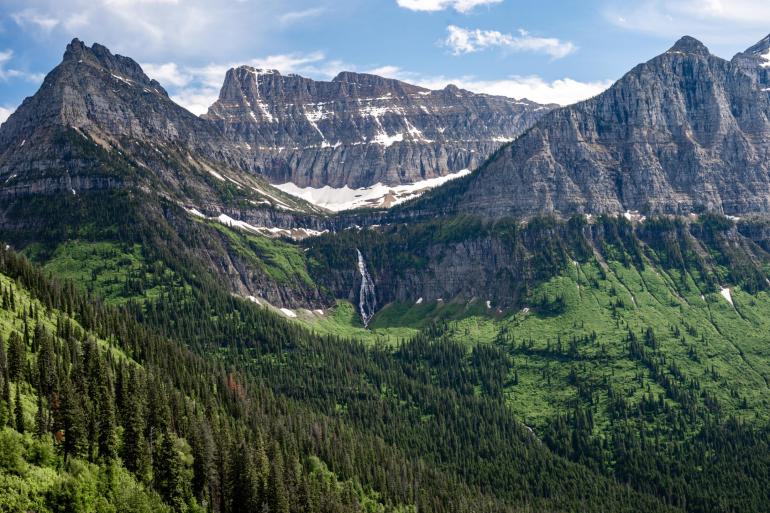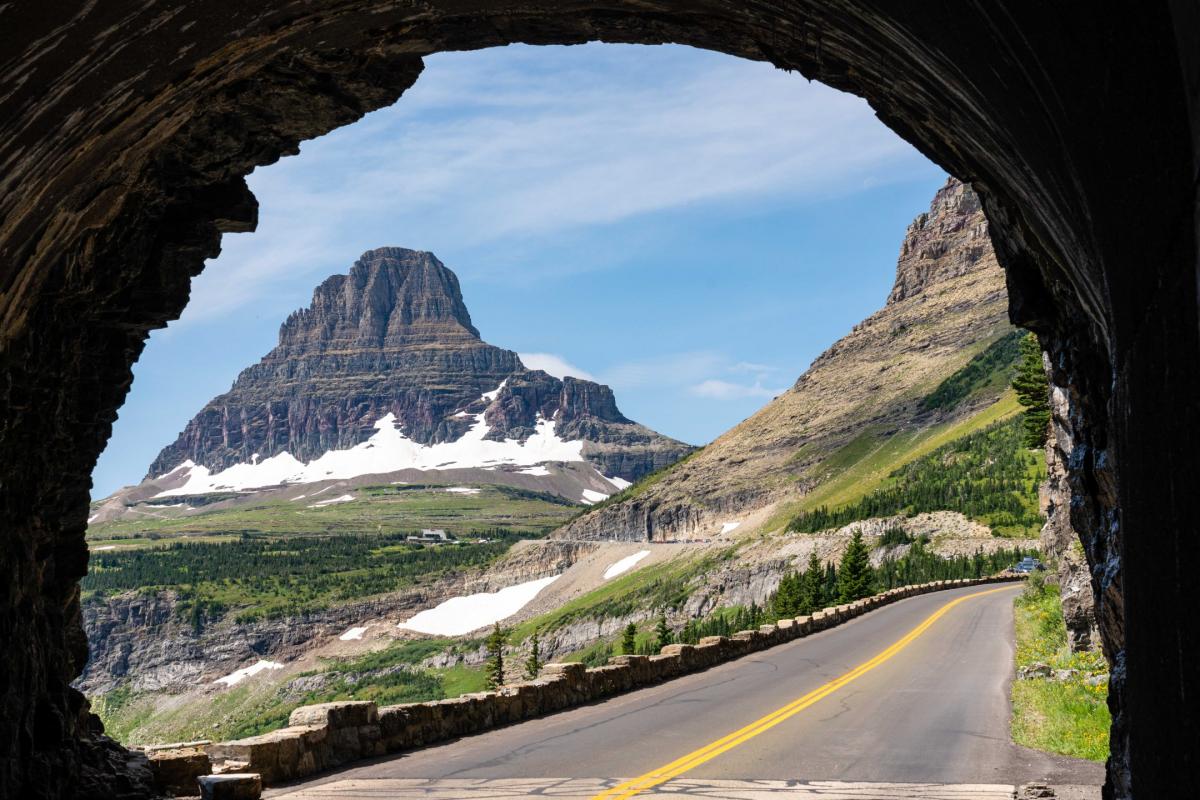 From West Glacier, the GTTS rises slightly over 3200 ft to cross the Continental Divide at Logan Pass (elevation 6647 ft) in about 30 miles. Another 20 miles brings you down to St. Mary on the east side of the Park.   Along the mostly wooded way (a few recent fires aside), the Road passes by two gorgeous lakes, (Lake McDonald and St. Mary Lake), countless waterfalls – one – Weeping Wall – even spills down on the cars that drive by.  There is only one true switchback ("The Loop" on the west side), and, at a speed limit of 25mph, it is a favored road for bicyclists (so beware).  At Logan Pass, there is a Park Visitor's Center and a couple of hiking trails to explore the upper elevations of the Park.  It is not uncommon to see mountain goats and bighorn sheep in the vicinity.  Being on the Continental Divide to the west, it tends to get more precipitation and stays green all summer.  Here, wildflowers abound in the high mountains meadows.  The mountains are mainly a sedimentary "argillite",  which is responsible for the characteristic reds and blues seen in the Park rocks.  They are also prone to erosion, especially by glaciers to give the mountains their iconic shapes.  There is a reason this stretch of mountains was given national park status!  It is also one of the busiest national park roads.  In July, 2017, Glacier NP recorded over 1 million visitors.  It was the first park to reach that milestone, and most of them went over GTTS Road.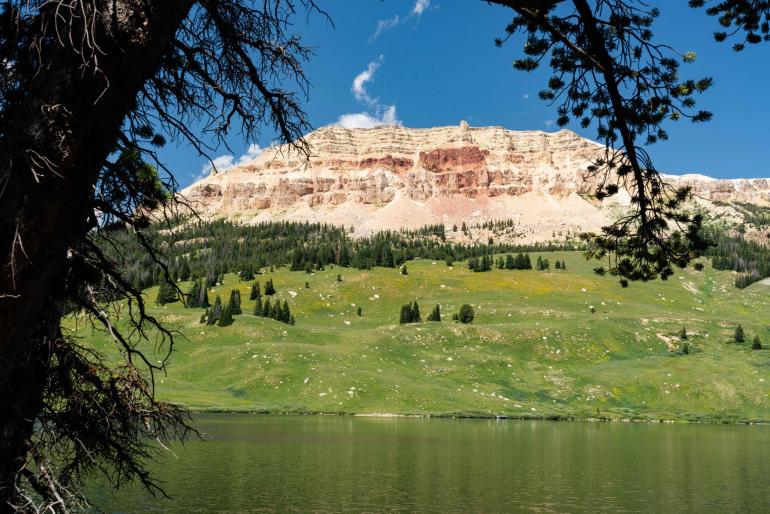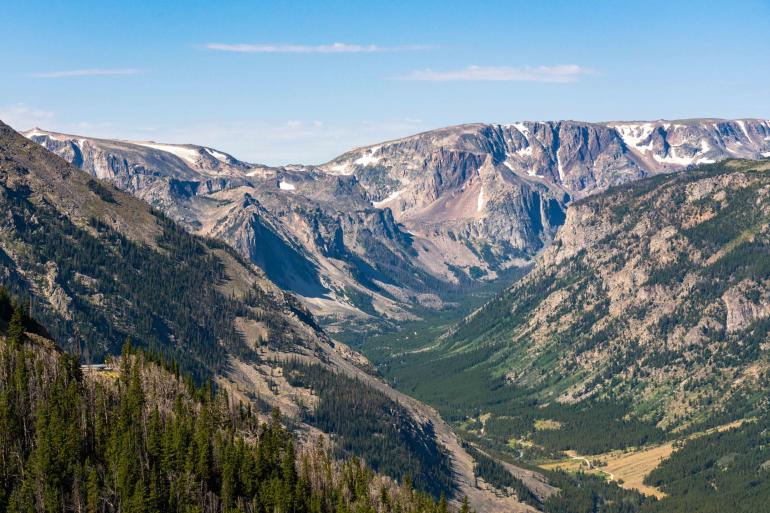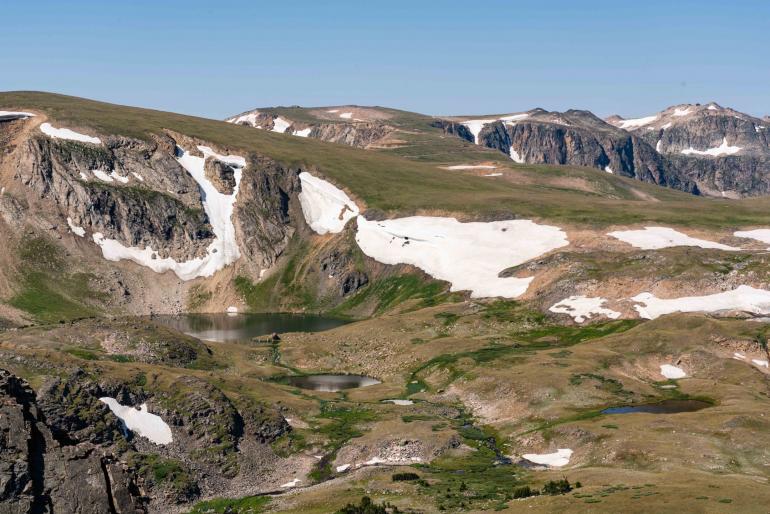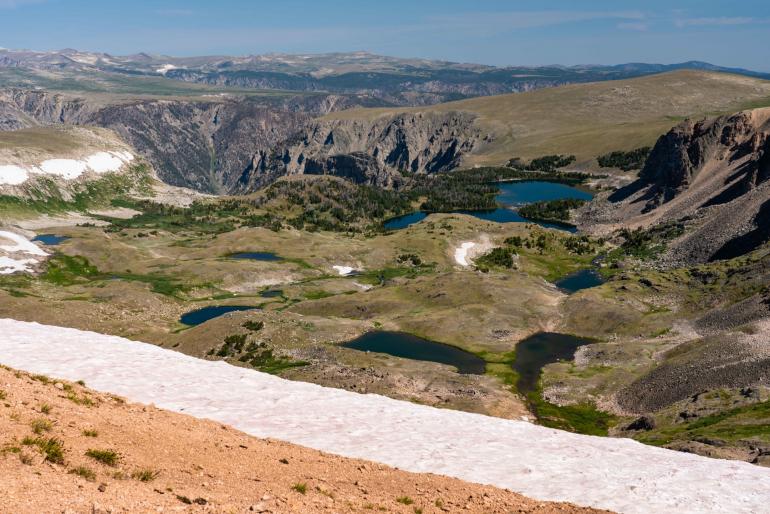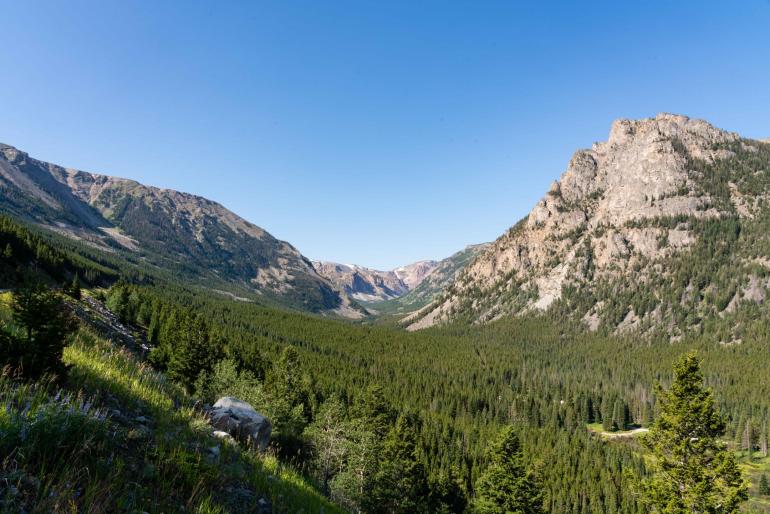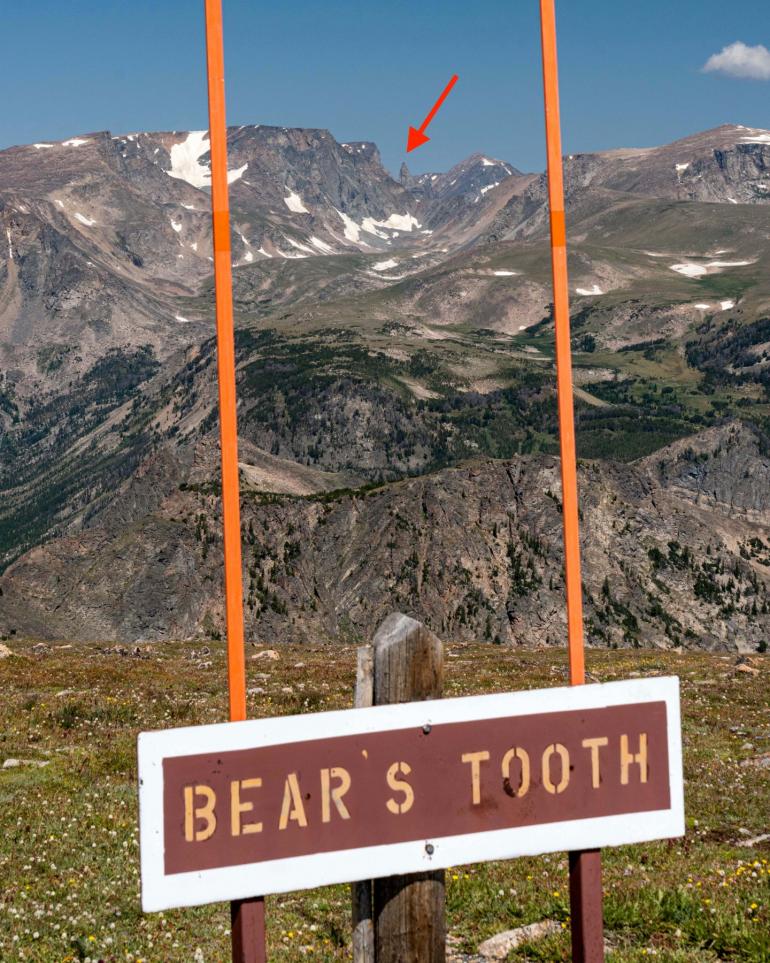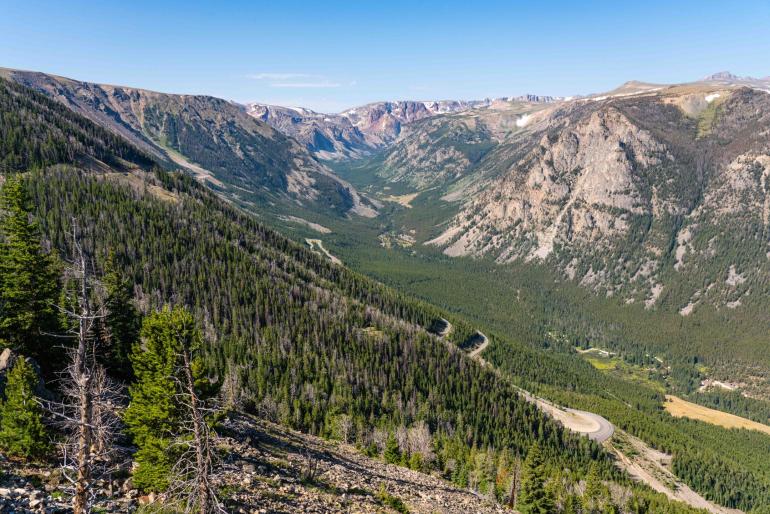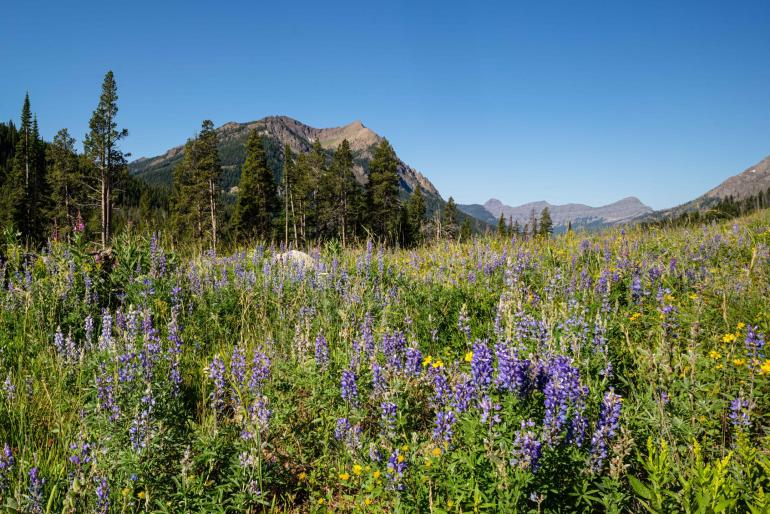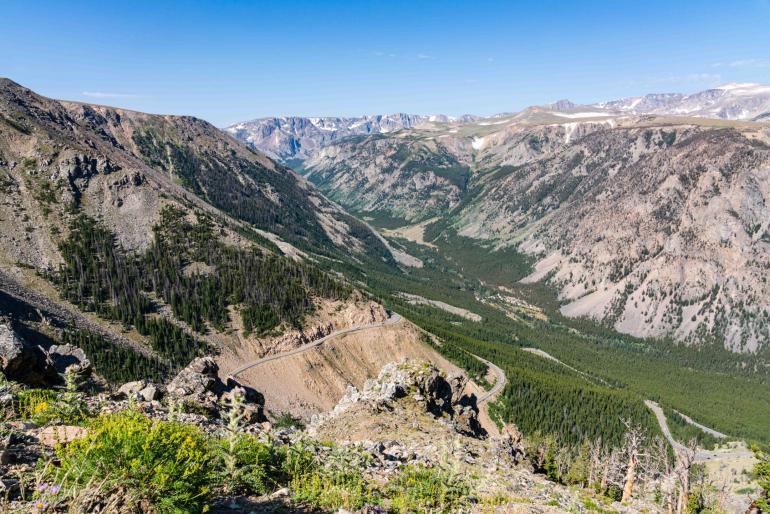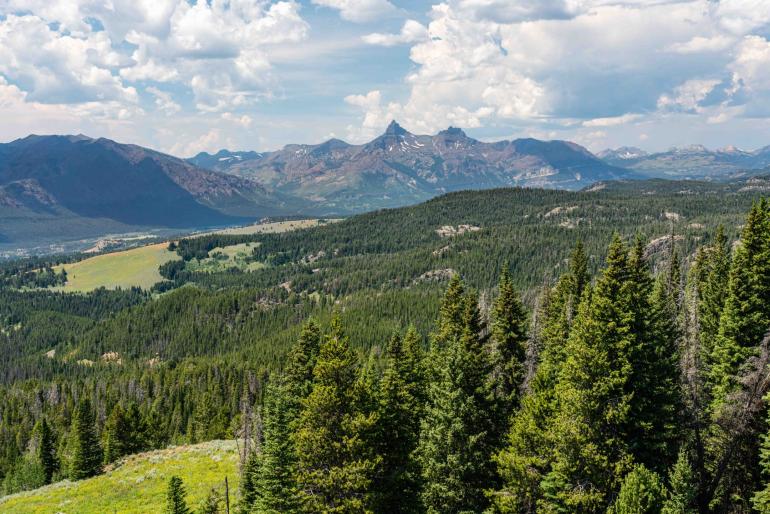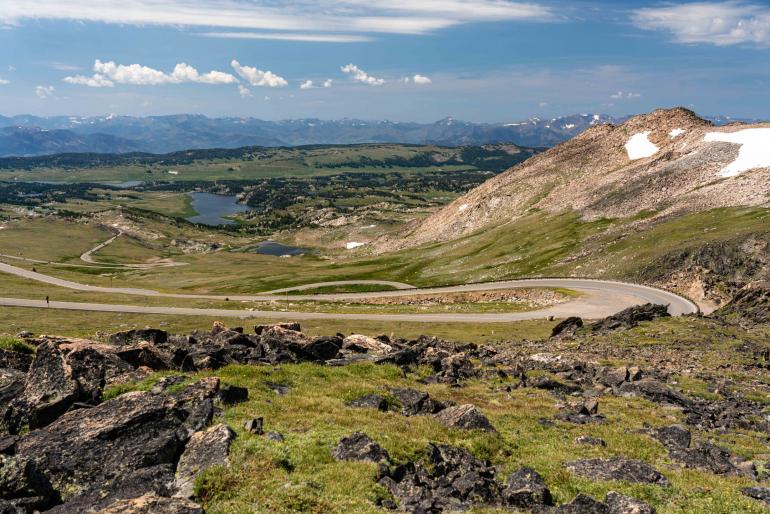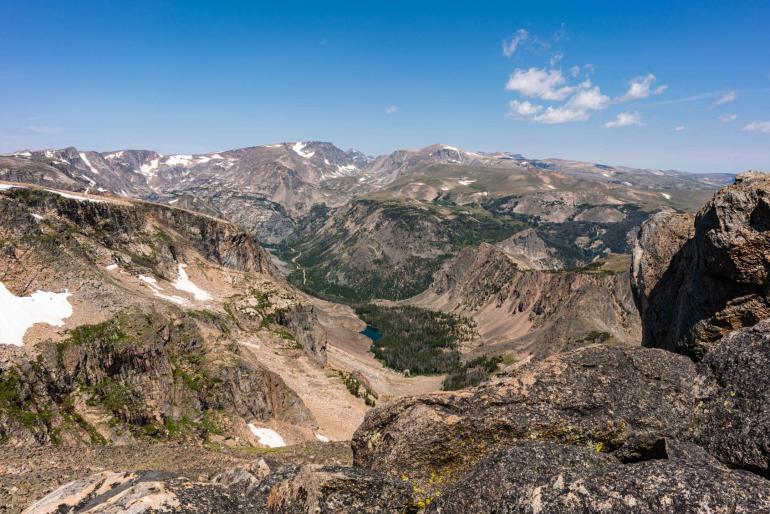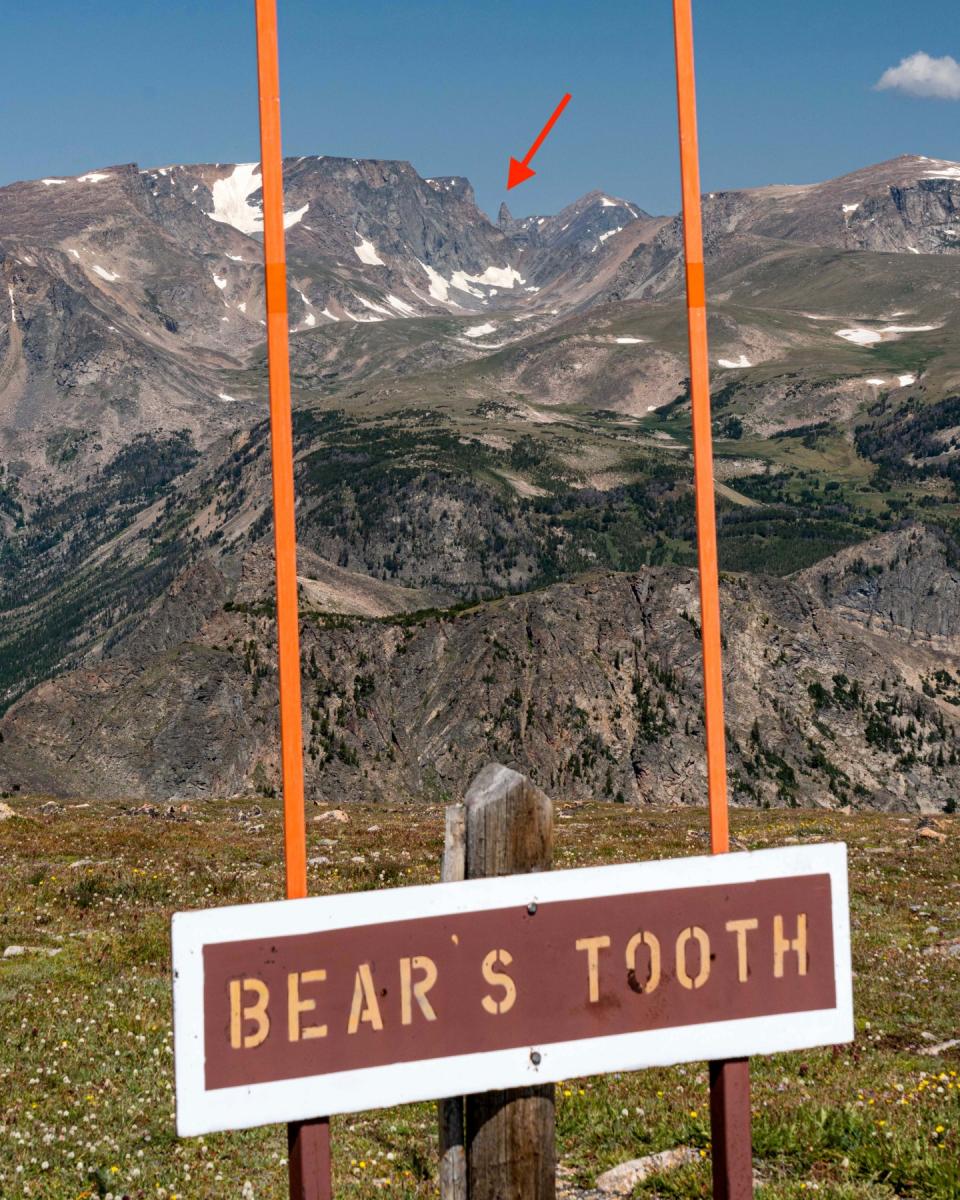 By contrast, the BTH does not cross the Divide.  It is not in a national park, but does border a designated wilderness area.  It has very different geology, being mainly ancient, precambrian granite.  From Red Lodge on the north side of the Beartooths, the BTH takes the traveler up nearly 5400 feet in 42 miles to reach the highway's summit at just shy of 11,000 ft (10,947), before coming down to Cook City on the other side (62 miles total).  Cook City sits at the northeast entrance to Yellowstone NP and the spectacular Lamar Valley (often called "America's Serengeti").  The Beartooth Highway is the highest road in Montana (and Wyoming), and goes well above treeline yielding stark, sweeping views that seem to go on for forever!  There are some smaller lakes up high, nestled in beautiful glaciated cirques.  However, there are many more lakes across the whole of the south side of the Plateau, and their reputation as excellent fisheries is well-deserved.  Several trails take off from various points along the road that invite further exploration.  The treeless tundra also hosts many wildflowers, as do the lower meadows.  Although bighorn sheep and mountain goats also roam these heights, they are not as prevalent as in Glacier.  This highway, with its myriad of switchbacks and long views, is a magnet for motorcyclists and paragliders.
There is no question that they are both incredibly scenic drives and offer very different experiences.  Which is the more scenic?  Seriously, do you really have to choose? Get out and see both!