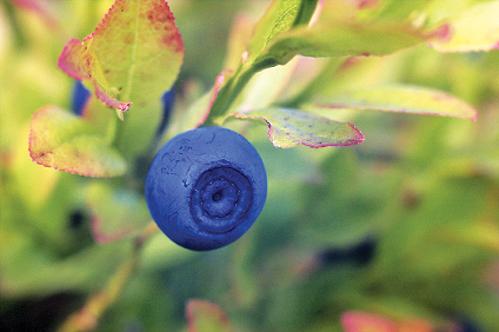 Every August brings a fresh rushof huckleberry prospectors to Montana's prime picking ground in the northern Rockies.  The season is short, the competition can be fierce (it's the griz' favorite food), and the berry bounty cascades into everything from jams and jellies to wine and barbecue sauce. Huckleberry aficionados (yes, there are experts) will tell you that the best of the bunch are plump, purple and sweet-tart, reminiscent of blueberries, but with a richer, more flavorful taste.  A mouthful will leave you with puckered cheeks, a bluish tongue, and a silly, satisfied grin.  Your limit by state law?  Ten gallons.  Yum! 
Best Time to Go:
This varies from summer to summer but, generally, late July to mid-August is prime-time pickin' at above 3500'  elevation, into September the higher up you go.
Best Technique: Pick and Eat
Huckleberry hounds will regale you with scientific mumbo-jumbo about esters and ketones, rhizomatous plants and V. membranaceum, but all you need to know on your day hike is that the berries grow on ground-hugging, tangled bushes with green or reddish-green oval leaves. The berries droop low, under the leaves, so you might have to sit for a few minutes for a good pick. 
Best Places to Go For A Huckleberry "Fix"
Huckleberries can be found on east-facing slopes throughout the Crown of the Continent (See Distinctly Montana Winter 2011 issue).  The Swan Valley, the North Fork, Big Mountain, and BC's Elk Valley are popular picking areas.
 Best be Careful!
 Huckleberries are a favorite food of Montana's grizzly bears, so try singing Toby Keith's "Huckleberry" while you are picking:  "Baby I'll be your huckleberry; you don't have to double-dare me..."
 If you can't ramble the mountains yourself, you'll find them in pies at Loula's in Whitefish, Two Medicine Grille in East Glacier, and the Park Cafe in St. Mary, as well as most of the park lodges in Glacier and Waterton parks. Or graze yourself purple between the annual Whitefish Huckleberry Days Festival August 13-15 2010, or the Trout Creek Festival August 12-14.
Grilled Wild Salmon with Huckleberry Compote
Ingredients
4 wild salmon filets
extra virgin olive oil
kosher salt
1 cup port wine
1 teaspoon lemon juice
1/4 cup sugar
1 –2 tablespoon honey
1 teaspoon lemon zest
1 teaspoon orange zest
1 pound huckleberries, rinsed and stemmed
1/4 teaspoon freshly ground black pepper
Instructions
1. Brush salmon with oil and sprinkle with salt.
2. Grill, flesh side down, on well-oiled grill 3 –4 min.
3. Carefully turn over and grill 3 –4 min more until fish
just begins to flake in center.
If you aren't able to grill outdoors, salmon can be cooked in a hot lightly oiled ridged grill pan over moderately high heat.
Next...
1. Combine the port, lemon juice and sugar in a saucepan.
Over high heat, bring to a boil. Reduce heat and maintain a
high simmer until mixture has the consistency of syrup.
2. Add the zests, berries, honey and pepper to the saucepan
and gently stir to mix well. Remove from heat.
3. Spoon over edge of salmon, draping onto plate.
This meal is perfect for a late summer outdoor meal. The tart and sweet huckleberries are a delicious compliment to the wild salmon. This dish could be a served with some fresh greens for a first course, or as an entrée with my favorite; horseradish-cheddar polenta.
Bon appétit!
~Amber Lukas, Executive Chef, Holland Lake Lodge
1947 Holland Lake Rd.
Swan Valley, MT 59826
Panna Cotta with Huckleberry Sauce
 6 servings
Ingredients
For the panna cotta:
1½ cups heavy cream
½ cup whole milk
3 vanilla beans
4 tablespoons sugar
¼ ounce powdered gelatin
For the huckleberry sauce and garnish:
2 pounds huckleberries, plus extra
1½ cups sugar, plus extra
Whipped cream for garnish
Instructions
In a saucepan over medium heat, warm the heavy cream, milk and scraped out vanilla beans. Add the sugar, and stir to dissolve. Remove from the heat and cool 30 minutes.  Bloom the gelatin in cold water approx: 5 minutes. Stir gelatin mix into the warm milk bowl. Fill 6 ramekins or cappuccino cups with the panna cotta mixture, and refrigerate until set.
Meanwhile, prepare the huckleberry sauce: In a pot over medium heat, combine the huckleberries and sugar. Simmer for one or two hours, or until the sauce becomes thick. Set aside to cool. Transfer to a blender (reserving several berries), and puree. Pass the puree through a sieve to remove the skins. Mix the reserved huckleberries with the pureed sauce.
To unmold the panna cotta, place the ramekins in a small pot of hot water to loosen. Invert onto a plate. Garnish with the huckleberry sauce, and top with whipped cream and some huckleberries tossed in sugar.
Enjoy!
~ Tiffany Lach, Owner  Sola Café
290 W. Kagy Ave
Bozeman, MT
Huckleberry  & Bacon Marmalade
Ingredients
Sweet onions 3lbs
Fresh or Frozen Huckleberries  1 lb
White Wine 16 oz
Garlic 4 oz
Thick Sliced Bacon 1 lb
Cayenne Pepper to taste
Salt to taste
Brown Sugar 1 cup (aprox.)
Instructions
1) Julienne onions thinly cut
2) Chopped garlic
3) Slice bacon in thin strips
4) Cook bacon to crisp
5) Drain & strain bacon grease (set aside)
6) Sauté onions & garlic in 3 oz drained bacon grease over med. heat to caramelize about 15 min.
7) Add 1/4 of wine to deglaze pan
8) Continue to cook until all wine as evaporated
9) Add bacon to combine
10) Add huckleberries & remaining wine to combine
11) Bring to a boil then reduce heat to low
12) Cover let simmer until berries break apart (20-30 min)
13) Add ½ sugar to combine
14) Continue cooking covered for 10 min.
15) Taste
16) Add sugar as needed
17) Season to taste w/ salt & cayenne pepper
Chef Note:  This works well over grilled chicken, grilled pork chops, pork loin & salmon. 
~ Michael Gorski, Executive Chef; Grouse Mountain Lodge
2 Fairway Drive
Whitefish, MT