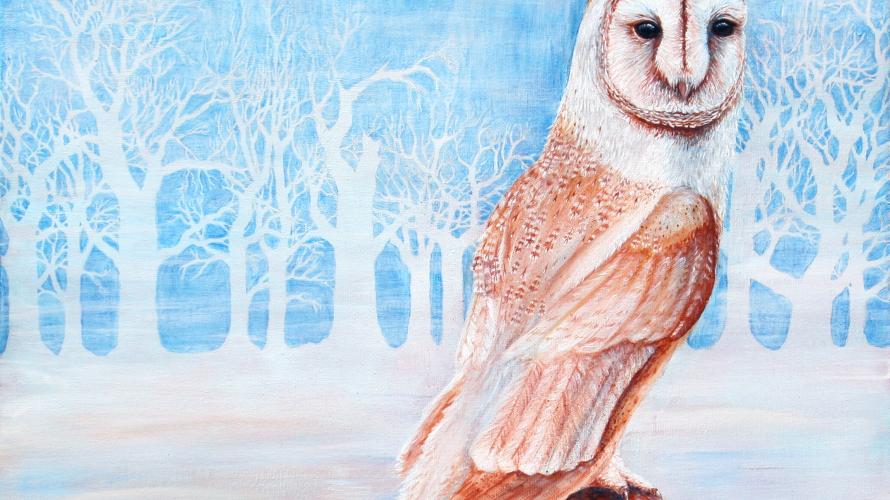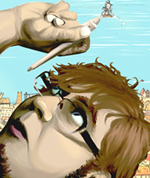 Kyle Ploehn is an artist, illustrator and writer living in Billings Montana. He likes to spend the few hours he isn't painting hiking the mountains of Montana. Check out his website at http://kyleploehnart.com or come by and say hello on Facebook https://www.facebook.com/kyleploehnart.
Winter's Barn Owl is a painting born from a lifelong fascination with owls. Particularly barn owls. I had painted a few owls at this point, and was beginning to find greater understanding in their anatomy.
Winter's Barn Owl came about on a snowy day while I was taking a walk. Fresh snow began to swirl about across a wide open farm field, obscuring the distant trees into a pale blue shadow. The image struck me as I imagined a great winged owl swooping down upon an old weather beaten fence post. Occasionally as an artist, you are granted beautiful blazing images that seem to create themselves. This was one of those images for me. Naturally, I hurried right home then and sat down to paint, afraid I would lose the magnificent image that had found me.The background trees were a particular challenge, as I approached them like a watercolorist. Painting glazes of blue in the negative spaces between the light branches, building up until the trees stood ghostly upon a field of blue. It was a particularly long and challenging style, but I feel the effect and the knowledge learned from the paint are already well worth the time spent.
Original 20 x 20" painting still available for $900.Canvas Print available at 14×14 for $150, Poster Prints (unmatted, unframed) at 12×12 available for $45. Contact me at [email protected], if you're interested in purchasing the original or a print.