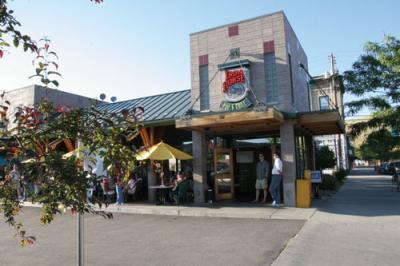 "I could live here forever," said the heavy-set man at the bar, wearing a red polo and New Jersey Nets cap. The bartender casually nods and sets down a pint of cold amber ale on a coaster. He has heard the sentiment before. The Nets fan turns his attention toward the large plate windows that adorn the front of the Iron Horse Restaurant and Brew Pub.  It is that bewitching hour in Montana; the sun is beginning to fade but has not disappeared just yet.  Rising above the historic brownstone retail shops that line Higgins Avenue, Mount Sentinel blazes in the brilliant pure light of the setting sun. Higgins Avenue itself crackles with life. A young couple ride their vintage bikes past a group of the restaurant's  patio diners, their happy reddened faces lit like glow bugs. 
The Iron Horse Brew Pub is not one of Missoula's hidden secrets. The restaurant has great sunlight and large open spaces that never feel crowded, even after a Grizzly football victory. The three outdoor seating areas have well-maintained wooden fences, flowering gardens, and water features. The menu is diverse and original,  catering to meet finicky vegetarian tastes as well as  ravenous carnivore appetites. The bar offers an abundance of cold Montana crafted ales as well as a wide range of premium liquors that the veteran bartenders mix into every form of frothing delight. 
But what really drives the wheel of success in one of Missoula's favorite haunts is owner Tami Ursich who opened the original restaurant 15 years ago in the Old Railroad Depot just a few blocks from its currant location. The idea was to pair up with Bayern Brewing and offer a tasting room for the local brewery's German style lagers. Thus the designation "Brew Pub." "We wanted to stay in the depot but it was too expensive to lease and I wanted my own space to work with. I had a vision of what this place could be and I went for it," explains Ursich. That was 11 years ago and she hasn't looked back, expanding  her current location four different times since then. "Hey if you're not changing, if you're not putting fresh paint on the wall or offering new menu items, then your restaurant stagnates and that spells death in this business."
Over the last 16 years Ursich has reached somewhat of rock star status in the town of Missoula. Just watch her work the room and you can see stories build with knowing smiles and laughs. She can't walk five steps without someone yelling , "Hey Tami! Tami come over here." And she does, she always does, "Hey, you got to be passionate about what you do. You got to love the business you're in or why bother," Tami says cheerfully. Just then someone yells across the room, "Hey Tami!" She waves at them and says, "They come here every Thursday night. I could tell you each one of their orders. I know them by heart."
The Iron Horse has the ability to be many things to its customers. For example, at lunch you will see a sprinkling of wide-eyed tourists mixed in with the white-collar workers. Around five or so, the after-work crowd converges on the restaurant; then come the happy metro martini sippers. A little later, family groups gather at some of the restaurant's larger tables to take advantage of the huge portions and smoke-free dining area. As night falls, the Iron Horse changes gears one final time as college crowds appear.
Several waitresses come by to whisper things in Tami's ear as we talk. Tami nods and then gives out brief sage advice, "Most of my staff have been with me for five years, some seven years. I am dedicated to them. I know their needs; some are in college and need time off for classes and we allow that. I have some single mothers that work."
My companion for this outing is this article's photographer, David Baumstruck. We are sitting close to the bar at a raised table with bar stools. After much consideration we decide to go with multiple appetizers. I go with the Crab Cakes, David the Spicy Shrimp Sambal and the Roman Corn. We feel like we should order more but the Iron Horse is notorious for its massive portions. 
The Iron Horse menu ranges from eclectic sports bar fare to offbeat entrees such as the Catfish Tacos. There are also more exotic entrees such as the Caribbean Marinated Rack of Lamb for a low $14.95 an order. If you're feeling a little more adventurous, try some soul-satisfying Black and Tan Braised Veal Osso Bucco. Whatever your mood, you will be hard-pressed to spend more than $50 for two with drinks included. 
The food arrives quickly and I dive head first into the Crab Cakes. I enjoy them so much that I quickly devise a plan to somehow horde the plump little cakes all to myself. By the look in David's leering eyes I can see he is doing the same with his Shrimp Sambal. The Crab Cakes are thick and moist on the inside. The Creole Tartar that is dribbled over the top gives the dish some serious kick that I thought made the dish complete. They are served with sautéed rice cakes that taste very much like good old-fashioned thick-cut fried cottage potatoes. 
David finally gives in and reluctantly shares some of his Spicy Shrimp Sambal and Roman Corn. The Shrimp are large and are served in an Asian-style jalapeno and lime relish. The large butterfly-cut crustaceans have a good spicy flavor from the relish. The Roman Corn is an interesting dish -- like popcorn that has been dashed with olive oil, garlic, cayenne pepper and Parmesan cheese. A great choice if you want something to nibble on while drinking a local brew. 
After our meal Tami comes over to check on us, and I ask her just how she manages to run this restaurant and still have a life, "I recently got engaged to a gentleman who has two children, which has forced me to try and get away more. I thoroughly love this restaurant, I really love it more than anything. It is a work of dedication, but I do need to get away from time to time." She sits for a moment and thinks about what she has just said and then offers, "Look, it takes serious dedication to make it in this business. You better have a lot of chutzpa, you better have a great vision, you better love wanting to be here. That has been the key to my success." Just then at another table a man yells across the room, "Tami, Tami, come hang out with us, come on!" Tami looks back at me, throws up her hands in mock surrender and says, "Well, you gotta be a diva!" She walks over to the table, all confidence and ease, laughing before she even sits down. 
~ Bill Marshall is a freelance writer for several Montana publications.  When he is not at his desk typing, he can be found down at the river or a smoky bar, good ale in hand.