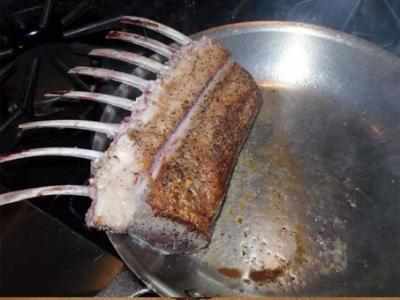 The first time I made rack of lamb, I had just begun courting my wife.  I was not in the culinary field and I had no idea that one day I actually would be a chef.  I simply followed a recipe in a food magazine in a doctor's office.  The dinner was a success, so much so that such my wife and I now refer to it as "The Seduction Dinner." 
If you are capable of following directions, as I did, your rack of lamb will come out perfectly, too. In restaurants that have it on the menu, there is usually a premium price, adding to the mythology that this is a highly complex dish. It's not.
And if you show up on the right day at your local farmers market, you may be able to score some fresh Montana lamb that for me is better than most of the commercially marketed pre-packaged racks – imported from New Zealand.  
The most complex part of making rack of lamb is the task known as "frenching" the bones. That's the process whereby you remove all of the fat and sinew clinging to the bones and it's a task that requires patience and a very sharp knife, for there is a membrane that adheres to the bone that will challenge you the most.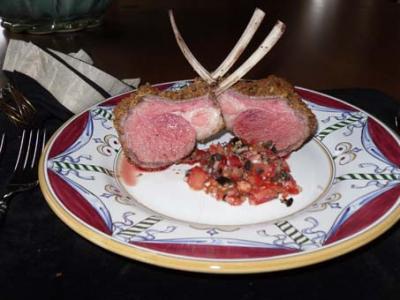 Most racks of lamb are cooked and served with a crust of some sort. Many restaurants typically offer herb-crusted rack. My recipe incorporates many of the herbs used in Provence — thyme, rosemary and oregano, along with garlic and shallots that I add to toasted bread crumbs. 
One technique that I've modified since the first time I made this dish is the incorporation of a little mayonnaise with Dijon mustard when I make the "paste" that the bread crumb mixture will adhere to. Dijon has a rather strong flavor and the meat in rack of lamb is delicate, so you don't want to overpower it with the spice in the mustard. 
Finally, it's important to use high heat during the two times your rack will cook. The first is to create a layer of flavor by searing in a very hot pan lightly coated with olive oil. The second is a very hot (450° F) oven. The time spent in each high heat environment is not long at all. Searing in the pan should take no more than five or six minutes. Total time in the oven is between 12 and 15 minutes.
I usually serve rack of lamb with a sautéed green vegetable and couscous. As an accompaniment to the lamb, I put together a Provencal "compote" of finely diced Roma tomatoes that have been peeled and seeded, minced garlic and shallots, capers that have been rinsed and drained and roughly chopped, a mélange of crushed herbs including rosemary, thyme and oregano, and just enough extra virgin olive oil to moisten the mixture.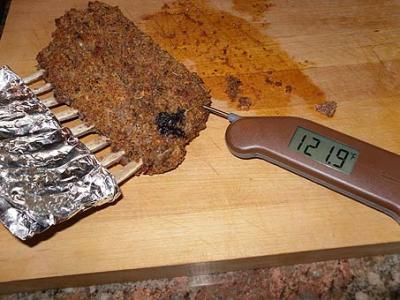 Recipe for Montana-raised Baby Rack of Lamb
1 rack of lamb (each rack serves 2; proportion ingredients appropriately)
1 cup seasoned bread crumbs
3 Tbsp Dijon mustard
1 Tbsp mayonnaise
1 small shallot, minced
1 clove garlic, minced
1 tsp. fresh thyme leaves minced
1 tsp. fresh rosemary, minced
2 Tbsp virgin olive oil
salt and pepper to taste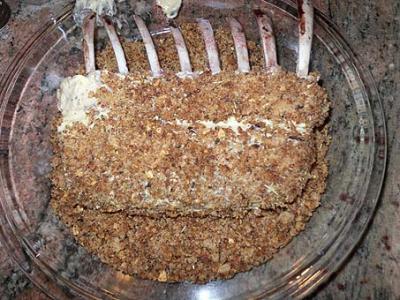 Prepare the lamb: Trim the fat cap that covers the lower portion of the eight bones on the rack. Completely remove the fat and sinew from the bones, by scraping with a paring knife. This is called "frenching."
Heat a medium-sized pan over medium low heat and add about 1 Tbsp. olive oil. When oil shimmers, add shallots and garlic and sauté briefly, taking care that the garlic does not burn. Add bread crumbs and toss until they begin to toast. It is important to keep the bread crumbs moving in the pan so they do not burn. Once the bread crumbs are uniformly toasted, remove from heat and add minced thyme and rosemary and mix well. Set aside.
Heat

a large sauté pan over medium high heat. Coat bottom of pan with a film of virgin olive oil.
Salt and pepper lamb rack. Sear in hot pan on both sides and on ends to create a crust. Remove the pan from the heat. Remove rack to your cutting board to cool slightly so that you can handle the rack.
Mix together Dijon mustard and mayonnaise and with a pastry brush, "paint" the rack, including the ends. Coat the "painted" rack with toasted bread crumbs. Wrap aluminum foil around frenched bones so they do not burn. Place rack back in sauté pan and put in oven.
Roast for about 12 minutes for medium rare. Remove to cutting board and slice rack in double chops, placing two double chops on each plate.
.... See the step by step process @ http://kitchenguy.biz/videos--recipes.html
~ Chef Jim Gray