As soon as Paddy Fleming flicks on the glorified blow dryer to seal the foil onto a single bottle of wine, you know you are witnessing a man dedicated to the craft of wine making. 
Fleming will repeat this approximately 9,000 times each year, earning him a top spot among a hearty group of individuals doing what many said could not be done.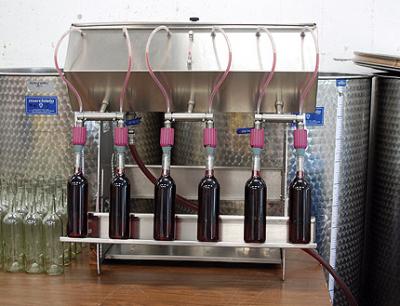 Wine and Western Montana are not words people put together.  High altitude and freezing winters hinder growing the grapes found in the traditional wines of Napa and Columbia Valley. But with ingenuity and local ingredients, three Montana vintners have successfully shunned tradition to make bottles of unique wines that reflect the natural bounty of the treasure state.  
The people standing in line at the tasting room of Missoula's Ten Spoon Winery could care less that they are miles away from California wine country as they flock here to savor delicious wine made in the heart of the Rattlesnake Valley. The tasting room is cozy and welcoming, but step outside and you will see what really matters.  Seven acres of French-American Hybrid grapevines line the property and provide the entire crop of grapes needed to make two of Ten Spoon's most popular wines, Range Rider and Saint Pepin, proving that you really can grow grapes in Montana.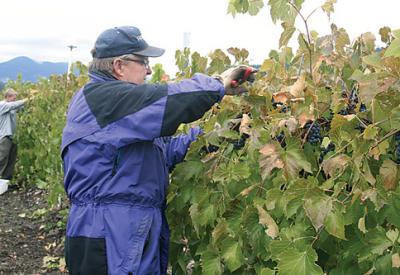 At first glance, Andy Sponseller's and Connie Poten's Ten Spoon may seem like a traditional winery producing the names any novice would recognize such as Pinot Noir and Zinfandel, but look closer and you will find something quite different. They insist on only using organic fruit and grapes and they refuse to add sulfites to their wines.  "Not adding sulfites makes the process harder but makes the wine taste fresher," Sponseller says.   "We think that organic food is largely better. It tastes better without a doubt."
Ten Spoon also uses fruit grown in Montana whenever possible. Flathead Cherry Dry is made from organic Lambert cherries grown by Fat Robin Orchard & Farm on Flathead Lake.  Sophie's Organic Apples in Arlee supplies all the apples for Temptation Dry Apple.  Don't think for a second that a few apples or cherries are thrown in just for the name.  When asked if he supplements these wines with grapes, Sponseller is quick to point out, "My cherry wine is straight up cherries and my apple wine is apple wine."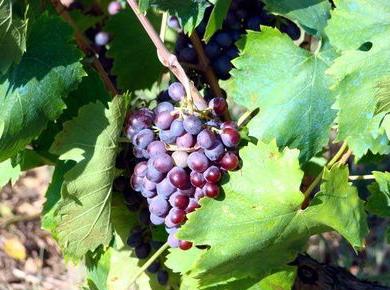 Connie and Andy have refused to let their winemaking success pull them away from a deep love of their community and the ability to reflect on what success really is.  Sponseller sums up this philosophy, "We do everything just about the hardest way that you can do it. We buy expensive fruit, we pay our people a decent wage, we're organic, and we haven't chopped our property up for development. It's not the shortest route to profit but we think what we've established here is something that's good for the long term."
Down in Victor at Hidden Legend Winery, Ken Schultz utilizes another local ingredient to make mead, or honeywine.  Schultz has found that Montana is the perfect place to make this ancient drink since it is fifth in the nation for honey production.  That wealth of honey comes in large part from knapweed, a noxious weed to many but a boon to local beekeepers.  Knapweed is one of the few things in this area that blooms from June to October providing a long season for bees to gather the nectar.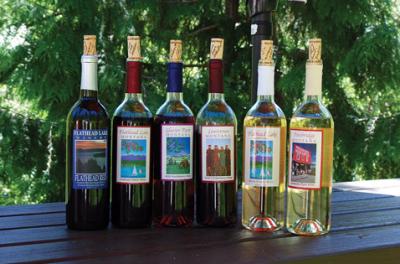 Beekeepers from Arlee to Hamilton and Darby to Dillon supply Schultz with the massive amounts of honey he needs. Even though he doesn't have a hand in the honey production, his respect for these hard workers shows through the minute the subject is broached. "Those people are as busy as their bees," he is quick to say. 
Along with the more traditional meads, Hidden Legend also makes a wide variety of fruit meads using chokecherry, elderberry, huckleberry, and others including a dandelion wine. The taste of honey and the specific fruit shines through each glass without being overpowering or too sweet.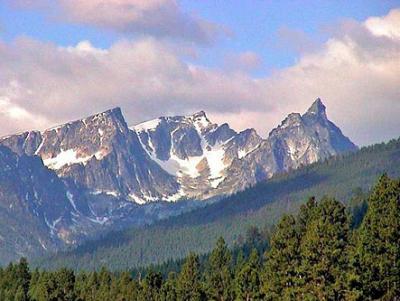 Schultz is passionate about getting his honey and all his fruits from Montana producers and growers. "If we were going to be a winery we wanted it to be a Montana winery.  We didn't want to make wine out of someone else's grapes."  He appreciates the fact that people are satisfied with his product and that he can generate wealth for the local economy.  "It's beginning to look like we're on our way to being a national brand but we'll always be local."  
Want to see the idea of using local products taken to the extreme?  Visit Paddy Fleming's Flathead Lake Winery in Columbia Falls, the only winery in Montana to use 100% Montana grown fruit. This pledge that Fleming has made creates a constant struggle for him to try to not only find, but keep fruit growers in a state not known for its fruit.  
Fleming says, "We used to make pear wine but now I can't find enough pears locally. Of course, I could truck them in from Washington, but then I can't say it's Montana wine."  He also used to make a black currant wine but his black currant patch was sold to a housing developer who promptly burned 10 acres of berries. 
For each frustration there is a success.  His mirabelle plum wine is a delicious medium bodied slightly dry wine with an inspiring story behind it.  "There's a 90-year-old couple in Kalispell growing them.  Back in 2000 a guy tried to start a brandy distillery here so he convinced this couple to plant these plum trees.  Unfortunately he went bankrupt before he put his first bottle on the shelf."  Fleming took up the slack and now deeply respects the effort these people put into their work.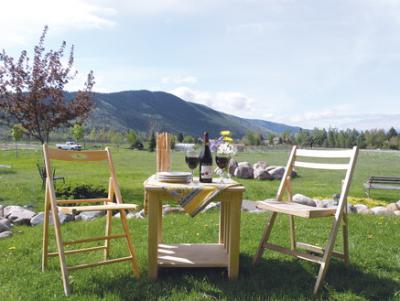 Talk to Fleming about his huckleberry wine and watch his face light up. Fleming goes through 400 gallons of huckleberries each year and puts two pounds of huckleberries in every bottle.  Every Montanan is familiar with that fake huckleberry flavoring that is added to a plethora of products from chocolates to coffee.  Fleming is having none of that.  He takes great pride in the fact that real huckleberries purchased from local pickers from Hungry Horse to Polebridge go into every bottle.  
Fleming doesn't just spend his time searching for local fruits.  With help from the women in his life, like girlfriend Rebekkah Evans, he corks and labels each bottle by hand. Considering that this is just a side venture for Fleming while he works full-time at MSU's College of Engineering, it is a wonder that he has kept it up for 10 years. "When I can't find grapes or I can't find fruit there's always the urge to say, 'Gosh, I could just buy some.'" 
When asked why he puts himself through this, Fleming answers, "It's my opinion that if I want a Washington wine, then I can get it in Washington.  I don't know why a Washington wine in Montana is what anyone would want. I'm passionate about using local."
Hidden Legend Winery
1345 US Hwy 93 N. #5
Victor, MT  
Ten Spoon Winery
4175 Rattlesnake Dr.
Missoula, MT
Flathead Lake Winery
29 Golden Eagle St.
Columbia Falls, MT