Unlike the giant entities that dominate the mainstream sporting landscape, the game of Flat Track Roller Derby is an enigmatic niche. Played on a flat, oval track, with two thirty-minute periods whittled down into two-minute-maximum units of play called jams, each team puts forward five skaters at full strength. Four of these skaters are known as blockers (the blockers conjoin in sync and form something called a pack), and the other teammate is called a jammer.
The jammer, who wears a helmet cover emblazoned with stars, earns points by passing as many members of the opposing team as possible within jam sessions. The team with the highest point tally at the end of the game wins. While at first the average onlooker might consider it all rather confusing, as it happens, roller derby's charm only gets stronger with increased familiarity the ingredients of the contest.
"Roller derby requires more of an investment than other sports do," says Kelsey Clark, aka Mauled Whiskey, of the Gallatin Roller Derby. "Most people know the rules to baseball, football, and basketball, by cultural osmosis. It might take awhile to get used to the game, the penalties, the scoring, the plays, the strategies that teams are using."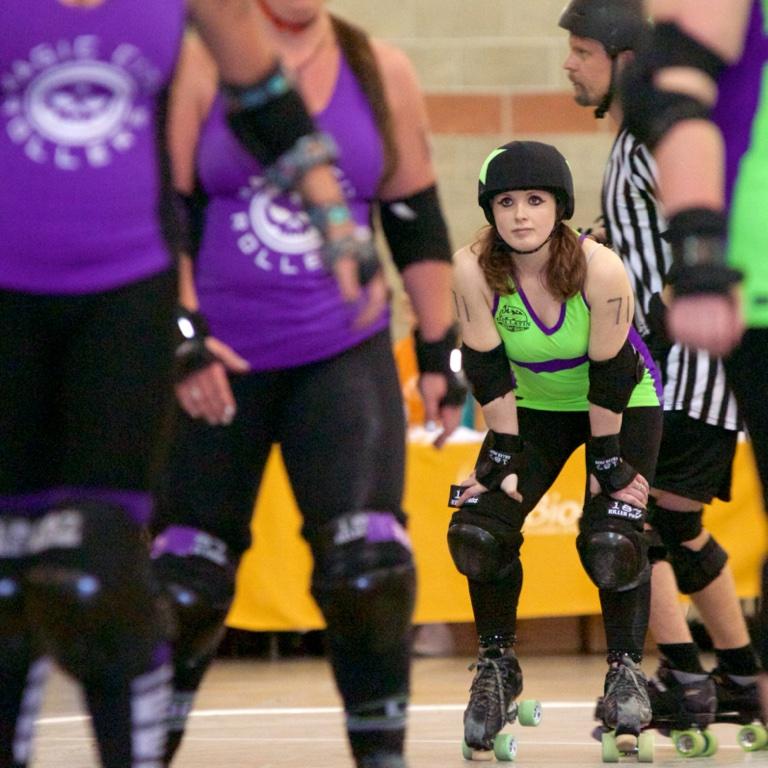 Montana is currently home to seven roller derby teams practicing such speed and strategy: Copper City Queens (Butte); Electric City Roller Grrrlz (Great Falls); Flathead Valley Roller Derby (Kalispell); Gallatin Roller Derby (Bozeman); Hellgate Roller Derby (Missoula); Hel'z Belles Roller Derby (Helena); and Magic City Rollers (Billings).
All Montana roller derby teams abide by the Women's Flat Track Derby Association (WFTDA) rules. Their schedules vary from team to team and are generally dependent upon venue availability and personnel calendars. Montana roller derby teams aren't in a league of their own, per se, but rather are free to earn rankings while competing against other squads regionally or even nationally. For example, Flathead Valley Roller Derby travels extensively in the Pacific Northwest and enjoys the summers off from competition, while the Electric City Roller Grrrlz plays the lion's share of its schedule summer through fall, closer to home.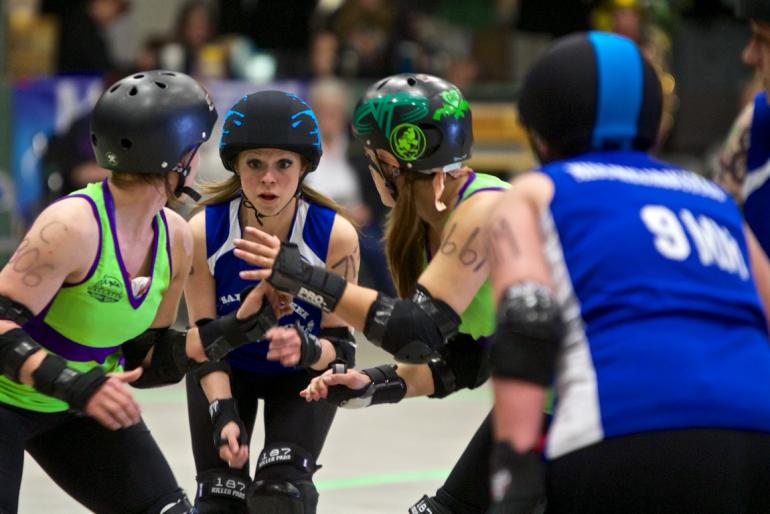 Misconceptions of Roller Derby
One of the fastest growing sports overseas, especially across Asia, roller derby dates back to the 1930s. Back then, players would compete in marathon skating sessions, circling a track until they could no longer keep stride. Chicago-based promoter Leo Seltzer, who, as it turned out, was born in Helena in 1903 to Romanian immigrants, is widely credited with popularizing roller derby, marketing it as amusement chock full of theatrics. Over the years, the sport has turned away from the often scripted and rehearsed baloney of the 1970s and 1980s and modernized into a genuine competitive sport. Indeed, modern roller derby was even under consideration as a sport for the 2020 Summer Olympics.
Kelsey Clark of Gallatin Roller Derby joined the team about six years ago after attending an open practice, where she was impressed by the sport's rawness, its camaraderie, and the high level of speed and sportsmanship she observed.
"I saw all of these skaters so strong and confident and having fun", says Clark. "They were knocking each other down, and enjoying themselves, and then helping each other back up, and it seemed like an amazing thing to be a part of."
Other players, such as Siina Swanson-MacLeay of Flathead Valley Roller Derby, were first drawn to the sport—and continue to participate in it—for similar reasons.
"I love the physicality of it," says Swanson-MacLeay, aka IllumiNAUGHTY. "It's not just a basic workout. Not something you could get on a bike or in a class. And I've met the most interesting people ever, homemakers, teachers, people who are lawyers, the coolest people doing it. Travel, too. I like going to different places."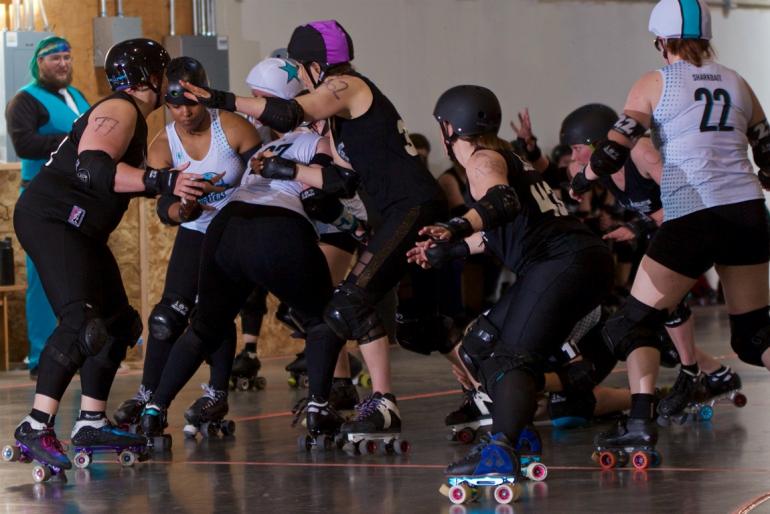 Full-Contact Sport; Safety Emphasized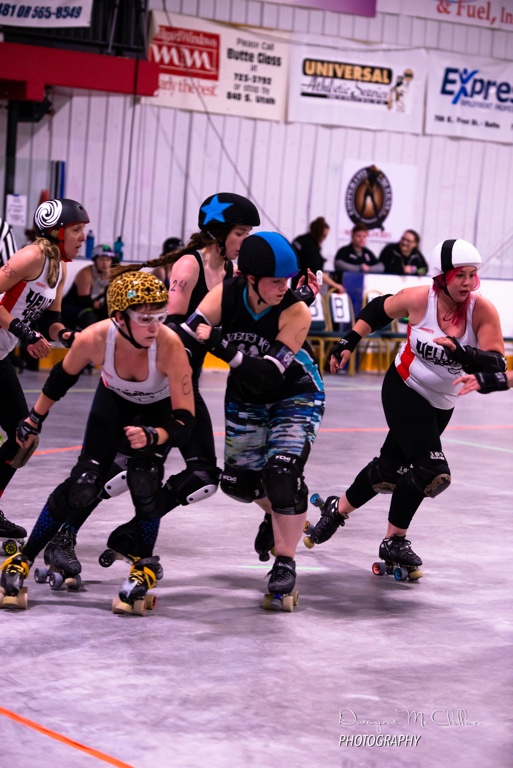 While it has downgraded the exaggerated and cartoonish elements that for so long had invitingly been associated with it—the elbowing, punching, neck-grabbing, and pile-driving tomfoolery—roller derby is indeed a full-contact sport. But skaters cannot use their heads, elbows, forearms, hands, knees, lower legs, or feet to make contact to their challengers. Skaters cannot make contact to opponents' heads, backs, knees, lower legs, or feet. Play that is deemed illegal by officials results in a skater being assessed a penalty, served in the penalty box for thirty seconds of jam time.
"It is full contact, but you can't actually hit someone in the middle of the back or the neck or the head," says Clark. "You can't hit with or use a forearm or a fist, or hit someone below the knees—all things that have been designed to prevent unsafe hits or falls."
"I grew up watching roller derby on Saturday morning TV, when it was something like a WWE event," says Jannette McDonald of Hellgate Roller Derby and Copper City Queens, aka Nettie. "Back then it looked dangerous and some of it was staged. But that's not the case with modern roller derby. Derby teams today practice and train like all other athletes."
While it varies from team to team, generally a new recruit must complete a six to eight week skating program before even being considered eligible to proceed in any contact drills. Team camps are set up in a manner ensuring safety checks, and recruits are tested on every single one of their required skills. In the midst of this, if one doesn't pass every part of the test, one will not be cleared to play in contests. 
Once permitted to play with a team on a competitive level, all skaters must meet similar safety standards and certifications regarding their equipment. From helmets and wrist guards to elbow pads and knee pads to guarantees that their skates are in acceptable repair, all players abide by WFTDA rules coding a number of gear guidelines mandated to prevent injury. 
Nicknames Welcomed; All Body Types Preferred
In the roller derby world, all body types are preferred. While smaller, quicker, supple girls are inclined to the jammer position, electrifying the crowd and lighting up the board as the team's scorers, in reality, a jammer is only as effective as the pack that widens her path.
"One of my favorite things about roller derby is that you really see a mix of all different body types," says Swanson-MacLeay. "There are girls who might not look traditionally athletic, but who are really good on their skates, and who could use their size to move other skaters around."
"Regardless of who you are, or what it is that you look like, you have a place on the derby team," says McDonald. "All body types are seen at our rinks. Even if you've never experienced a sport before, you can derby."
One irresistible component of modern roller derby is the ubiquitous nicknaming, a vestige of "old derby," a playful slice of a bygone era that teams mostly encourage, though the use of birth names is acceptable, too. From Flathead Valley Roller Derby's 5'2" "Pint Size Pistol" to a roller derby skater on a Connecticut team whose moniker is "Eleanor Bruisevelt," nicknames range from the inspirational to the inane.
"It's sort of like enjoying a totally alternate identity," says Kelsey Clark. "You are feeling strong and tough—and it's a new persona for yourself. You might base the nickname on your favorite character from a book, or historical figure, or it might be a play on your own name or occupation, and you make up a pun."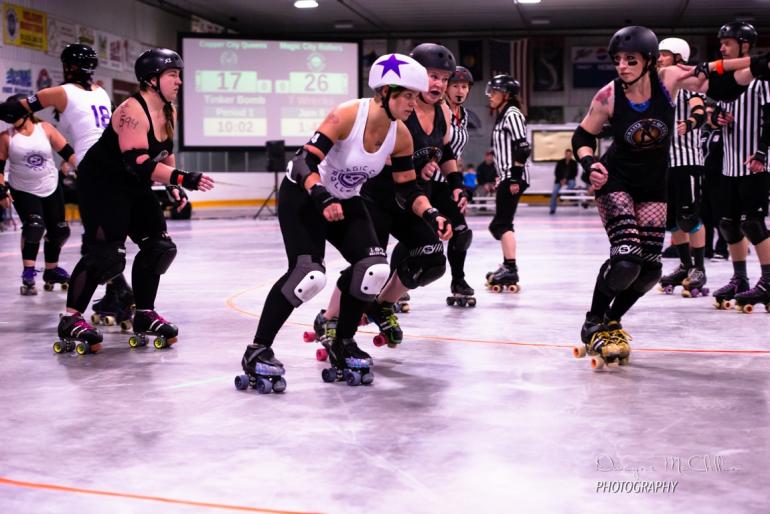 While most roller derby players would probably define their sport as competitive, some of the squads, while they most assuredly wish to win, don't push for a victory-at-any-cost mantra, allowing all of their participants on the roster the opportunity to lace their rollers and take to the track.
"On the Flathead Valley Roller Derby team, all rostered players get a chance to play," says Siina Swanson-MacLeay. "Not just in one jam, either. You get to play a reasonable amount of time. Now, if it comes down to the last jam, yes, we will put out our best line in the last jam. But it's not a win at all cost system."
According to several participants, the Montana roller derby scene has strengthened in terms of recruitment, volunteerism, and attendance bit by bit since the early 2000s. Indeed, similar to elsewhere, roller derby in the state has clearly shifted from a spectacle of hucksterism to a modern, skilled team game that provides for spectator-friendly entertainment.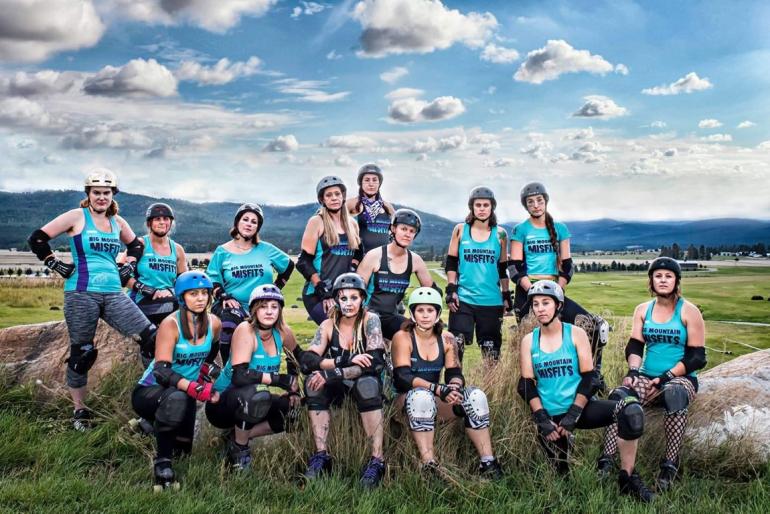 "The subtleties of the game might not be understood at first," says Kelsey Clark. "I think that making the investment will make it a lot more satisfying to spectators in the long run. In Bozeman, we have crowds of 500 per game, and they are super enthusiastic and cheering."
No matter what you know or don't know about roller derby, a night at the rink is better served if you embrace its uniqueness and don't judge, but interpret. Enjoy it for what it isn't (overexposed, overpriced to the point of exhaustion, tedious and uneventful)—and also for what it is (a fast-paced, competitive entity with an evolving set of rules designed to enhance a better sport for everyone).
"Roller derby is a whole different sport than what most people know or watch," concludes Jannette McDonald. "Our sport doesn't have a ball to follow; your body technically is the ball. It's a most special sport."