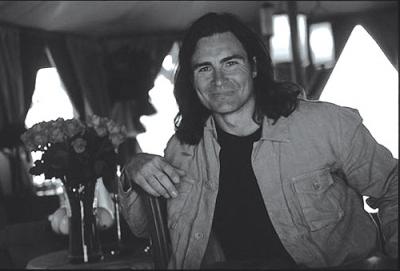 Artist John Banovich surrounds himself with untamed beauty. Whether it is at his Paradise Valley home perched just above Pine Creek, up in his majestic hillside studio overlooking Emigrant Peak, or on the savannahs of the African continent studying his subjects, Banovich is drawn to the exquisite. 
Lately, Africa tugs at his heart, but it wasn't always. His work has spanned across the globe from Siberia to Montana. His pieces are purposeful and complex, powerful and large. 
"When I was little I was always painting big things," Banovich says, his dark eyes deepening. "I fantasized about Africa. It's a continent that has so much, it's like stepping back in time. The big beasts are still there.  And I think that's what attracted me to it so much."
Like little kids who love dinosaurs, it's the gigantic that speaks to the uninhibited child in us all.
"I started painting those animals from that the early influence of anthropomorphizing of Disney characters," Banovich says. "And I still do. I just didn't grow up." 
In his studio, subdued music roams between the coffee-cans full of brushes, fuses with the fresh smell of fir and turpentine. Light slopes in from six skylights bathing the huge portrait he's working on, that of a nearly life-size elephant surrounded by bothersome egrets. The painting demands the center stage –which it is gladly given – emitting a spectacular presence. 
A native Montanan, Banovich grew up in Butte and went to school at the University of Montana, in Missoula, before starting out on his art career in Seattle. Years later he returned to Montana. 
"I used to say that I started driving east until it quit raining," Banovich jokes, "Which is partly true. When it stopped raining, I was here in Paradise Valley. But really, the world as a whole has always attracted me -- Montana, Russia, the Artic, Africa. I want to paint the diversity of our planet. But I chose, as a creative person, to reside in Montana. There are very few equal environments; it's extraordinarily inspiring to live here."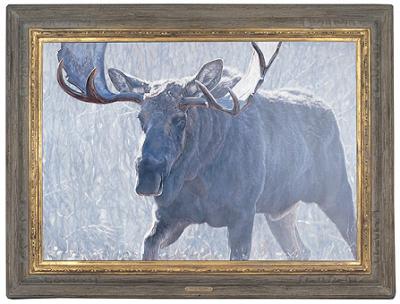 Banovich views both North America and Africa as places where wildness can still be witnessed, at some level.
"I like big things, and North America, such as in Yellowstone Park, has lots of them – grizzlies, ungulates, black bears, the moose," he says. "I see a correlation between the strength and the drama that can be played out in the two different regions. There's a romance to the West and there's romance to safari and I try to capture that – not only in my work, but from a creative person's standpoint, and the whole way that I share my experiences. It's not just in the two-dimensional surface."  
A surprising influence on Banovich's work is the expressionist painter Franz Kline, who is better known for his large format black and white paintings, combining the aesthetics of calligraphy with violent subsurface tensions of darkness and light. And yet, in the paintings Banovich lays down, his use of composition and drama are clearly connected to an abstract vision. 
"If you look at the underlying part of my pieces, compositionally it's based on abstract or a modern art premise of creating a strong visual," Banovich says. "You can take the subject and reduce it to one value or one shape. Based on the relationship between the negative areas and the positive areas; it works. A lot of the time when I sketch, it oftentimes just shapes. In the buffalo composition that I'm developing, it is three squares with a circle – the circle being the focal point of those squares – I'm positioning those until I get a pleasing composition that I know will work."
While many painters may feel their goal is to capture the surface, create a replica of wildlife, Banovich is all about the arrangement, the perfect moment.
"A house is a house, the difference between a six-million dollar house and a $600,000 house is nothing more than the architectural arrangement," he says. "They both have the same plaster on the walls, both have the same drywall, both have the same nails, some even have the same light fixtures – but it's the architectural arrangement that gives it that 'Wow.'"
Technically, it may be the arrangement, but Banovich brings more to the canvas than just an innate ability to draw. He brings a fierceness, a deliberate and conscious effort to reveal, viscerally, the passion to truly understand these little-known frontiers.  Banovich is not looking for the seduction. He's looking for the meaning.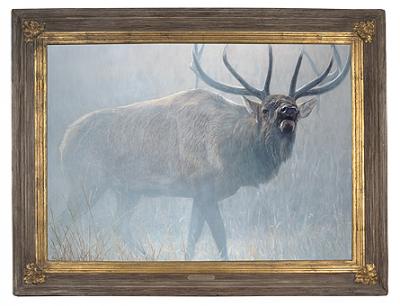 "Wildlife art is the oldest art form in the world," he says. "From the cave drawings, dating back over 10,000 years ago, people painted what was around them. And man's relationship to his environment is the oldest relationship we have. All these things we've created in our world, that don't exist in the natural world, are brand new, contemporary experiences. But we have such an incredible history with our environment. Remember, the environment at one point, was everything. Today it's not. Man has civilized his environment, controlled it, ordered it."
To counteract some of the detrimental effects man has had over his environment Banovich does more than just paint the great beasts of our planet; he's been finding ways to save them.  Working to conserve the earth's wildlife and wild places, in 2001 Banovich founded the Wildscapes Foundation.  Through important scientific research and understanding, habitat preservation benefiting community development, Banovich partners with several different world-wide organizations, with a successful history of bringing the non-hunting conservation community and the sportsmen conservationists together, for united efforts to save wildlife for future generations.
"I feel now, more than ever, we need to expand the message as to the vital importance of our natural places and art and the artist can play a unique role in the effort," Banovich says.  "Art can move, reveal and inspire us to seek a deeper understanding of the world around us."
Although not truly a plein-air painter, Banovich obviously works out in the field. He likens his process to that of a filmmaker, gathering footage, shots, inspiration and taking those back to the studio. 
"A filmmaker writes a script, my script will be some notes, a little, quick sketch on the back of a magazine or something, and armed with that script I go out – just like a filmmaker – and hire a location scout," he explains.  "But I can't hire the actors, that's why wildlife art is so hard."
However, before he even leaves his home south of Livingston, he is thinking about his theme, his idea, his connection to the world and what he is striving to bring about through his work.
"I'm thinking about it here," he says, looking out on the snow-sifted landscape. "I'm thinking about man's relationship with himself.  I want to bring our world into the animals' world and relate to it in some way."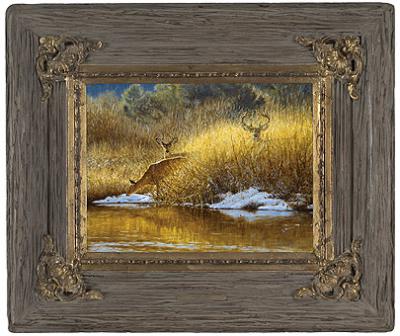 Most of the time the title guides the viewer, as in: Black Thunder; the Defensive Line; the Offensive Line; recently, there's a brand new one called Inside the Red Zone – making use of the sports analogies, using them as an instant icon, a method for people to apply the competitive sports to life and death survival in the ferocious natural world. 
"If I can find a way for us to relate to the wild on our level, it's better," he says. "Because there's still a huge wall out there that exists between humans and animals. If there was a deer outside your window, you'd look at the deer: you are here and the deer's world is out there. No matter how close you get, you can't transcend that world, you can try, but you can't. So I try to help bridge that gap with creating the gist of the piece coming from the human world reaching and transporting us into the animal world, in a way so that we can learn something about ourselves."
Sometimes, it's a title that inspires Banovich. He keeps a list of titles, keywords to feelings he'd like to explore. To fully understand the process Banovich explains how he came upon the perfect way to portray a line he'd had in his head, way before the calamity of World Trade Towers – "United We Stand." The painting is of cape buffalo: a hundred cape buffalo spread like the horizon beneath an acacia tree. They're all engaged with the viewer, facing outward. As long as they stay together, they'll stay, they'll stand. They'll be able to face any predator and any threat against them. 
"Now, I had that title before September 11," Banovich says.  "But I didn't have the right scenario for it. Then, as I was filming a PBS television show in the Serengeti last year, we were driving down the road, and I yelled out 'Stop the vehicle!' There was one lone tree and, from an abstract position again, and I saw a band of distant trees and mountains.  But it was very hazy and it was really just a band of colors, and there was this line of cape buffalo all standing there – I thought this was it. 
"I told the guide I wanted the light coming in from the side, so we had to position ourselves.  But first I have to get to know the subject," he continues. "With wildlife they don't behave the way actors do, I have to use a camera to get a lot of the information I'll need. I can know something about the subject, in a way that won't change the conditions. I can help create a unique condition. I knew that if I stayed there long enough the lead buffalo would come forward to check out the threat, see what I was. And that's exactly what happened. The lead bull started to pull out. But we had to spend time getting the light in the right position. I wanted the tree to become part of the composition. I'm not looking for a photograph I can copy. If I was that good of a photographer, the hell with painting, I'd just take a picture."
From the expansive amount of information he gathers in the field, Banovich returns to his studio, armed with a single idea and a thousand ways to get it across. But he must choose from all those hours, the lighting, the composition, just the right moment to present to the viewer.
"I have one second between heartbeats to tell my story," he says. "I only paint ten-percent of all the paintings I want to paint. For every painting that actually comes to fruition, there are ten others that didn't make it."
To see more work by John Banovich, visit his website at www.johnbanovich.com 
~ Michele Corriel is an award-winning freelance writer living and working in the Gallatin Valley. Her writing has been published regionally as well as nationally. She is currently working on a book about Montana artists.