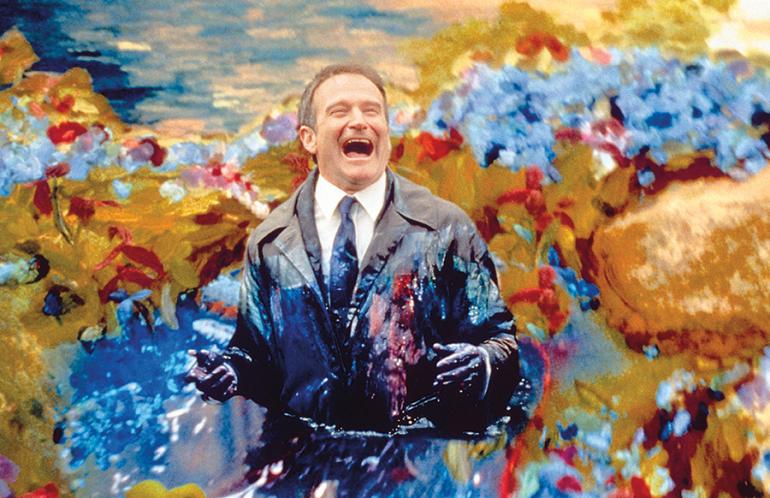 It's been a while, but the time may be coming for us to have a return of the genre I think of as Love Across the Supernatural Divide. Such flicks are melodramas, occasionally comedies, in which the obstacle to the central romantic couple is the afterlife and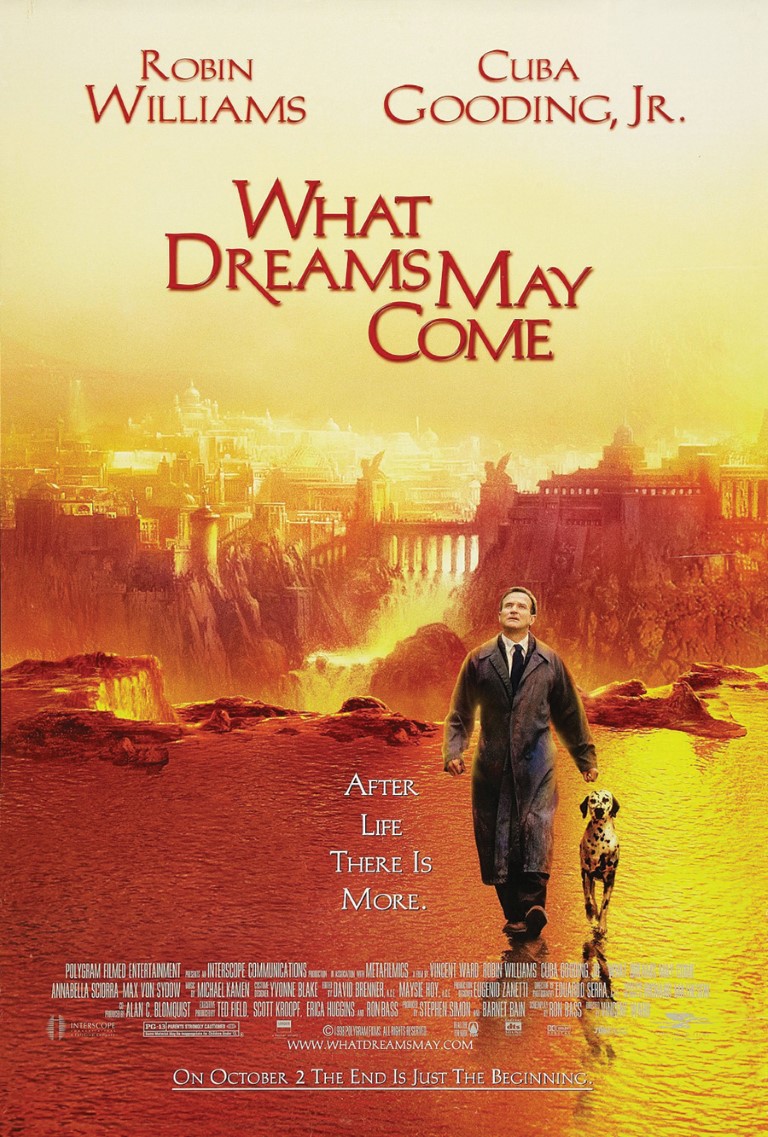 negotiating it. It's never entirely vanished from the cinematic landscape, but it has had notable periods of prominence. Several pictures from the thirties and forties fit within it, including Death Takes a Holiday (1934), Heaven Can Wait (1943), and A Matter of Life and Death (1946). There was a something of a resurgence of these supernatural romances during the nineties, with films like Ghost (1990), City of Angels (1998), and Meet Joe Black (1998) all enjoying popular success. The latter two were remakes, of the German Wings of Desire (1987) and Heaven Can Wait, respectively; Hollywood never declines to drink from the cup of plenty a second or third time. Which is not to say that Supernatural Divide movies can't be creative. One of the most visually inventive examples hails from 1998. What Dreams May Come, starring Robin Williams and Annabella Sciorra, features an afterlife that is a hodgepodge of earthly delights and torments as mortals personally imagine and remember, opening the door for wonder and dread. Montana helped supply portions of both Heaven and Hell, which longtime residents will acknowledge fits within real world existence, particularly where the weather is concerned.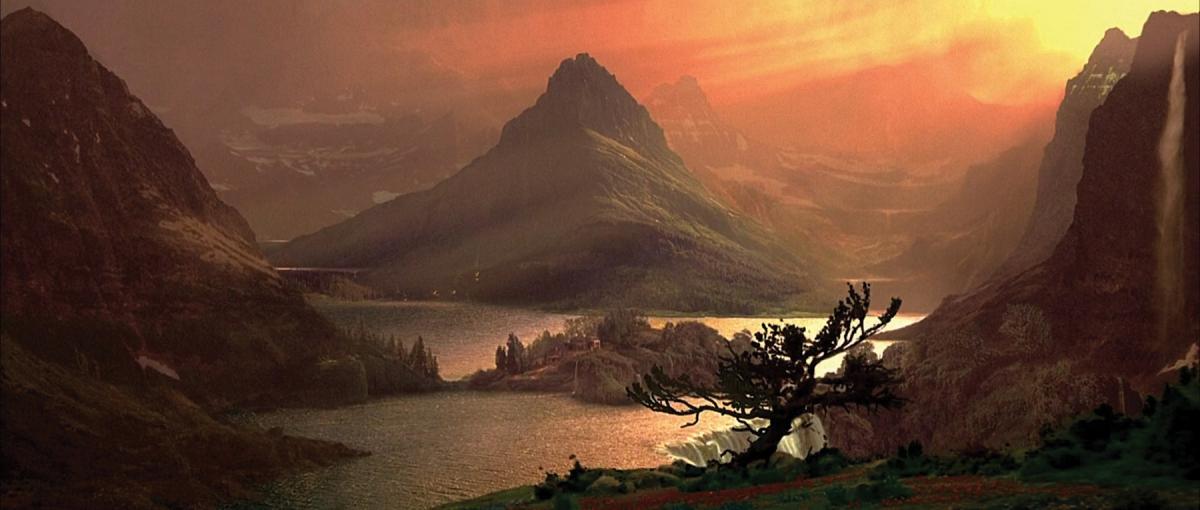 Adapted from a novel by Richard Matheson (of I Am Legend fame), the story concerns Chris Nielsen, a physician lucky enough to meet the love of his life, an artist named Annie, when they are both young. They marry and make a happy life together, only for their idyll to be shattered when their two children die in a car accident. Four years after this loss, Chris is himself killed by an automobile. He finds himself in the afterlife, which for him is molded from Annie's paintings and art they both loved; he is comforted by the presence of Katie, the family dog, and guided by Albert (Cuba Gooding Jr.), who assures him that he will see his children when he's ready to. Unfortunately, Annie, grief-stricken and hopeless, commits suicide and ends up in Hell. Chris determines to reunite with her, even though he has been told that no suicide has ever been rescued from damnation before. Will the power of true love be able to prevail against vast cosmic order? 
           What Dreams May Come is one of the only films to be shot on Fuji Velvia stock. Fuji Velvia is typically used for still landscape photography, and is noted for its ability to produce vivid colors. The Heaven scenes call for a palette of rainbow colors—the landscape is made out of literal paints when Chris first arrives in it—and it makes for a nearly phantasmagorical viewing experience. Even as the afterlife takes more solid shape, the painterly qualities of the film's visuals reign supreme. The film could be said to belong to cinematographer Eduardo Serra and the visual effects team (Nicholas Brooks, Joel Hynek, Kevin Mack, and Stuart Robertson) as much as to director Simon Ward. Indeed, the film won the Academy Award for Best Visual Effects, as well as a nomination for Art Direction. Classic art fans will be able to spot an abundance of influences and references, from Van Gogh and assorted French Impressionists and John Martin in the Heaven section, to Bosch and Arnold Bochlin when the action shifts to Hell. Glacier National Park was used to film a few scenes for both settings; its waterfalls and vertiginous mountains provide a taste of real-life grandeur to help anchor the surreal visual opulence of the rest of the film. Robin Williams provides a similar function.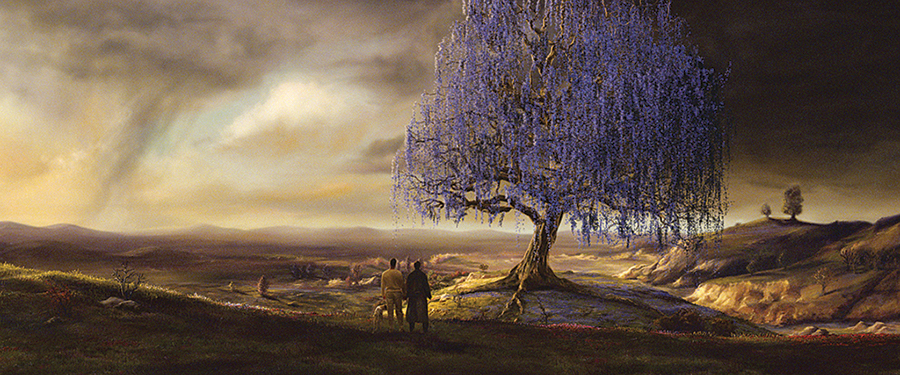 Released a year after his Academy Award-winning supporting performance in Good Will Hunting (1997), What Dreams May Come is another example of Williams's serious performances. He had played non-comic roles before these two, but this was the time in his career that more dramatic turns became more generally accepted as an option he could choose. He wasn't a conventional romantic lead, something a few reviews complained about, but there is a fundamental sincerity and warmth to his performance that makes it easy to see how Chris and Annie fell in love to begin with, as well as to invest in his soul-mated devotion to her. Sciorra was apparently uninterested in taking the part, but changed her mind after doing a read-through with Williams. She has a more static role, as Annie is depressed and enchained by grief for much of the film, but she and Williams nevertheless have a touching rapport in their moments together; the film would have nowhere to go if they didn't, so this is an important achievement. And, undeniably, Williams's own death grants a poignant meta-layer to the film that it wouldn't have otherwise. 
           The rest of the cast comes across well enough. Cuba Gooding Jr., at the high-riding post-Jerry Maguire phase of his career, gives a fun energy to Albert, as well as a dash of mystery. Although it is worth mentioning that it was this character, along with Michael Clark Duncan's in The Green Mile (1999) and Will Smith's in The Legend of Bagger Vance (2000), which led to the identification of the "Magical Negro" trope in American cinema. Two pleasant casting surprises appear in the second half of the film. The Tracker who guides Chris into Hell is Max Von Sydow; who better to led one across the infernal regions than the Exorcist himself? And who else would've been a better choice as one of the highlighted faces of the Damned that Chris nearly trips over than Werner Herzog? The Mandalorian has made this cameo less of an Easter egg than it would've been in 1998, but it doesn't make it any less appropriate.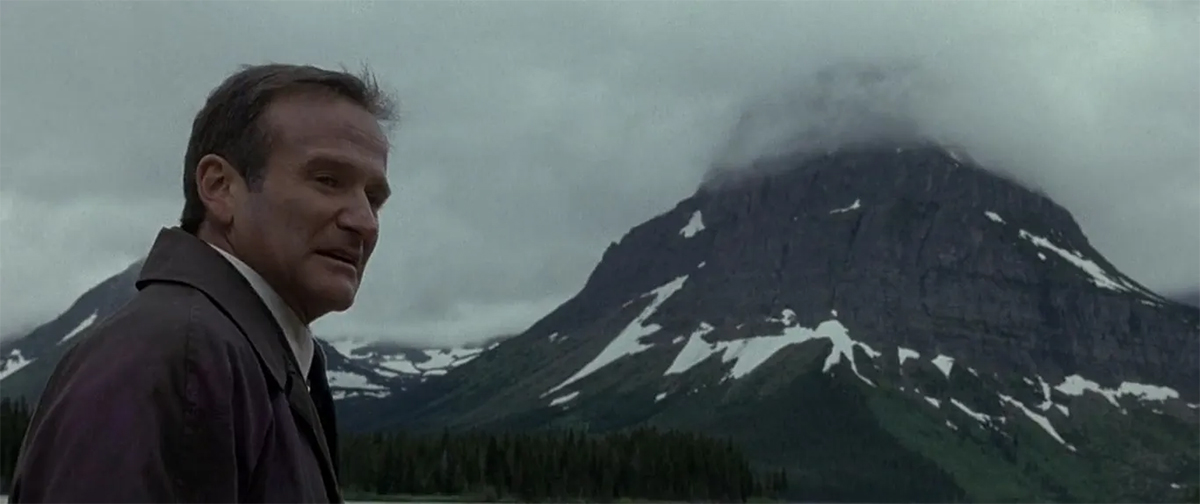 The movie received mixed reviews upon its release and came up short at the box office, bringing in $75 million against a $90 million budget. But even 25 years down the line, What Dreams May Come still stands as an impressive visual achievement, as well as an option for viewers in search of an earnest romance. And it's not every day that Love Across the Supernatural Divide is aided by Glacier National Park.