"The Only Emperor is the Emperor of Ice Cream" 
~ Wallace Stevens
Full disclosure: I love ice cream, not every kind, only the best. Fortunately Montanans excel at making top quality ice cream. In the case of Wilcoxson's and the Big Dipper, I think better than Haagen-Daz and Ben & Jerry's. The reasons are fourfold: they are hand-crafted, the milk & cream come from Montana dairies, the other ingredients are Montana-sourced too, thus supporting local communities. 
Here are my favorites, perhaps yours too. They can be found either in your local grocery store or in venues around the state.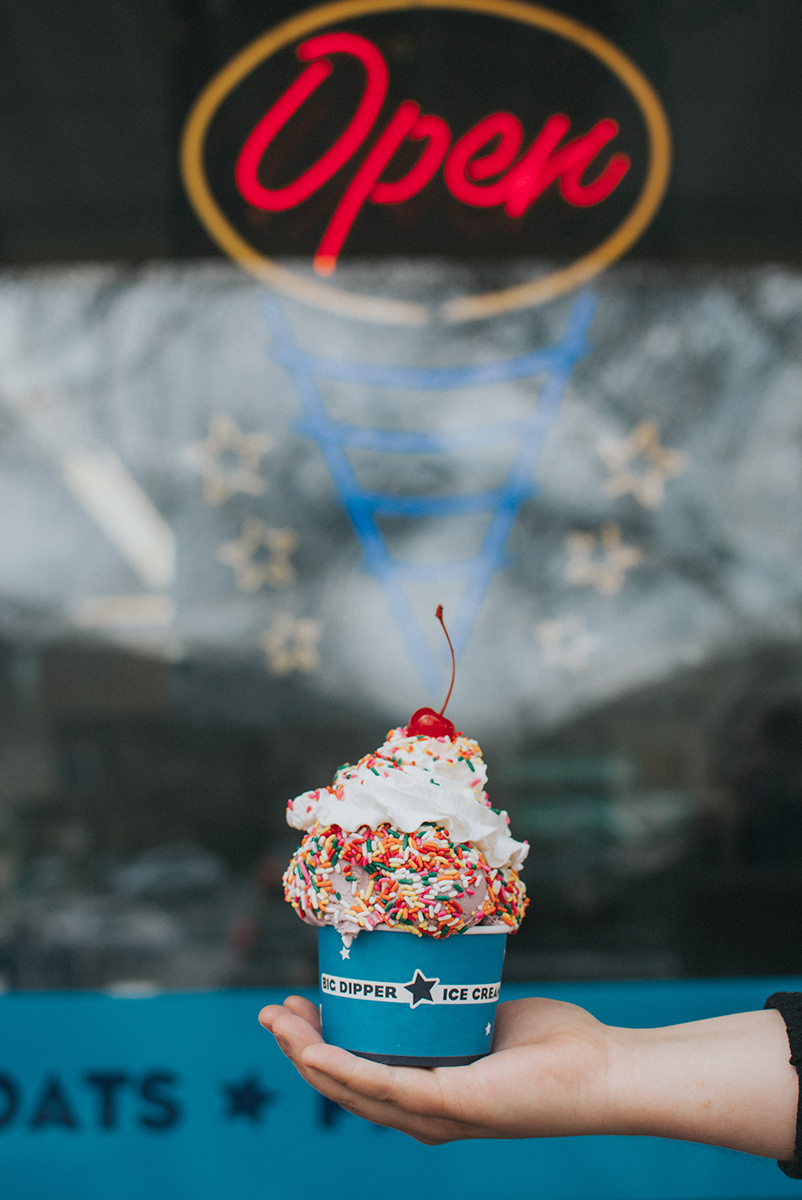 Big Dipper. When I go to Missoula my first stop off the Interstate is the Big Dipper on Higgins. The stand-out shop is a joy to the eyes. Even in winter people stand in line to order their special choices. The Big Dipper offers numerous flavors, created as inspiration guides them. Some of my favorites are Mexican chocolate, cardamom, coconut, black licorice, and espresso heath. Amy, a manager said her favorite flavor is white mint oreo, especially if you like oreos. I order by the cup and sit at one of their wood picnic tables and savor my treat. Others swear by their shakes or sundaes.
Their ice cream is made in an 800-sq.ft space that includes a refrigerator, walk-in freezer, production area, and retail windows. They also make their own waffle cones there.
The Big Dipper was founded by Charlie Beaton in 1995. The Big Dipper has been featured on Good Morning America and received awards from Food and Wine Magazine, USA Today, Yahoo News, and Budget Travel. 
Big Dipper locations: 58 N. Last Chance Gulch, Helena; 100 N. Broadway, Billings; Xanterra lodges in Glacier and Yellowstone National Parks. On the radar is an outlet in Bozeman—with all the flavors. The Big Dipper also has a truck called "Coneboy" that travels to Missoula events and is featured at private parties, weddings, etc. Call (406) 543-5722 to reserve the truck.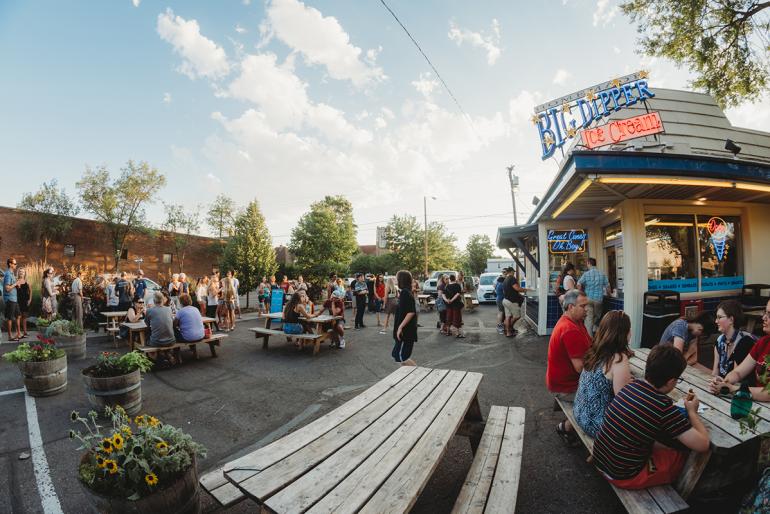 ---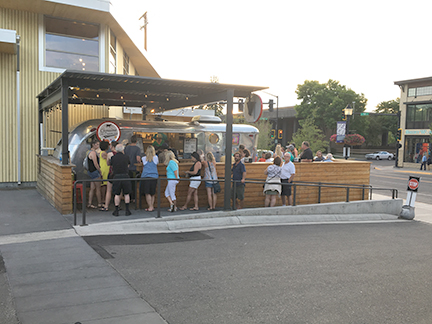 Sweet Peaks. Sam Dauenhauer and Marissa Keenan started Sweet Peaks in Whitefish in 2010. Located at 419 Third St., they offer flavors that vary with the seasons, such as Madagascar vanilla, chocolate love, salty caramel, coconut dream, cupcake, grasshopper mint, honey cinnamon, Montana coffee traders with toffee and chocolate. A concoction called "inversion" combines Earl Grey tea steeped in milk, swirled in house-made lemon curd and a vanilla biscuit.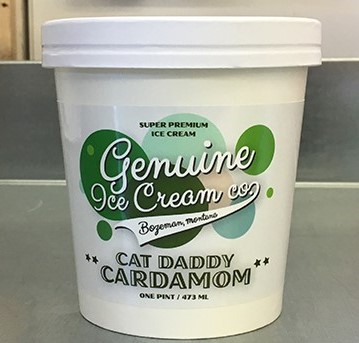 How do they come up with a flavor: "We like to reinterpret classic flavor combinations and use local produce and products to create new and exciting flavors." You can suggest your own ingredient for them to consider. You can pick up a three-gallon container for large gatherings. They have a fleet of trucks and trailers for Farmers Markets, weddings, and music festivals.
According to Marissa, she and her husband are more concerned with brand identity than distribution in general grocery stores. They specialize in enticing locations whether in Whitefish or 223 Front Street, Missoula; 628 W. Main St., Bozeman; 343 S. Main St., Kalispell; Spokane. They want people to enjoy a quality product in a welcoming environment with a staff that provides hospitality, not just service.
Their ice cream is made in Whitefish and then trucked to their locations, all of which have large walk-in freezers. Their staff ranges from 30 people to 100 in the summertime. Some started when they were in high school and continued well beyond.
---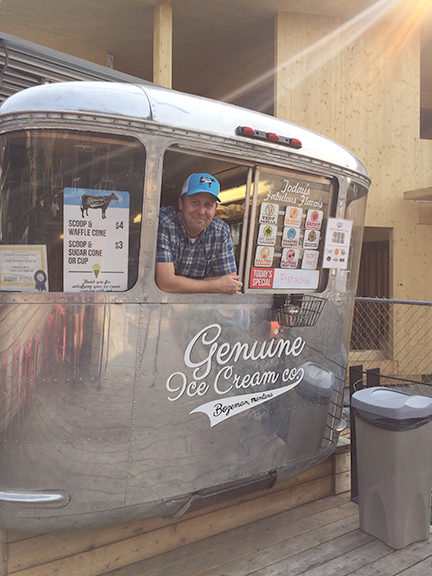 Genuine makes small-batch ice cream by hand in Bozeman. In summer months find them in the trailer parked next to the Lark Hotel on Main Street in the center of town. They cater weddings, corporate events, and take special orders for cakes and pies. At special events they will manage a custom sundae bar. 
The company may be small but it offers unusual flavors and changes them often because their main goal is "flexibility and fun," as owner Joe Darr says. Aside from the favorites, they like to "flip flavors," creating for example toasted s'mores, honey lavender, brown butter pecan and cat daddy cardamon.
The Genuine location on Main Street is in a travel trailer with rivet lines, made by Spartan in Oklahoma City. Joe hauled it up to Montana, gutted and refurbished it to give it its unique look. 
Some Genuine pints are sold in local groceries. The Roost (a popular chicken restaurant which Joe Darr founded), Community Food Co-op, Joe's Parkway (no connection to Joe Darr), Town & Country Foods, and Heeb's.
---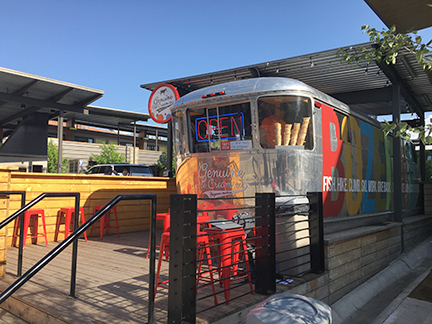 For ice cream made the old-time way head to the Virginia City Creamery on Wallace Street, open Memorial Day to Labor Day. You can watch the ice cream stirred in an antique power maker. The recipes are adapted from an old White House cookbook. "Wedded bliss" is a vanilla swirl with salted caramel and fudge. Among other 20 flavors is double chocolate orange. They make their waffle cones on the premises. For this and many other reasons it's worth a trip to Virginia City. 
Owner Mark Weber says there's also a City Creamery in West Yellowstone on Canyon Street.
---
Wilcoxson's Ice Cream has been manufactured in Livingston since 1912. Prior to 1967 all the flavors were made by hand; then they added automated equipment. The ice cream is widely distributed in stores across Montana and northern Wyoming. Thousands of people first got introduced to Wilcoxson's in Yellowstone Park and have not only spread the word but ordered costly shipments. A new plant was added in Billings at 114 N. 19th St. to aid distribution and to make a number of the ice cream novelties, such as ice cream fudge bars and sandwiches.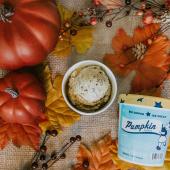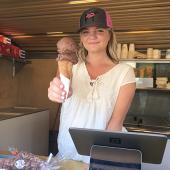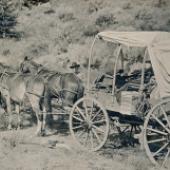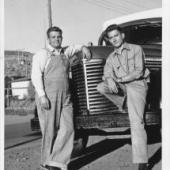 Carl Wilcoxson first began selling fruits and vegetables, then candy in partnership with his brother-in-law Harry Swingley, but an ice cream business with a secret recipe soon took over. His son, Harold Dean, worked with him, first cleaning cream cans and then running the company. Harold died recently and was known as a kind, generous mentor to all. The current president is Matt Schaeffer.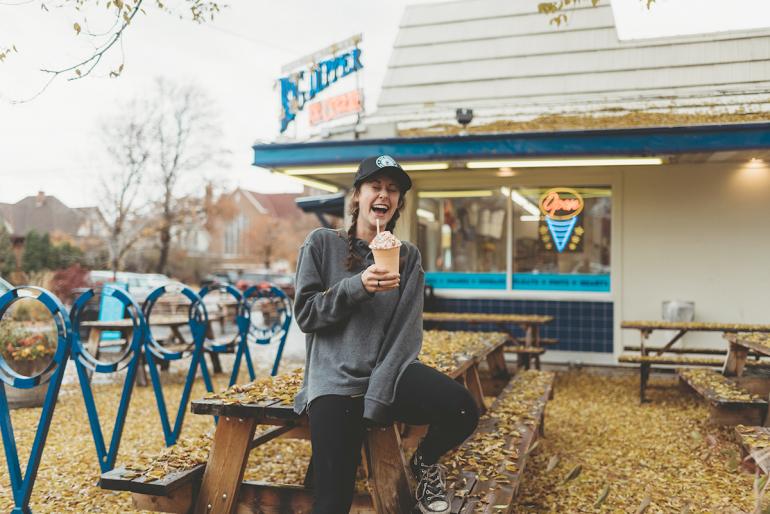 According to Schaeffer, the ice cream starts out as raw milk and cream. The two ingredients go into a 600-galloon stainless steel pasteurizer where the mixture is heated for an hour, then held for 30 minutes, before it's pumped through a homogenizer and becomes ice cream mix. The vat pasteurizers are the secret to good ice cream. After fruit, fudge, and other ingredients are added, the blend is then cooled in refurbished 1950s-era freezers. Intensive quality control is important at every stage.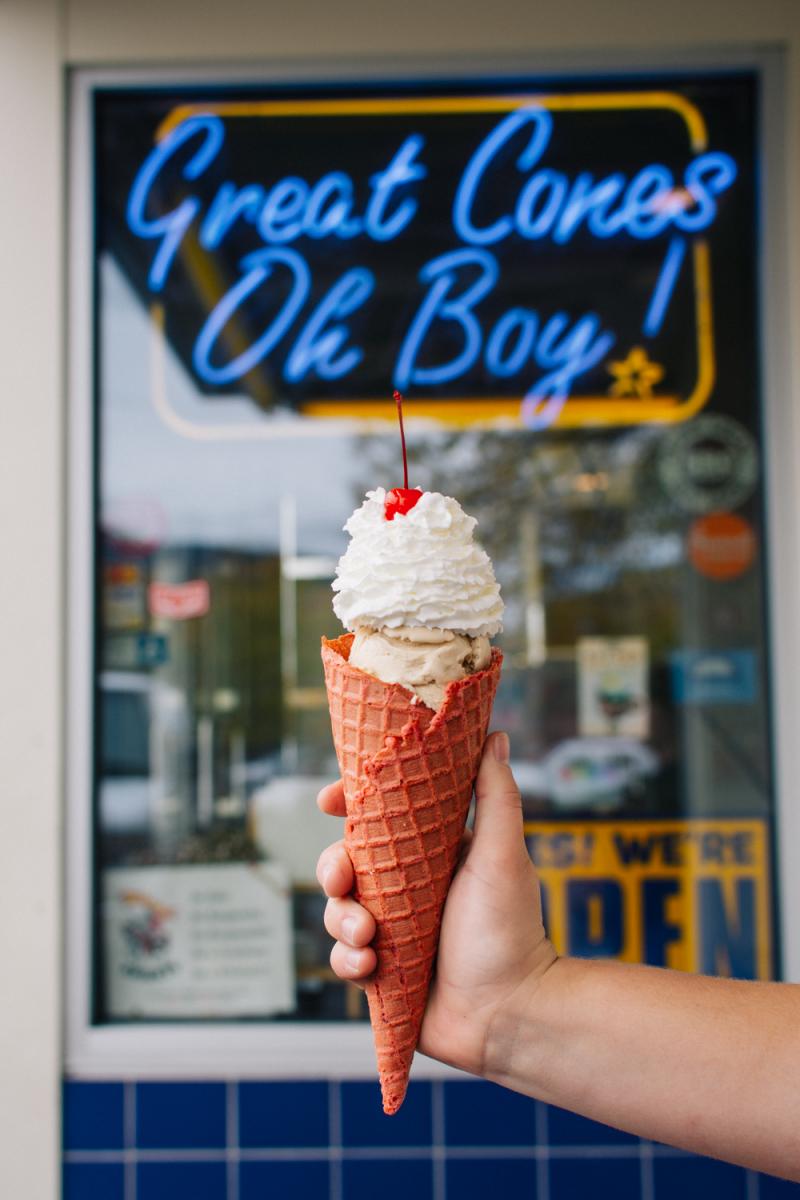 Wilcoxson's has chosen to remain a small wholesale business because to compete with the national brands for shelf space in the giant grocery stores is too expensive. Despite that barrier Wilcoxson's has outsold national competitors. To have Wilcoxson's ice cream shipped to you, call the Billings office, (406) 259-6572.
You probably have bought pints or half-gallons of the ice cream and have your favorites. Mine without doubt are Chocolate Runs Through It (chocolate with Belgian chocolate chunks) and Stuck in a Rut (French vanilla with caramel swirl). Rich thick Peppermint Stick is popular during the holidays. Here's a tip for you gluttons like me out there: Some stores make a bigger cone or dish than others (hint: Pickle Barrel).