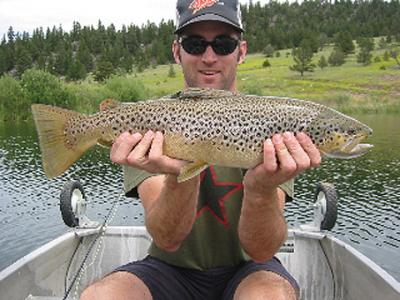 Montana:  land of the best beef, wheat...and seafood?  Since the Montana Fish Company came ashore in downtown Bozeman, fresh fare from both coasts is finding its way upstream to Gallatin Valley dinner tables.
As it becomes more and more feasible to obtain fresh seafood away from the coasts, Travis Byerly and Kevin Stein, co-owners of the Montana Fish Company, wisely gauged the need for a new fresh fish market in Bozeman.  Since they opened their store in June of 2005, Byerly and Stein have enjoyed fast success and a growing reputation.  After a visit to the hip MFC, it isn't hard to see why.  
The familiar smells of a fish market are certainly in the air but just as tangible are the energy and personalities of the two young owners.  It's immediately clear that the MFC is not just another fish store.  Both Byerly and Stein have fished all over the world; the fisherman's lifestyle is in their blood and reflected in the store. 
Collectible surfboards and paddles loom above colorful seashell charts, and color prints showing themselves with friends and family on fishing expeditions bedeck the walls. In one, their Wholesale Manager Drew Harbour's father, who skippered a fishing boat out of Newport for twelve years, shows off a big catch in Hawaii.  Another shows big-wave surfer Nelson Togioka, MFC's purchasing agent in Kauai, next to a glistening fish as tall as he. 
Married to local sisters Molly and Maggie, the brother-in-law team works well together and agreed on wanting to "create something that fit in Bozeman."  
"We're here all the time," says Byerly.  Stein adds enthusiastically,  "We did everything ourselves...from the flooring to the light fixtures."
Along with a talented staff, the MFC team has created a new fish market that caters to the growing and diversifying clientele of the Gallatin Valley. This market is not only an interesting place to visit, but a stimulating place to work.  Brie Schultz, sushi chef and Finished Product Manager, has been rolling at MFC from the start and says  of her coworkers, "We're all great friends."
Once aspiring pro-athletes, (Byerly was a sponsored snowboarder, Stein a sponsored cyclist), the two owners have taken the drive and health-conscious attitudes of their active lifestyles and transferred these qualities to success in their new roles as fishmongers.   
While Byerly focuses on the wholesale and sourcing aspects, Stein lends his marketing acumen to the retail aspects of the operation.
"Once we decided we were serious," Stein says, "we did a whirlwind tour of fish markets in southern California."  This extensive market research allowed the pair to see what they wanted to emulate, and what they wanted to avoid. 
After much travel and professional consultation, Byerly and Stein decided they wanted to "focus on fresh product one hundred percent." But finding and catching high quality product isn't easy; especially hundreds of miles from any coastline.  
"We have worked hard at developing our sources.  We're directly involved with suppliers - fishermen - the world over," says Byerly.  "We know fish, we know fishing...we get the best."
The Montana Fish Company's Hawaiian source allows them to market fresh high quality Hawaiian product often just two days out of the water.  Ahi and other Pacific and Hawaiian species are, according to Stein, "handpicked specifically for us on the dock".  
The MFC also takes advantage of top-notch sources for their wild Copper River Alaskan Salmon, Dungeness crab and live Maine lobsters.
The bright and clean eight-foot fish case is the focal point of the store.  At any given time customers may have their choice of twelve to fifteen varieties of fresh fish.  Multiple varieties of ahi and halibut are displayed temptingly next to exotic snappers, live oysters, mussels and diver-caught scallops.   
"Everyday our product changes," Byerly comments, "but what can't change is the people behind the counter." The style at the MFC highlights customer service.  The staff is eager to share recipes and suggestions with customers unfamiliar with such Pacific species as ono or hebi, or even a unique variety of ahi, snapper or halibut.  
And local customers appreciate not only the personal attention, but the fresh quality.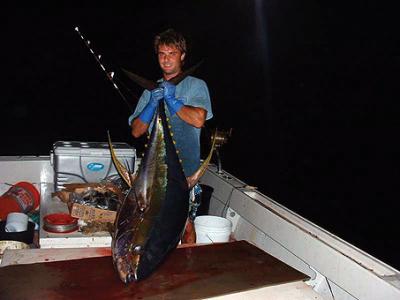 Loyal customer Greg Burden, stopping into the store to buy Maine scallops the size of baseballs, exclaims:  "They've got the freshest seafood in town!"  
The MFC also caters to the Bozeman market's concern for healthy fish harvested in a sustainable manner.  They typically buy troll caught fish, a higher quality and more expensive fish that aren't hanging on a line for hours, diver-harvested scallops, and farmed oysters and mussels, the harvesting of which doesn't harm the fragile ocean floor ecosystem.  Their product comes almost exclusively from well-monitored US fisheries.
"We are fish eaters," says Byerly.  "We are very involved in the levels of health in our products as well as the sustainability and resource conservation issues.  A healthy fish product is the result of a healthy environment."
As Byerly claims, dedicated and focused customer service "is imperative to our business and to our success."  And it's not just for their walk-in sales either. 
The MFC works with a number of locally owned restaurants, resorts, and guest ranches.  When not cutting fish, Wholesale Manager Drew Harbour can be found delivering fresh fish to the Rainbow Ranch and Lone Mountain Ranch in Big Sky, and the MFC team works closely with clients such as Boodles, the Emerson Grill, Dave's Sushi, The Cateye Cafe, and the Sweet Pea Cafe to help develop seasonal menus involving various fresh seafood items.
"We try to carry enough [variety] to where eight restaurants in Bozeman can have different fish specials at the same time," Byerly says.
With more accounts waiting to come on board, the MFC recently opened a warehouse to more effectively handle their growing wholesale accounts.  Located in east Bozeman, the new facility will serve as a distribution and processing center.  It is the first FDA certified "clean room" for fish processing in the area.  The warehouse will process whole fish and allow the Montana Fish Company to continue selling the freshest product available.
Stein has extended this concern for quality to the retail aspect of the operation as well.  The MFC now carries exclusive lines of gourmet knives such as Kershaw, Chroma, and Kai.  A collectible Chroma knife adorned with the MONTANA FISH COMPANY logo will soon be available.
Along with the usual seafood accompaniments such as Old Bay Seasoning and complimentary lemons, the smart retail space is filled with quirky pastas, chips and crackers, savory oils, and sauces.  In keeping with the Hawaiian connection, Kona coffee and macadamia nuts are always in stock.  Fresh sushi is rolled everyday for lunch and house-made chowders and salmon spreads are often available.
With their developing catering division, the MFC is on its way to becoming a Bozeman institution. The characteristic sticker sporting the silhouette of an ahi - what Stein has dubbed their "signature fish" - is seen on everything from bumpers to bike helmets and reflects their burgeoning popularity.
The MFC appeals to those that enjoy the Bozeman lifestyle.  As Byerly observes, the Montana Fish Company links "travel, fishing, lifestyle, beach and mountains." 
The Montana Fish Company is located at 119 East Main in downtown Bozeman.  They are open seven days a week; give them a call at 406-556-0200 and see what's on the line today.
~ Stephanie Gandulla is a Bozeman resident and frequent contributor to Distinctly Montana.