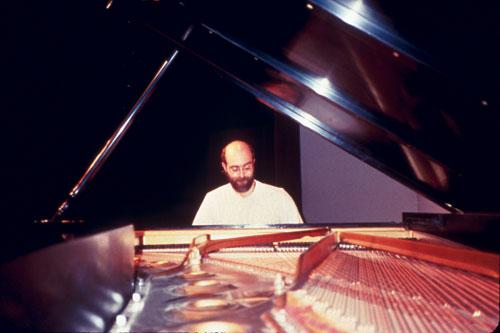 I ask George Winston to tell me about "The Mountain Winds Call Your Name" from his 2004 CD, Montana, A Love Story. This tune, track eleven, is the one that arrests my distraction. 
"I dunno," he says. "I think I composed it in Telluride, maybe '98. It was a ten-minute composition, then it was back to practice." 
As a fan of Winston's since I was eighteen when I first saw him perform at Boettcher Concert Hall in Denver, Colorado, this answer is less than satisfactory. My exposure to music since then has taken me beyond Winston's style and, perhaps, returned me to it. 
Winston's music is found in the New Age section of the store; yet his melodies have a geniuneness foreign to the likes of this genre's standard icons such as Andreas Vollenweider or Enya. There is a silence to his pieces that engages beyond the simplicity of the playing. 
On Montana, A Love Story much of what Winston does is play other people's music. During our phone interview, he freely claims: "I'm an interpreter, not a composer. I hear music all of the time. I hear Ray Charles playing Sam Cooke--not that he ever did . . . I don't listen to music, just think music." 
I'm puzzled by the lightness of his response to my question about how "The Mountain Winds Call Your Name" was composed because I want to know two things: who is the you, and what was he hearing when the song arrived? Was he on a mountaintop? In love? Out of love? Talking to God? 
Of course, these questions come to mind because of living in Montana and spending time in the forests and mountains and wondering why back in town things aren't quite as clear. 
Winston's music has always done this to me. Granted, Winston's was some of the first solo piano I heard. My concert-going usually took me to hear U2, the Police, the Pretenders, or the Clash. Winter Into Spring, Winston's 1982 release, was loose; it had space; it echoed how my mind wandered across the high plains in a solitude that was not lonely. It took me to a peaceful place when listening to music that before I had only found in nature. 
Over the two decades since then I discovered Keith Jarrett, among many other fine musicians. I am not the first to compare the lingering of Winston's notes to Jarrett's, but music critics and fans perhaps have a hard time knowing what to do with Winston's music for the same reasons they might not understand Montana. Montana doesn't fit any one category and the gestalt isn't neatly defined. Winston's music is not New Age; it's not folk; it's not classical or jazz or rhythm and blues; it's not contemporary. It has elements of each of these, but mostly it is his sound, or rather, the way he hears songs. 
Montana, A Love Story, represents Winston's homage to the full circle of adult understanding of childhood place. Winston now calls Santa Cruz, California, home, although he quickly explains "it's a matter of airports." His tour schedule is rigorous, this year through Illinois, Wisconsin, a month in Japan, and so on. "I always make time for a month or two in Montana," he says. "It's the basis of my inspiration, musically and in other ways." 
Winston grew up in Miles City and started playing organ as a teenager. He switched to piano after hearing The Doors. He was eighteen. He'd been playing Fats Waller. A new world opened up. By the age of 22, in 1971, he was playing solo piano concerts. 
Many years later he heard Frank Zappa's "The Little House I Used to Live In." Winston says, "It took me right back to a November day in the attic, fairytales and imagination." This song became the keynote, in a sense, to the Montana, A Love Story, CD. It is the one reviewers most often comment upon because of its idiosyncrasy to the CD's waltzes and to Winston's soothing sound as a whole. New Age reviewers don't get it because of its "discordant" notes. Other critics grudgingly admit surprise--and respect--at hearing Winston break form and take a risk. In Winston's hands the song communicates melancholic memories of a child who does not want to be where he is and does not want to be alone.  
Montana, A Love Story delivers layers of life in Montana: periods of solitude exploring or working our landscape interspersed with rhythms of the community dancing the night away. The tunes on this CD give the listener both worlds: the inner and the outer, mindscape and landscape. 
Seventeen songs fill the CD for a total run-time of 54 minutes and 25 seconds. Five waltzes demonstrate Winston's appreciation of American, Canadian, and Irish fiddle and flute music. His selections range from the early 1800s to new releases. Five of Winston's original compositions hold the center and the close of the CD; these pieces are mostly quite short--around three minutes--but provide depth. In the seven other songs Winston presents a traditional Chinese lullaby along with diverse music from Mark Isham, Frank Zappa, Sam Cooke, and Montana's Philip Aaberg. 
The liner notes are a music primer--as is his Web site--with comments about the song's time period and Web links for the composers. There are no long commentaries from Winston about the why of his playing or what he brings to it; Winston's homage to his musical influences is indicative of his humility as a performer and joy as a musician. In interview, too, it is hard to get him to talk about himself. His answers to questions about particular choices on the CD immediately take the conversation to someone he considers to be a great composer or player (Philip Aaberg and Earl Hines top his current list). Still, we cover interesting terrain. 
Distinctly Montana (DM): If you were not a musician, what career would you choose? 
George Winston (GW): (without hesitation) A scientist. You'd have a greater amount of certainty about what's going on and there would be practical applications to enhance life. Science got us into this mess--it's the only way out of it, too. 
DM: How is it different playing in Japan and Montana?
GW: Japan is much quieter! And no one would ever dance in Japan. Since the '60s dance music has been extremely loud. With my music, if you do it long enough, they'll dance. I've never danced in my life. If there was music, I listened. No time for a chick! I have to ask my friends if I'm getting the speed right for dancing. Either that, or I look up and see the dance floor is empty. 
DM: Talk about the contrast between composing and performing.
GW: Live is the main thing--performing. Composing is secondary. Although to me, really, it's all about study and practice. I believe in both causation and whatever. Causation is sitting down every day to practice, that will make me a better player. Whether or not I get a song out of it, whatever. It's like a cloud, you know? Maybe it will emerge and maybe it won't, but all of the pieces are there. 
DM: Why do you say this CD completed a circle for you?
GW: It's a childhood relationship to Montana and now. It's always been one thing, but now I'm realizing it more and more. It's about understanding the four seasons and change. The seasons are a foundation for everything else. 
DM: Everyone complains about the changes in Montana. What do you see? 
GW: I just see the trees. I don't notice something like billboards; I'm too busy with the ground. I guess I don't really know what people are talking about since eastern Montana is dying, isn't it? I like the great plains more than the western part of the state, where something kind of happens. It opens up. 
DM: When did you decide to put this collection together? 
GW: Probably 1999, although it's my whole life. It's a love story about Montana and the friends I had there growing up and now. 
DM: Why did you choose "You Send Me"? What did you want your interpretation to do with the tune? 
GW: I do it at the Saturday night dances in Montana, so I was thinking of people at them. I recorded it for the Plains CD and didn't use it. I've never played it that way again; usually there are more hard beats. 
DM: What other art forms do you practice, such as painting, writing, cooking, . . . ?
GW: None! I couldn't do any of it. 
DM: What is your favorite sound? 
GW: My favorite sound on the planet is the Western Meadowlark. You have got to listen to Philip Aaberg's "No Wonder They Sing." It's the last track on his High Plains CD. It's about the Meadowlark. 
DM: Besides folk, jazz, rhythm and blues, and the Doors, what other music do you listen to?
GW: I don't listen for pleasure, hardly ever. I don't listen to music, just think music. 
DM: I've heard some writers say they don't read anything while they are working on a novel because they don't want anything else coming in, just the world they've created. Is that what you mean? 
GW: No, there's nothing to block out. There could be Muzak in a shopping center and I don't hear it. 
DM: How do you decide whether you'll play a song on the harmonica or the piano?
GW: The tune just works better on one instrument or the other. I hear it on that instrument in my head. 
DM: How did you start doing the environmental and humanitarian benefits? 
GW: I was just trying to help out since the flood; was it in the 80s? It started in Montana since Montana gave me everything. 
DM: What causes do you feel the strongest about? 
GW: Hunger. It's the bottom line, you know? You gotta have food. There is always some kind of need everywhere, someone has lost a job or whatever. 
DM: Do you fish? Ski? Hike? 
GW: No, not really. I just like to be in the trees, watch the seasons. 
DM: When will you be in Montana again? 
GW: July or August. I'll be at the Emerson again--that's such a great place. I'll play some from the new CD and we'll see what else. 
Throughout our two-hour converstation Winston is irreverent when we discuss his music, yet completely articulate about everything else. In particular, his serious side emerges when world news comes up, and he is the first to bring it up. He is deeply concerned about the calamity and destruction going on in politics and in nature. In the past few years his recordings have responded to 9/11 and he's worked with George Levenson of Informed Democracy. Currently he is working on a hurricane relief benefit CD. One hundred percent of the proceeds will go to New Orleans. All of Winston's September and October 2005 concerts were benefits for the hurricane relief efforts. 
The last two songs on the CD, Montana, A Love Story, are his compositions "Sweet Soul (Gobajie)" and "Sky (Gobajie)," named for his cats. About one he says, "There are those who leave a deep indelible imprint on us" and for the other he writes, "Love beyond wonderment." Thank you, George, for your honesty in your work and for letting music speak where words fail. Your music is from the heart, and, as you say, "What makes a song good? If you think a song is good, it's good." 
~ Since 1986, Savannah Barnes has lived, loved, and written in Bozeman, as well as waited tables, built doors, run mountaintops, managed concerts, and taught English. Someday she'll return to fiction, but in the meantime she's busy writing water resources education curriculum for children and teachers and caring for her seventeen-year-old wonder dog, Satchmo.