Wow…what a winter. If record snowfall is an economic indicator, we are positioned for a stellar year. Interestingly enough, the nation reported first quarter sales were down in comparison to 2013. Many markets, including some in Montana, quoted severe weather as one of the causes for sales decline. However, Bozeman and Big Sky fared far better than average for the first 90 days of 2014.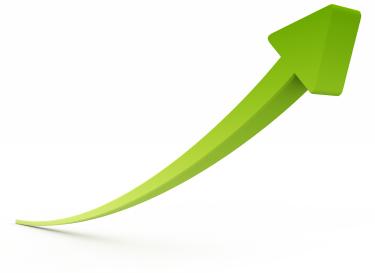 Information compiled and recently presented at a statewide REALTOR® meeting by Dr. Scott Rickard, Director of the Center for Applied Economic Research at MSU – Billings, provides some specific data to analyze. In the report, he focuses on the markets which are considered the most influential and largest in the state — Billings, Bitterroot, Butte, Gallatin (Bozeman), Great Falls, Helena, Missoula, and Northwest (Flathead).
Just a quick recap for 2013 found Gallatin with the highest average sales price of $259,000, followed by Missoula at $230,000, Billings, Helena and the Flathead at $210,000. All other markets reported average sales prices below $200,000. Billings lead the state in number of sales with 2,248, followed by the Flathead at 1,801, Gallatin at 1,743 and Missoula at 1,211. All other markets had less than 1,000 sales.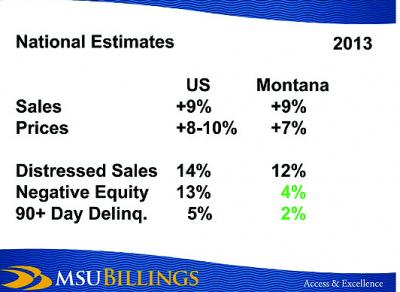 Many Montana cities followed national trends with first quarter sales down when compared to the previous year. Missoula sales declined 25%; Billings was down 16%; followed by Helena with a 14% decrease; Greats Fall -9%; Flathead -3%; and Bitterroot -1%. The two markets reporting increases were Bozeman with a 4% rise and Butte with 3%.
Montana markets in general are still focused on the prime selling season of May through August producing 42% of total annual sales. Bozeman and Big Sky fare above average in the off-season market of December through February (which produced only 19% of the sales statewide) because of the strong skier traffic.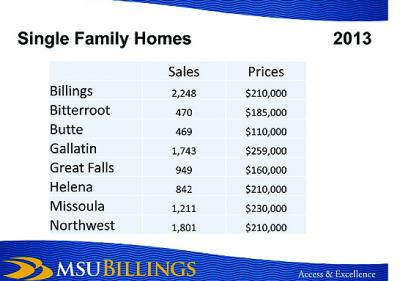 New construction remains very healthy with building permits across the state experiencing a 20% growth rate over the past 36 months. Many builders and subcontractors who moved to North Dakota and Eastern Montana to assist in the construction needs of the Bakken have now returned to their home towns as housing starts are thriving across the state.
Montana tends to move a bit behind the nation in recession and rebound trends. But we were quite blessed during the 2006-2008 economic challenges, when we experienced a much milder and kinder recession than most. We did not face the staggering numbers of distressed sales and foreclosures like many western states. Nevada and Arizona led the nation with record high distressed sales. As we look at 2013 as a recovery year, Montana had 12% of total home sales reflected as distressed sales in comparison with 14% nationally. Only 4% of our properties are considered to have negative equity versus 13% nationwide, and our 90 day past due rate is only 2% instead of 5% in the US.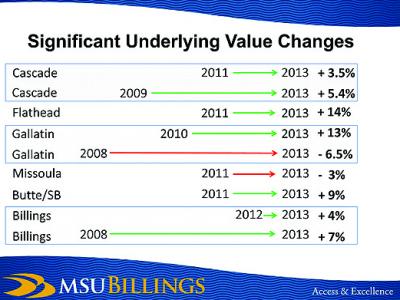 Many of you often ask where our markets are positioned in regard to peak values and are prices increasing again? Research on Significant Underlying Value Changes (tracking homes with similar architectural style, square footage and age) indicates that Great Falls has experienced a 5.4% increase in its underlying values from 2009-2013. Billings is showing a 7% increase from 2008 to 2013. Bozeman and the greater Gallatin area are reporting a 6.5% decrease in underlying values for the same period. However, if you look at Gallatin from 2010 to 2013, the market has appreciated by 13%. Most communities saw prices peak between 2006 and 2008. A few markets only had stats for 2011-2013, with Flathead boasting a 14% increase in values, Butte at a 9% increase and Missoula at a 3% loss. Although most of us in the business feel that prices have increased significantly in the past three years, we are still not back to peak prices. This year's sales should see us even closer.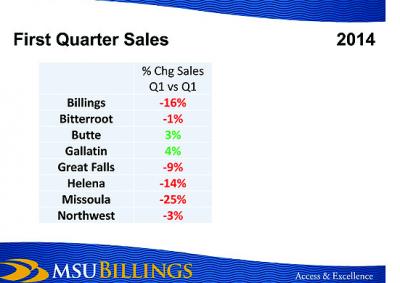 One last statistical question to contemplate is what is happening to the next generation of homebuyers? The obstacles of the past eight years have found many adult children staying with parents longer, living in rentals, delaying marriage and families…and postponing the dream of homeownership. Montana is also following that national trend. In 2010, our population was 989,417, and our rate of homeownership was 69.7%. By 2013, our population grew at a rate of 1.25% per year to 1,015,165; yet homeownership declined by .5% each year to a recent low of 67.5%. As Montana stabilizes and moves forward, think about your child, grandchild, niece or nephew…okay any relative or friend's child. Reflect on how much owning your own home has meant to you. Maybe it is time to pay it forward by co-signing or assisting with a down payment for the next generation!