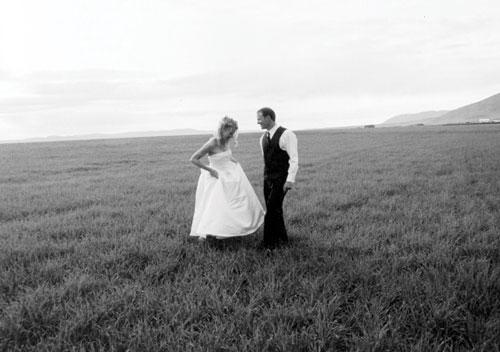 Every wedding dazzles with its own special ingredients.  Flower arrangements and fancy cakes create atmosphere and beauty.  The right photographer will see your vision and provide lasting impressions of your most memorable day and vows.  When you begin to plan for these special aspects,  you might find yourself re-energized, for the spectacular beauty of this state attracts artists in wedding design.  You can be sure if you are planning your wedding here you will find no shortage of talented people to do your flowers, photography, and cakes to accent the grand purple-wheat-and-blue backdrop of the Rockies and golden-grass-lined rivers of Montana.
Flowers have a tremendous impact on people, never failing to earn a smile.  In Montana there are numerous florists that can make your occasion festive and grand.  In Bozeman floral designers, Allison Webb and Sharon Lehto, who work with Paradise Custom Weddings, have a vast knowledge of horticulture and flower arranging.  Allison says that she is partial to a "natural contemporary" style, rather than bonsai styles.  Sharon's expertise, on the other hand, is in thematic large-scale designs, which perhaps arises from her childhood as the daughter of garden center owners where many plants exist in one area.  The nice thing about their shop is that they see brides on Saturdays by appointment only, so you can be sure to feel taken care of if you go.
When choosing your flowers, the freshest and least expensive options are whatever is in season.  Some people gather sage or perennials from their private gardens. Since most wedding professionals say that Summer remains by far the most popular season to get married in Montana -- "The sun doesn't set until 10:30 p.m.," says Shionagh Stuehler of A Big Sky Event in Flathead Lake.  "Your choices range from blue hydrangeas to roses of all colors, to delphiniums and calla lilies. Many modern brides opt for brightly colored dramatic bouquets. One bride chose deep red roses accented with gorgeous lavender stalks to contrast, rather than blend in, with her white gown.  Many bouquets are made of simple all-one-color arrangements or one kind of flower, calla lilies being a favorite for their unique and streamline shape and compelling color blends.  And of course, there are the many shapes and sizes, from the traditional ball or rounded bouquet with a long stem, to the less formal, hand-tied nosegay or posy or elegant cascade from a train.   
One of Missoula's most-loved flower shops is the Bitterroot Flower Shop on the corner of Sixth Street and South Higgins.  Perhaps what people like about it is the paradox that high quality and breathtaking arrangements and plants derive their beginnings behind a humble exterior.  Their website showcases stair rail trimmings of deep green climbing base interspersed with cobalt-blue blooms tied with yellow roses and white ribbons, as well as gorgeous, copious white petals punched with deep red roses and framed with dark green foliage.  
Converging minds and hearts inevitably make weddings festivals of sensual delight.  Beauty can be lured into places normally unnoticed, such as stringing ringlets of daisies into the outlines of tiny bookshelves in a quintessential post-and-beam, or leaving pink rose petals haphazardly fallen over white-linen covered chairs and arranged for a ceremony in an open-field.  Even the smallest touch, when done with some thought and care for the honored couple, can become the most spectacular source of light and drama.  
One of the most sensual parts of a wedding is the cake, which blends fanciful beauty with delectable flavor.  Missoula-based cake and pastry artist Margaret Ambrose-Barton offers choices such as "Caribbean Dream," a cake that includes "delicate layers of rum-infused sponge cake and key lime curd, with whipped cream and coconut," or "Hazelnut Dacquoise" that consists of layers of hazelnut almond meringues, raspberry puree, and chocolate ganache between thin layers of vanilla chiffon cake and finished with Italian butter cream. Choosing a cake is difficult choice to make in a hurry, but a pleasurable one.  The most popular designs remain vanilla cakes with white-on-white frosting designs, although chocolate tends to be consumed more quickly.  
"Martha Stewart has changed the whole industry," she explains.  "Everyone's coming in having seen those cakes and the endless possibilities."  And though she portrays a modest pride in her work, the pictures of her cakes are identical to the scads she's kept torn out of bridal magazines and shown to her with hope of recreation.  Her favorite, though not quite yet logistically possible as a wedding cake, is the Princess.  She showed me a picture of this delicate, marzipan-dome, light pink powdered-sugar dusted sponge cake of layers of whipped cream, pastry cream, and raspberry puree, and I could certainly see how it would be a beautiful centerpiece befitting the center of attention.
Margaret says that a very popular design remains plain frosting with fresh flowers.  Florists who are providing flowers for the cake or pastries typically arrange to meet the cake designer at the reception site where the final touches of fresh flowers will be placed artfully on the cake based on the design arrived at between the decorator and bride.  "I like to make cakes that taste good and are pretty," she says.  If you have seen any of her masterpieces, such as the one commissioned for a local event listing Oprah Winfrey as a guest, you know that "pretty" is quite an understatement.
"It's stressful, doing wedding cakes," explains Margaret Ambrose-Barton, "but when you see the end result of all the hard work that went into making a couple's dreams come true, it's worth it."  
On the day of the wedding, or even before, the photographer arrives to capture the result of all the planning and turn images into artifacts. When you see a photograph from any part of a wedding, you are looking at many lovingly-fashioned pieces of art.  Those lucky enough to wed in Montana begin with a canvas on which their wedding will be part-party, part-pageant, that will shimmer with delight and grace, surprise and magic.  
For example, soon-to-be June bride Robin Anderson, originally of Fort Worth, Texas, finds that less is more when it comes to dreaming up her wedding in Montana.  She and her fiancé Christian Pruitt fell in love with this majestic state's natural wonders and like, many others, did not think there could be a more ideal place to wed.  Wedding photographer Lauren Brown, who was born and raised in Montana and who now works out of Bozeman, agrees.  "What could be better?  Photographing the touching moments and festivities of a wedding with a gorgeous Montana landscape as a backdrop," she says.  Lauren travels all over the state to shoot weddings.
Robin and her fiancé Christian, who grew up in Montana, aretaking advantage of staging a wedding in true Montana tradition.
At The Chief Joseph Ranch in Darby, Montana, Robin has assembled a team of people to create her dream wedding.  Her florist, who Robin reports totally "gets" her style, is planning a theme of grape vines and blue flowers. She is mixing the "old Montana ranch experience" with the warmth and ancient beauty of a Mediterranean vineyard.
Photographer Larry Stanley explains that he much prefers working in a less congested atmosphere than Los Angeles where he started his career.  "I love the type of people who 0are drawn to be married here. They are appreciative of the beauty of the mountains and usually open to the changeable nature of the weather, which always makes it exciting," he says.  Stanley tells of one remarkable wedding where, "In the middle of the ceremony, right during the vows, lightning struck the mountains to the east.  It just took everyone's breath away.  Then minutes later a double rainbow appeared!"
He tells his love-at-first sight with Montana story:  "Six buddies and I were here on a fifteen-mile, ten day hiking trip in the Absaroka Mountains.  At the end we came out on Paradise Valley and I knew then I wanted to be here."  Since then he has found a muse in the northwest Rockies of Montana, and notes that he believes part of that muse is the "sweeping" landscapes that inspire you to "look more and see more," to find your niche, grab hold, never let go, and make it yours.  This is the powerful philosophy he brings to creating a wedding album.
No matter what wedding elements you choose, you will feel surrounded by beauty especially arranged for you and the day's purpose. The wedding planners and vendors create the magic for friends and family to enjoy. (For resources, see Planning Guides at http://visitmt.com/wedding.)
Most people who have ever attended a wedding cannot help but be moved at the sight of two people speaking their vows and telling each other and the world about their mutual love and commitment.  And how better to create those memories than with the smiles teased out with gorgeous flowers and stunning cakes all captured on film by your favorite photographer's vision of you and your wedding in Montana.
~ Kate Nugent loves to write more than anything else.  Into that world she can crawl and be totally at home, getting to know its nooks and crannies, pipes and beams.  Since moving to Missoula from another wonderful place (Cape Cod) where she grew up, she has come to believe that identity is rooted in one's passions.