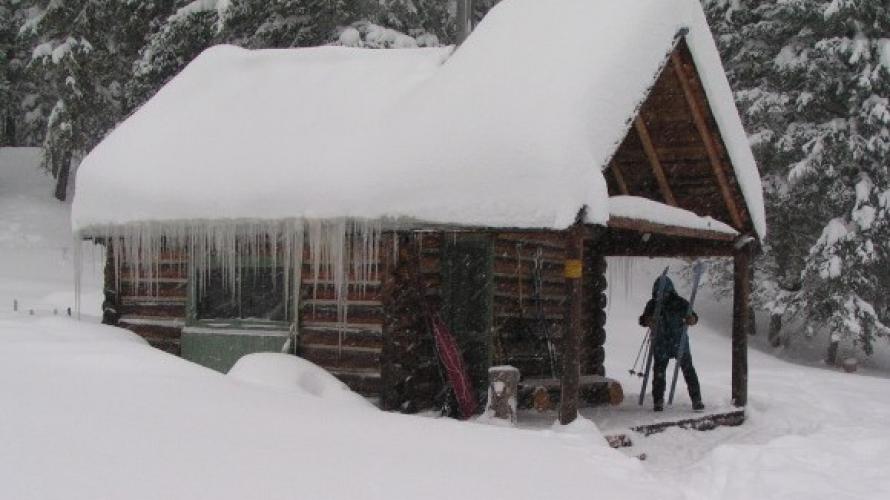 Montana Winter Cabineering
   ~Phil Knight
 
Winter can get long in Montana. The slush gets grey and dirty on the streets. Sidewalks hold hidden patches of treacherous ice. Clouds hang low over the valley, and days fly while the nights are long and dark. It's easy to hibernate, binge on Netflix and eat too many Christmas cookies.
Maybe you need to get away from it all for a couple of nights, get out of town to a wild place with huge vistas, surrounded by snow-draped forests. Do some snowshoeing or skiing. Track a fox, watch ravens playing on the wind. Listen to the silence. I did my share of winter camping, freezing in an inadequate sleeping bag while my boots turned to blocks of ice. I'm over it. Give me a log cabin in the hills, stocked with wood for the stove and ready for an evening of cards and whiskey and offering a bunk to stretch out on. Yes, Virginia, there's a cabin out there for you too. Thanks to the US Forest Service, you can rent your own hideaway in the hills, and it's cheaper and quieter than your usual Airbnb.
Scattered across our regional national forests like the Helena, Lewis and Clark and Beaverhead-Deerlodge are a variety of rental cabins, some accessible, some remote, all rustic and cozy. Built mostly in the 20s and 30s, these ranger cabins originally housed local forest rangers and their families. Many of them had outbuildings such as barns plus corrals for horses, which were the main form of transport for the rangers back then.Now the "guard stations" have become popular with folks looking to stay in a remote location withoutthe hassle of tenting or the expense of an RV. Think card games, stew heated on the wood stove, and an adult beverage or two on the table. Outside your window the winter night sky is strewn with the diamond dust of stars. An owl hoots an incessant rhythm from a nearby grove of fir trees. Your dog is curled up by the fire. You stay up late with your friends, then crawl in your bag to dream of the powder skiing to be had in the morning.
The cabins come in a variety of sizes – most are suitable for a party of four, but some, like the Porcupine Cabin in the Crazy Mountains, sleep eight. Access to the cabins usually involves some skiing or snowshoeing in winter, with some like the Garnet Mountain Lookout, located atop a mountain at over 8,000 feet, requiring a serious trek. Others are close to the road, making for a more relaxing getaway. An example is the Window Rock Cabin. Built in 1940, it sits deep in Hyalite Canyon south of Bozeman, and isa favorite of winter visitors enjoying the ice climbing or backcountry skiing available in Hyalite. It's only acouple hundred yards from the plowed road. There are a variety to choose from - twenty-six cabin just on the Custer-Gallatin National Forest, andtwenty four on the Beaverhead-Deerlodge! These snug little lodges are located all across Montana'snational forests. You can peruse cabins, check availability and make reservations at recreation.gov. The
cabins tend to be listed under "campgrounds." Reserve early, because the cabins do tend to book up,
especially on weekends.

My wife and I have spent Christmases, New Years' Eve, and other holidays with friends at thesewonderful shelters. We like to ski in and I will sometimes tow a sled behind me to haul extra boots, beer,a pot of stew and other essentials. The sled does double duty when we find a good snow-covered hill to whoosh down. The ambiance and access offered by Forest Service rental cabins is hard to beat. They're pretty cheap aswell at $30 to $60 per night, plus a fee for the online reservation (about $9.00). And you get the whole place to yourselves! Some cabins have had all cooking and eating utensils removed due to sanitation concerns, so plan to bring your own cook stove, pots and pans, bowls, plates, mugs and tableware. The Forest Service stocks the cabins with firewood, and most have propane lanterns (bring a propane canister or two). Bring a small solar lantern or two as a backup – I have found the propane lanterns broken before. You'll usuallyfind a splitting maul and hatchet to prepare firewood. Good protocol requires you to leave the cabin clean and organized, with plenty of split firewood, kindling and fire starter.
You can reserve cabins at recreation.gov. Happy cabineering!