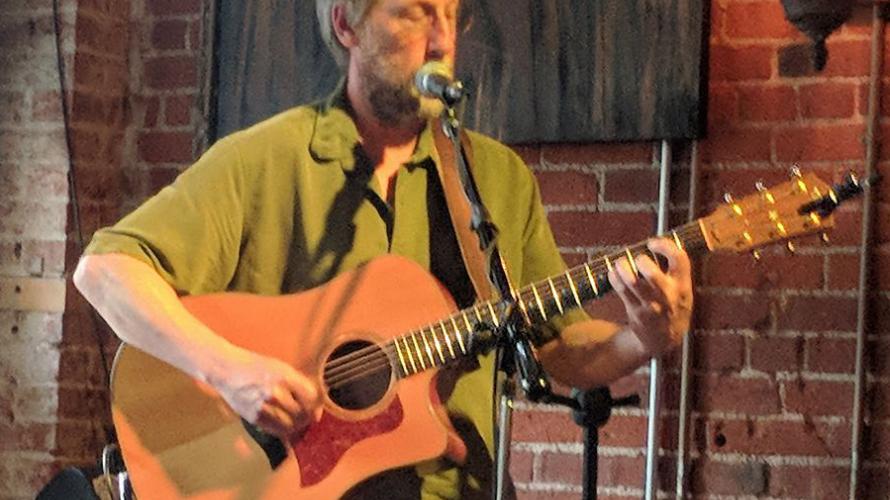 Moving, Booking, and Playing: A Life of Larry Hirshberg
By Brian D'Ambrosio
On his worst days, singer-songwriter Larry Hirshberg may feel like he lives in an unjustly repressive world, an endless incursion of small, noisy crowds. On his best ones, he marvels at how much freedom and satisfaction he really does have.
"I'm super lucky to be doing it (gigging) as much as I have," said Missoula essential Larry Hirshberg, who averages approximately 100 live events in and around the city yearly.
Hirshberg was about age 20 when he first moved to Montana from Massachusetts in the late 1970s and he hadn't played live music until he tied to the scene in Missoula sometime around 1978. He'd been jotting down poems and writing creatively since age 10 and eventually enrolled in writing classes at the University of Montana.
"I randomly ended up living in a house with a bluegrass band and with one of the guys who was originally the bassist for Pinegrass in Missoula. I was a Deadhead, and I was inspired being around people who were making music. He'd lend me a guitar and show me a few chords, and I dropped out of college. I committed myself to a life of crappy, non-music jobs until I had the time to play. Playing guitar was the first thing that nobody told me to do, and it was something where every minute I was improving, and I was super motivated to get after it on my own. It wasn't a job – at first."  
Hirshberg, 60, is deeply keyed in to songwriter's stories and the artist's sense of swinging and shifting with the mood. He has also been personally impelled by the gnawing sense to roam. He dropped out of college and then lived in Santa Fe, New Mexico, and Eugene, Oregon, and also his hometown of Boston, and even Whitefish, MT., before finally returning to Missoula permanently in 1994. Music has since become a life of necessity.
"I would not like to live anywhere else other than Missoula," said Hirshberg, who enables most of his catalog to be downloaded and share for free online. "I was tired of coming and going and just happy to get back. I reached the point where I needed to make it in music. I've had no day job since 2012 and I can't afford the band, to split it with everybody else. Having a family, there is not a lot of time to rehearse with other people."
The songwriter in Hirshberg is critical about his own lyrics and he's extra vigilant about avoiding repetition, choosing to be patient in his craft rather than prolific. He can be found most nights with his guitar strumming, anecdotes firing, pedal board looper intermittently running, entertaining others, and perhaps most importantly, entertaining himself.  
Given his songwriting fluency, it may take time for audiences in buzzing venues to grasp the depth of Hirshberg's devotion to big ideas. Original material is at the center of Hirshberg's heart. Party music he isn't. Though he sounds solid acoustically in the background at the brewery, he's most potent if you can break free of the clink and clamor to listen.
"It is (original material) everything to me," said Hirschberg. "It's why I started and why I continue, and why I've given up covers. I've dealt with a variety of issues (in my songs) and said a lot of what I've wanted to say. I've never been an interpreter of other people's music. My energy and my time are limited and I spend them wisely, and focused on making my own music."
In recent months, Hirshberg has primarily played in a number of areas between Spokane, Washington, and Livingston, Montana, including as far south as Dillon, and frequent stops in Bozeman, Libby, Butte, Helena, and even Anaconda, where he's played at least nine times. His mantra is told through personal narrative, his most effective means of establishing imaginative kinship with the world.
"I am a much happier and more useful person when I'm able to play," said Hirshberg, who is busier now than he has ever been thanks to a steady stream of gigs at breweries and wineries. "I'm completely non-commercial, not pop or anything like that. I'm at the mercy of the people who own or hire at a place where I play, and hopefully it's a patron of the arts. My music is not easy to assimilate or describe. Outwardly, my music seems pleasant but dig in and focus in on the lyrics and it is a challenge to figure out what's going on. I'm at a comfortable place, art wise, content to  do what I do without worrying about who has access to it or not. The musician and writer in me can't criticize or even review my own stuff."
How far can I go? What do I want? The eternal asking of those questions, frustrating as they can be, is their own answer. He measures himself by having others take the measure of him. Indeed, music appeals to Hirshberg's earnest desire to be liked, listened to, and, above all, respected as an artist, and his naked sincerity elevates him to exactly where he needs to be. He says that it took him a while to figure out that fame doesn't make you successful. Not as a human being, not in any real way. He's spent ample time adjusting his aspirations to reality. It helps him to see himself. It also helps him see beyond himself. Learn how to forget himself.
"It's always been those five or ten people here and there who appreciate what my deal is and it's consistent enough to keep going. I prefer to be real than anything else. I'm a better guitar player now and I've got a lifetime of songs to be drawing from. I can pull out a song I wrote at 25 and back it up with song I wrote a couple of months ago, and everything in-between.
"The making of songs is an amazing thing to me and when the song starts to come, I'm happy to be alive, and it justifies everything for me. More shows, the better you are at the psychological game. You've got a room full of people and sometimes nobody cares and there is a certain acceptance that it's hard to get to the place where you have an audience digging what you are doing."
Staunch and dogged, Hirshberg seems intent on satisfying and spreading his horizons. At a recent performance at the Symes Hot Springs Hotel, Hirshberg said that he played without a set list and that the watchful crowd appreciated the sound of his long, bold jams, and that the warm responsive feeling in the room was exactly the kind that he'd been craving as a performer. 
"That was the show I've been waiting for. It all came together and I was filled up with the joy of doing a solo show. Keep moving, keep booking, and keep playing, and you do it to randomly arrive at the room where it's going to happen like it did that night."