Summer in Montana is a time for adventure, spontaneity, and getting your feet wet with all this gorgeous state has to offer. This past weekend I quite literally got my feet wet while enjoying an afternoon float trip down the Blackfoot River.
In high school and college my family and I traveled to Lincoln, MT nearly every summer in July to partake in all of the 4 th of July events held in town. Highway 200 is actually shut down for about an hour or so while their holiday parade marches down the length of the main street running through town. In past years the parade has included bagpipers, classic cars, Smokey the Bear and even a tribute one year to the rather despicable bark beetles that wreaked havoc on the trees in the area. My absolute favorite part of the annual parade, however, has to be the Hi-Country Jerky truck that always drives in the parade and hands out samples of their meat-licious snacks.
 
This year as the weekend leading up to the 4 th of July holiday approached, my husband and I pondered what we should do to celebrate. With my sister-in- law, Maureen's, 21st birthday being on July 5th we wanted to do something extra special and fun to help usher her into such a special year. We decided on taking her and my other sister-in- law up to the parade in Lincoln and then continuing on down the highway a bit to go float a section of the Blackfoot River on inner tubes. And at the last minute, my parents also decided to tag along. We were all excited for the prospect of an outdoor adventure. When the morning of Saturday, July 2 arrived, we tossed a cooler filled with some sandwiches and drinks into the truck and made our way out of town towards Lincoln. We hit town just early enough to snag a parking spot off the main street in front of the local high school. Not long after that, the parade began. I only managed to snag one jerky sample this year but the parade was still a success. As soon as we all saw the flashing lights of the fire truck signaling the end of the parade, we piled back into the truck to get a head start on the traffic backed up from the highway shut down. It was time to float!
 
We headed west on Highway 200 and about 3.5 miles southwest of the junction of Highway 141 and 200 we pulled out to get our tubes ready. The week before we had purchased a few new tubes at Murdoch's that were black and neon green and proudly emblazoned with the phrase "River Rat". In between eating some turkey sandwiches and chips, we blew all of the tubes up and lathered ourselves with sunscreen.
 
And we were off!
 
My husband had mapped out about a 6 miles stretch of the river for us to float. We had no idea how long it was going to take but we were just happy to enjoy the trip for however long it took. The section of the Blackfoot we were on was pretty slow-moving and shallow so it felt like a more scenic "lazy river" that you'd find at a waterpark. But the random piles of downed trees and meandering currents we had to carefully maneuver our tubes around gave us plenty of challenges along the way.
 
While we all stayed together in a tight-knit cluster in the beginning, we slowly drifted apart to float at our own paces. After a while, I realized that I hadn't seen my parents in quite some time, which began to worry me since they were the last ones in the float line up. I pulled my tube out onto the shore line when I reached a shallow section. After waiting for a few minutes to see if they showed up, I began picking my way along the edge of the river to see if I could find a spot of better visibility of the river. But they were still nowhere to be found.
 
All of a sudden, I glanced up at a small hillside about a quarter to half mile in front of me to see what I at first thought was an elk moving through the tall grass. After squinting and looking closer, however, I realized that it was actually a bear (either a Grizzly or Brown Bear) loping through the grass at a rather alarming rate. He wasn't looking or moving in my direction but the observation was terrifying….even more so because I was standing defenseless in a few inches of water. I quietly dashed over to where I had left my tube and pushed out into the middle of the river on my stomach. I decided it was time to catch up with at least some of my party and wait for my parents….in an area that was preferably bear free.
 
Not long after catching up with my husband and sisters-in- law, my parent finally appeared pulling a deflated and sad looking tube. Apparently my dad had bashed into some tree branches while trying to pull my mom out from a current she was stuck in. The tube took the brunt of the incident. But they were alive and well and that was all that mattered to me. After a bit of shuffling with who was riding in which tube we got back onto the river to float the last little stretch.
 
About five hours after initially starting our float, we finally caught sight of our take-out location at Cedar Meadow. It was excellent timing too since some dark rain clouds were starting to move across the sky in the distance. Cold and tired, we pulled our tubes out of the water and deflated them. Our day of adventure had come to the end.
 
If there's one thing I've learned over the years with outdoor adventures in Montana, it's that they never fail to toss you a surprise or two. But at the end of the day….no matter what has transpired….there is always laughter and precious memories shared between family and friends.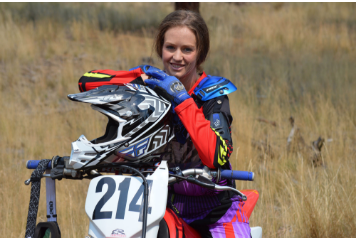 Lacey Middlestead is a Montana native and freelance writer currently living in Helena, Mont. She loves meeting new people and helping share their stories. When she's not busy writing articles for newspapers like the Independent Record and Helena Vigilante, she can usually be found indulging in her second greatest passion–playing in the Montana wilderness. She loves skiing and snowmobiling in the winter and four wheeling, hiking, boating, and riding dirt bikes in the summer.