This is not the story of someone who loves hunting.
This is not the story of someone who hates hunting.
This is a story that falls somewhere in the middle...
 
I grew up in a hunting family. I have early memories of the whole family going along on hunting trips. My mom is not a hunter, but I remember the one year she tried and got her first antelope. I remember how happy my dad was sharing these experiences with us all. As I got older I became quite the animal lover and felt sad about all this hunting stuff. When my sister was old enough to hunt, she jumped right on it. When my turn came I never even considered it. I openly disliked everything about it...the idea of it, having to help my family process it and eating wild game. Later, when I married myself a city boy from Detroit far from the Montana boys I was used to I assumed I would get away from all things hunting. He had another idea. Apparently, city boys new to the country love the idea of getting to go out in the woods with a rifle on the hunt for the biggest buck. My hunting family took him right under their wings and showed him the way. This was when I officially became a hunting widow and my disdain of the hobby continued. Being left many weekends made even worse when we started our own family and I was on my own with babies. Wondering how anything could be worth getting up in the middle of the night and leaving a warm bed for a cold dark field scouting animals. Feeling so happy when eventually the novelty of hunting wore off and he settled into more reasonable hobbies like playing the guitar. Happy to finally be far away from the world of hunting and able to become the vegetarian I always knew I was in my heart.
 
While you might think this is how the story ends...me happy to be away from the hunting part of Montana, it's not. There are equally as many reasons hunting is very much a part of who I am proud to say I became. Growing up in a hunting family I learned early on the value of being in nature. I believe those weekends out in the woods gave me my love of the Montana outdoors and to this day it is where I find the most peace. While I found it so gross to be in a cold garage cutting up meat with my family I learned the value of knowing where your food comes from. You can't get much more farm to table than hunting. I learned early on the relationships that can form over a hunting bond...seeing how close my sister and dad were and still are. Watching her continue this tradition with her own family and their hunting weekends. I still have a soft spot for animals and don't love seeing dead elk in the back of trucks driving around town, or catching a glimpse of one hanging in a neighborhood garage. However, I know this is all part of it... people feeding their families or feeding the community by donating it to the food bank. Over the years I have learned hunters are the ones who have the utmost respect for these animals. I know they wait for hunting season much like a skier waits for the first big snow and I wait for summer months to get back to the mountains.
 
Hunting is no longer a part of my life except for listening to stories from friends and family, seeing photos on social media and hearing the occasional gunshots while on a Fall hike. I do not love nor hate it. But I know hunting is very much a part of our history here in Montana and will always be an important part of our culture. I am grateful to have been raised around it and to understand this importance and all it has taught me.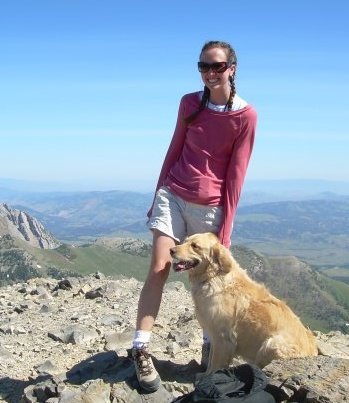 Angela Jamison is a native Montanan and she grew up in beautiful Bozeman. I'm the mother of two girls and write a blog about our life here and taking in the simple pleasures of family and food.
http://www.rdeliciouslife.blogspot.com/